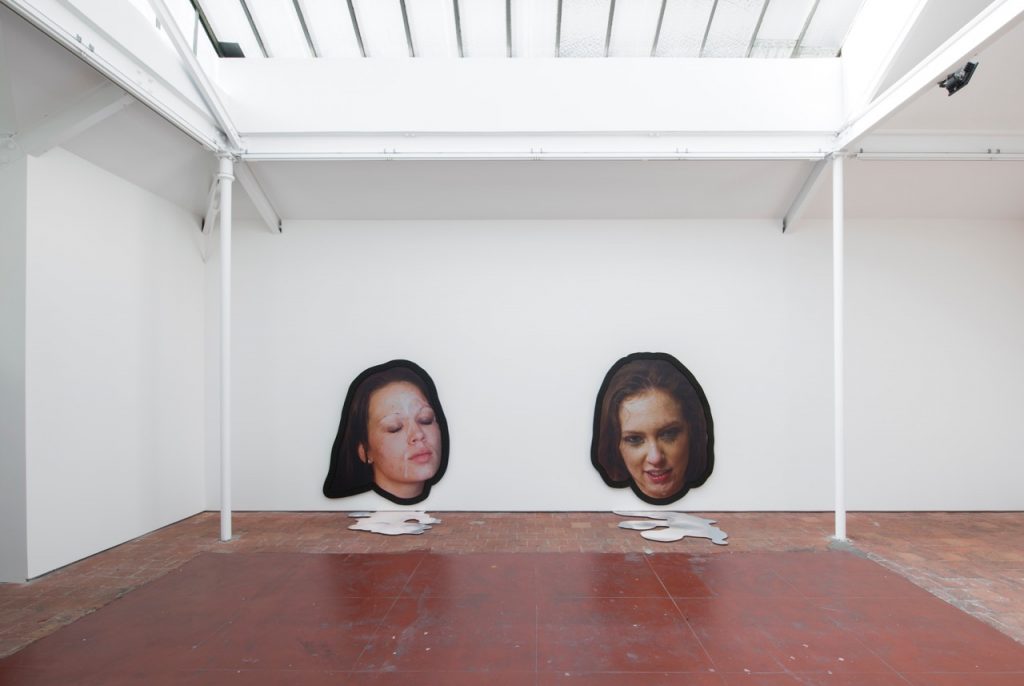 C L E A R I N G have cleared out of their old space and relocated to Avenue Van Volxemlaan, where their inaugural exhibition is the late Austrian artist Bruno Gironcoli, One Body, Two Souls. In fact, dualism seems to be the thing: Waldburger Wouters's first show (the excellent German artist David Polzin) in their new premises at 49 Boulevard d'Anvers is titled One on Two, Two to One, while Mendes Wood present Neither. Spooky…
Polzin's object-architecture puzzles turn our perception of space and our relationships to things on their head. "We first shape buildings and objects, but afterwards they shape us and our perception of reality," the artist says. At WW's new downtown gallery, the artworks won't be immediately obvious: I won't spoil it, but you'll feel their presence before you see them.
People seem very excited about the Paulistano gallerists Mendes Wood moving into Europe. I have, to be confessional for a moment, once posed for a picture at a desk in Mendes Wood in Sao Paolo, in their open plan office surrounded by dark wood and lush tropical plants, and posted it to facebook pretending that was where I worked. Their Brussels gallery, in a heart-wrenchingly beautiful Art Deco building, is just as photogenic, but I doubt they'll let me get close to their desks. Their opening show is a forty-strong group show including Belgian fashion house Dries Van Noten, on the notion of neutrality. You will definitely have FOMO if you don't go.
WIELS, (whose often-presumed museum status I wrote about in February) have opened their long-anticipated 10th-anniversary show, the provocatively titled The Absent Museum, referring to the fact that there is, as it stands, no contemporary art museum in the capital of Europe. WIELS have found themselves inhabiting that role, and The Absent Museum is their most ambitious statement yet. They've taken over two giant spaces of the former brewery, adjacent to their existing space, that itself is so big that renovations were only recently completed. The exhibition–which riffs on symbolism–addresses a very local, political issue within the Belgian, and specifically Brussels, arts scene, asking what makes a museum function, and what the Belgian public expect from it. Of course, the exhibition's mediation on local politics and history connects to the wider ripples of unrest across Europe, with Brussels is at its epicentre. There are also lots of international superstars in the line-up, which is not something WIELS usually go in for, but there is a very good representation of radical artists of all kinds of backgrounds, genders, disciplines and ages, something WIELS is particularly good at: Francis Alÿs, Monika Baer, Stanley Brouwn, Marlene Dumas, Isa Genzken, Thomas Hirschhorn, Carsten Höller, Martin Kippenberger, Goshka Macuga, Nástio Mosquito, Oscar Murillo, Gerhard Richter, Wolfgang Tillmans, Luc Tuymans, to mention just a few. This is an exciting exhibition, looking back at the decade of WIELS's past and forward to its future.
The exhibition–which riffs on symbolism–addresses a very local, political issue within the Belgian, and specifically Brussels, arts scene, asking what makes a museum function, and what the Belgian public expect from it.
It's also been ten years in the city for Office Baroque, a commercial gallery with two spaces in town. Its most beautiful (in my opinion) is the sweetly named Place Du Jardin Aux Fleurs, with its humongous former-shop front windows looking onto the idyllic square. It's almost sickeningly nice. Since 2007, Office Baroque have undoubtedly helped revive and remould Brussels's contemporary scene, showing works over the years by Liam Everett, Leigh Ledare, Alexandre Da Cunha and Becky Beasley, among others.
If it's all getting a bit too Woody Allen Europe, then head to Independent Régence, the sporadic gallery space run by the founders of the fair, to see Darja Bajagić, exhibiting alongside Issy Wood in a two person show (only up until 23 April). I was wondering what had happened to Bajagić since I interviewed her for an ancient edition of Elephant, but she must have been busy making, as she's presenting new works here and she's badder than ever: gore forums, stories of decapitation, suicide and jilted lovers from a black metal band, provides the inspiration, typical of her twisted sense of humour.
Goths love cats. So if you're in the mood after Bajagić, you could go to Brussels's new cat museum, Le Musee du Chat. It's actually not tacky, and it shows the collection of Françoise Baronian, wife of reputed Belgian dealer Albert Baronian, that makes surprising connections between artists through the feline form, such as Fischli/Weiss, Nobuyoshi Araki, Anne-Marie Schneider and David Shrigley. When else would you see those artists in a room together? Paintings, projections, sculptures, postcards and photographs all show a tender side to some of these artists, and of course, it's a festival of pussy for cat lovers.
Finally, if you're feeling famished or haven't quite maxed out on frites, there are so many good independent restaurants in Brussels (it's actually the city with the least McDonalds per capita in the world) and you can mosey into most without a booking. There are too many to choose from, and this is all about simplifying your decisions: the perfect solution is on Rue des Flandres, at a spot called MONK. It might look like a soulless gastro-pub at first from the outside, but once inside it's actually a very cosy eaterie and bar, with a wood-panelled, candlelit back room where they serve one dish only, every night: spag bol. It doesn't come simpler than that.