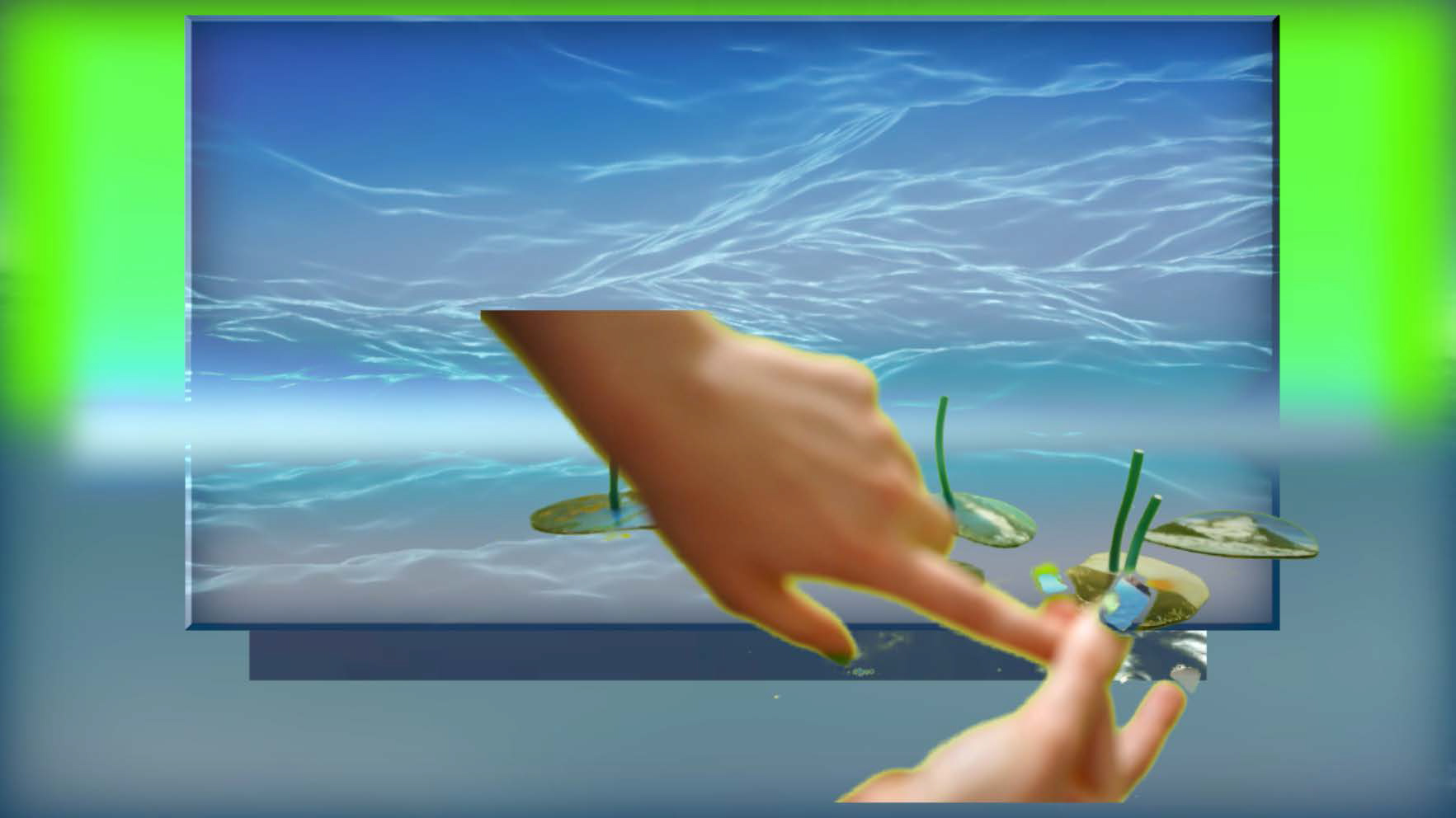 Slovakia-born, Milan based artist Natália Trejbalová's practice is as beautiful as it is strange. Her work often investigates speculative human and organic futures through imagined technologies, though the longer the viewer spends with them, the closer they feel to the non-speculative present. Having studied painting her BA in painting at the Accademia di Belle Arti in Bologna, she then took her MA in cinema and video at Scuola di Nuove Tecnologie dell'Arte di Brera in Milan, and there's a palpable sense that a painterly way of thinking has fed into her video. She's also keenly aware of the importance of audio: since 2015 she's worked as one half of AV duo Bellagio Bellagio with Matteo Nobile, with the pair frequently collaborating on performance art pieces and Nobile often working on Trejbalová's sound design.
There's a collage-like foundation to much of her earlier work, which revelled in the discovery of strange found footage pieces. Largely these are mined from a labyrinth of user-generated content on YouTube, such as tutorials or stock footage, film and sounds, which are given a new life as artworks that create almost dissociative, hypnotic landscapes. The way her practice dissolves distinctions between media means that, unlike with many video pieces that focus on the futuristic, Trejbalová's work is never about the wizardry that's behind it. There's nothing flashy in her techniques, but instead she revels in more simple production techniques and default software effects. And although her work examines technological futures and their impact on human life, it avoids moralising or making binary distinctions between big, bad dystopias and utopian possibilities of the tools that might improve our lives.
"There's nothing flashy in her techniques, but instead she revels in more simple production techniques and default software effects"
While her work hasn't been recognised as much as it should in the UK—I discovered it through the brilliant online DEMO moving image festival, where the striking visual identity led us to her portfolio—Trejbalová has received significant acclaim. She was named one of the Forbes 30 under 30 artists in 2017 as well as having participated in numerous festivals and shows, including the Rome Quadrennial, and her solo show will open in Milan's Case Chiuse gallery this September.
Natália Trejbalová,i used to envy yyouyyour green fingers(till, 2019
How has your background in painting informed your video and installation work?
Even though I studied painting during my bachelor degree I was always very attracted to time-based media, mostly video. During the first years of my painting course my professor told me I should try videos, I think because you could see the surreality in the images I was making. But it took me some years of working with different things to achieve a balance in video.
At the beginning I was working mostly with found footage and videos you can find on the internet—I was super into user-generated content and things. I was elaborating on those for around two years, and also working on installation pieces.
For me, painting crosses over into video in certain lights: in film I'm often layering images in a way that works like a painting, in terms of how I'm using the opacity of the images. I was looking for the softness that I would get from a painted image but forming that as part of a video. It might sound a bit ridiculous, but I think the attitude I have with moving image is a lot like the attitude I have with painting.
"In film I'm often layering images in a way that works like a painting, in terms of how I'm using the opacity"
There are often lots of seemingly organic elements in your video and installations, such as The Unusual Adventure of Riding in Silence, which are then placed into very surreal contexts. Can you tell me more about your interest in nature?
I was very much interested in how we as humans present "nature" and all the stereotypes that it goes with it. One of the installation pieces I made used an aquaponics solution and plants, for instance, but it creates a very sterile representation of nature. Often what we perceive as natural is completely removed from what nature really is, since these elements aren't where they're meant to be. It's a very clean, and even unnatural habitat that is made for us. I'm also interested in the colours that we see as "natural".
If you think about things like IKEA homes with the built-in aquaponic solution, they have none of the bacteria, soil and insects that real places have, so it's really just a clean house, or a laboratory, rather than an ecosystem.
Natália Trejbalová, and then we cut the ground from under, 2018/19
Many of your works are presented around technology-based speculative narratives. To your mind, how far have those imagined futures become reality?
One of my video pieces from 2017 was a user review for an application for smartphones, and the sort of things it was doing weren't really present at all in people's homes. Now they're actually part of everyday life—things like "Hey, Google"—so it would be strange for me to exhibit this video now. For the 2015 relaxation video, I'd been really into browsing YouTube videos and noticed all the strange things that I could tap into like ASMR videos. I was really interested to make something like that, and it was kind of insane: it actually worked, and during the exhibition where it was shown a lot of people were sitting here for for the whole half hour.
Why do you choose very long titles, like "tryingnottohaveNOstalghiaOVERthisamountOUSelessmemorys", for some of your pieces?
I love these titles which aren't very easy to read: when you read them, the sense is very different to when you see them written down, and how the letters work graphically together. I don't even remember some of my titles. But I like them to be more free: sometimes they don't make sense, and |I like them that way. With some pieces, I had a very hard time achieving a result I was happy with, so I like to make the titles lighter to take away that feeling of heaviness.
Natália Trejbalová, Zabriskie POV(anim.), 2015
"Often what we perceive as natural is completely removed from what nature really is"
What are you working on at the moment?
For my solo show, the film [titled And Then We Cut the Ground From Under] is a speculative narration in the near future when the earth will turn flat. But I've also been working a lot with still life photography in recent years. It's a complimentary practice for me with video work, and I became interested in the photography side of things and the set design, so I started to shoot more objects myself and that's shaping a lot of what I do now.
I'm now working on what I'd call my first film, as it's the first project in which I actually did all the shooting. It's all based on scenes I prepared in the studio, so it's a really big shift in my in my practice.