Carolin Eidner's work appears, at first, almost like marshmallow, almost like stone. Her laborious technique of pigmenting plaster that is then attached to board results in objects that sit somewhere between painting and sculpture, scrawled with casual notes or faintly diagrammatic imagery. Eidner has exhibited worldwide and last year received the Miami Beach NADA Artadia Award for her work on show at Nathalie Hug's booth. Her new show at Aurel Scheibler attempts to rethink ideas of freedom and "truth".
You have a new show on at Aurel Scheibler gallery titled Vanishing Blue in Pursue of Red in Black. Could you tell me a little about it, and the ideas behind the title?
It seems that in the future, perhaps very soon, many new dimensions will enter our conventional lives which will redefine what a human being is; our potential, our very sense of self. In this show, the idea of a blue sky as a romantic symbol of ultimate freedom is replaced by the darkness of infinity, the cosmos and quantum space. I have one piece in the show where an organic red line squeezes through the black territory, like a moment of irrational passion: Eros touches the enigmatic darkness which surrounds us. The exhibition title reflects this vanishing old concept of a blue sky in order to become a red tiny line; intensely pursuing the unknown instead of attempting to make it digestibly "known". That's why I love to use (to destabilize, to deconstruct) images that reflect typical cultural signifiers of classical thinking, like a wave, a mountain or a proud animal.
Quantum Foam and Its Outcome, 2018
Untitled (Remnants of Glory), 2018
Scrawled text appears throughout this new work. Are these notes, or quotes, from particular source material?
I see the text pieces like micro-poems or haikus. When I draw a sketch for the geometric plaster plates, the words are like spontaneous insights. The appearance of the words in this form is as important as the sound they evoke in our heads.
Your "paintings" are very often made from pigmented plaster, appearing almost like frescoes. What drew you to this material?
The initial idea for this technique originated from the wish to overcome the classical hierarchy of a background with a projected idea on top. I wanted to create one strictly unified body, which presents the surface, the code and the message all at the same time. Plaster allows me to do this. Stone carries so much history, so much archaic presence, that the artist's message is just implanted into this. To a certain extent plaster contains an ambivalence. On one hand it is a very democratic material, entirely open for any kind of use, but it has a very monumental appearance, like stone, if you allow it to.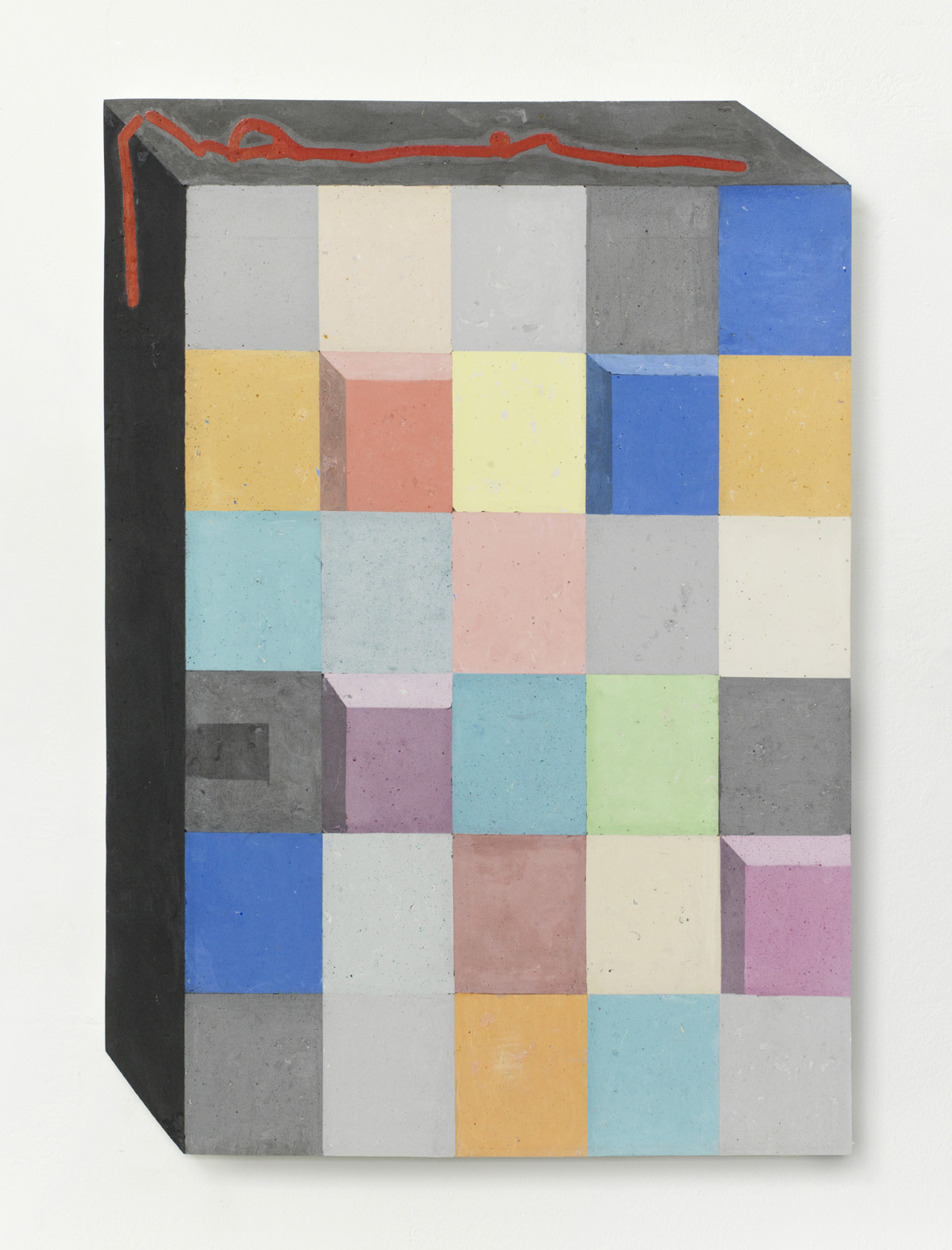 Can you explain the process of making these plaster "paintings"?
In this series drawing plays the major role. I am not restricting myself stylistically or thematically. But the realization of the actual piece is a very sculptural process, laborious to a nearly absurd level, as I have to plan every little detail in advance and put a lot of physical effort and time into the realization. Sometimes one single piece takes a month or two. Anyway, it is an organic material and has its own life, so sometimes there are unexpected happenings that I integrate into the process.
How far, if at all, does philosophical or scientific theory influence your practice?
Everything happens in our heads. Reality (personal and daily life, art, scientific and philosophical ideas etc) seems like a play with unexpected processes, events and effects. The freedom allowed by absurdity is crucial for us to be able to have intellectual reflections and a fulfilling sensual experience.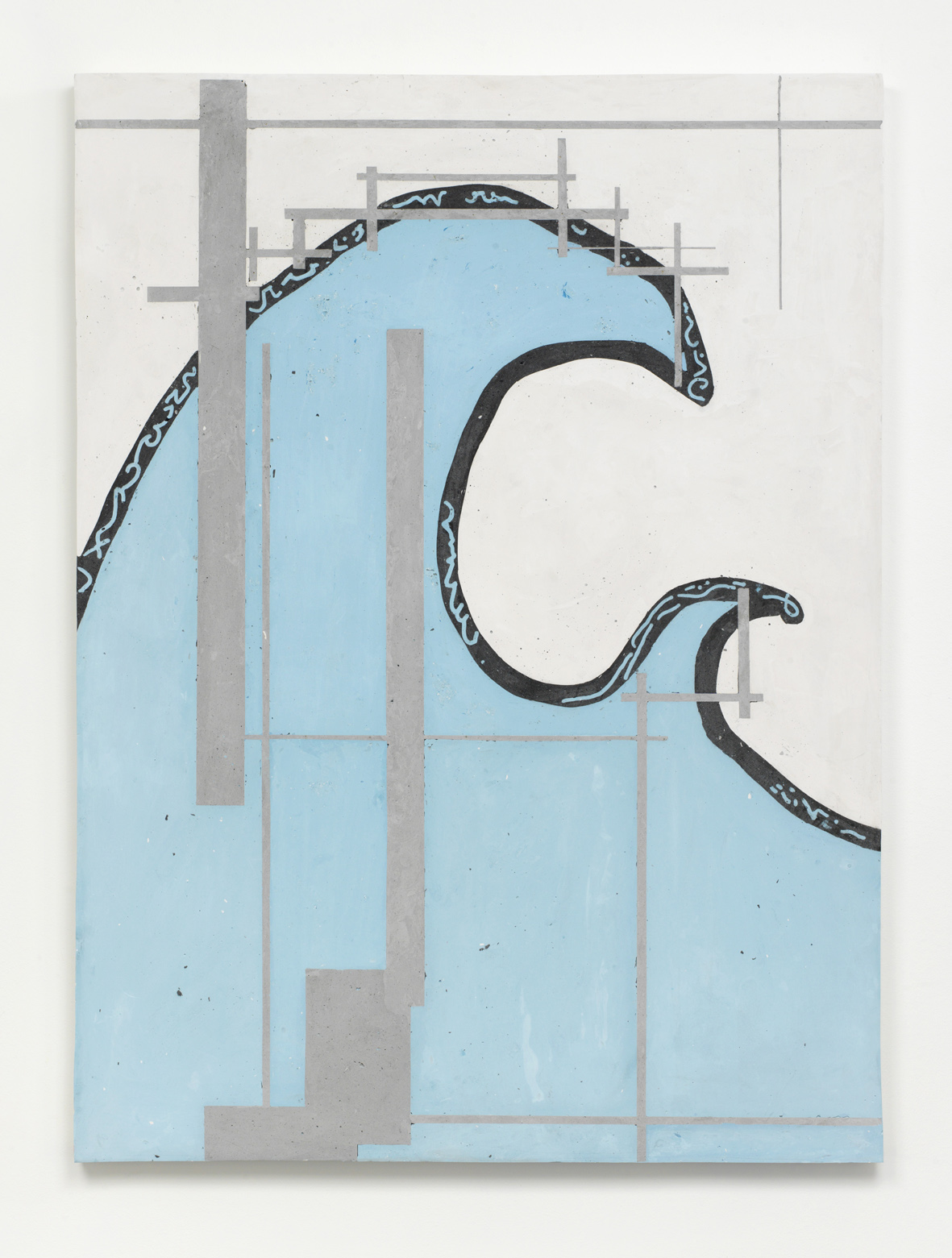 Your new work could be read as probing the concept of "truth" and its authority, in a time when it has been completely opened out by the internet. How do you personally feel about the growing multiplicity of what can be considered truth?
The notion of "truth" is a transitional and flexible survival tool. Truth is not something we have to reach, conquer or possess––it is what we have to obtain in every moment of the time.
All images © the artist, courtesy Natalia Hug, Cologne and Aurel Scheibler, Berlin
Vanishing Blue in Pursue of Red in Black
Until 5 May at Aurel Scheibler, Berlin
VISIT WEBSITE