Ranging across photography, performance, sculpture, drawing and film, South African artist Buhlebezwe Siwani's work takes many forms and uses a wide range of materials, from sculpted soap and yarn to her own body.
In combining her practice as a sangoma (spiritual healer) with her artistic and spiritual work, Siwani explores the process of finding the true self. In doing so, she revives indigenous methods that have been suppressed by colonial rule in South Africa.
Siwani has upcoming exhibitions at MAM in Paris (as part of the postponed Saison African 2020) and opening this week, she is presenting a trio of films with Madragoa Gallery at the third edition of the online-only Daata Art Fair.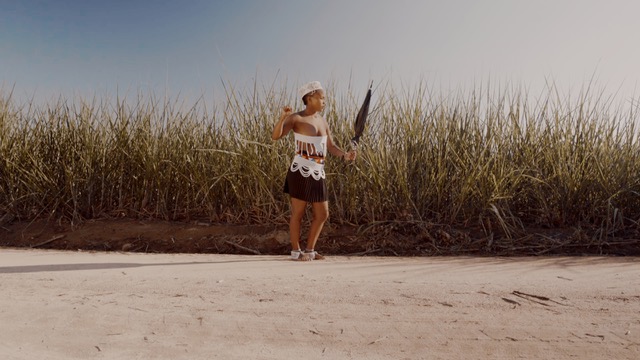 Amakhosi, Eziko and Umntuntu, the three works you are showing at Daata, are all linked by the theme of African spirituality and christianity: could you talk us through these films?
Of course. In each film, I was thinking about produce and what the land gives. Amakhosi was shot in Kwa-Zulu Natal, which is known for its sugarcane fields, at a sugarcane farm. It was a big thing for me to find a sugar cane farm that was black owned and shoot the video there.

"It's about the direct relationship between the land, the black body, and the spirit"
Throughout the video, I am reacting to movements that have been slowed down from the Church of Shembe, to which I do not belong. However, when I became a sangoma I was initiated by somebody who is related to the person who started the church. There are denominations to it as with most churches, but it is more centred around black culture, particularly IsiZulu. It takes into account how black people practice their own spiritual forms. It's about the direct relationship between the land, the black body, and the spirit.
Eziko was shot in Johannesburg at the first train station, which is no longer in use anymore. It's kind of a national heritage site and in this film, chickens are thrown at my body and blood is splattered onto my face, while my head is in a bowl. It is kind of like a sacrifice.
People from everywhere around the country just used to go to Johannesburg to work and this would be your first stop. So Johannesburg is known as the melting pot. It is speaking about dissecting culture, and the coming together of different cultures in this one space to create a new labour force.
The places where the video was shot are integral to the piece because the scene with a bowl is shot in a place called which you'll find a lot of traditional healers, and a lot of people who practice indigenous forms of spirituality as opposed to Christianity.
"The issue for me is that Christianity has demonised our indigenous practices"
Umntuntu was shot in the Eastern Cape, which is where my parents come from. The film stems from a dream, where there's a mythology around groups of Khoisan, my own ethnic group. The basis of the film is the mythology that certain clans were birthed from the water: I wanted people wearing their own clothing, which speaks to their different clans, coming out of the water, and disappearing. It speaks to the disappearance of culture, spirituality, history.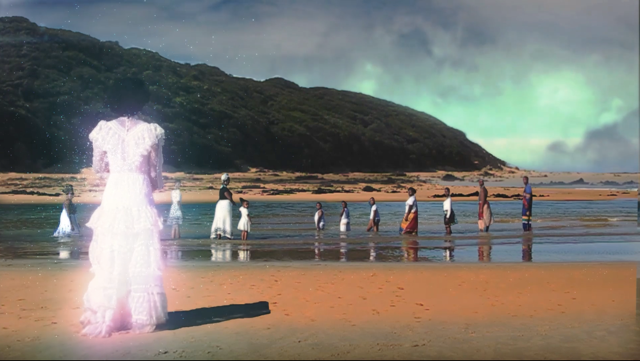 Is there another theme running through your work: the exploration of the history of Christianity, perhaps imposed Christianity, in the colonies across the African continent, and in South Africa in particular?
I want to say that I'm not thinking of it as imposed, because it's a choice. The issue for me is that Christianity has demonised our indigenous practices, which is something I want to speak about as demonising the practices of people that you found in a space… I just don't think it's OK. It's not just South Africa. It is in the Commonwealth, it is in Asia and it is in lots of parts of the world that the West colonised.
How does being a sangoma, a traditional healer, manifest itself in your practice?
It's very much a part of my journey and my art-making journey. I think that part of my ancestral calling is to make work about this, so that people can see another side. We're constantly dealing with the politics of identity, but not thinking through the politics of the spirit that has to do a lot with identity: identity is linked very much to the spirit, when the spirit is gone, what identity do you have left? All my work has to do with the journey of finding oneself through indigenous practices, looking at history, looking at culture, through who I am: a black female body.
"I think women in power have been broken down to take away their power and make them more approachable"
You often deal with the role of women within religious power structures. Why is this so important to address?
It's always important for me. I constantly look at the way that women have been treated throughout history, I think a lot of women do when it comes to their own artistic practice. I think the biggest example I have is Winnie Mandela, how she fought on the outside. But everybody always mentioned Nelson Mandela, because he spent 27 years on the inside. She spent 27 years on the outside: how hard could that have been? I think women in power have been broken down to take away their power and make them more approachable. It's not fair to expect women to be so approachable. Let the woman be what she is. And if she is powerful, let her be. It's really important for me to bring that to the foreground, especially in any photographs or videos: I will stare back. It's important to look back because not many women have been given that opportunity.
Madragoa presents Buhlebezwe Siwani
At Daata Fair 20 April – 9 May 2021
VISIT WEBSITE