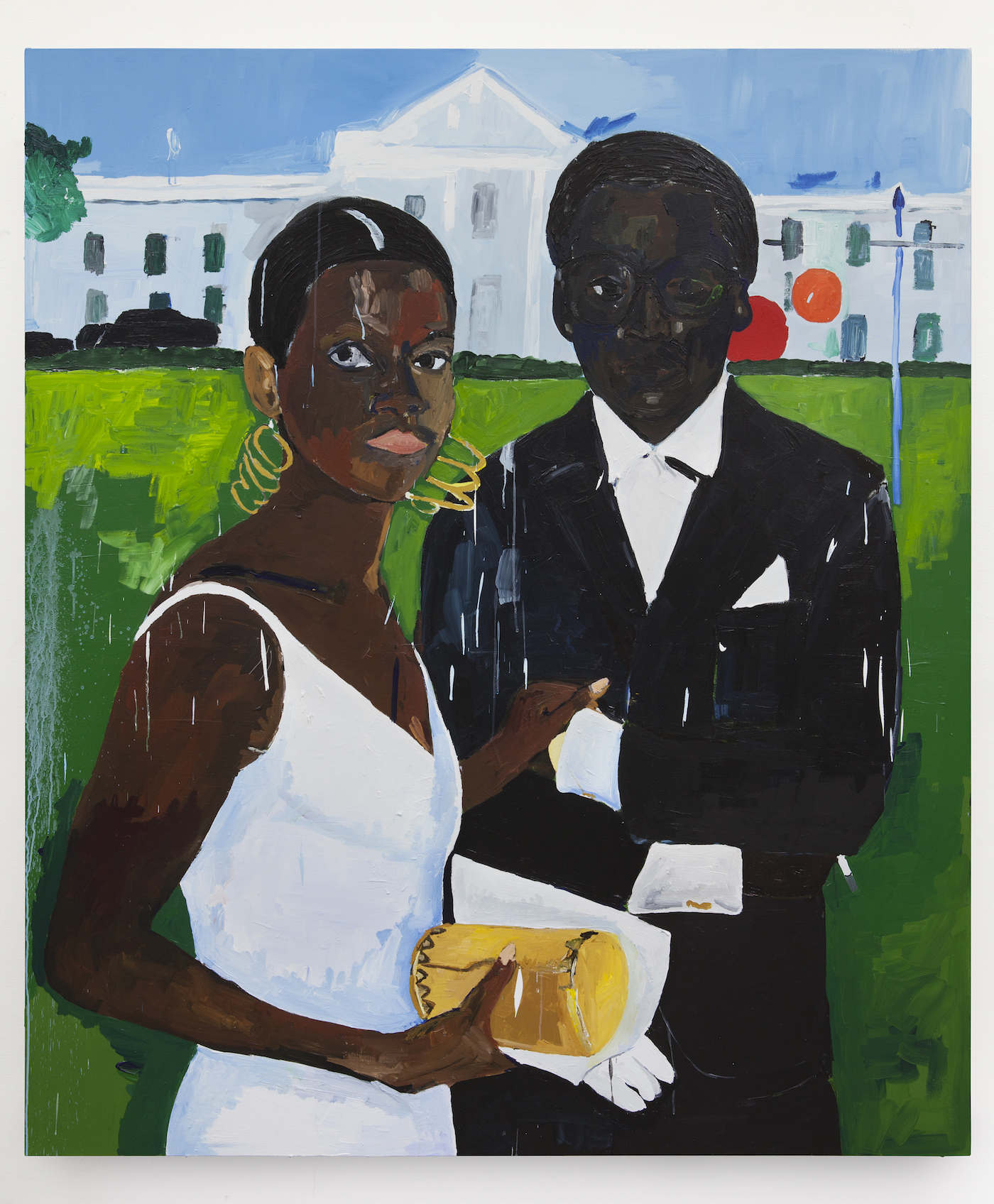 In the winter of 1981, Cicely Tyson—then known for her roles in Sounder and The Autobiography of Miss Jane Pittman—married Miles Davis at Bill Cosby's home. Davis was emerging from a period of drug abuse and alcoholism, shut up in squalor, returning to the studio after an extended hiatus and Tyson helped the trumpeter's recovery, though their relationship was far from idyllic. During their seven-year marriage the pair were dubbed the "King and Queen of Cool", an American power couple like no other.
In his 2017 painting, Cicely and Miles Visit the Obamas, Henry Taylor references a well-known photograph of the couple taken by Ron Galella on a hot summer night in New York in 1968 at the premiere of The Heart is a Lonely Hunter (Tyson played Portia in the film). Only a few details are different in Taylor's painting: the colour of the silk handkerchief tucked into Davis's jacket pocket, the hairline painted on Tyson's close-cropped head and the expression in her eyes, imperfect and lopsided in Taylor's recreation, in his typically sloppy (in the best possible sense) style. Every other gesture and detail is true to the photograph: Tyson's gold spiral earrings and neat white slip dress, and the glove, paper and gold bag she holds with one hand, another placed tenderly and confidently over Davis's folded arms; the cigarette that hangs from his hand, the slight translucency of his sunglasses. More than that, Taylor transcribes the frisson between the pair, exuding charm and style, into thick acrylic brushstrokes.
Of course, in Taylor's double portrait—forty-nine years after the fact—there is one major difference. Instead of attending the premiere, Taylor has them at the White House, still in their prime, visiting the Obamas, still in the White House. Rather than paint Barack and Michelle, perhaps too obvious, or too soon, Taylor suggests a meeting between the four. And there's nothing incongruous about their transposition through time and space, to the point Taylor has you going for a second that you missed a historic moment. What if Davis and Tyson had met the Obamas? Davis never got the chance to see them at the White House, but in 2016, Tyson, aged 92, met Barack when he handed her the Presidential Medal of Freedom.
Taylor's painting does what the photograph couldn't: it conflates time, juxtaposing two iconic, brilliant couples who defined their eras in very different but monumental, unforgettable ways. They are two couples who also empowered African Americans in the US, a subject the Los Angeles-based painter has frequently returned to in his portrait work, painting figures such as Andrea Motley Crabtree, Eldridge Cleaver and Huey P Newton. But his portrait of Davis and Tyson (and implicitly, of the Obamas) is a collision of romance, loss, memory and fantasy. For Taylor, it seems the important thing is the magic of the moment, whether he witnessed it or not.
SaveSave
SaveSave