Crystal Fischetti's work unites the tangible and intangible worlds. She uses painting as a means to heal and create 'uplifting experiences', and much of her creative process is informed by spiritual or shamanistic practices. Alongside making sculpture, painting and site-specific installations, she also conducts healing sessions, such as cartomancy readings (things like Tarot, Oracle and Angel cards), and these two sides of her practice are intrinsically linked.
Fischetti's colour palettes are frequently informed by her more outré leanings, namely, her chromesthesia: a form of synesthesia that mixes colour and sound. She has a keen interest in music, viewing it as one aspect of  life and art that prioritises transcendence, energy and movement. She has created a Studio Soundtrack for Elephant, and discusses sixth senses and the problems with artistic labels.
Tell me more about your chromesthesia.
I'm a psychic medium, essentially. Chromesthesia is just one element of the many crossings of the senses that I experience. I'm clairaudient [the power to hear sounds said to exist beyond the reach of ordinary experience or capacity, such as the voices of the dead], and clairsentient [the ability to feel the past, present and future emotional state of other people]. Messages come to me through the mixing of senses, so sometimes I can taste something in the ethers, but I can't necessarily see it. Chromesthesia is like hearing colour. 
I developed this sense when I was living in LA for four years. These are things that you can develop through training—it's nothing majorly special—but I do have a really open, let's say 'third eye', like a sixth sense. When I paint I can hear colour, and I know which other colours I need to place on the painting according to the sound they're vibrating at.
So rather than you hearing things and then painting the colours, you 'hear'. Each colour in your painting informs the next according to its 'sound'?
Yeah, that's exactly it. But I'm also human! I'm based in London, I'm from London, and I'm Italian and Colombian so I absolutely love music; it's in my blood. South American music exists in my soul. For me, it's like eating honey or something.
Crystal Fischetti, No Ordinary Reality (left); Light'n the Darkness (right), 2020. Courtesy of the artist and Grove Square Galleries
When did you first realise you had those sort of capacities?
I've always been in tune, as it were, ever since I was a child. I had a lot of spirits that wanted to communicate with me; I knew that because I couldn't sleep. I had visitations, sleep paralysis… some of it was really scary. It was mainly at night. It was really heavy. I had poltergeists as well, playing around with technology and things—even my Tamagotchi. My mum woke up one morning and all the plates and cups were on the floor. Alarm clocks would go off without any batteries, wardrobe doors would open and close. It was just too much, I didn't know what to do with it. Growing up, I've continued to be very intuitive; knowing which road to take to stay away from danger, that kind of thing.  
Crystal Fischetti, Grant Access: Access Granted (left); Feelings of Entropy (right), 2020. Courtesy of the artist and Grove Square Galleries
How do those abilities impact how you make your work, and how does it translate visually in your art?
Most recently I created 36 paintings for a solo show at Grove Square Galleries, because I'm 36 years old. The paintings are pretty large and impactful for viewers to see. There is an installation at the back of the gallery. People walk around hanging canvases which are choreographed in a way that carries a message of invoking the spirit, creating a connection between the non-tangible and the tangible worlds that you can also see in my paintings hanging on the wall. 
I want it to uplift people, and for them to be imbued with some sort of positivity and guidance. During lockdown last year, I was based in Detroit and then Mexico, writing in my journal a lot because I was on my own so much. The writings were very personal, and a lot of the titles of these new works were extracted from words that came from my journaling. I used my own bedsheets in some of the paintings. It's the completion of an experience of very difficult times, decades of past relationships, lessons learned, wisdom gained, all that kind of stuff.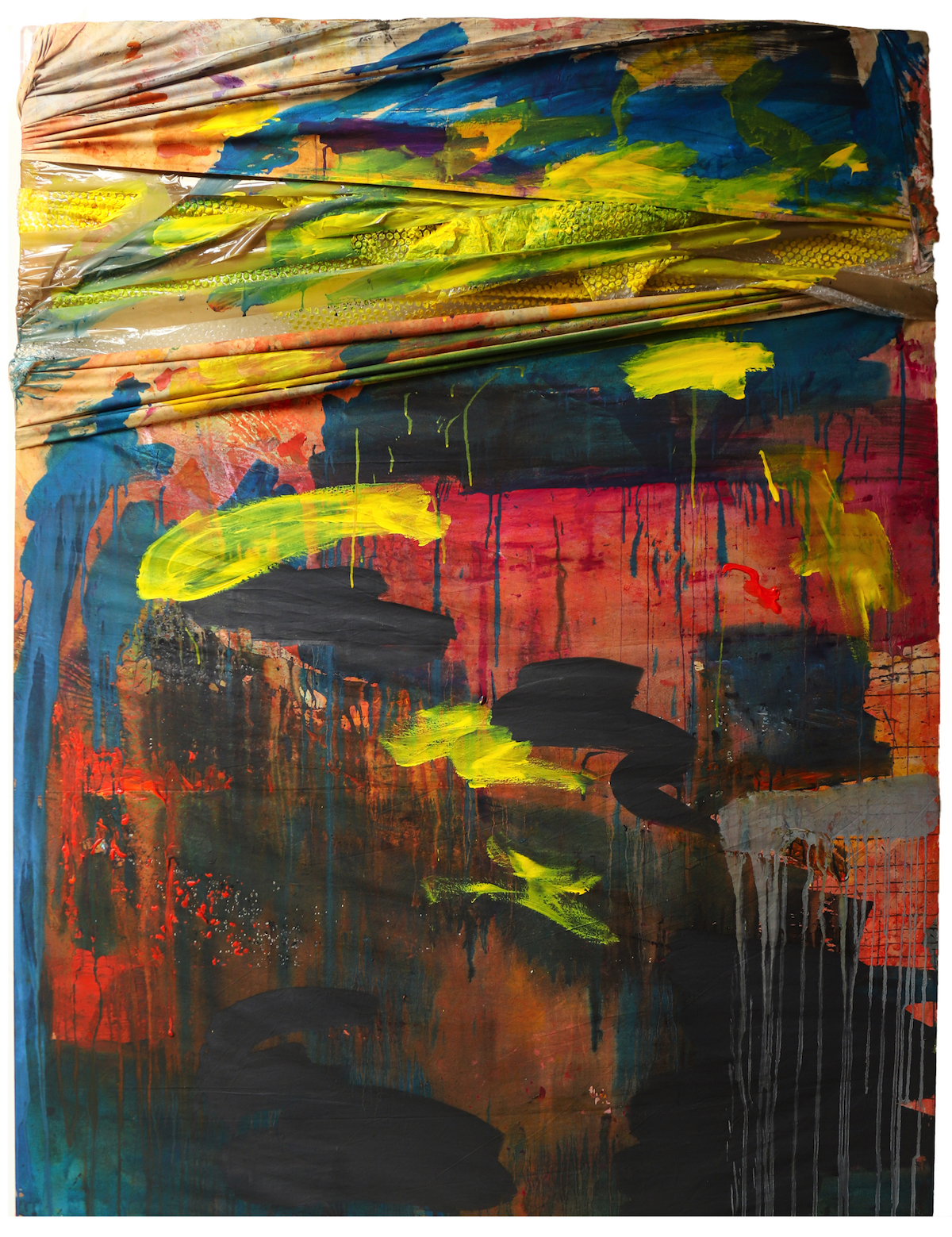 "I don't see why we have to divide music and dance and art into different categories"
I like that word you used, 'choreographed'.
Well, I'm also a trained dancer as well, I started dancing when I was five. What I do as a painter, whether it's painting on a frame, performative art where the process is documented and videoed, or me painting and writhing around the floor, it's all very performative. The theatrical element of it is still present. I don't see why we have to divide music, dance and art into different categories: why not make it all encompassing? I move around a lot while I make art, and I want people to be really involved with the works and move around them.
Crystal Fischetti, Hello Again
Until 9 April at Grove Square Galleries, London, and online
VISIT WEBSITE