Under the Influence invites artists to discuss a work that has had a profound impact on their practice. In this edition Atlanta-based artist Dawn Williams Boyd, whose textile 'cloth paintings' dissect American history and culture, discusses the work of Faith Ringgold. 
Faith Ringgold is the reason that I am making the kind of art that I am today. Twenty years ago, I was asked to lead a workshop featuring her work. It was an interesting coincidence because someone had just given me a box of greeting cards that were based on her Tar Beach series. I was interested that we were both working in acrylics. She was using them on canvas, and I was using acrylics on cardboard, plywood and paper.
A lightbulb went off in my head when I read that she was rolling her canvases and putting them in a tube to mail them to her shows. I had done some quilting before, and I thought: "Why don't I just combine the two mediums [painting and fabrics]". The practicality of what she was doing was of interest to me. Ringgold paints on canvas and then frames it with fabric. I thought: "Why not just do the entire image in fabric?"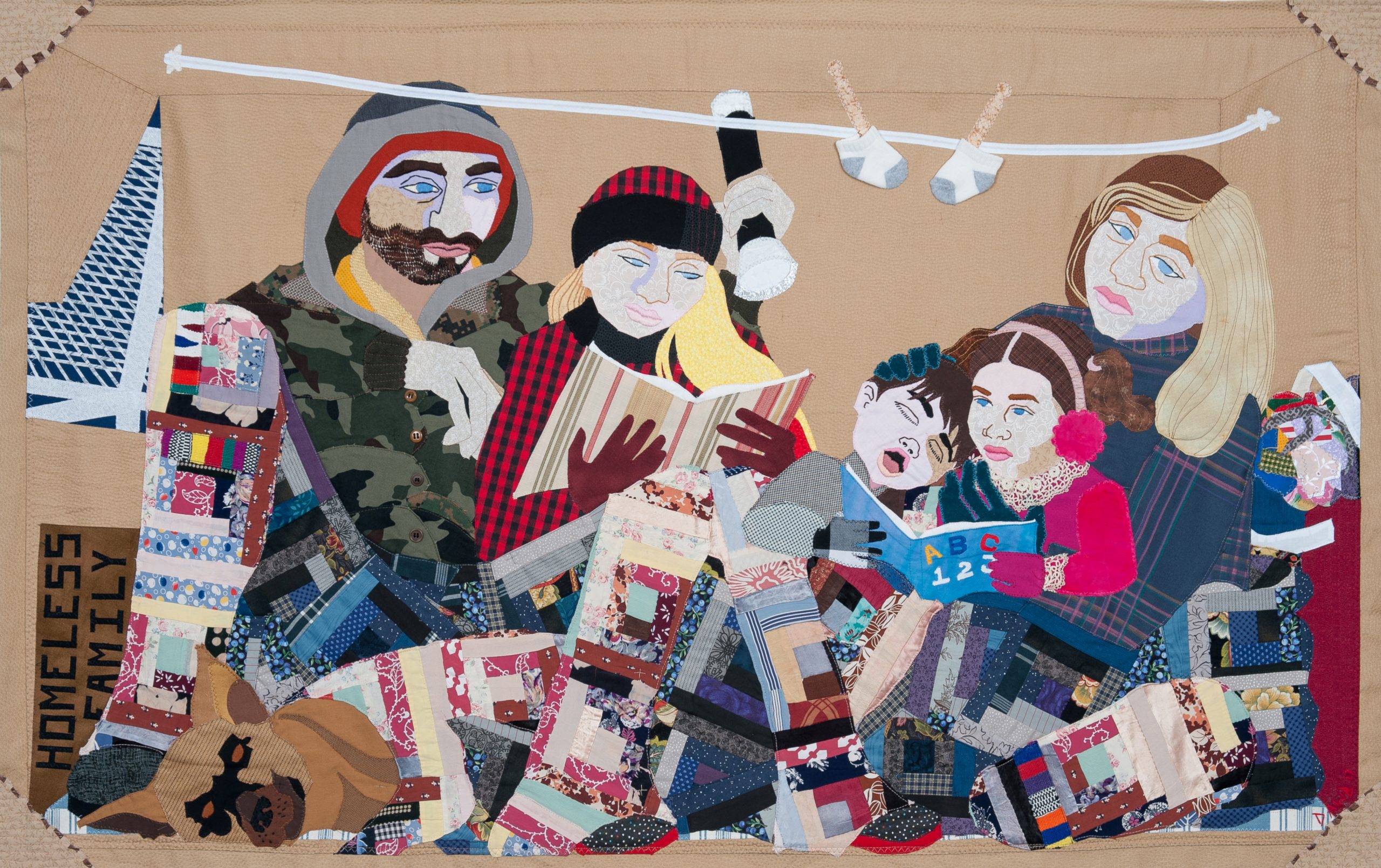 Now, my work is totally made of cloth. I occasionally use acrylics but it's very rare, and only if I can't find or make a piece of fabric that will suffice. I use the term 'cloth paintings' specifically versus using the word 'quilt', because 'quilt' has very specific connotations about usage and heritage, something we may have all lain under as children.
I had the privilege of meeting Ringgold several years ago in Kansas, and so I delved back into her work. At that time, I was thinking about making larger pieces, so was looking at Picasso's Guernica because of the concentration of figures and ideas. That drew me towards Ringgold's American People Series #20: Die.
Race, women's power and personal identity are areas we have in common. Ringgold has made work about race relations in the US for the last 60 years. The work that I have been doing over the last 40 years has been about racial history and the history of the US from the perspective of an African American woman.
"She is what I want to be: a Black female artist who is a feminist, an activist, an educator"
I want to tell these stories from the perspective of the victimised and their communities. At the moment, I'm working on a larger piece that has a lot of figures in it. It's the same subject as American People Series #20: Die: race, riots, and the violence that is perpetrated on people. The intricacy and attention to detail of each figure in this work is what I try to do in my own art, so that each individual person and idea is represented.
I feel it's necessary to be precise with my image, and I sometimes use photographs as references to be precise about the event and its effects. There are a lot of stories that I did not know about race relations in the US, and I figured that I'm probably not the only person. In order to avoid revisiting your history, you need to know that history.
Ringgold's longevity is an inspiration to me. Her work was acclaimed when she was a young woman and is having a resurgence now that she is 90 years old. I am really looking forward to walking in her footsteps if I can. She is what I want to be: a Black female artist who is a feminist, an activist, an educator. I want to grow up and be just like her.
As told to Ravi Ghosh, Elephant's editorial assistant
Images courtesy of the Artist and Fort Gansevoort
Lupin Foundation Gallery at the University of Georgia, Athens, from 26 August until 19 November 2021
VISIT WEBSITE