Zurich- Louisa Gagliardi creates her works digitally and then paints them lightly with see-through gel. It's a process that may not seem massively significant, but in this translation between screen and canvas, Gagliardi's work is alchemised and from it emerges an uncanny understanding of contemporary neurosis.
Gagliardi's figures look alien, with luminescent skin that refuses to follow the usual confines of the body and instead merges into the world around them. They sink into buildings, appear from streetlights and drip into darkness. But despite this aqueous omnipresence, they are all too human. Every character in Gagliardi's work faces the distinctly contemporary predicament of whether to exist in the real world or to disengage and fade away behind a synthetic screen.
Here, Gagliardi speaks about her recent show, A Moment's Notice at Eva Presenhuber in Zürich, and discusses the complexities of existence in a post-internet world.
Your recent show, A Moment's Notice, at Eva Presenhuber in Zürich, contemplates technology and how it continues to shape our contemporary reality. Can you tell us more about this? 
As we all know, technology allows us to be hyper connected constantly. The screen has become a space where we can constantly curate our image and control how we are perceived. Online we can filter and edit ourselves as much as we desire. In my paintings, if a scene is filled by two characters or more, those characters won't be seen interacting directly because "IRL" relationships have become such a scary concept. Offline we lose that ability to edit, filter and ultimately control.
I'm so glad I had the chance to see the show in person! Previously I had only seen the works online, and engaging with them in person was an entirely different experience. Do you keep this duality in mind whilst creating? 
I like to think of formats in relation to the space in which they will hang. So even though working digitally allows me to continue altering the works throughout most of the process, I have to keep their real-life presence in mind. That being said, as much as I imagine their physical presence, I am also bound to the screen for a little while, and it's always a surprise to finally see them in real life, but it's usually a good one! I like to work on different pieces simultaneously when working on a show. This ensures that I don't overwork any one piece, but it also allows me to bounce from one piece to the next, and I find that, because of this, my paintings tend to inform one another.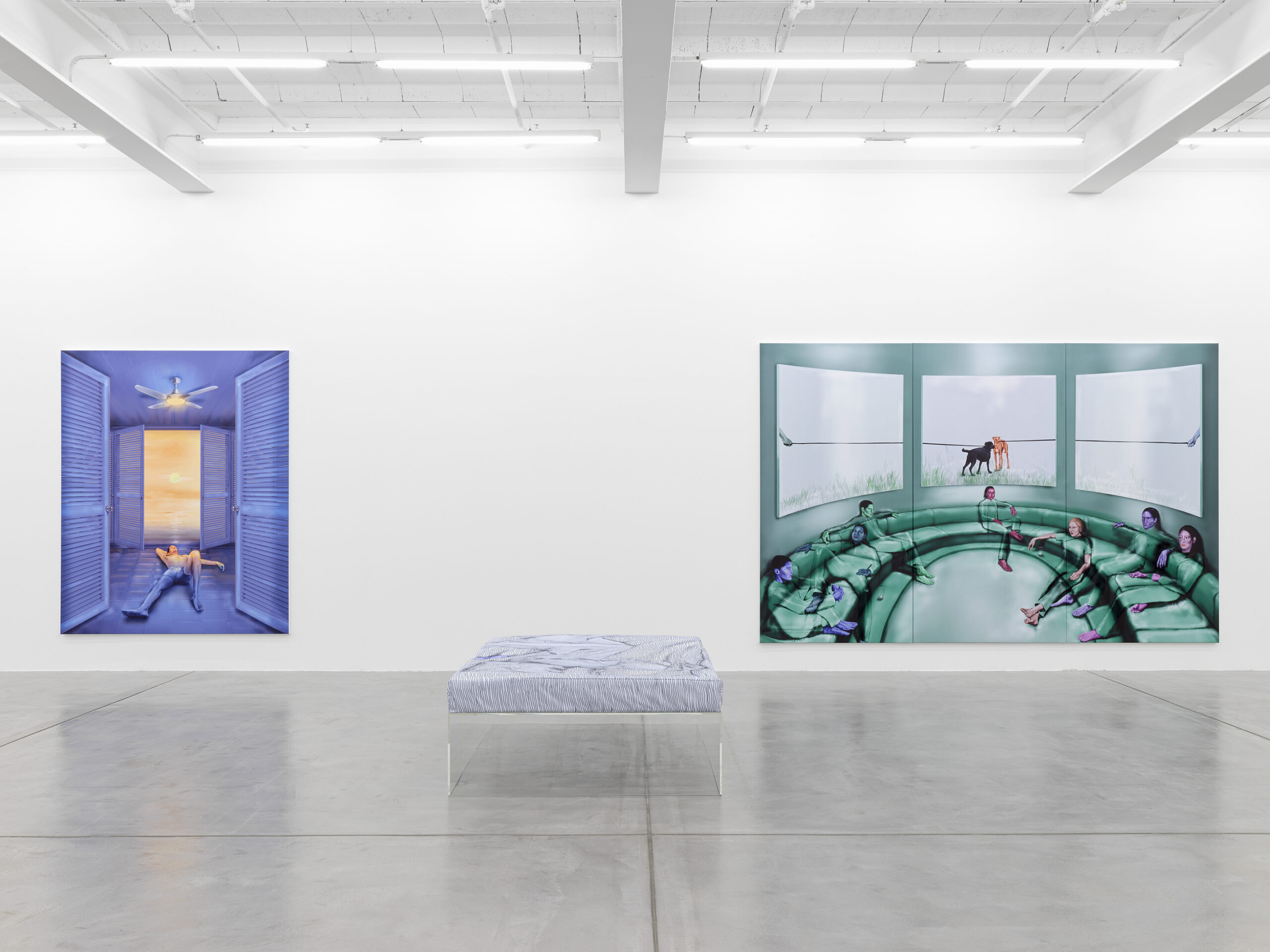 Looking at your work, I feel like I am entering a scene already in progress. It's very cinematic. Do you intend for your work to resonate like this? 
I'm happy you felt that way. I like to think of the paintings as film stills that capture the moment just before or after the action. Similar to opening the door on someone and sensing that you have just interrupted something. For example, in my piece Cascade, a figure looks at the audience and is reflected in the surface of the sink. As the audience, it seems we have caught her checking her reflection, and whilst she looks surprised by the interruption, she is also passive, retreating into herself. 
The show (A Moment's Notice) included some of your sculptural works. Can you discuss why you chose to expand your practice in this way? 
Painting will always be a constant in my work, but recently I've wanted to move away from the canvas and experiment with new forms. Eva Presenhuber's space is the biggest I've had the chance to work with. It's more or less a 400 sqm white cube. It would have felt like a missed opportunity if I had only occupied the wall space. I wanted the viewer to enter the space and feel a false sense of welcoming domesticity. The sculptures are trompe-l'oeil paintings of different beds and a daybed, and they sit on plexiglass pedestals as if floating up into the space. As a viewer, you may have the impulse to sit on it. But the status of these objects as sculptures forbids you to do so. The sculptures further enhance the feeling of being an uninvited guest you identified in my paintings.
The characters in your work are always on the edge of, literally, fading away. There's an interesting parallel between this and the translucent plexiglass you used in your sculptures for A Moment's Notice. 
The characters are ultimately avatars and vessels for the viewer to project themselves onto. The same goes for the plexiglass pedestals. I am obsessed with the capability of reflective surfaces to reflect a parallel reality and to deform and embellish our current reality.
 I know that you apply gel to your digital renderings. Can you tell us a bit about the technicalities of your artistic process?
There are a couple of reasons the final application of the gel is important to me. First, it adds a bit of melodrama to the physical piece. As the viewer walks towards the piece and navigates it, some parts come to life when light hits the textural surface. These additions can be invisible to the eye in some light and then totally obscure the image underneath it in others. Also, it's my wink to paint, applying gel medium with an actual paintbrush. It's a way, indirectly or sometimes directly, to leave my signature on a piece. In the piece Check Please, 2021, I literally signed my name onto the PVC on a receipt depicted on the table.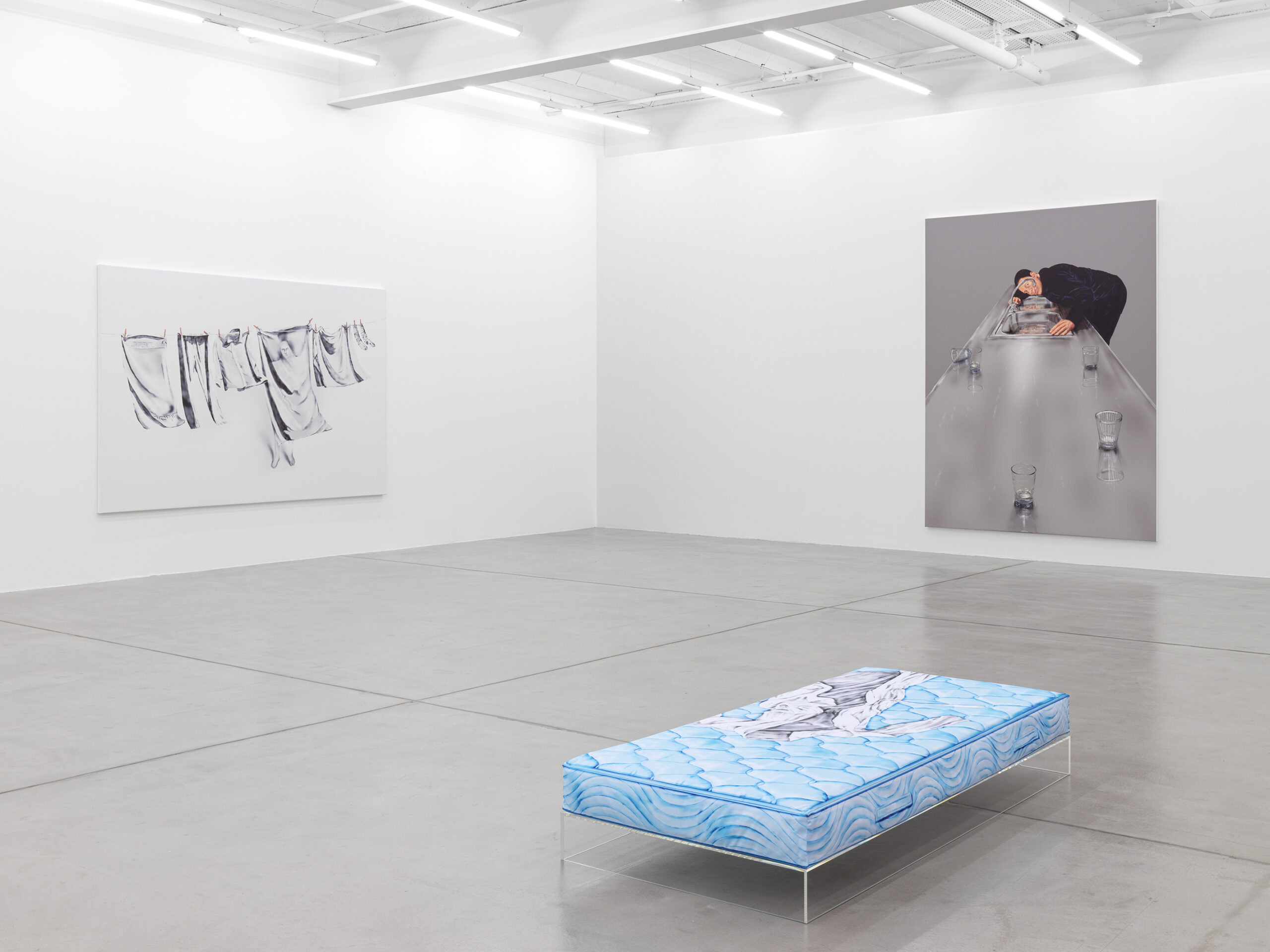 How has your background in graphic design influenced your current artistic practice? 
I got my bachelor's in Graphic Design at ECAL in 2012 and worked in the field for a couple of years. Parallel to that, I freelanced as an illustrator and worked on personal projects. I quickly realised that following briefs and ideas from other people was too restrictive and frustrating for me. I then had a lucky break and won the Swiss Design Award in 2014, which gave me the financial autonomy I needed to quit my job and become fully independent. All of this has had a significant influence. Everything in my life has an ongoing influence on my practice, so even things I experienced before I began studying are still shaping my work and ongoing progress.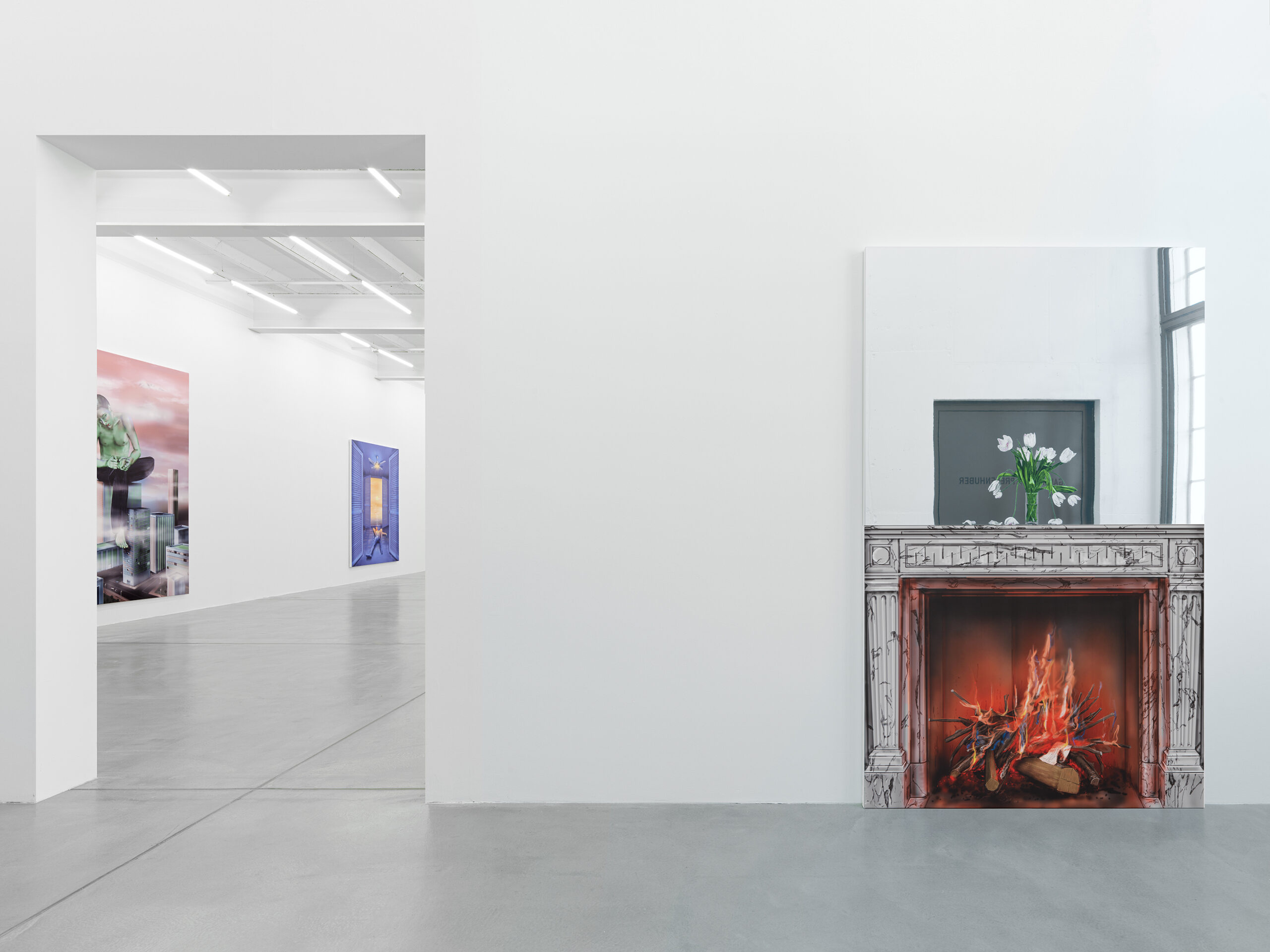 What have been some standout moments in your career so far? 
Art Basel Unlimited was special, partly because of the dimensions of the painting I made for it (3.7 x 11.2 metres) and also because Unlimited is just an inspiring opportunity for any artist.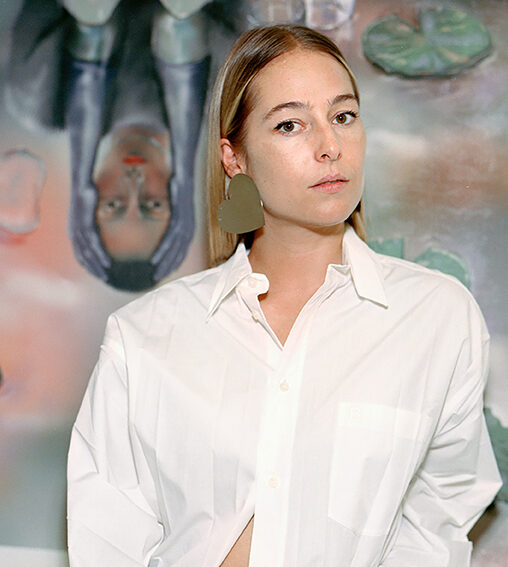 Lastly, what do you have on the horizon? What can we look forward to from Louisa Gagliardi? 
I will have a solo show with Eva Presenhuber in Seoul at the beginning of next year and an institutional solo show at CC Strombeek in Brussels.
Words by Emily Burke