It feels like a judicious time to be showing Paul Graham's photographs of the people, buildings, roads, landscapes and general air of creeping despair across 1980s Britain. His images were all shot early in that decade under the shadow of Margaret Thatcher's Tory government, which back then was sounding the death knell for much of Britain's industry.
It was during this time that Graham shot this series, while the nation's industrial workers were being stripped of their livelihoods and communities, as privatisation was ushered in and neoliberal ideas of self-determination were promoted over commonality and unity. Today, it is Britain's creative workers and communities (as well as sectors like retail and hospitality, among others) that are facing the disastrous effects of the Conservative government's decision-making in the face of plummeting employment rates in the wake of the pandemic.
Forty years on, and the palpable sense of gloom and of looming, irreversible societal shifts in Graham's pictures feels familiar. But his pictures also serve to highlight just how much things have changed: the cafe staff tabards, the chipper glow of the roadside Little Chef's old logotype, even the A1 itself (long replaced by high-speed motorways) feel like relics of the past. This body of work was shot with a large-format camera as Graham took numerous journeys along that road, which stretches 410 miles from London to Edinburgh. For Graham, the route provides a clever vantage point from which to trace Britain's landscapes from north to south and back again.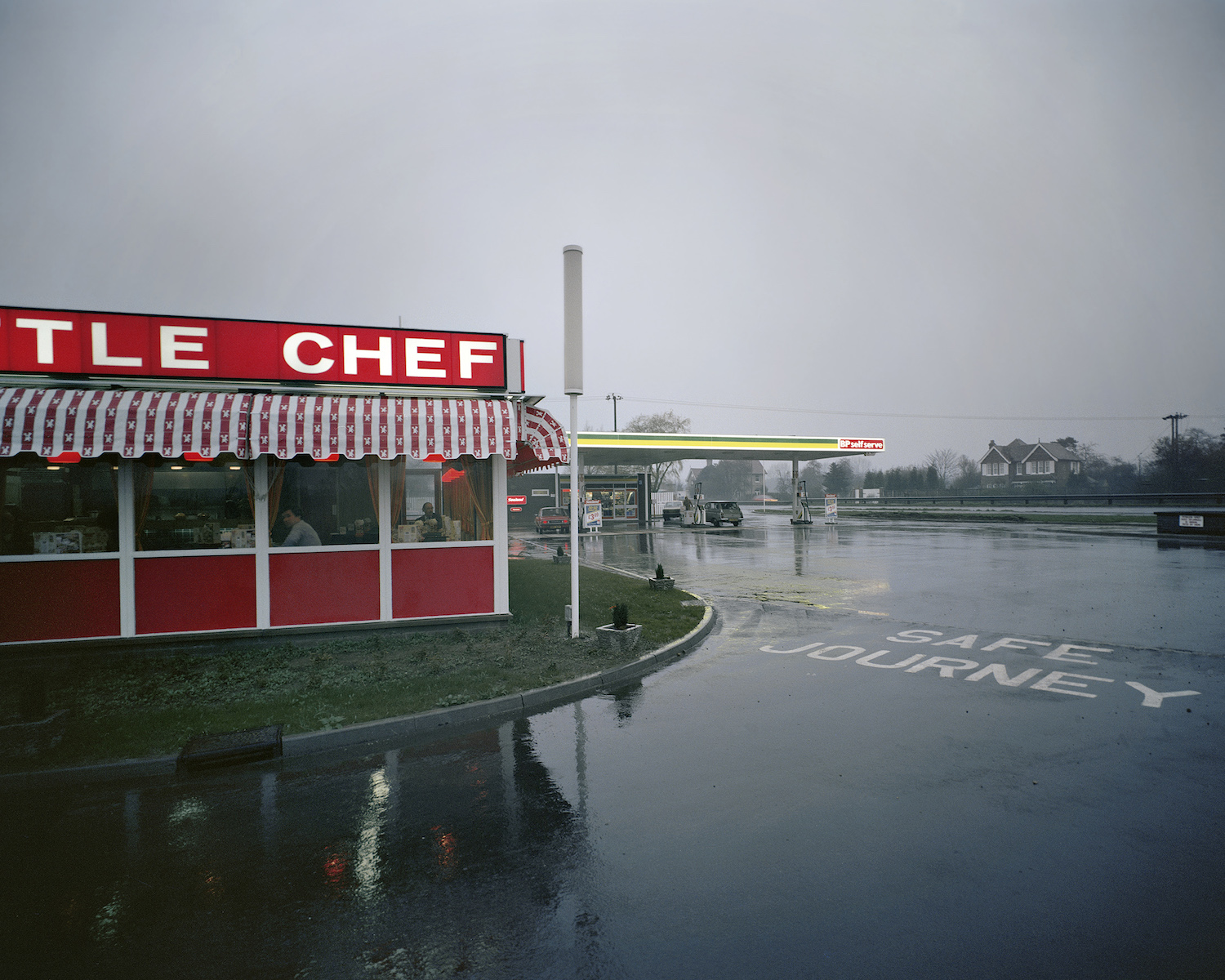 "While the photographs may have been shot only from sites along the A1, they're far from limited in their scope"
The images were initially self-published by the photographer as a book back in 1983 under the title A1: The Great North Road. They are now being shown in an exhibition at London's Huxley-Parlour gallery, held in collaboration with Anthony Reynolds Gallery, as well as in a new edition of the book published by MACK. A complete set of prints is owned by MoMA in New York, where the British-born photographer is now based. This new exhibition will also be showing some images from the series that weren't included in the original book.
The book's initial release was significant not just as a historical document, but as a turning point in the history of photography. Self-published by Graham, it was the first colour photography book in the UK. The artist's approach to colour was unlike that of most others at the time, especially in the field of social and geographical documentary. Graham's work is especially fascinating in its apparently effortless unity of social, political, psycho-geographical and personal commentary.
While the photographs may have been shot only from sites along the A1, they're far from limited in their scope. Graham doesn't create a portrait of a road, but of British life and social change through vast landscapes, revealing portraits and still-life images that bear the seemingly banal but revealing clues that tell us so much about people's lives.