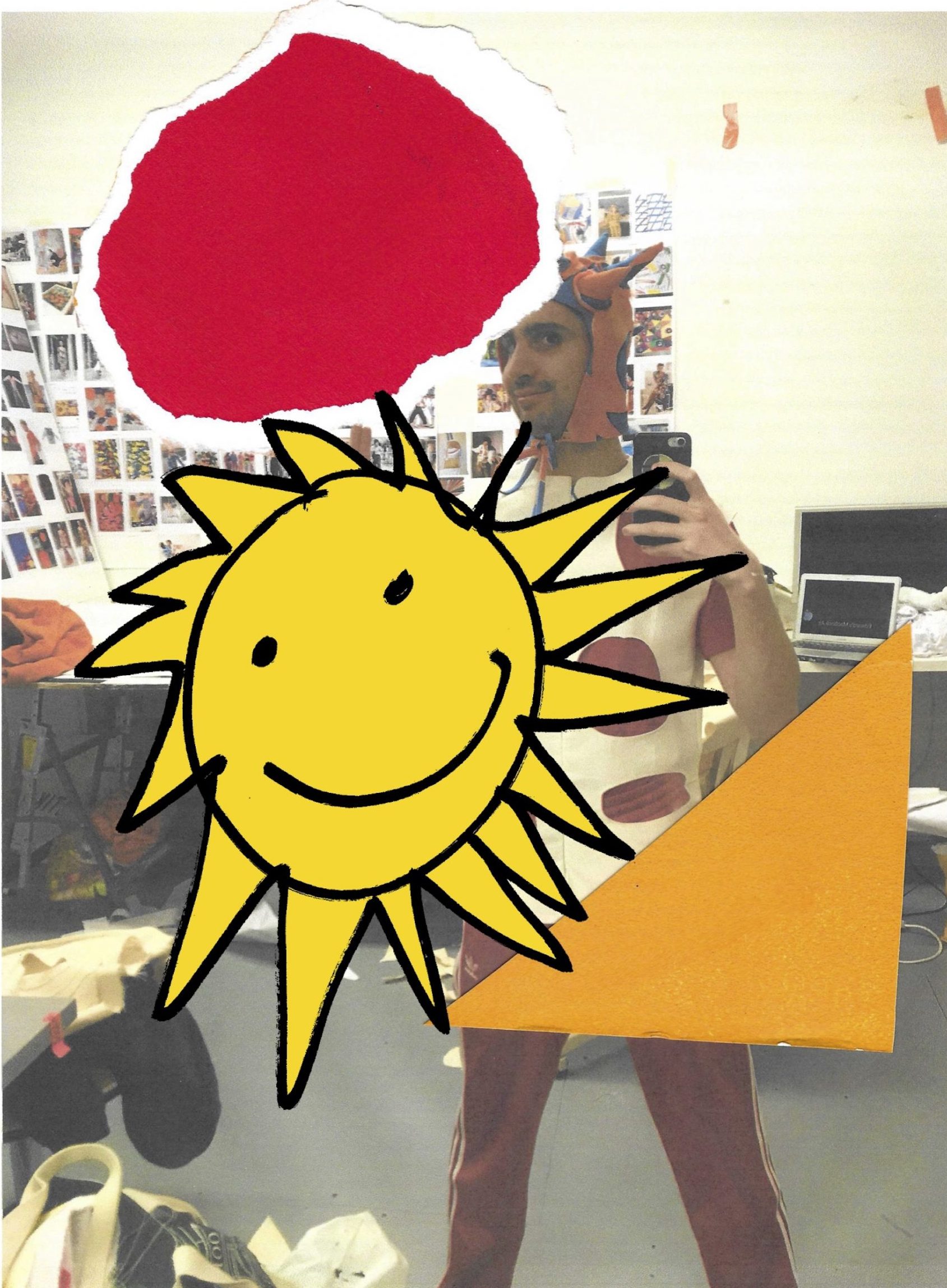 Art isn't just for hanging on the wall. In the technicolour world of Ed Curtis, swirls, smiley faces, tie-dye and optical illusions become fashion items through his vivid, campy designs. The British artist and designer initially trained as a womenswear designer at London College of Fashion. After graduating he spent several years creating paintings and prints, before finally returning to creating clothes again. Since then, he has worked to unite the two strands of his practice through unique, hand-painted and hand-produced garments.
Full bodysuits meet balloon-silhouette dresses, as childlike wonder collides with high-drama fantasy. Early in his career Curtis created an immersive installation where he invited visitors into his own bedroom, where garments were hung alongside paintings, prints and rainbow scraps of paper. It is this intimacy and playfulness that characterises his work, in which the joy of making is plain to see. For Stella McCartney's new unisex capsule collection, Curtis has brought his unique, psychedelic-inspired prints to the fore in a celebration of clashing patterns and textures. In the world of Ed Curtis, more is always more.
If you could save only one item from your studio, what would it be?
I have a bag of torn painted paper in my studio, it's probably the most inexpensive item in my studio but means the most to me. The torn papers are ones I painted for some of my earliest artworks, I repurpose and incorporate them into almost every project I work on, I'd save these.
What was the last art material you bought to use in your work?
I bought a pack of colouring pencils and a paper pad. I'd worked on a large body of work over a six-month period and I craved a very simple form of expression such as drawing, which will eventually turn into the next big project. I drew some childish characters from imagination.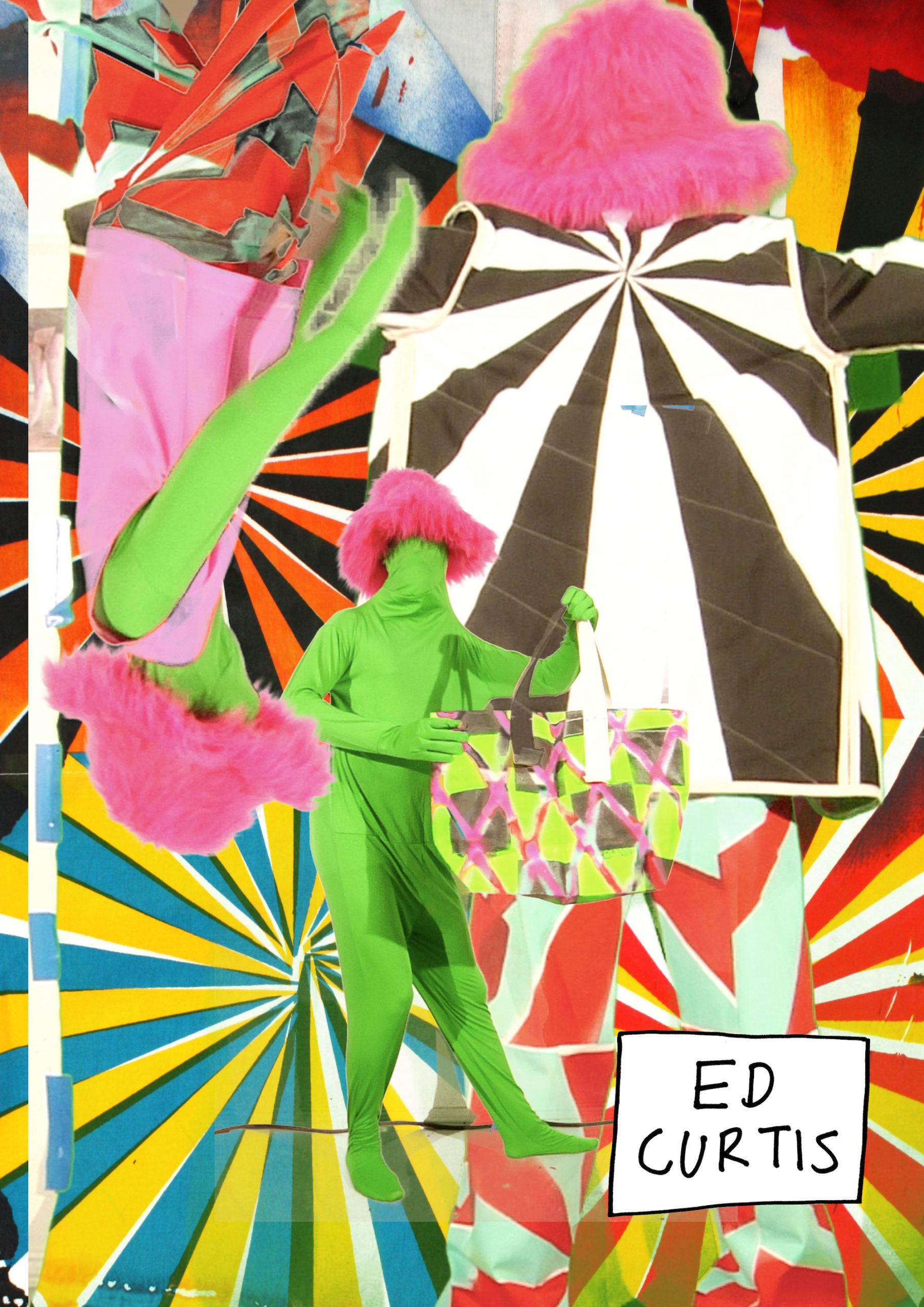 What is your go-to song when you're working in the studio?
Sugababes! Probably Round Round, this is my go-to song for every occasion. Without fail it's my most listened to song on Spotify every year, and probably every year since I was 10. I think that was the age I realised how much of a positive impact music could have in your life. It just puts me in a good mood and I can dance to it in the studio.
"Sugababes' Round Round is without fail my most listened to song every year, and probably every year since I was 10"
Which single work of art would you choose to live alongside in your home?
The spaces that Kenny Scharf created for the Palladium nightclub in 1985. Every time I look at the photos I wished I lived in that space. It's the kind of immersive world I'd like to create for myself. That or Verner Panton Visiona II.
Ed Curtis installation at the Stella McCartney store in London October 2021
Top three art or photography books?
Christian Marclay's Action, Vinca Petersen's Future Fantasy, and Henri Matisse: The Cut-Outs.
If money was no object, what would you most like to experiment with in your work?
I'd like to paint the exterior and interior of a Jumbo Jet and turn it into a super club.
Tell us a pet peeve of yours when it comes to the art world.
My pet peeve in the fashion world would be people with influence and money who try and get clothes for free, and act like they would be doing you a favour! GROSS!
What is your favourite gallery or museum space around the world?
The Andrew Logan Museum of Sculpture in Berriew, mid Wales. Every year they do a grand re-opening which on its own is so fun and camp. I love that it's in an area of the UK where art is not very accessible.
Louise Benson is Elephant's deputy editor
Stella McCartney x Ed Curtis
Unisex capsule collection, October 2021
VISIT WEBSITE