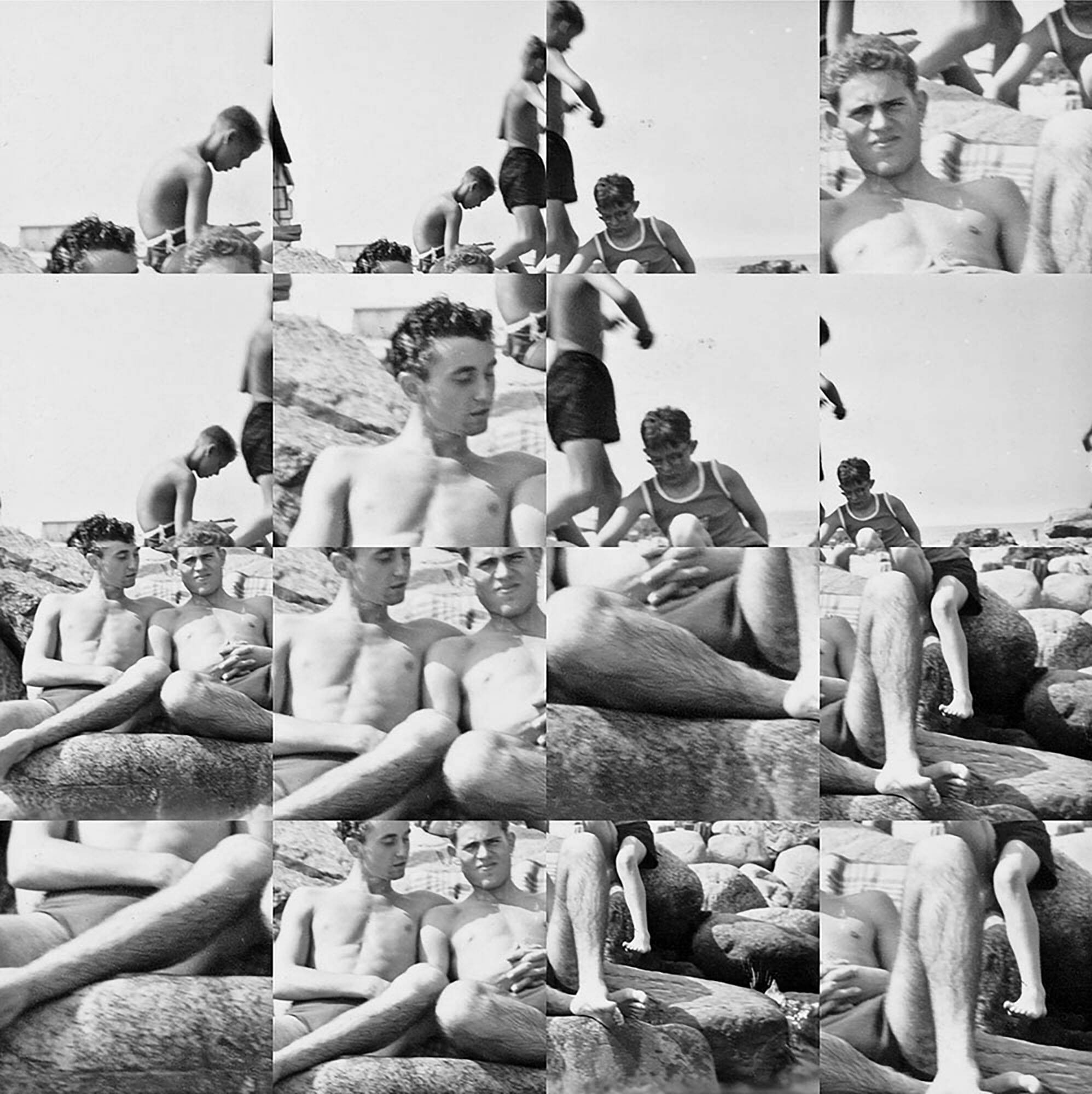 Though celebrations for Pride have taken on a different form than normal this year, they have provided the opportunity to experience works of art and imagery that otherwise would have remained behind closed doors. Take Edouard Taufenbach's latest show, on show now until 31 July at Elizabeth Houston Gallery in New York. 
Suddenly, Last Summer, takes the form of a virtual exhibition, and showcases Taufenbach's collaged images of LGBT+ "leisure and pleasure", which were sourced from the collection of filmmaker Sebastien Lifshitz.
Left: The Sequence, 2019, Right: Dejeuner sur l'herbe, 2019, Below: Dune, 2019
Gathered over three decades, Lifshitz's collection contains more than 10,000 photographs of same-sex couples from the start of the twentieth century, and has become a veritable archive of queer history. Celebrating the tenderness and intimacy between the subjects of these images, Paris-based artist Taufenbach elevates them further with heavy, highly considered editing.
By splicing, reframing and distorting Liftshitz's collection, the artist amplifies these personal moments. He directs our focus solely to them, whether it's a hand around a waist, knees softly leant against each other, or torsos intertwined. Taufenbach adds a sense of movement to these images through their sequencing, like watching old films through a zoetrope, or viewing home movies in the living room of a grandparent. 
"By splicing, reframing and distorting Liftshitz's collection, the artist amplifies these personal moments"

While the subjects, who were anonymous when Lifshitz first came across them, remain unknown, these acts of affection and love are undeniably universal, allowing the viewer to fully immerse themselves in these sultry summer romances. Cast in a dreamy summer haze, with sand dunes and crystal waters as a backdrop, creates an effect that simply adds to the allure.
Though these images were found years ago, and captured decades before that, Taufenbach's creative editing brings them into the contemporary. He gives prevalence to these "queer realities" that were previously hidden or unacknowledged, allowing us to celebrate and revel in them today, and take stock of the freedom and happiness of these protagonists who wanted to capture who they were.