1. Gray Wielebinski, The Slade
Upon entering the room assigned to Gray Wielebinski you find yourself in a locker-room. There is a tower of champagne glasses, filled with various brightly coloured liquids, and then the team, sat slumped as if exhausted after filling the glasses in post-match celebration. Sports ephemera, and indeed the players, are hand stitched in a range of fabrics, toying with the gender implications of both craft and the supposedly masculine locker room. On TV screens we see men wearing jockstraps and other sexualized sportswear. The familiarity of the space is disrupted; its coded nature deconstructed, then turned on its head.
2. Solveig Settemsdal, The Slade
Solveig Settemsdal's alchemic study of material and organic forms are utterly mesmerising. Films of amorphous blobs, formed from white ink dropped into gelatine, constantly shift and evolve. White crystal-like forms are scattered in between, while a translucent snakeskin dominates the center of the room, as if it has just been shed by a giant specimen. The idea of constant transformation is imbued within this abandoned reptilian membrane and is equally explored in the liquidity of the materials used throughout. Each piece appears delicately impermanent; the crystals, for example, seem at the mercy of water. It is rare to see transience and fragility explored with such confidence.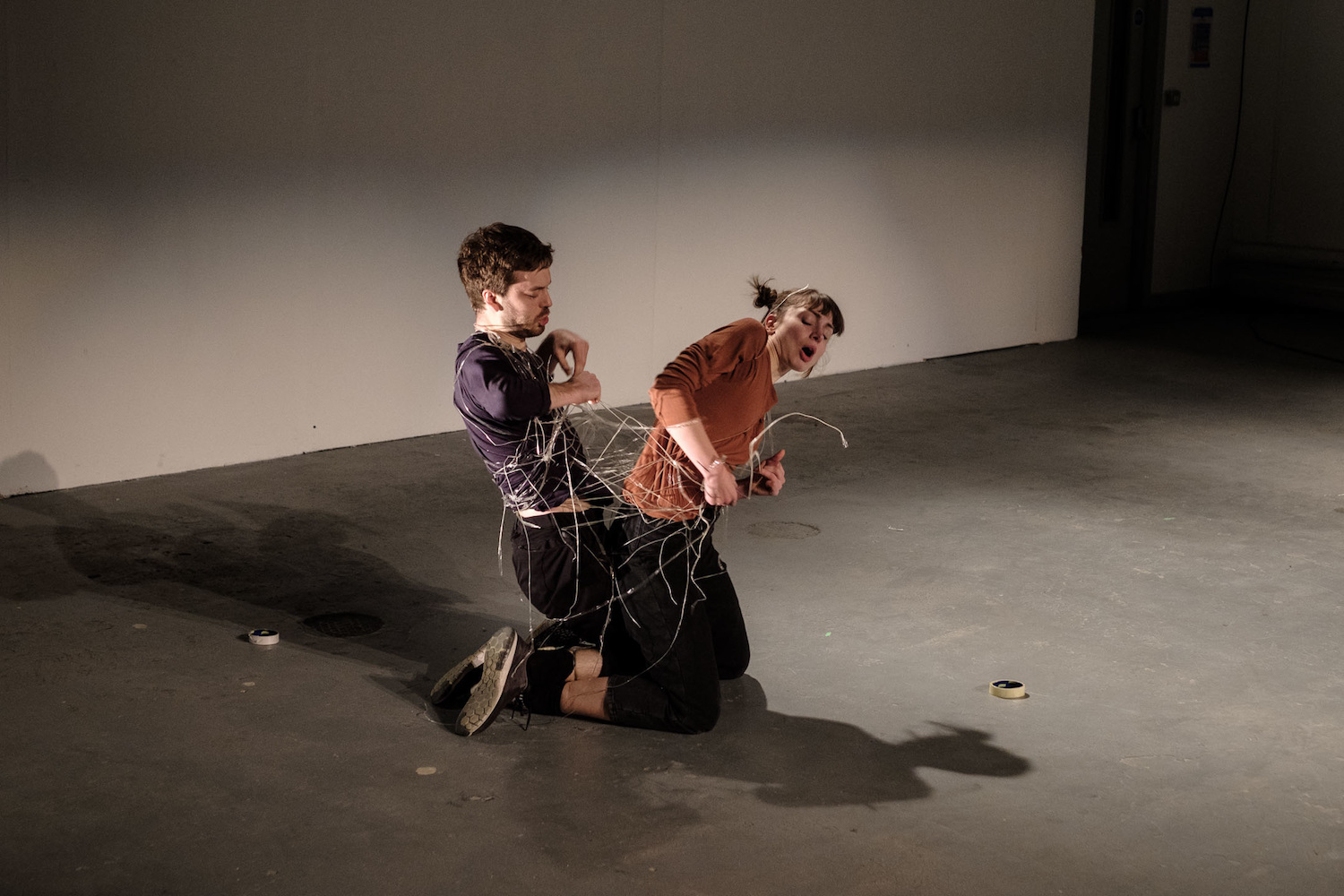 3. Rowland Hill, The Slade
Rowland Hill's performance The Show is an exercise in high drama which is arresting in its simplicity. The work reduces the act of performing to its bare bones. Upon entering a small dark room, you are surrounded on all sides by a glimmering gold curtain raised a few inches from the floor, to reveal a pair of black stilettos attached to an unknown person on the other side. Much like the big reveal in the Wizard of Oz and the fantasy that precedes it; the dark glamour that Hill projects removes us from everyday truths in a way only true theatre can.
4. Sung-Kook Kim, Royal College of Art
Sung Kook-Kim's exquisite paintings are constructed from layers of contrasting styles and imagery that appear flat against each other, creating a surreal, theatre-like space for his figures to reside in. People drawn from life exist next to wolves beside Magritte-esque windows, framing his paintings as a personal, psychological space. He depicts relationships in a moment of touch, or meaningful look; a transient second frozen in time. These are paintings with a certain analytical flatness but are nevertheless intimate and fantastical.
5. Lucy Gregory, Royal College of Art
Lucy Gregory's kinetic sculpture Images Have Legs lies in wait, ready to be brought to life by a passing gallery-goer. Once the handle is turned these larger-than-life legs turn about an axle, while on the floor sit bear-traps, their jaws wide open. The limbs are reminiscent of a Monty Python graphic—a surreal collage projected into actuality, where the irrational laws that govern the cartoon world dominate. Gregory's title is reminiscent of Hito Steyerl's formative essay In Defence of the Poor Image, which explores the transient nature of images in contemporary digital society.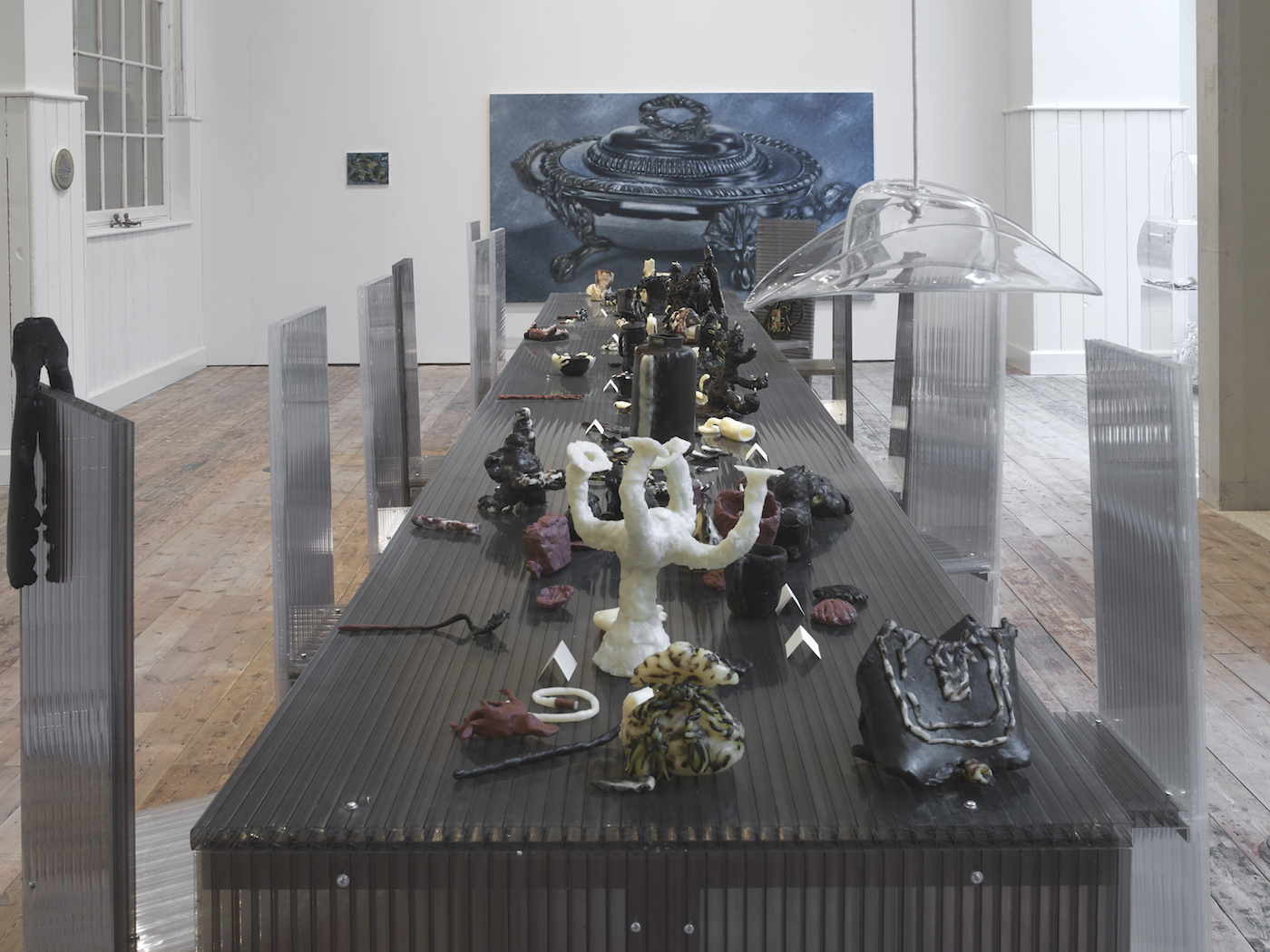 6. Issy Wood and Gina Fischli, Royal Academy of Arts
In the middle of Issy Wood and Gina Fischli's sprawling collaborative installation is a table set for a dinner party, with objects including wax teapots, ceramic shoes and dentures. This indicates the surreal array of artefacts that constitute the installation. Luxury is played within a human-sized foil swan, alongside an alluring painting of a silver dinner dish by Wood. As is the nature of collaboration, play and experimentation run riot throughout; further paintings are created on velvet, which sit next to low-fi images of macaroons and unsuspecting gallery visitors.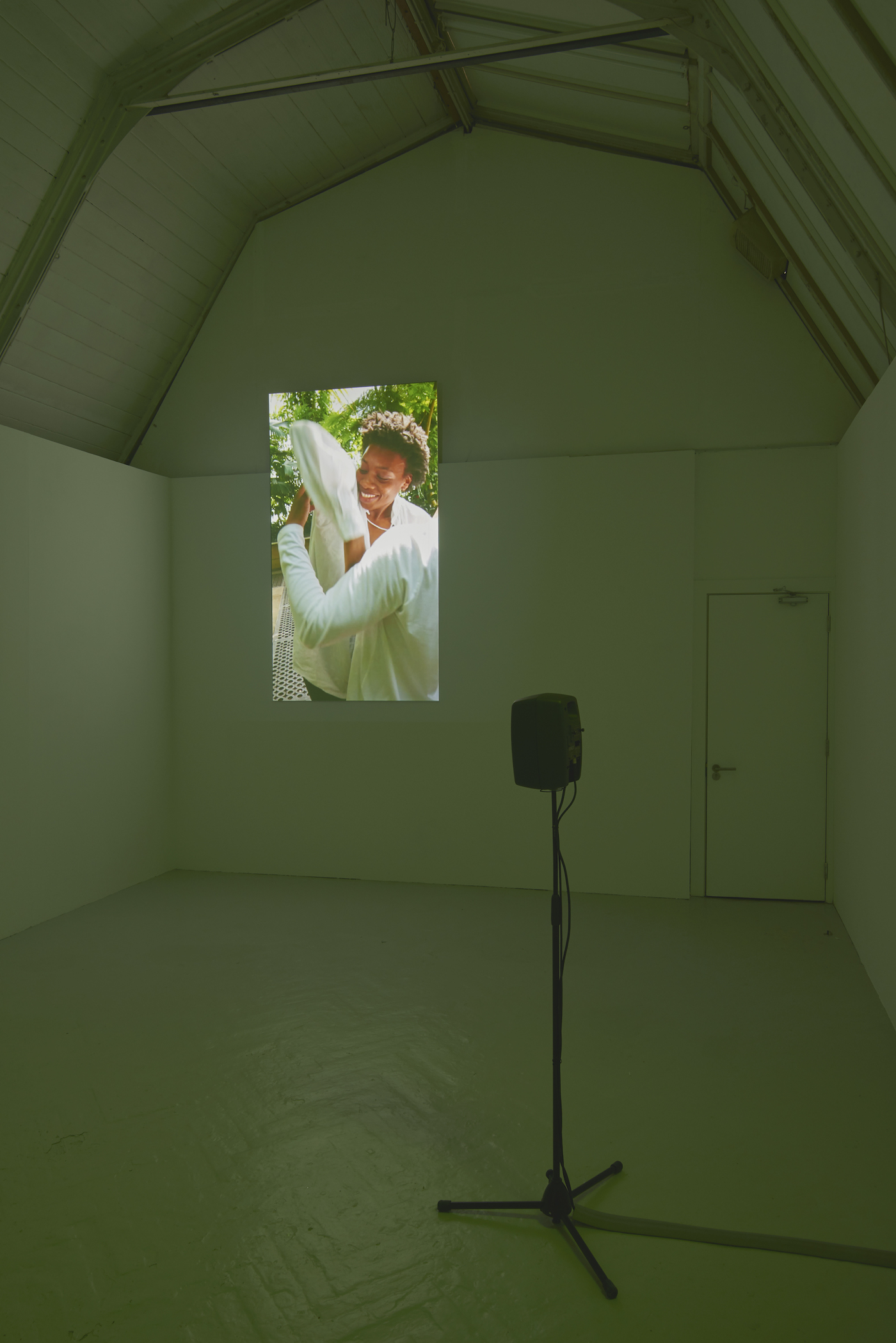 7. Deborah Olakigbe, Royal Academy of Arts
Deborah Olakigbe's film Sunny for Sullen is screened in an almost empty room that is infused with a soft green light. The piece depicts two figures in a large glasshouse, dancing among the plants and overhanging trees. They are accompanied by the sound of soft piano music and a single voice. At one point in this monologue, Olakigbe references the poem A Litany for Survival by Audre Lord, which speaks of the self-empowerment of marginalised groups. It marries perfectly with the uplifting and celebratory movements of the dancers.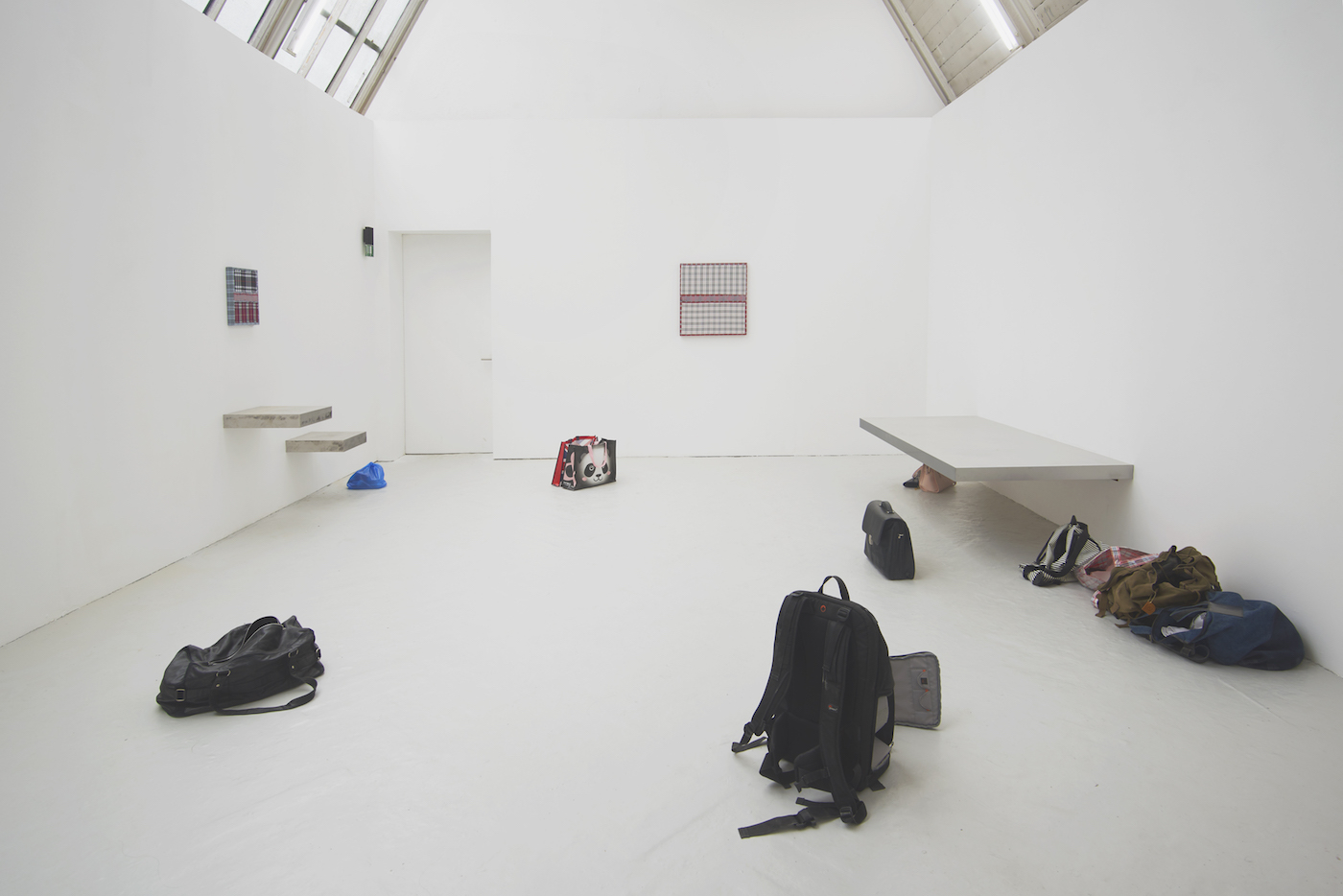 8. Sung Tieu, Royal Academy of Arts
In Sung Tieu's section of the show, concrete slabs jut out of walls in such a way that they resemble the kind of seating arrangement you might find at a bus stop. Scattered round and about are bags that belong to the artist, crammed full of her possessions. Left slumped on the floor without a human presence, these appear to echo the title of the accompanying soundscape: "unattended items". The audio that permeates the room is a constantly shifting cacophony of anxiety-inducing noises, which serves as a reminder that we are constantly told to fear the abandoned bags by disembodied voices heard over tannoy systems. Sung Tieu's work is subtle yet nonetheless commanding in its discussion of power structures and control over a permanently transient global population.
9. Anna Mikkola, Goldsmiths
On the first screen you see in Anna Mikkola's fragmented installation, a flock of birds swarms the sky. A magnifying glass is there for you to attempt to separate the individual from the masses. Moving on, a network of steel poles connects and simultaneously compares the flock to images of crowds; participants of both display similar collective behaviour. As you continue to walk through the metal maze you arrive at a virtual reality headset. Inside you fly through mountain ranges among more birds, the artifice of which is revealed as you fall through the glitching computer graphics.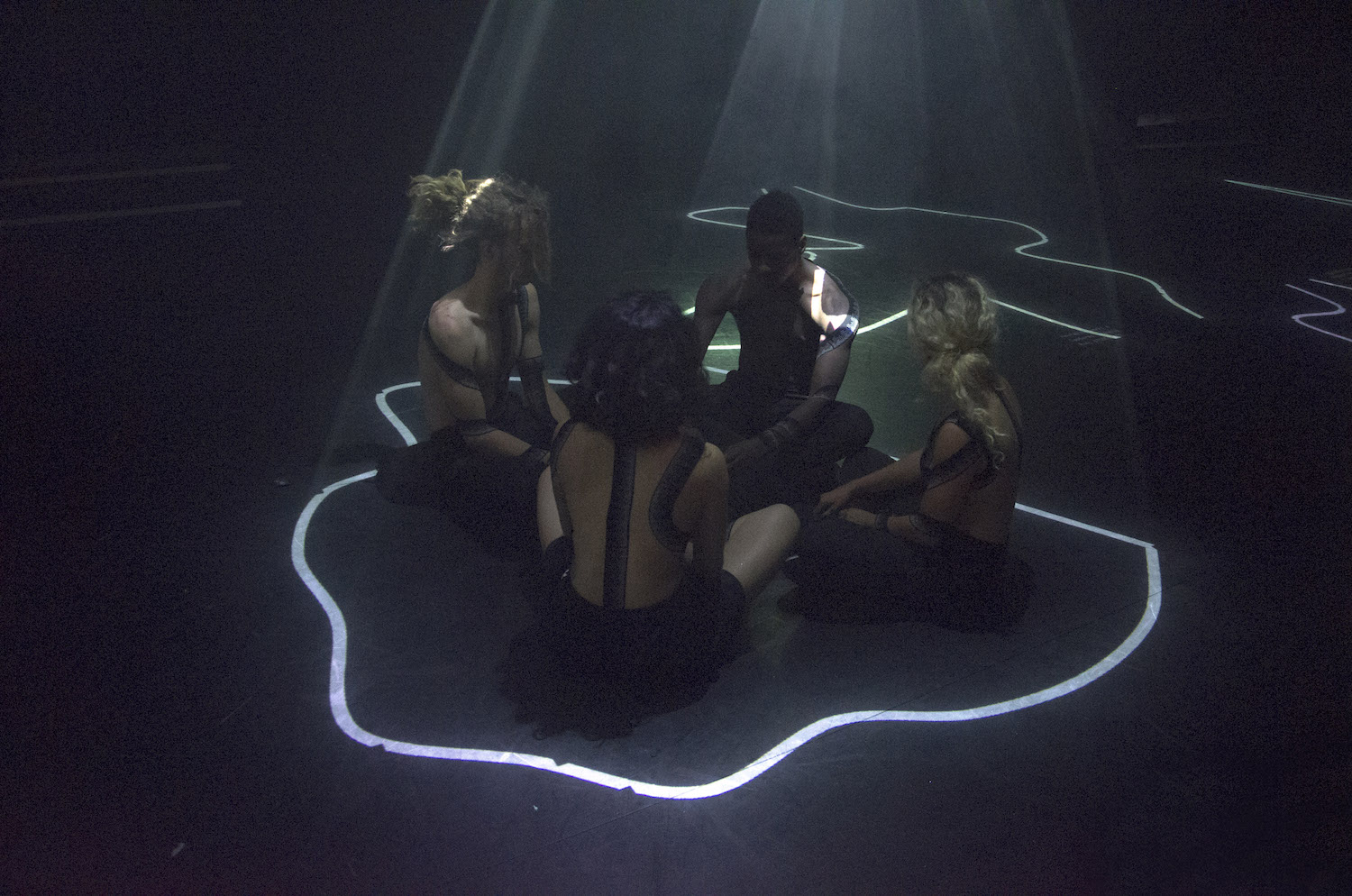 10. Monika Tolia, Goldsmiths
Monika Tolia's performance Technologies of Lived Abstraction: Future Present features a remarkable piece of choreography dictated by a feedback loop between performer and computer. Four people move in time to spotlights which grow and shrink, governed by sensors that attempt to predict their next move. At one point a performer begins to sing, her pitch following the contractions of her individual spotlight; restricted by a thought bubble of her own data patterns. The dark, airless room in the old church, now a university building, coupled with dramatic lighting, feels like an underground club. Albeit one with only four clubbers, whose movements mediate abstract power systems in real time, through real bodies.