Pauline Batista, Goldsmiths MFA Fine Art
Batista's work combines the safe and familiar with the unsettling—pairing natural, youthful faces with mechanical hands for The Algorithm Will See You Now, a photographic installation that has elements of both formal black and white portraiture and kink. Eyelids are dragged downwards, mouths pulled open by cold, hard robotic fingers. The images were presented at the Goldsmiths exhibition with two ceiling-hung structures creating a "shower of sound" that was focused on visitors standing directly below. The subtle links between the nature of these structures and the show's location (within an old bathhouse, surrounded by changing cubicles) as well as the vast projections of light falling on the photographs from the transparent centre section of the roof above, highlighted the artist's sophisticated skill not only for photography, but also for all-encompassing installation work.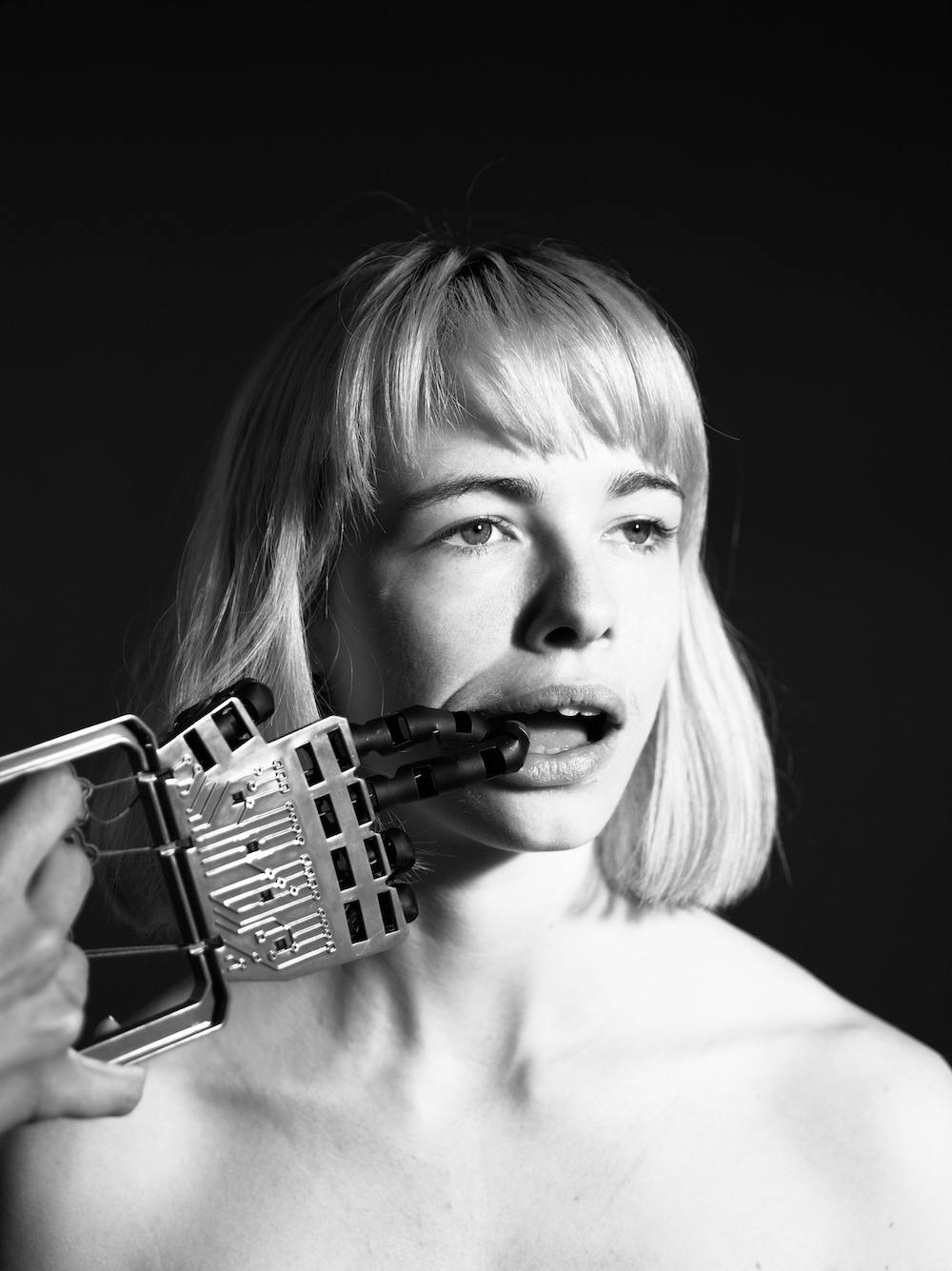 Ingrid Berthon-Moine, Goldsmiths MFA Fine Art
Also making use of the fantastic space that Goldsmiths offers, Ingrid Berthon-Moine's installation was soaked in sun from the adjacent wall-height window, and was simultaneously funny, commanding and sad. Depicting male genitalia in various states of excitement and apathy, her sculptures–which sat around the exhibition floor at various heights–were frank but not crass, some allantoid forms sloping over bulging, rounded shapes, others standing to attention and curving upwards. A cigarette form that flopped in half called to mind the warning images on tobacco packs (one smoke snapped in half to signal impending impotence). A large photograph at the back of the display, of the artist propping up a real-life phallus with a stroking finger, offered an unusual sight—a woman standing nose to penis and, rather than diving in with porn-star excitement, simply inspecting the sight before her. There are parallels to be drawn with artists such as Sarah Lucas, who portray the body with a sack-like irreverence, but this style is usually employed to comment on society's objectification of the female form. It feels less familiar to see this depersonalized treatment of the disembodied male organ (and by a woman).
Ingrid Berthon-Moine. Image: Thierry Bal
Ingrid Berthon-Moine. Image: Thierry Bal
Daniel Arcand, Goldsmiths MFA Fine Art
Another powerful presentation at Goldsmiths came from Daniel Arcand–one of his large-scale works, in particular. My Mother Told Me War Would Be Like This (or A Possibility For An Approach To Reproducibility That Wasn't Available Heretofore) depicts two scenes. On one side, a family sit down to eat, father holding a baby, table full of food, compulsory still-life of some fruit hanging above the table. The scene is busy and warm, but perhaps with some of the emotional disconnect that happens to most families during meal time. The other side shows a man clutching his baby (wearing the same colour as the baby on the left) amidst the debris of war. The energy here is immediate, undistracted and tense. The symbolism presented in these two scenes might seem cliché–if it weren't for Arcand's use of awkward composition and background, creating a noise within the work in which it is easy to miss the activity. Both backgrounds are made up of vibrant isometric cube patterns, which enhance the awkward angles of vision, feeling as though, as the viewer, you are looking down from an unnaturally high vantage point. Mixing clean design elements with parental terror in an apparent war zone, Arcand confuses the points of potential compassion for his subjects—similar to the way we digest world news, which rarely comes to us independently of our comfortable, domestic lives.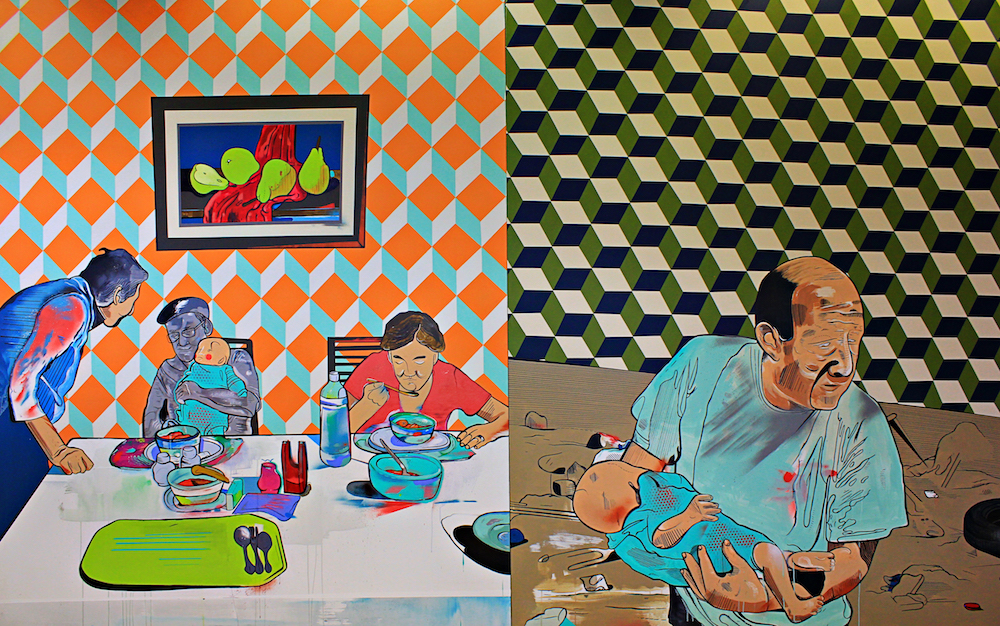 Jack Burton, RA Schools MA
Jack Burton's photographic works that were shown at the RA show have much in common with recent painting techniques—specifically, the aesthetic that has been inspired by the digital. Digital, feeding painting, feeding photography. His works here were luminous (printed onto metallic surfaces, aligning the images to some degree with the experience of viewing something on screen) and rich in colour, drawing on an eclectic range of imagery that set the mind firing in multiple directions at once; here a neon hotel sign, there a cloaked religious icon. The artist's photographs are manipulated both physically and digitally and, as with Batista's works, they had a group nature to them at the RA exhibition, presented in a manner that felt collective—a selection of both intimate and large-scale pieces that related to the regimented metal ridges from which they hung as a complete installation, rather than an afterthought. As individual images, they are variously anxiety inducing and joyful.
Words: Emily Steer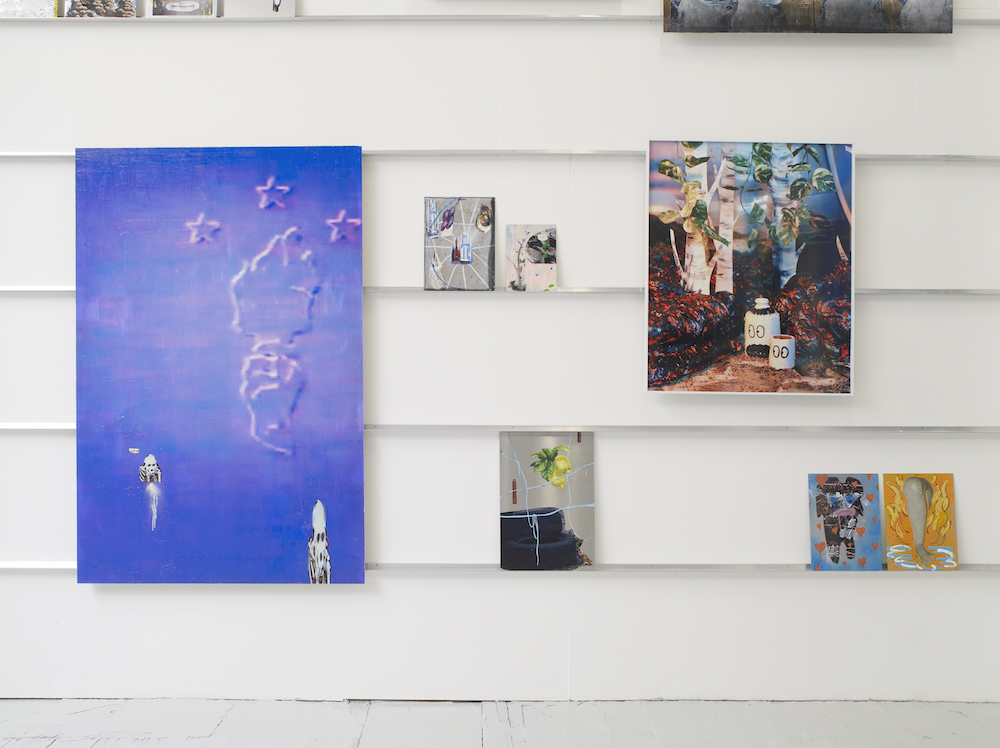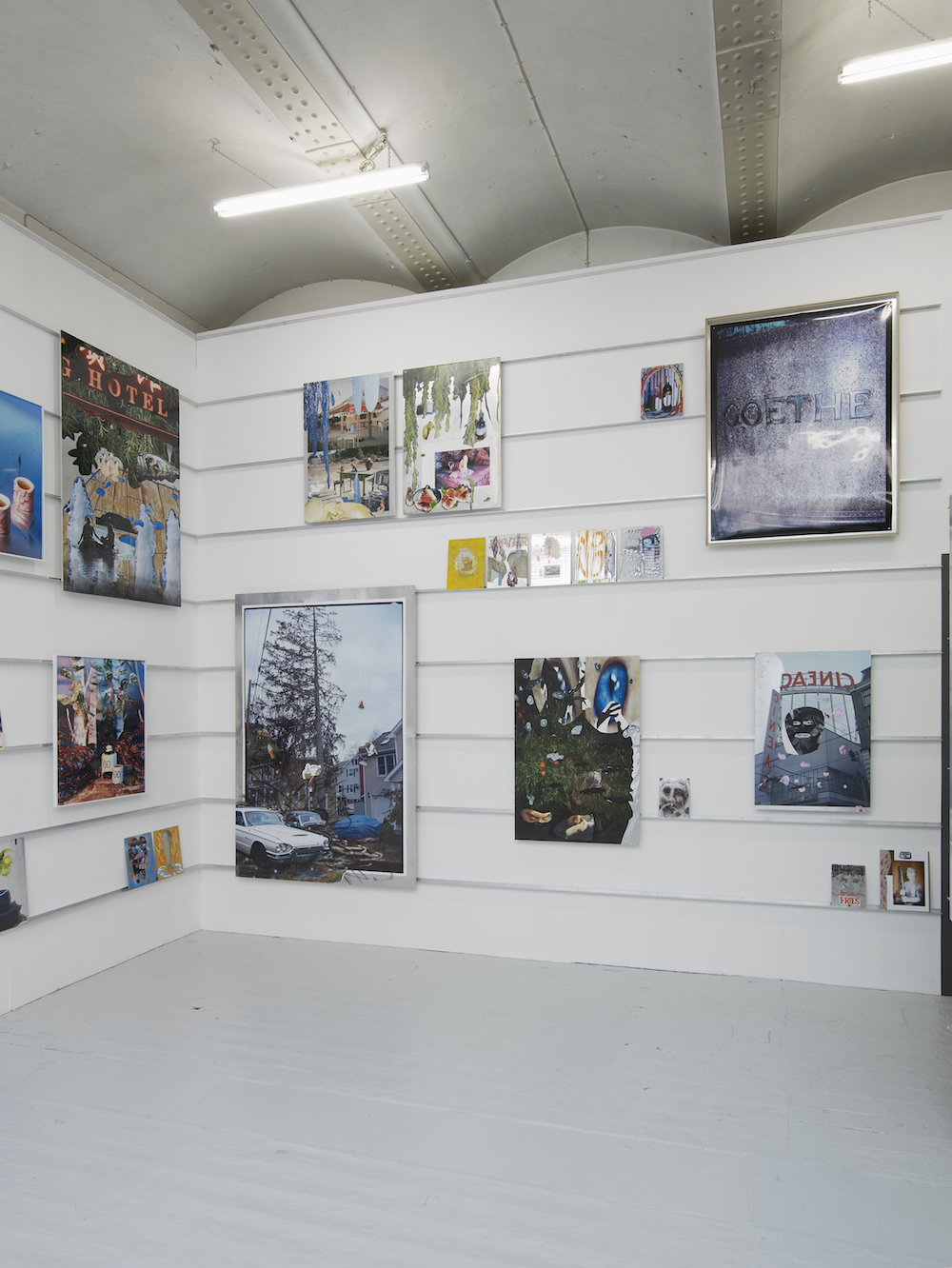 Sean Raggett, RCA MA Photography
Sean Raggett's large format photographic triptych The Empty Landscape (Watcher/Watched) stood out at the RCA MA show for its attractive, formal simplicity. A photograph of a twelve year-old boy stared sleepy-eyed from one wall, perpendicular to two lightboxes showing images of a tree equipped with a CCTV camera. The images were almost identical–except for a very slight change in perspective between them, meaning you end up staring at both, trying to spot the difference. The serenity of the scene acted as an invitation to make connections between the inquisitive eye of the surveillance camera and that of the boy; a window into further questions around the extent and role of surveillance in contemporary life.
Sean Raggett, The Watcher
Sean Raggett, The Watcher (guerilla installation)
Lewk Wilmshurst, RCA MA Print
Lewk Wilmshurst's work is a concoction of strange symbolism, lucky charms and desperate hope with apocalyptic undertones. The artist's piece in the RCA MA show Encore Fatigue was a conversation between three banners. The largest, central one, reading "WORK TODAY FOR A BETTER TOMORROW" and dressed in a necklace of chicken feet and feathers, appeared to lecture the smaller two, both complete with children's trainers and shin-pads. The banners themselves were beautifully intricate digital collages combining symbols, emojis, video game imagery and stock nature photographs that all swarmed around a detail from Gustave Moreau's Saint George and the Dragon. Soundtracked by an ominous voiceover, the installation left one with a slight sense of dread and anticipation for the future.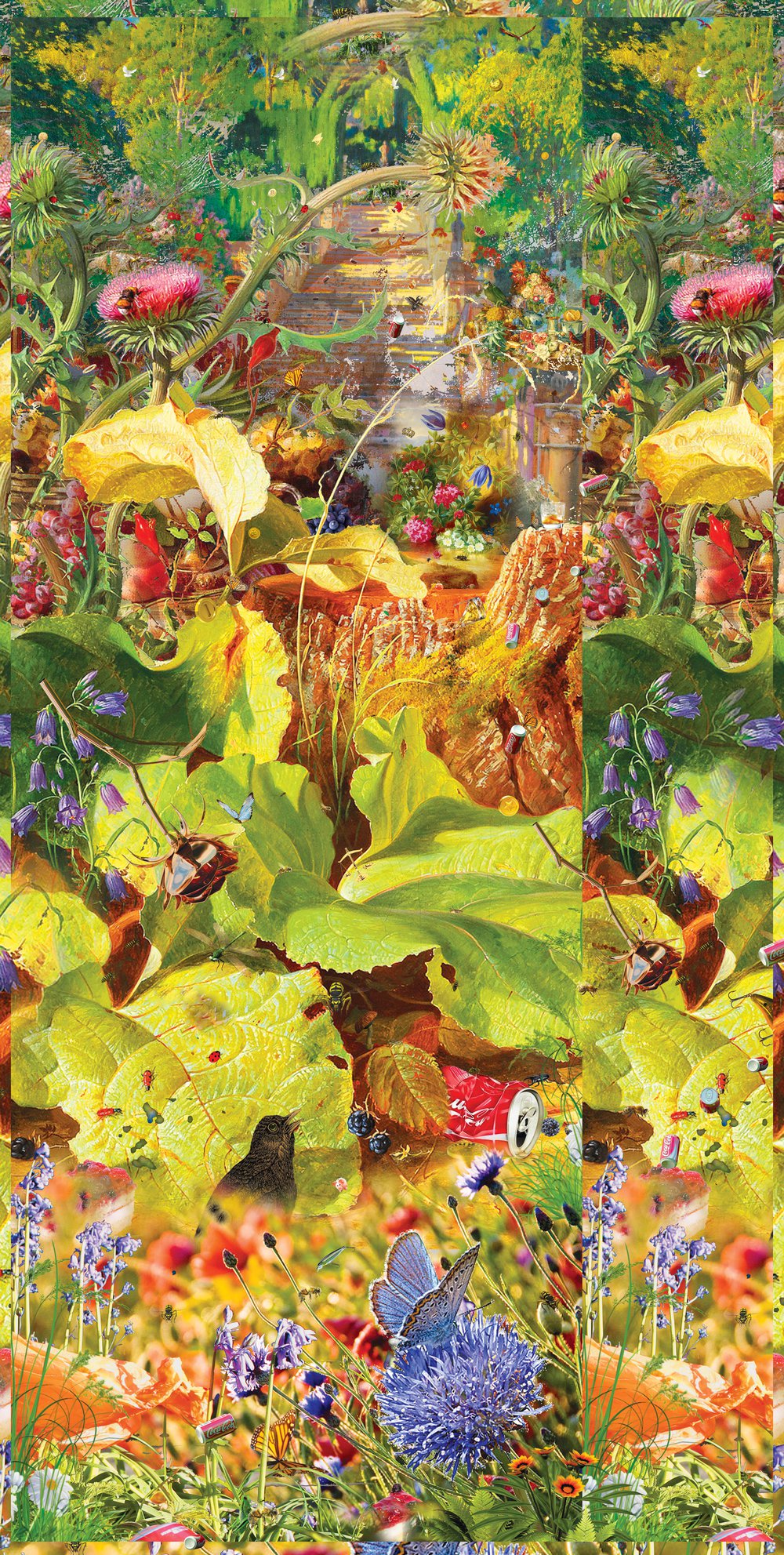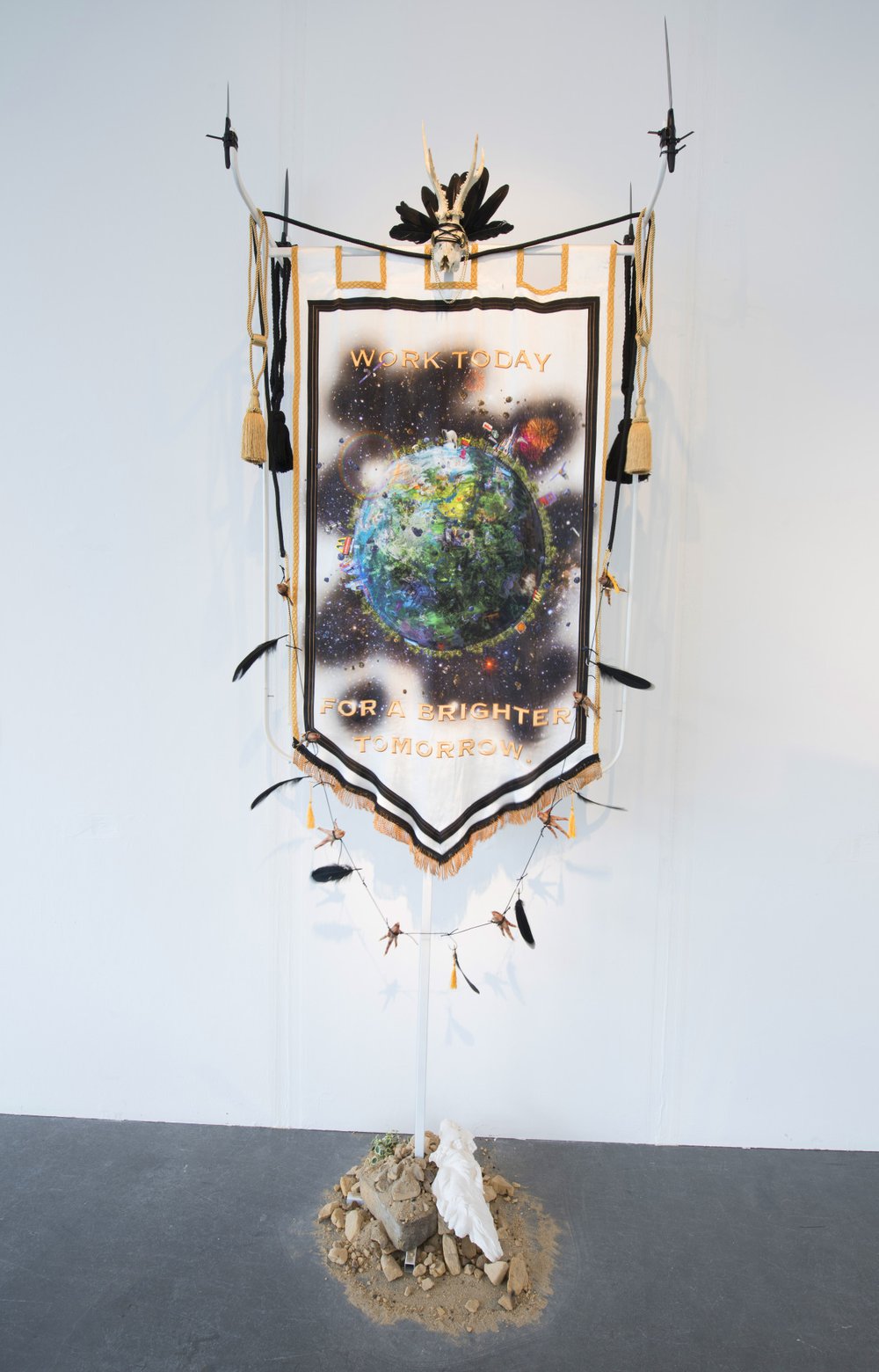 Encore Fatigue // Teacher, Lewk Wilmshurst 2017 giclee print on silk, mixed media 90cm x 90cm x 200cm
Jocelyn McGregor, Slade School of Fine Art MFA Sculpture
We approached the Slade MA show with high hopes, and stepping into the first room we knew we would not be disappointed. Involving elements of her works Moth, Jennifer and Eller Beck, Jocelyn McGregor's installation was, at first glance, an unsettling amalgamation of a shampoo advert gone wrong and a long-forgotten (well, except by me) viral link titled The WEIRDEST video on the internet!. A curtain of wet hair extensions/artificial grass wove its way around soft-sculpture stones, driftwood and chains, whilst isolated and harnessed limbs hung menacingly from the ceiling and clung to walls. Some limbs were not limbs but in fact aircraft parts, cast in the same pale fleshy tones–a result of the haematite powder McGregor uses. The installation collided fragments of the female body with synthesized iterations of nature to haunting effect.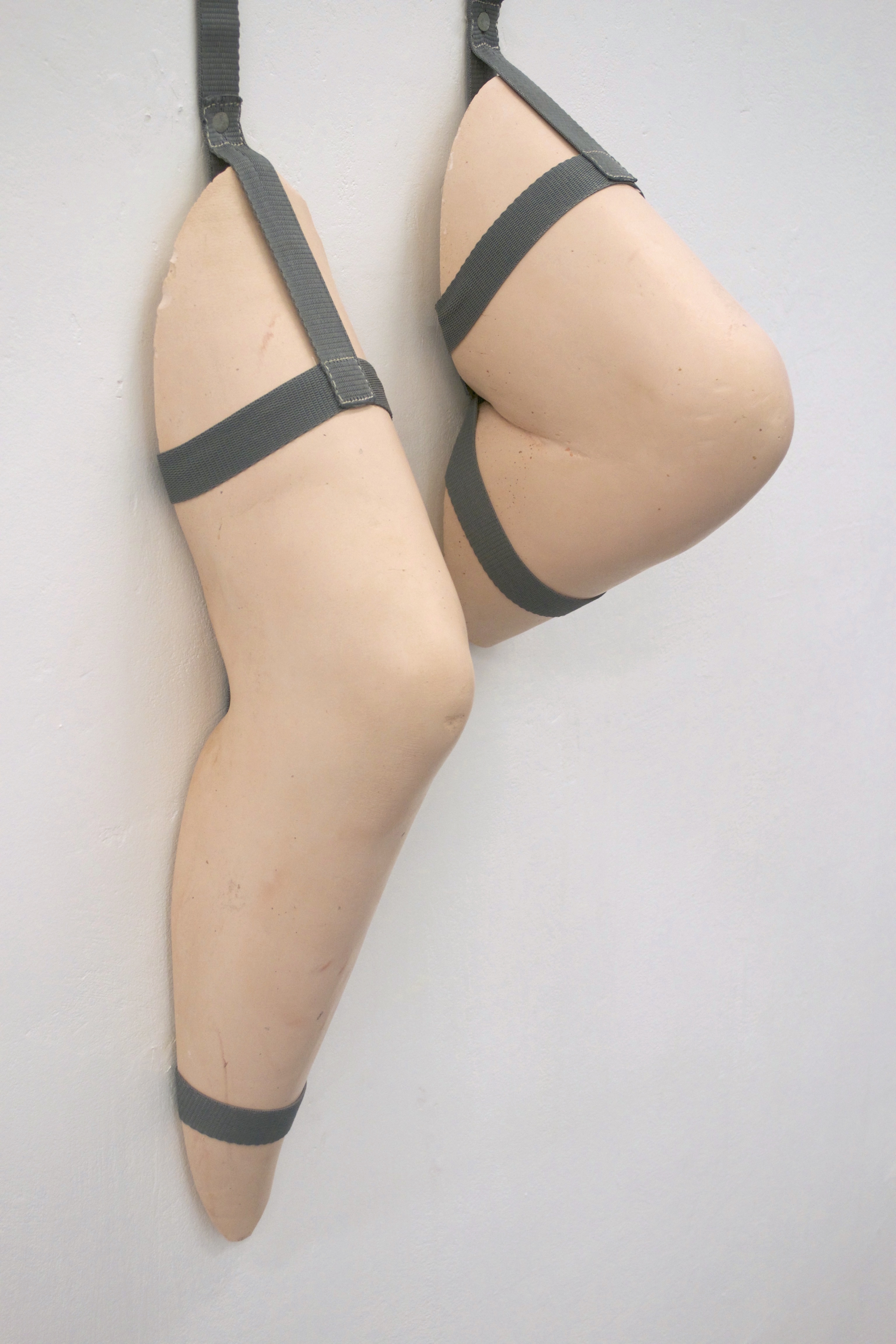 Michela De Nichilo, Slade School of Fine Art MA Fine Art Media
The smell of freshly-painted walls was interrupted on the top floor of the Slade by damp soil and grass scents wafting from Michela De Nichilo's installation. Under two downward-facing television screens which hung from the ceiling, those who could brave it were invited to sink into the turfed floor and watch a macro video of a worm as it edged its way through soil. The disarming insect-perspective was reminiscent of Pipilotti Rist's video installations, but the mound of rolled turf and wheelie bin of glittery liquid grounded the piece in a rainy front garden. Looped around the ceiling, pink tubes spoke of organs and bodily systems. You got the sense you'd been shrunk like Alice and thrown into a macro world.
Words: Rosalind Duguid