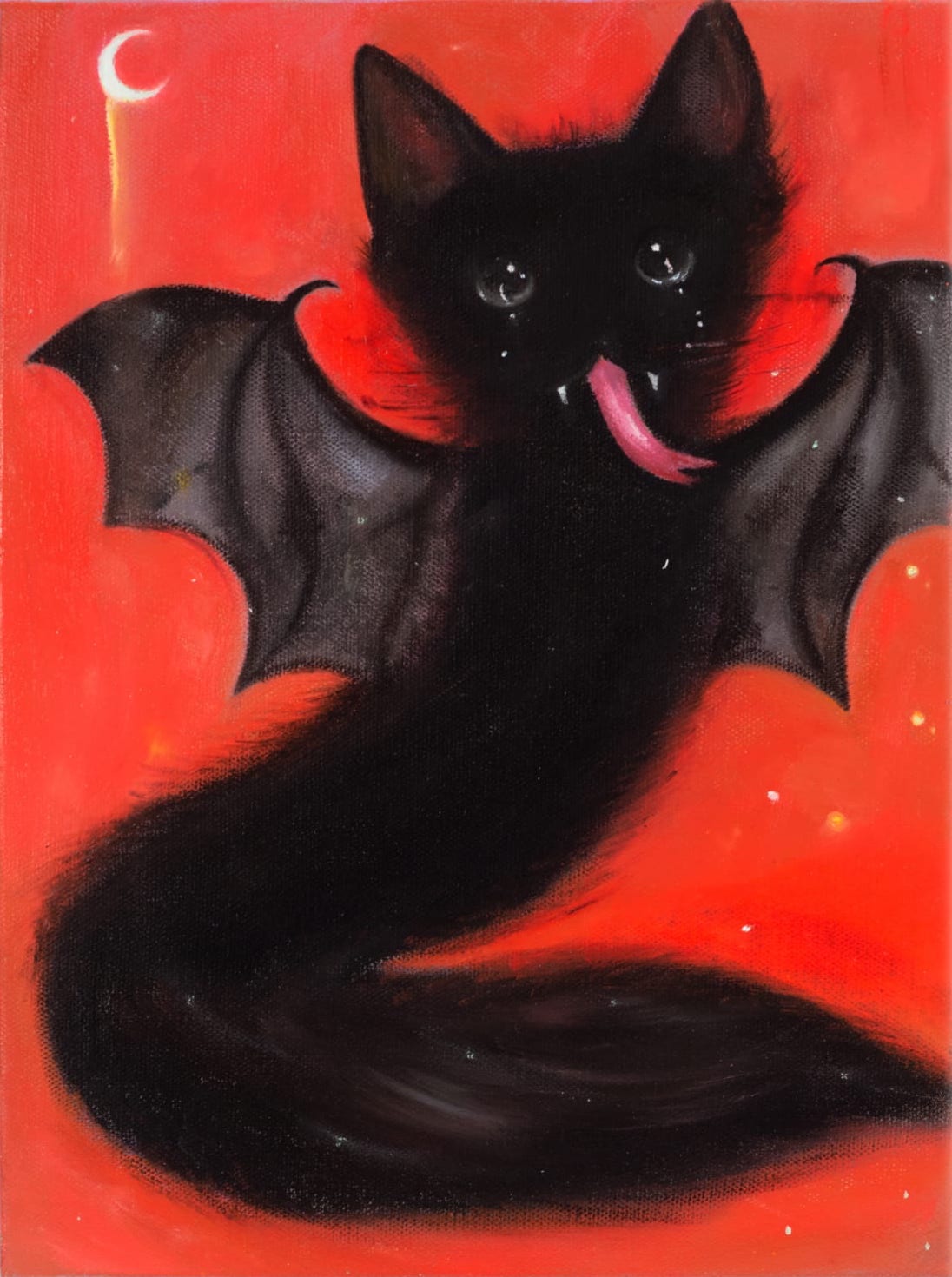 Eggs break, wax melts and drool trickles out of the corner of a mouth. The paintings of Shanghai-based Tao Siqi are attentive to the details of domestic life. That liquid motif recurs frequently throughout her work, as if to trouble the otherwise contained vessels from which they emerge. Boundaries are destabilised and broken, little transgressions that lend these scenes an off-kilter undercurrent of disturbance.
Pets are another constant throughout Siqi's work, with a particular focus on the distinctive form of the domestic cat. The rough texture of a cat's tongue, shining with saliva, is the subject of one canvas, while in others the furry tail whips across the frame as if caught perpetually in haughty motion. Siqi appears currently in Nine Lives at Fortnight Institute in New York, a playful group exhibition that looks to examine the perennial motif of cats within art. (Louise Benson)
UK-born but US-based artist Tunji Adeniyi-Jones paints vivid canvases that employ rhythmic patterns and tessellating figures in his ongoing consideration of historical and contemporary perceptions of the Black body. His fluid lines and bright, bold palette are influenced by Yoruba mythology, European abstraction, and the post-colonial writing of Chinua Achebe, Wole Soyinka and Amos Tutuola. Having just been added to the White Cube roster, he will soon open a solo exhibition at Charleston in Sussex. His is a star that is on the ascent. (Holly Black)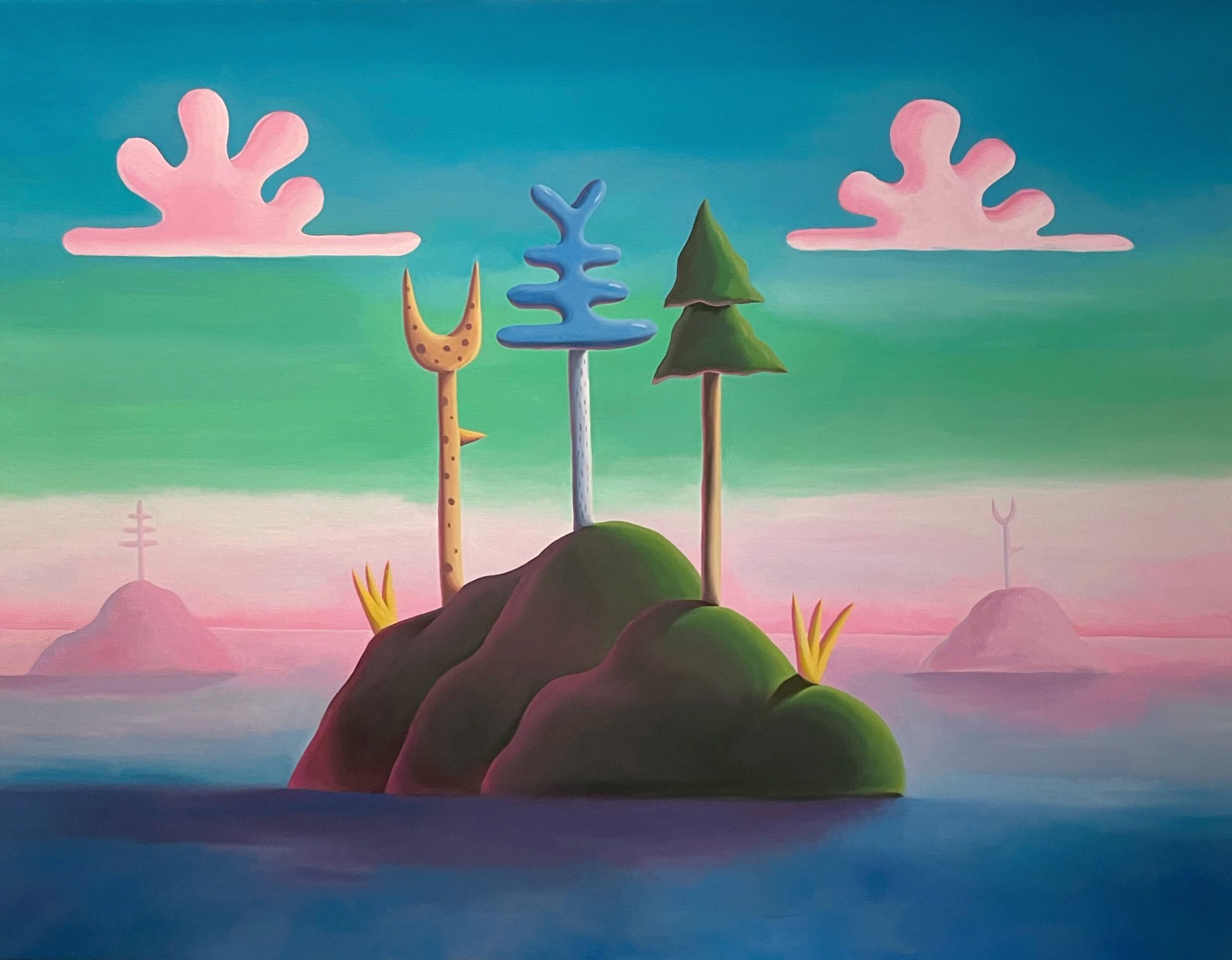 Having spent time working in the oil and gas industry in Dubai and Iraq before segueing to a role at the United Nations in the Office for Disarmament Affairs, Daisy Dodd-Noble has an unusual background to say the least. Finally landing on painting, she paints Tellytubby-esque landscapes, all squishy blobs and stripy mountains, which take the genre to a whole new non-place. Her work is on show at Unit Gallery London as part of their Rites of Passage group exhibition, exploring in-between spaces and states of mind. (Charlotte Jansen)
Gallery 1957 has shown an excellent selection of artists since opening its London space, including one of Elephant's Spring/Summer 2021 cover artists, Kwesi Botchway. Last week, the gallery opened Serge Attukwei Clottey's Distinctive Gestures. The Ghanaian artist explores body language in this exhibition, observing the expressions and physical movements of friends he knows in real life and those he only knows through social media. He has also examined the body language of subjects photographed in the 1950s and 1960s, in intimate social settings such as barbershops.
Through these sensitively rendered works (which span highly detailed charcoal portraiture to more vibrantly coloured abstraction), the artist questions notions of western masculinity, and examines how these ideals spread via social media to impact men on a global scale. (Emily Steer)
Brightly coloured figures and geometric shapes tumble across the page in the vividly imaginative work of Susan Te Kahurangi King, the self-taught New Zealand artist who has been working prolifically since her early years growing up in rural Te Aroha during the 1950s. King, who lives with severe autism, has not spoken since the age of four. Instead, she draws.
There is a difficult line between adulation and exploitation when it comes to creative figures who are termed 'outsider artists'. King's family remain closely involved in her output, carefully archiving every drawing, and live with her in Auckland.
She appears in Prismatic Minds, a new exhibition curated by Russell Tovey at Flowers Gallery in London (until 28 August), which brings together six mainly self-taught artists from around the world, exploring the act of repetition in their work and the powerful, energetic desire to create. (Louise Benson)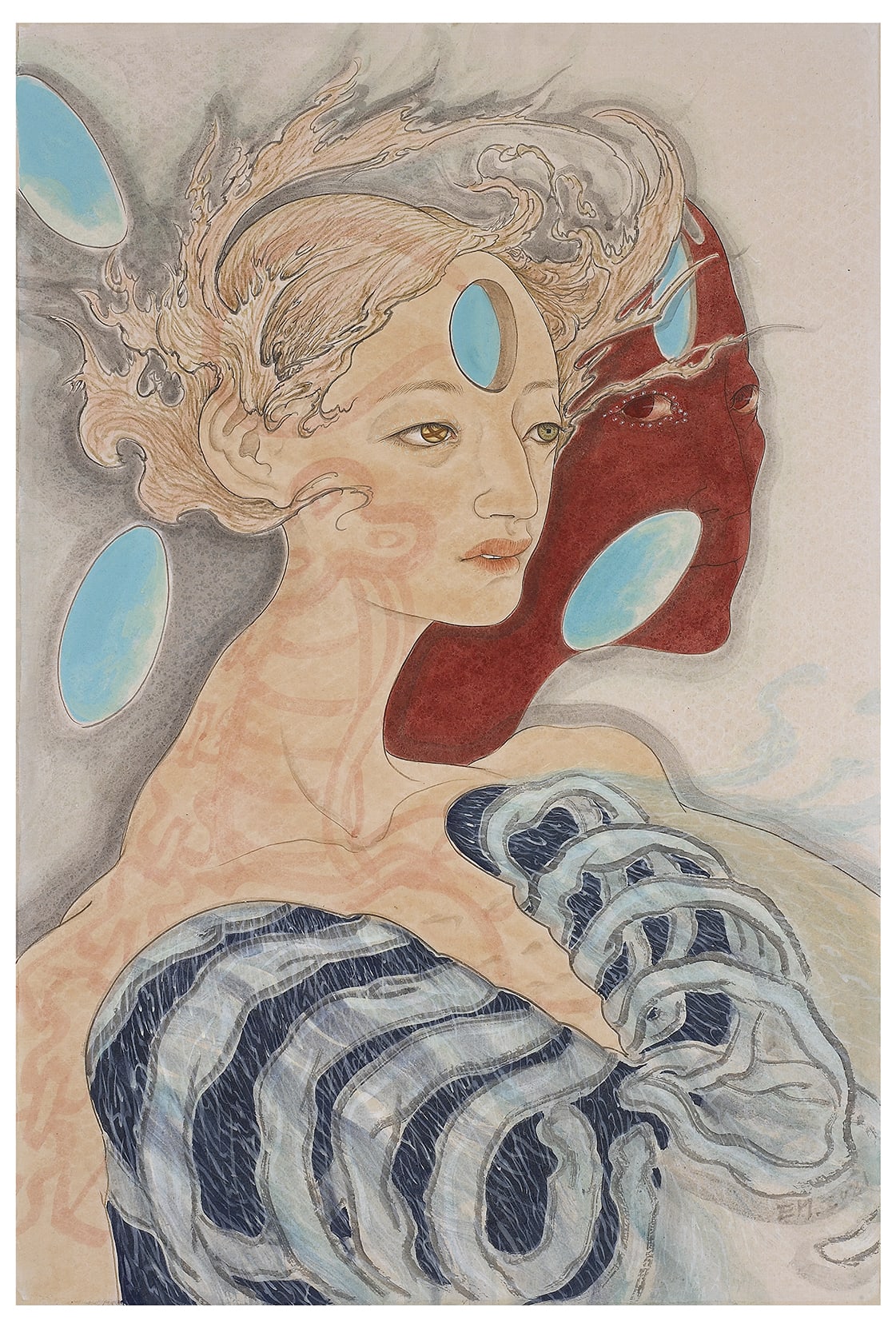 The group exhibition, Legends, at Kristin Hjellegjerde in Wandsworth, southwest London, sees Tae Kim's work on display alongside that of Edouard Baribeaud and Tendai Mupita. The Korean artist's highly detailed paintings are both serene and unsettling, depicting sorrowful human forms whose flesh and hair trail from their heads and shoulders like upended roots.
Some of her portraits come from interactions with others online, and feature the imagined faces of people she has never actually met. These works evoke the "brief, but complex intense human connections" that are forged during online gaming. In Legends, all three artists consider the act of mythologising places, people and memories. (Emily Steer)
You might find Philip Emde a little confusing. On the one hand, he makes graphite monotypes, abstract things that have a frenetic energy and restrained colour. Diametrically opposed to this is his other, equally distinctive body of work, acrylic figurative paintings featuring his cornucopia of stuffed Steiff toys, the fluffy, inanimate creatures becoming a conduit for his curiosity about semiotics, symbols and play. A little silly? Perhaps, but there's something irresistible about the innocence of it.
Emde's work is on show at Ruttkowski 68 gallery this month as part of a group show honouring the life and work of the late French graffiti artist SAEIO, a member of the Paris-based PAL crew. Proceeds from the show are being donated to a foundation dedicated to SAEIO, who died in a car accident in 2017 aged 30. (Charlotte Jansen)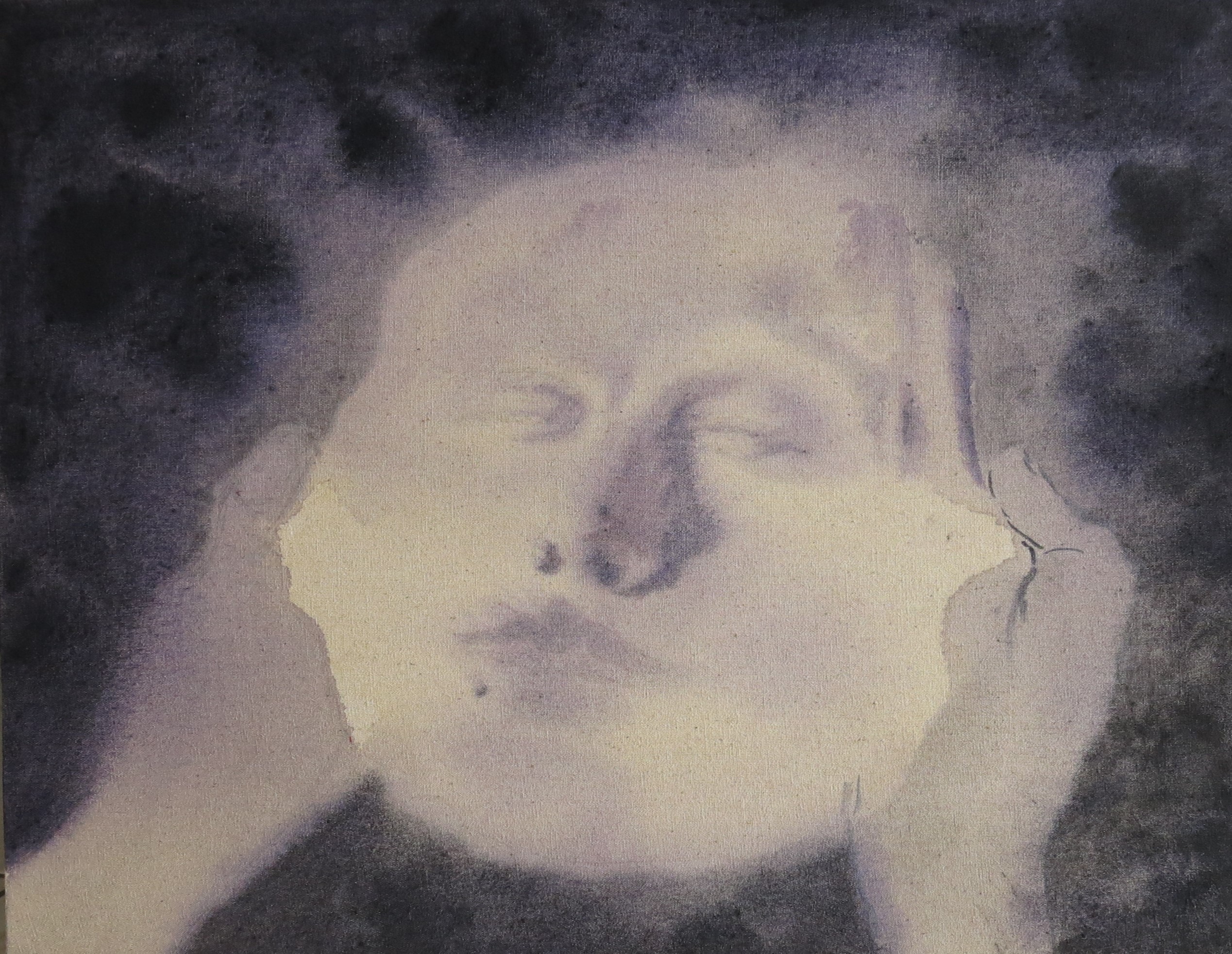 Delphian Gallery have teamed up with Unit 1 Gallery, London, to exhibit 42 artists they discovered through their 2021 Open Call, an annual showcase of emerging talent. Among the ripe pickings is Liang Fu who graduated from Nantes' School of Fine Art MFA this year and is still something of an unknown entity, but who sends a shiver down the spine with his diaphanous brushwork (he favours oil and watercolour on delicate handmade papers) and the smoky, spooky feeling in his work.
Fu's paintings recall the feeling of floating in space, or being submerged under water, a mix of melancholy and tranquility. You can also see work by Fu at Rise Art, London, until the end of September. (Charlotte Jansen)