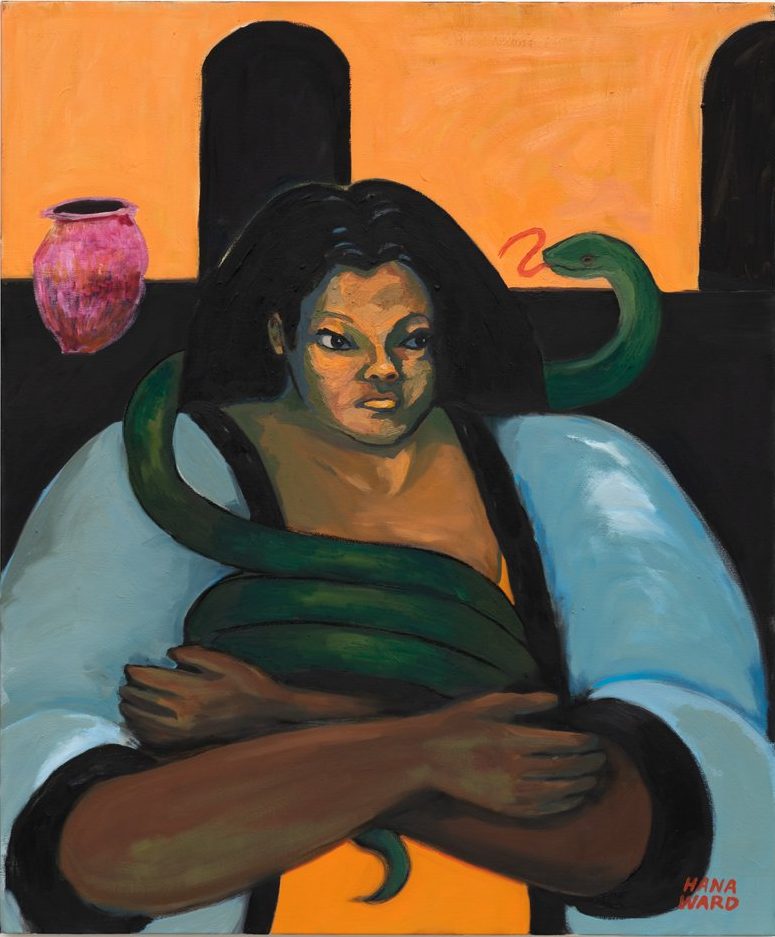 Painting intimate images of women deep in thought, Hana Ward's works show humans as part of nature. Her lone figures are often situated within a natural landscape or surrounded by signs of life and death, such as houseplants and human skulls. A Night Between Two Days, Ward's new show at Mrs. Gallery in New York, is inspired by the cycles of the moon and explores wider ideas of beginnings, endings and regeneration.
In this exhibition, she asks the audience to consider how new beginnings can be found in darkness. "I would describe my practice like a scavenger hunt," she says. "When I begin creating a body of work, I enter a certain mode and I don't know exactly what I'll make as a result, but I'll know it when I find it." (Emily Steer)
The latest body of work from Jordan Ann Craig is a series of acrylic paintings, rigid in their geometric form but free and diverse in colour. Based in Santa Fe, the Northern Cheyenne artist draws on indigenous textiles, beadwork and pottery, creating sharp studies of meticulous order, thick with history. Works like Let's Do That Again and Give it Time employ a soft, almost inviting symmetry, while others tend towards optical illusion, highlighting visual dissonances between colour and shape.
Ann Craig also works across dot painting, textile print and drawing, employing similar motifs while allowing the material to dictate subtle changes in texture and atmosphere. Her first solo exhibition at London's October Gallery, entitled Your Wildest Dreams, opens at the beginning of December. (Ravi Ghosh)
The Punishment, 2021
The Holiday, 2021
It might be surprising to find that acclaimed Australian painter Prudence Flint, at the age of almost 60 with more than three decades of work behind her, is only now making her London debut with a solo exhibition at Mother's Tankstation.
Her latest rosy-hued scenes of sinister female domesticity elude easy categorisation, flitting between menace and repose. Women lie nude or clad in only a bra and pants upon plain, uncomfortable-looking beds and hover at the edges of rooms, deep in troubled thought. Knitting needles are often placed strategically within the frame, at once a weapon and a tool for mending and binding together disparate threads. (Louise Benson)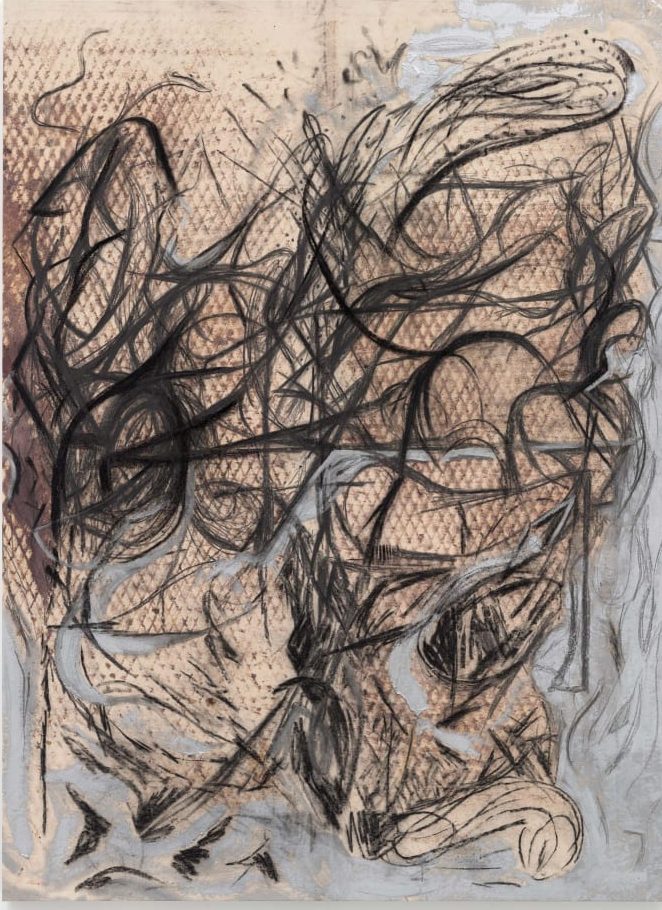 Creating intense, large-scale graphite, charcoal and acrylic works, Peppi Bottrop often introduces unusual materials such as bleach, iodine and bronze pigments. His upcoming show at Pilar Corrias is inspired by Germany's Rhur district, where coalfields have been reclaimed by nature. In the late 1990s, when mines began to close down in the area, the local population was promised an optimistic "new wilderness". He takes an unusual aesthetic approach to his environmental subject matter, representing the clash of nature and industry in dark works.
Bottrop's process is intensive, and each piece goes through layers of destruction and rebuilding. "At one time wild and possessive, his strokes also appear fragile, delicate, and tentative," writes the gallery. "Some meander before they twist into determined tendrils." (Emily Steer)
Swiss photographer Diana Pfammatter has an eye for portraits that disarm. Whether she is shooting big-name artists or intimate pictures with good friends, she creates scenes that feel surprisingly spontaneous.
The images on her website reveal that she has the ability to level with each of her subjects before the camera until the shared smiles and shyness of humanity is teased out and laid bare. This openness extends to close-cropped details of the body, where the folds and creases of skin become a new form of embodied abstraction.
Meanwhile a series of landscapes, shot in the wet green hills of her native Switzerland, revel in the textures of nature, from slick grass to the rough lick of a cow's tongue. (Louise Benson)
Kicking off The Troubles Generation (a 12-month curatorial project at South London's Seen Fifteen Gallery) is Martin Seeds' No Country for Young Men. A work of material history and recontextualisation, it sees Seeds present found portraits from a Belfast school yearbook from 1965, early-teenage boys gazing casually into the future from which they are now viewed—as children of a Troubled generation.
Elsewhere, Seeds works with a variety of materials, layering feathers on tar to create a woolly sheet work, or engaging with Northern Irish history via documentary photography or collage. In one piece, he cuts up historic maps of the region and layers them atop a gridded laminate sheet, their silhouettes resembling shattered ceramic or glass. Like No Country for Young Men, power lies in the questions thrown up by reassembly. (Ravi Ghosh)