Sal Salandra
A hairdresser by trade, Sal Salandra worked for more than 55 years in salons around New York, only stopping when the strain on his back mandated a period of recuperation. Alongside his day job, he has been using needlepoint to make his 'thread art paintings' for four decades, honing his craft and, more recently, expanding his depictions to include sex and BDSM-inspired scenes while also incorporating Catholic iconography.
Salandra's works are cartoon-like in their pacing and character-depiction, his scenes packed with leather-clad, whip-brandishing cowboys encroaching upon each others' bondage, sporadically arranged on a fractured multicolour backdrops. Elsewhere, he incorporates Batman characters and animal imagery to foil the bawdiness. (Ravi Ghosh)
Precious Okoyomon
Language is central to the work of American-Nigerian artist Precious Okoyomon, the winner of this year's Frieze Artist Award and one of the groundbreaking artists to appear on the cover of this month's Vogue Italia. Textual slippages and miscommunications, and the way that history is made and remade through retellings, come into focus in their sculptural, intuitive installations and performances.
They have buried poems in the ground as if they might bear flowers in springtime, and stuffed teddy bears with the torn fragments of a text by collaborator Hannah Black. Cotton, clay, wool and earth are employed, imbuing objects both personal and universal with a deeper significance in order to conjure a history of violence against Blackness. (Louise Benson)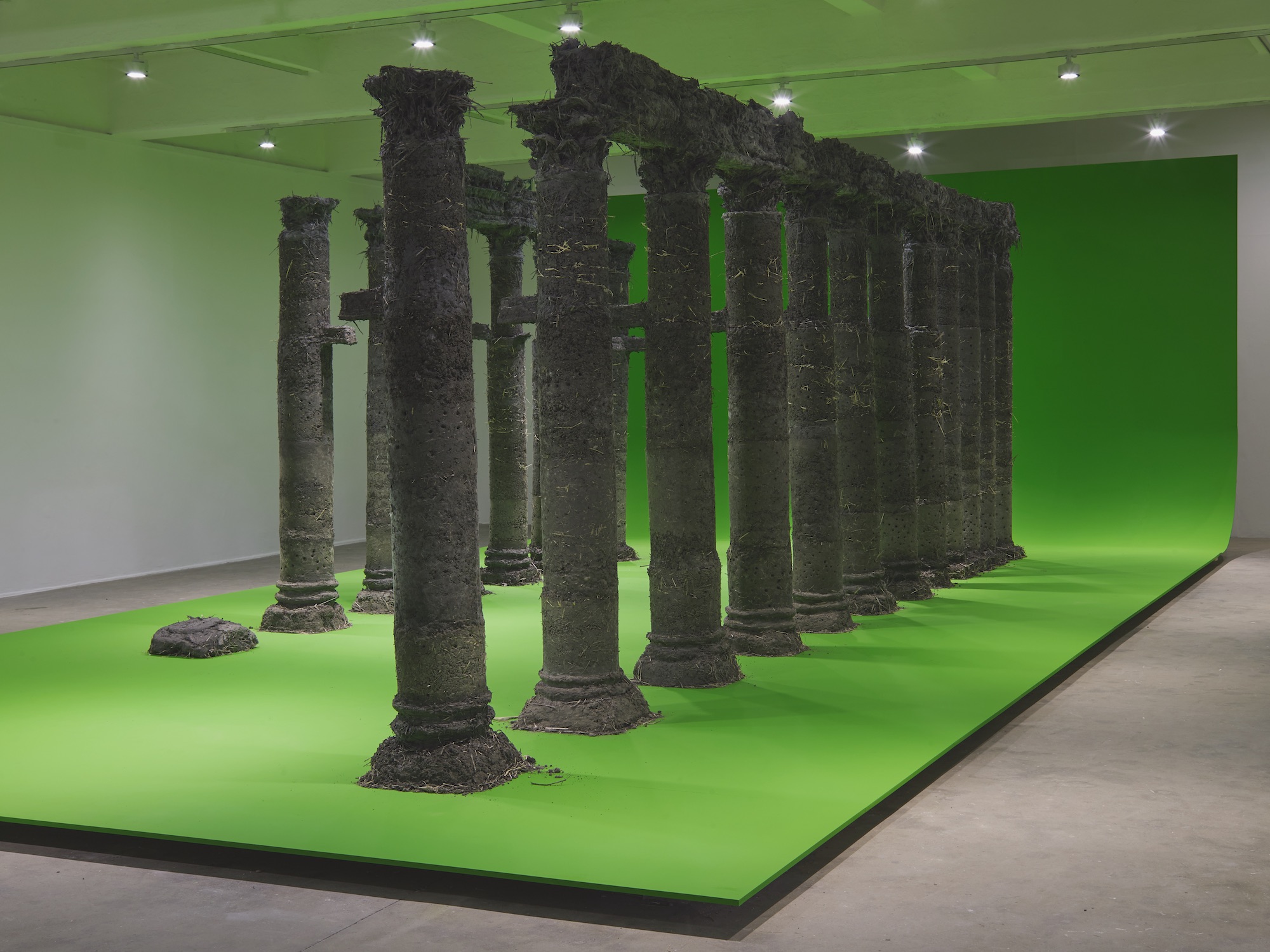 Abbas Akhavan
You might have spotted news of Abbas Akhavan's latest installation at Chisenhale Gallery in East London. Visitors have quite rightly been awestruck by his apparent recreation of the columns that once stood in front of the Arch of Palmyra in Syria. The construction appears in front of a gigantic green screen, as if ready for a post-production masterpiece.
Skewed by the fact that the blueprint was informed by a photograph as opposed to the site itself, the columns appear to collapse in on themselves, like a well-managed stage set. The material, too, is not marble or stone, but the packed-soil compound known as cob. Herein lies Akhavan's brilliance, he undercuts our preconceptions of the monumental, forcing us to take nothing for granted. (Holly Black)
Jet Swan
British studio portraiture can often conjure a stuffy backdrop complete with bright lights and false smiles, part of a long tradition where families and couples queue up to have a portrait snapped by a professional. Jet Swan breaks the mould in her first monograph, published this month by Loose Joints.
She set up a series of impromptu studio spaces around the UK, from a vacant storefront in a commercial shopping centre in Scarborough to a community centre in Ramsgate, where Swan is based. The resulting images are staged and yet intimate, with close-up shots of her subjects' faces in tense, introspective contemplation, set in relief against dark backgrounds that offer a heightened sense of ceremony. (Louise Benson)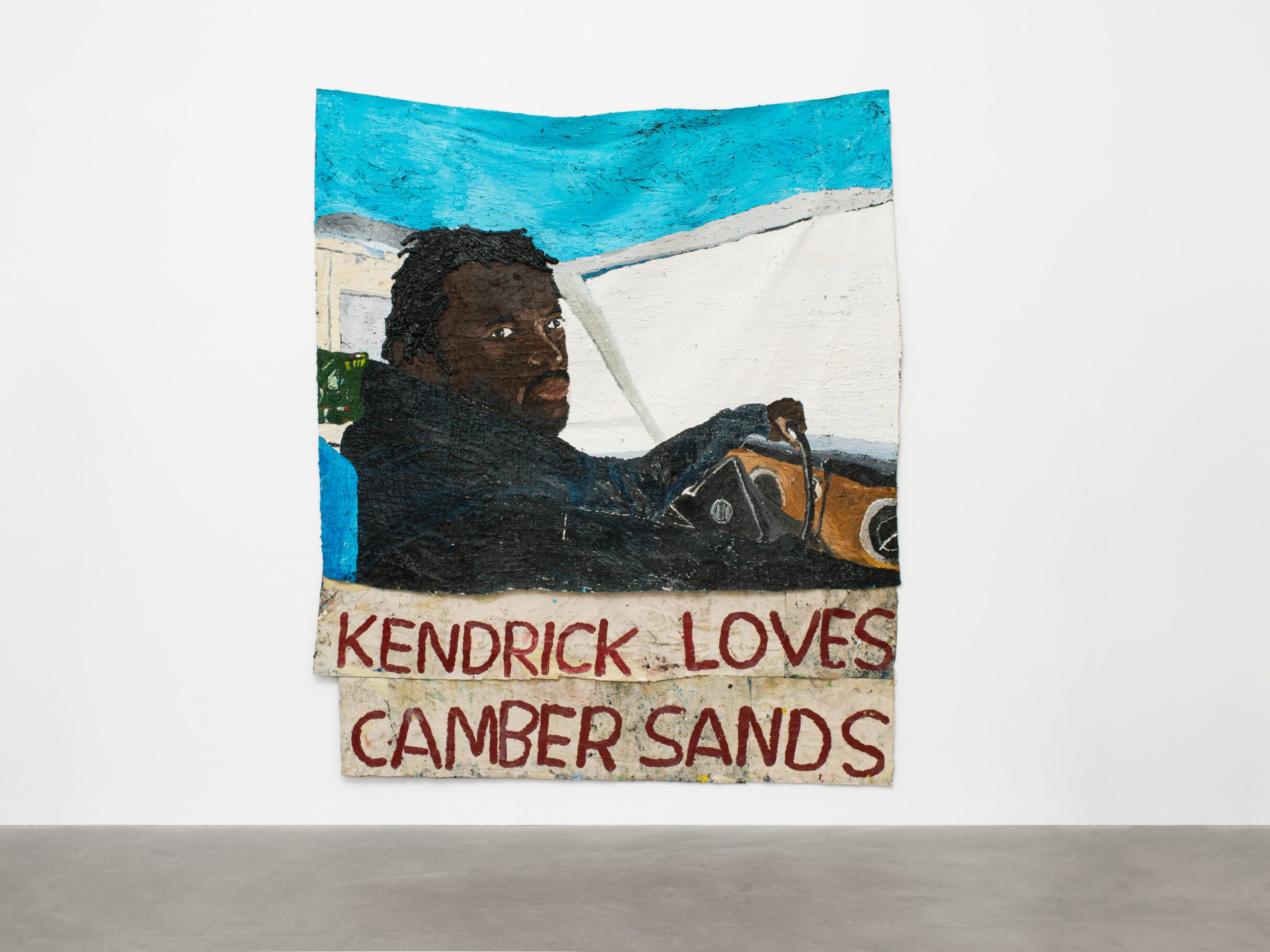 Sophie Barber
Turning her gaze from the Sussex coast to celebrity culture in a single brushstroke, Sophie Barber creates playful pieces on a variety of unstretched canvas sizes. Born in St Leonards-on-Sea and now working in Hastings, Barber's exhibition, The Greatest Song a Songbird Ever Sung, formed part of Goldsmiths CCA's Episodes series last year, the large, draping canvases offering light commentaries on life along the English coastlines—and repurposing ArtReview front covers to trace her art-world influences.
Barber's latest solo exhibition at Alison Jacques sees her continue her celebrity studies on smartphone-sized canvases. Using high-profile images of stars like Kendrick Lamar and Justin Bieber as starting points, her tongue-in-cheek works strip away stardom's otherworldliness. (Ravi Ghosh)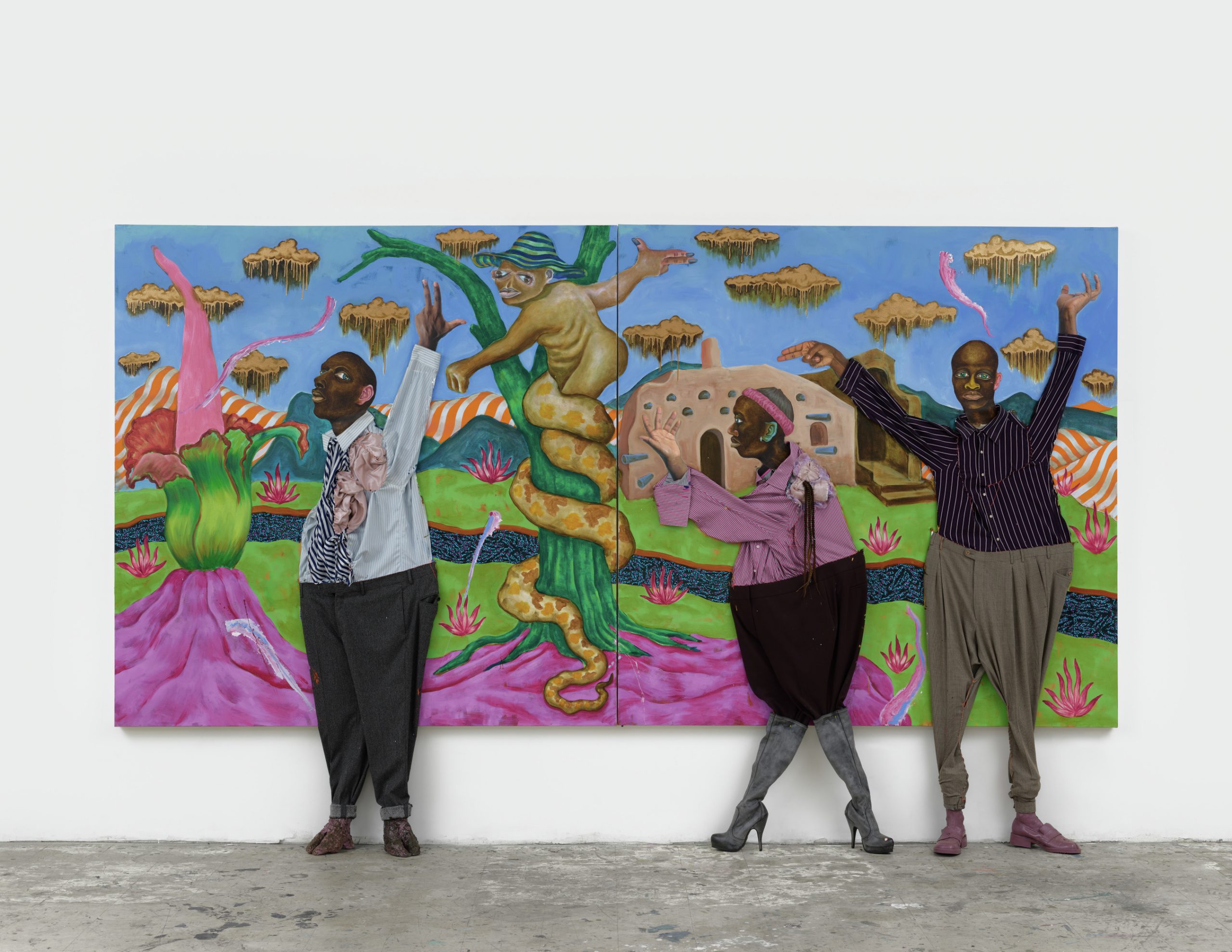 Simphiwe Ndzube
Combining the powerful expression of magical realism with references to the political and social history of South Africa, Simphiwe Ndzube has an upcoming show, Oracles of the Pink Universe, at Denver Art Museum. His first solo museum exhibition in the US, it brings together paintings and sculptural works that explore mythology, conflict and the fight for human rights.
The works take their cue from Hieronymus Bosch's The Garden of Earthly Delights, and have an apocalyptic feel: The Bloom of the Corpse Flower (2020) features giant red eyes painted in the sky and purplish clouds leaking thick drips down the canvas. As the show's title suggests, vivid pink dominates a selection of the works. "Pink is a colour rarely found in nature," says Ndzube. "In a fictionalized natural space, [it] awakens and politely shocks the viewer into attention." (Emily Steer)