Erik Winkowski's work uses animation to transform ordinary scenes in unexpected ways. Playful, colourful and surreal, the American video artist says his style is like a bunch of paintings that decided to leave their canvases and live out in the real world.
The artist's practice mainly centres around an ongoing video sketchbook project, which is hosted on his Instagram account, and sees him upload a new video collage every day. The format is something he adopted as a kid. "Ever since I was a little kid I kept a sketchbook," Winkowski says. "I was always experimenting with different styles, I really enjoyed the freedom of drawing."
"I think it's important to look outside of your own creative field for inspiration"
In school Winkowski fell in love with animation and after he graduated he spent several years working as a motion designer. "I was making animations during the day and painting in my sketchbook at night, for years I felt I had to choose between the two," he explains. "Eventually I decided that I wanted to find a way to combine them so I started posting daily experiments on Instagram. Calling it a sketchbook was a way to take some pressure off and give myself permission to have fun."
The variety and imagination is what feels most exciting when scrolling through Winkowski's work with rainbows appearing from fingertips, sets of shimmering typography and undulating tubes of colour being just some of the visual delights on his page right now. "I'm always asking myself, 'how would that move if it could?' I think it's important to look outside of your own creative field for inspiration," he says.
As a result, Winkowski often looks through art books to get inspiration and most recently, his interest in AR has led him to research subjects such as sculpture, architecture and stage design in order to better understand 3D space. "Even though I'm working with new technology I tend to look to the past for inspiration," he notes.
When starting a new piece, Winkowski looks through his series of notebooks, of which there are a lot. One notebook is crammed full of visual ideas, another contains short essays, there's a notebook he turns to "when I'm feeling lost", a notebook for daily gratitudes, and a note in his phone with hundreds of ideas for videos. "Writing has become a way for me to see my thoughts and hold on to the good ones," says Winkowski. "When I start a new artwork it is preceded by a lot of writing."
"I think animation is an optimistic act, it's about bringing things to life"
The artist works almost exclusively in After Effects and he usually shoots footage with his iPhone in his studio or when he's out taking a walk. He then combines the footage with his drawing and painting work. "People are often shocked that I don't use a digital tablet for painting, but I love the feeling of brushing paint onto paper and I think that joy comes through in my work," he says.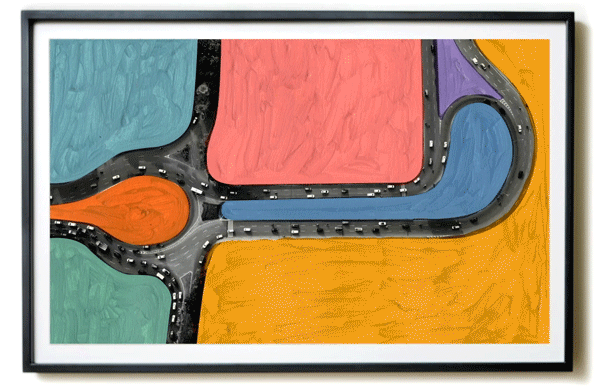 On top of these self-initiated visual experiments, Winkowski has also applied his style to various commissions, having worked with Prada, Gucci, Hermés and The New York Times on various projects. "I enjoy the collaborative process of working on a commission. I usually work alone, so it's a nice change of pace to work with a group," he explains.
Winkowski's collaging of shapes, images and handmade marks has a whimsical quality and it's great to see animation being used in such an experimental way. For the artist, his works are a positive force for good. "I think animation is an optimistic act, it's about bringing things to life. I hope people get that feeling from my work."