Eva O'Leary has a face you can trust. I suspect it was an asset when she visited middle grade schools in her central Pennsylvania hometown, searching for teenage girls to participate in her new body of work. Spitting Image, the Yale MFA grad's first solo show in New York, included larger-than-life prints and a multi-channel video showing the girls examining their own reflections in a two-way mirror. The resulting images are like selfies in one respect—they are images of a subject observing her own face—but unlike the variety hosted on social media they seem unfiltered and unaffected. There's a vulnerability to the pictures that made me teary when I first saw them on the wall. They acknowledge the challenges of adolescence while hinting at the rich inner lives of young women.
Spitting Image shows girls aged eleven to fourteen. What interested you about that age group?
When I was a teenager my mom started online dating, so she was trying to reinvent herself as a sexual being at the same time I was also trying to figure those things out. I think it was really traumatic for her and also for me. I realized, "I'm going to have to go through this stuff twice? That's awful!" So the first project I ever made was photographing girls between eleven and fourteen and women between thirty-five and sixty-five, two age groups that are forced to reinvent themselves based on outside pressures or expectations. Then at the end of undergrad a male professor said I should be careful about photographing women. He told me, "You wouldn't want to become one of those kinds of artists."
What kind of artists did he mean?
I think he was referencing a certain group of women who were photographing women. A lot of them graduated from Yale and were part of Gregory Crewdson's show Another Girl, Another Planet. People like Katy Grannan and Angela Strassheim, who were some of my favourite photographers at the time. So for the next few years I avoided photographing women directly. But at a certain point last year, around the time of the Trump election, I was so fed up with everything that I decided, "I'm just only going to photograph young girls, that's it!" I found a folder on my computer of all these selfies I made when I was thirteen. I could see myself trying to construct my identity through photography. It got me thinking about how, for this generation of girls, their understanding of photography—and how it relates to their self-worth—is totally different. Their cell phone is a mirror and that mirror is always at their disposal. Any time they want to look at themselves, they open the camera app.
When you photographed the girls from behind the mirror it's a bit like they were taking an assisted selfie.
When I started with the project I was really frustrated with portraiture in general. I take a lot of pictures of people but I came up against this problem of not wanting to project my opinion onto someone else. How do you make a picture where the subject has some control? I wanted to make a picture that makes itself. The girls aren't entirely in control of the image, but at least there's this kind of communication between them, the mirror and me.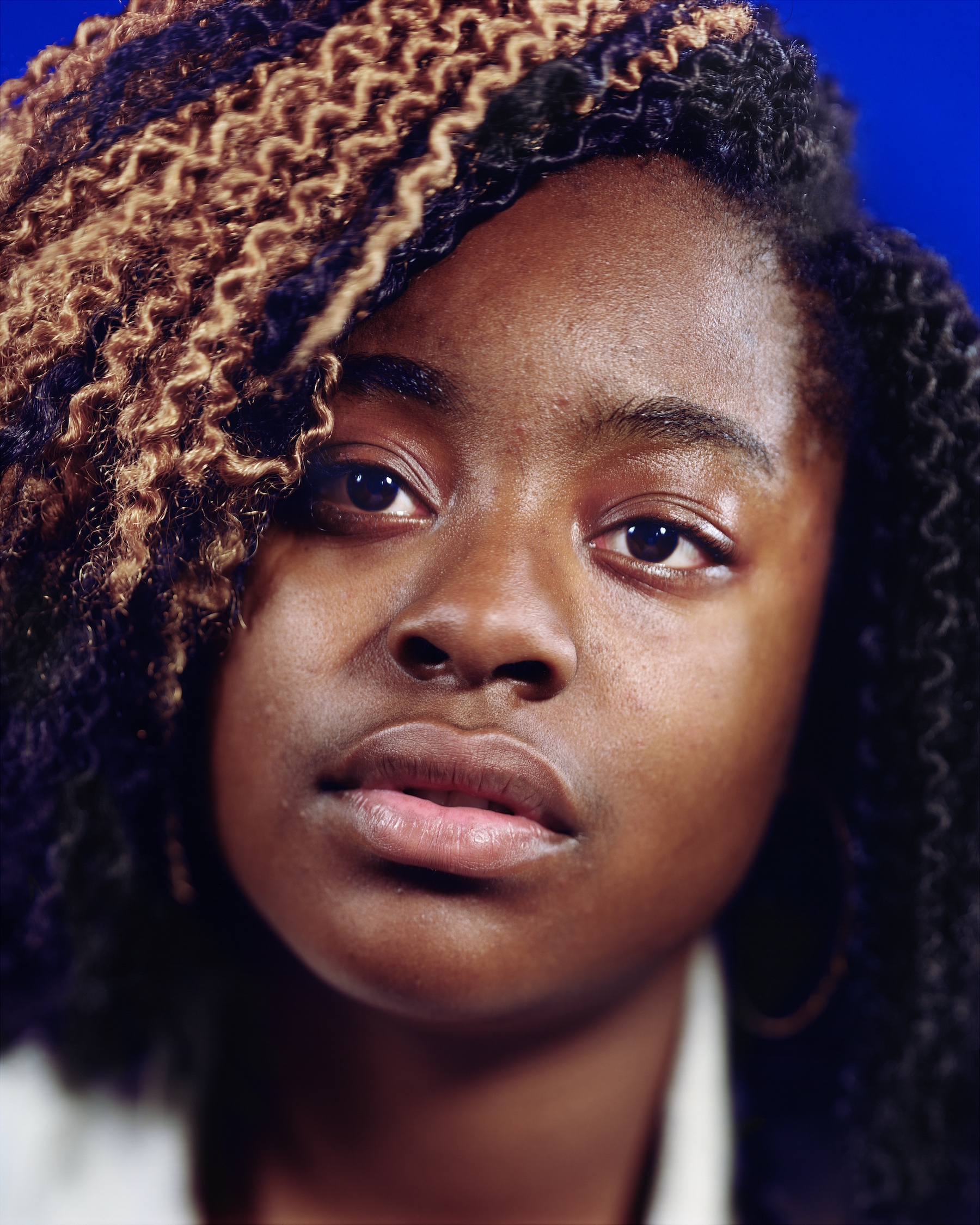 Spitting Image represents girls without resorting to stereotypes. There's a pleasure that you get from looking at the images that has nothing to do with perfect beauty.
The challenge is making a picture with more reality in it, but that the subject wouldn't be ashamed to look at. And of course not perpetuating a stereotype or an ideal of beauty that's impossible to actually achieve. I wanted to make pictures that the girls could recognize themselves in. Even if they had a pimple they might be embarrassed about, the photographs are still beautiful. A weird thing happens when you're behind a camera looking at someone you just spent the last ten minutes talking to. There's an internal struggle: because I like them I want to give them a picture that they'll like, but I also know that the image they want is based on social expectations. If I give them that picture I'm just perpetuating a certain standard of beauty.
You're also interested in beauty standards and representations of women as they age. I kept thinking of your work this past Mother's Day, when everyone on Instagram was posting photos of their mothers as young women in their twenties and thirties. I kept thinking: Why not post pictures of our mothers as they are now?
There's such limited representation of women getting older. I'm terrified of aging, even though I know I shouldn't be. Even in the art world, which you'd think would be against all of this stuff, there's a value placed on youth as if it might be the only value that women really have. Bambi & Kendelle is a project that I started a year ago. They're photographs of a Bambi who is around forty-five and her daughter Kendelle who is thirteen or fourteen in the first photograph. I'm going to go back every year and photograph them as they age. I feel like this is catching them both at the beginning of a certain kind of transition. Even a year later Kendelle looks totally different. She's wearing a lot of makeup now and she straightens her hair. As for Bambi, I'm curious to see what kind of pressures she'll experience and how they will become visible.