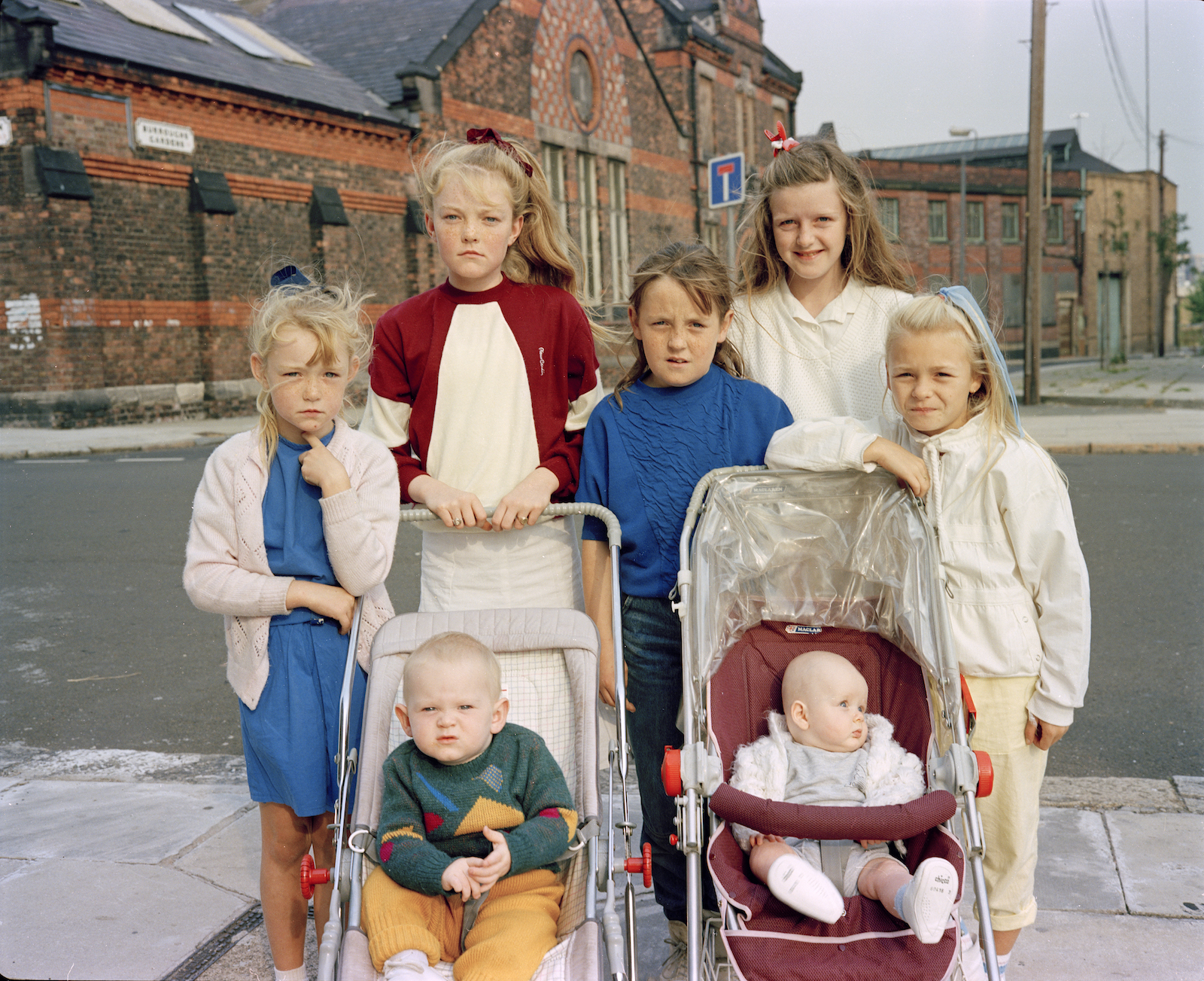 I happened to be travelling to London by train last Monday—the evening after Glastonbury finished. The train was dotted with festival goers returning with grass-stained knees and rolled up sleeping bags. There was a group of young women sitting opposite me, in that hazy post-euphoria state, reading emotive captions from their social media, cooing over photos. One of them was fast asleep, her open mouth pressed against the train window. I felt very clean. It's been almost two decades since I last went to Glastonbury, but it all came floating back to me through their energy and the early evening sun. It wasn't only a good feeling—I felt a sense of loss. I might go to Glastonbury again, but I'll never be there aged sixteen again. I'll never pop an e again for the first time and balance precariously on a stranger's shoulders as The White Stripes strum the chords to Jolene with tears of joy rolling down my cheeks.
We live in a society obsessed with experiences. Millennials, apparently, collect experiences over material things. Experiences—unlike objects—are things we can share, with our friends, families, even strangers. But experience can be divisive and dichotomous. Experience is the thing that divides us. A lack of experience implies something shameful or naive, someone sexually green or professionally amateur. Your quality of life is worked out "depending on experience". Perhaps the worst insult for a left-leaning millennial is to be told they're not woke—in other words, not aware of the experiences of others. Experiences keep us in our bodies, in our age, in the place we find ourselves, in the haves and have nots. The way we experience the world is different, depending on our race, our gender, our sexuality and our outward appearance—this has never been more clear. For me, pregnancy and birth opened my eyes to a whole world of mothers, grandmothers, great-grandmothers, and people who are marginalized and silenced in spite of their mighty strength.
The motherhood experience can be alienating, even among other parents. There are millions of mothers around the world, but each child, and each family, is different. Look at the protagonists of Big Little Lies—five women of different ages, four of them white, four of them wealthy, all of them very attractive, they each face their own unique challenges as mothers. Interestingly, what they share is not the fact they are women, taking care of their homes, children and husbands—what connects them is a murder they all had a part to play in. If anything, what they share, is that they have all been failed by the men in their lives, who are either too violent, too stupid or too selfish to understand them.
"We live in a society obsessed with experiences. Millennials, apparently, collect experiences over material things"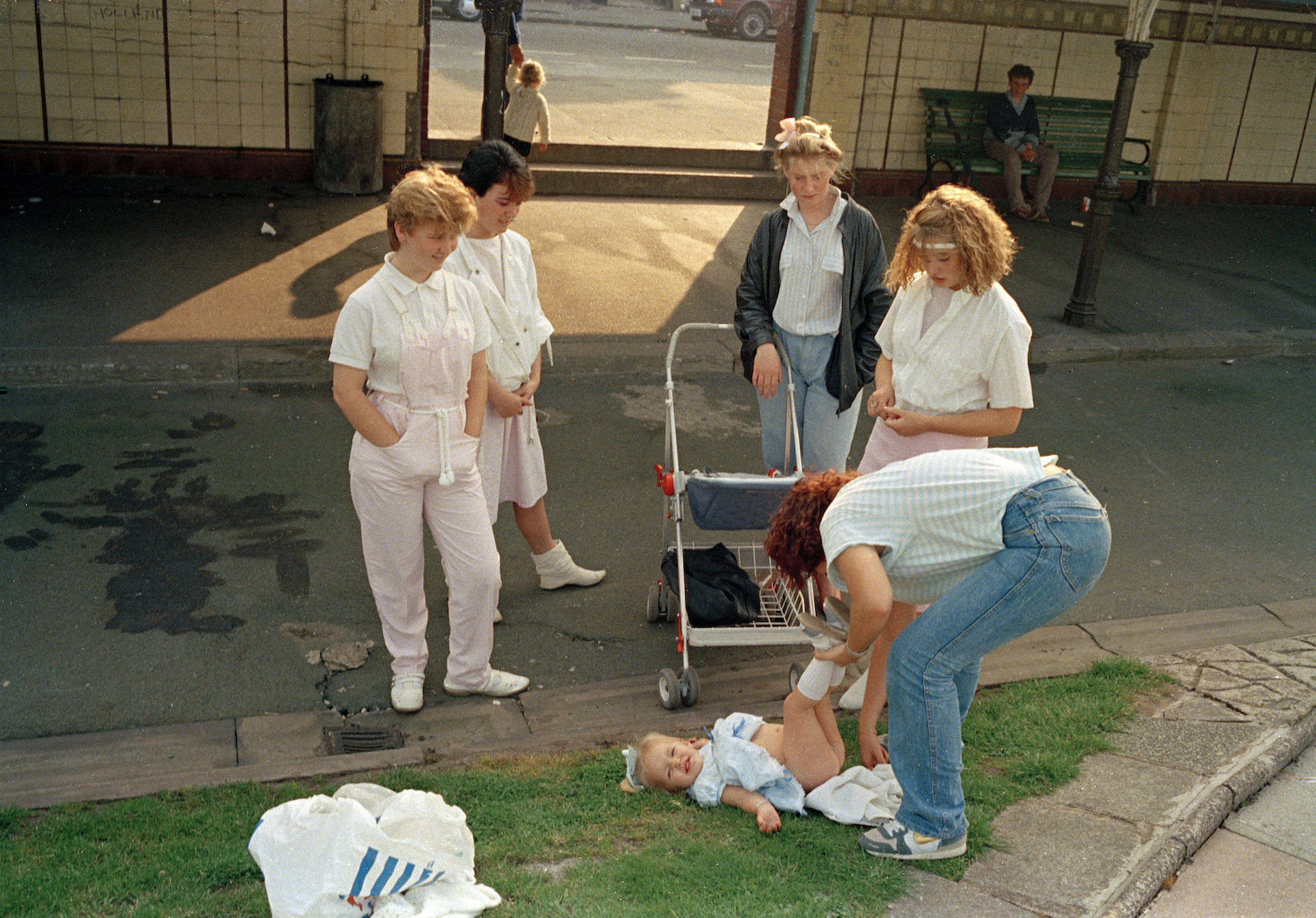 Currently showing at an exhibition curated by Martha Kirszenbaum in Arles are photographs by Tom Wood, the Irish photographer known for his portraits of Merseyside life in the 1980s and 1990s. Wood's wife was a midwife at Liverpool's Women's Hospital, which for me is an interesting insight into his work, which has returned again and again to the subject of maternity and sisterhood. Wood's pictures—many of them taken during his weekly visits to Great Homer Street Market on Saturdays—are the inquiring images of an outsider, removed from what he sees by his own lack of experience, but searching nonetheless to try and understand the women he photographs and his own position in relation to them. "My intention was to make interesting pictures of these relationships containing visual meanings too difficult to put into words," Wood said in a 2018 interview.
Trying to describe the indescribable, to empathise with things we can't see, to bridge the chasm between knowledge and experience—isn't that the greatest challenge for humankind? Art is an important bridge, representing the process of understanding, from which we might be able to identify with experiences we have not been through ourselves. I guess that is why I wanted to write about motherhood in the first place. Experiences are, after all, all we really "have", the only thing that can't be taken away, the thing that remains with us and of us.
What I so dearly love about Wood's photographs is the fact he puts mothers, grandmothers and daughters at the centre of the world. It's through them that he studies the structure of a community, the meaning of human relationships, the ecosystem, fashion and economy of the market—a microcosm for society. The experience of looking can be transformative. Wood eventually became part of their community too—affectionately known as "photie man". He saw these mothers, and found their experiences valid enough to make visible to the world. I find it thrilling, but that's just me. I don't know these mothers but I can relate to what I see, the same way I enjoy hearing stories about people and places I've never been. The differences between our experiences are both excruciating and sublime.
"Experiences are, after all, all we really 'have', the only thing that can't be taken away"
"Where were you?" is the incessant cry from social media. I know where I wasn't. I wasn't at Glastonbury to experience the historic moment Stormzy stepped on stage in a Banksy stab-proof vest. I can't know how he felt to be the first black British solo artist to headline the festival since it began in 1970. I can share his anti-Boris sentiments but I don't know the life he's lived as a black man growing up in London, or how it is now for him to be world-famous. All I can do is listen, look and learn. "Don't cry because it's over", the old adage says. "Smile because it happened."