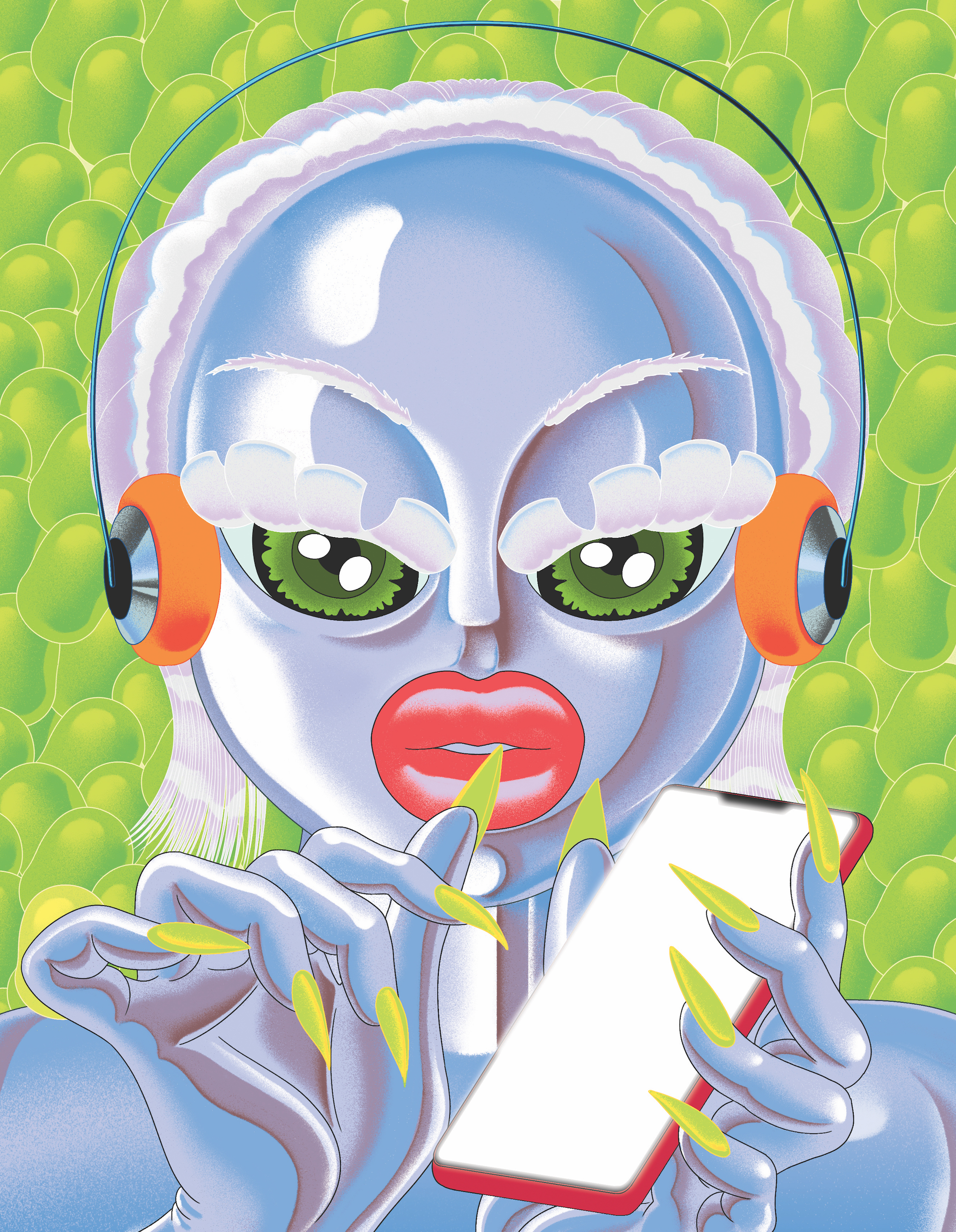 You know an Inji Seo illustration when you see it. The South Korean illustrator's bold, brash style is difficult to miss, whether she's working on personal or commissioned projects. Her images frequently feature curvaceous women with thick, distinctive eyebrows and pouting lips, lounging assertively with a provocative stance. They sip on cocktails or surf on technicolour waves, often set in fantasy worlds where surreal details hint that just about anything is possible.
Seo has collaborated with us at Elephant on multiple occasions in the last year, bringing her unique worldview to our print magazine. Working in close collaboration with designers and art directors Kellenberger White, her weird and wonderful renditions of everything from lobsters to golden jewellery have sparkled across our pages. Her latest series was conceived in response to ideas around "self-care"—a theme that we explore throughout our ten-year anniversary issue. From curly straws to face masks, as well as a seriously glamorous cyborg, Seo injects some fun into an imagined wellness industry of the future.
To start with, please could you talk us through the various characters that feature in your latest series for Elephant? What was the thinking behind them?
I created characters to match the defined themes of each page, in collaboration with the art director. Usually, I draw characters with thick eyebrows. It was a kind of challenge to change the style of the face according to each theme. The idea of featuring my dog Thor was suggested to me, which was a big honour and pleasure to introduce.
Inji Seo for Elephant Issue 40
"Pain and fun come at the same time, as I have to draw new things that I haven't tried before. I just always try to be as fun as possible"
How do you take your ideas from concept to completion? What is the process of creating your visuals, and how does this shift from project to project?
The work that I do for Elephant always comes with specific and detailed art directing. So, like a puppet maker, I receive the order and take the objects in the list out from my world and sew them together. This project is a kind of challenge and a fun attempt for me because it asks me to use unusual objects and materials. Pain and fun come at the same time, as I have to draw new things that I haven't tried before. I just always try to be as fun as possible.
Women are the most common subject in your work. Why do you choose to focus on the voluptuous and curvaceous female form, and how is this informed by your own experiences as a woman?
Since most of my work is based on my personal experience and feelings, it's been natural to draw women. They are not me, but reflect my view of the world. And I like drawing women's bodies and their individual fashion style. Sometimes I think it's like playing dolls.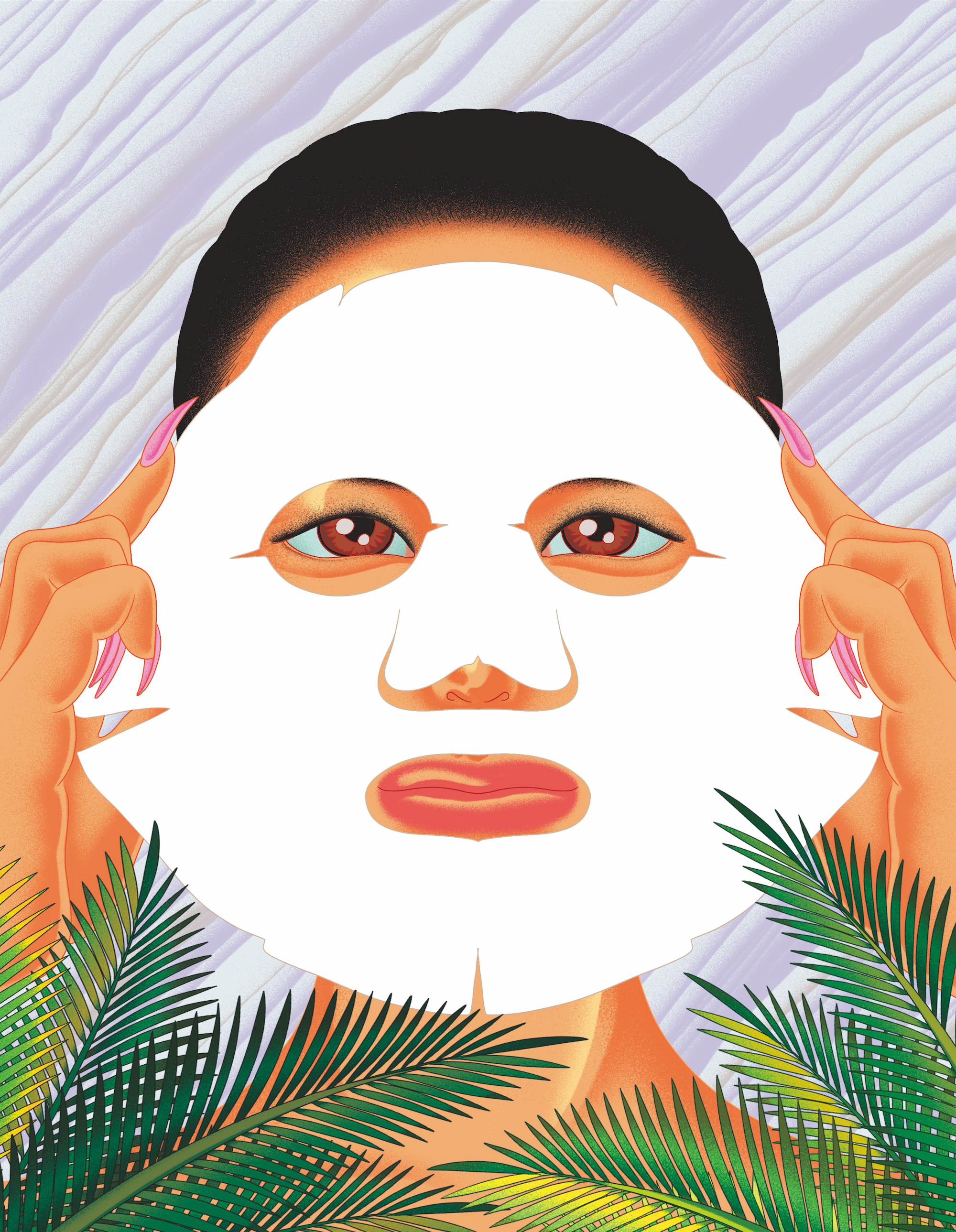 What is your relationship to the "self-care" industry, and can you give us an example of a treatment or product that you have used or explored personally as part of this?
I'm interested in meditation these days. I'm still not used to working on multiple projects at once, and sometimes it makes it hard to think about all of this and even hesitate to move my hands. At that time, I try to stop thinking and make my brain empty. Recently, it's been good to take a walk with my dog every morning and organize my thoughts.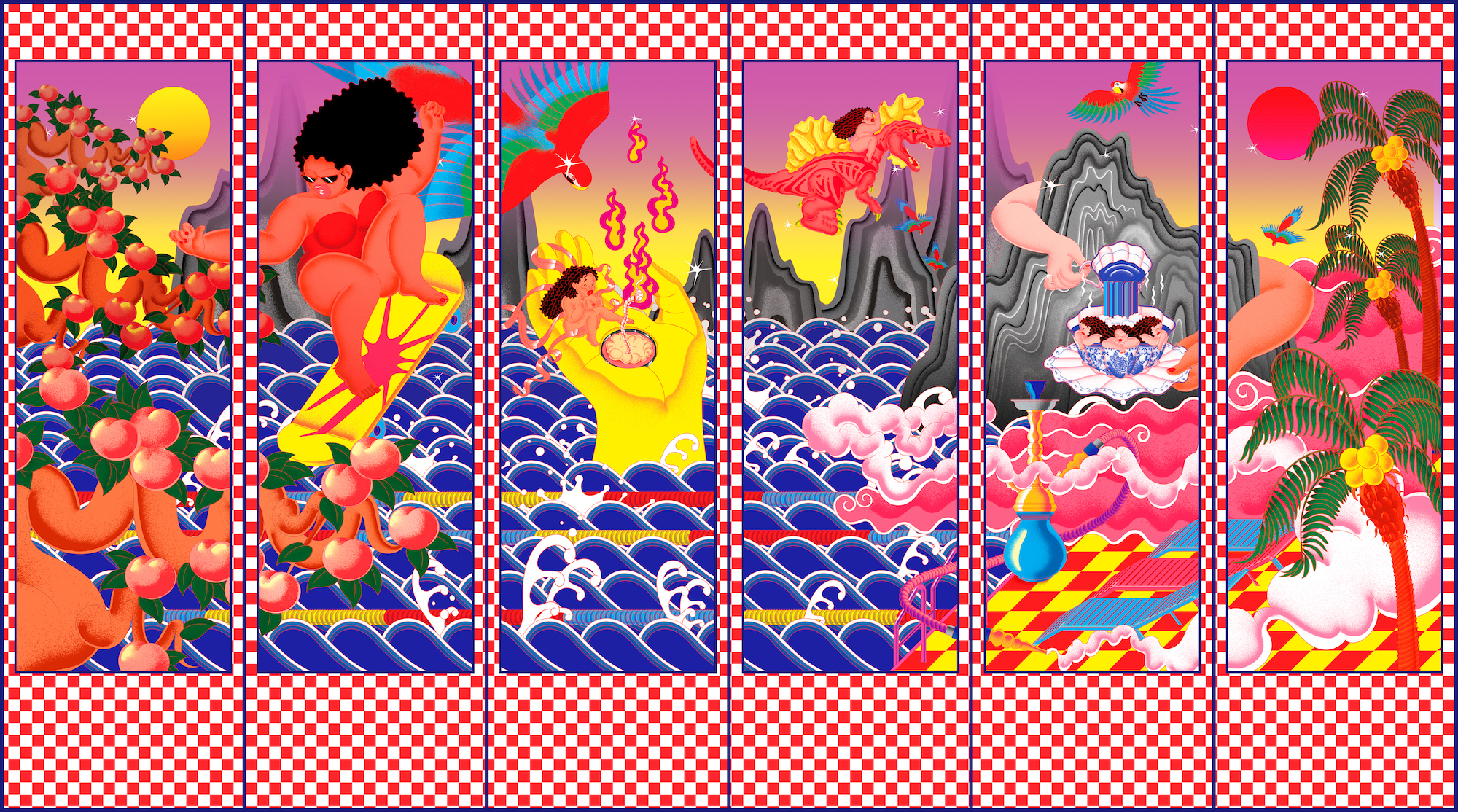 "I like drawing women's bodies and their individual fashion style. It's like playing dolls"
You have a very distinctive visual style of neon, clashing colours and lots of contrasting patterns. How do you work to unite these different elements together, and how did this style develop for you?
Since the first time, I just started using colours that looked good on my eyes. Whenever I combine these clashing colours, I feel some pleasure. I think each person has a different kind of prism, and this is mine. This is just a way that I see the world and project it onto my prism. Every time I encounter a new project and new objects, I think about what it would look like if these events happened in my worldview. It feels like lighting a part of my dark map.
Elephant x Inji Seo t-shirts
We're also making t-shirts featuring several of your images from our new issue! How does it feel to see your designs in this way?
I'm so excited after hearing that my dog, Thor, will be on this t-shirt!