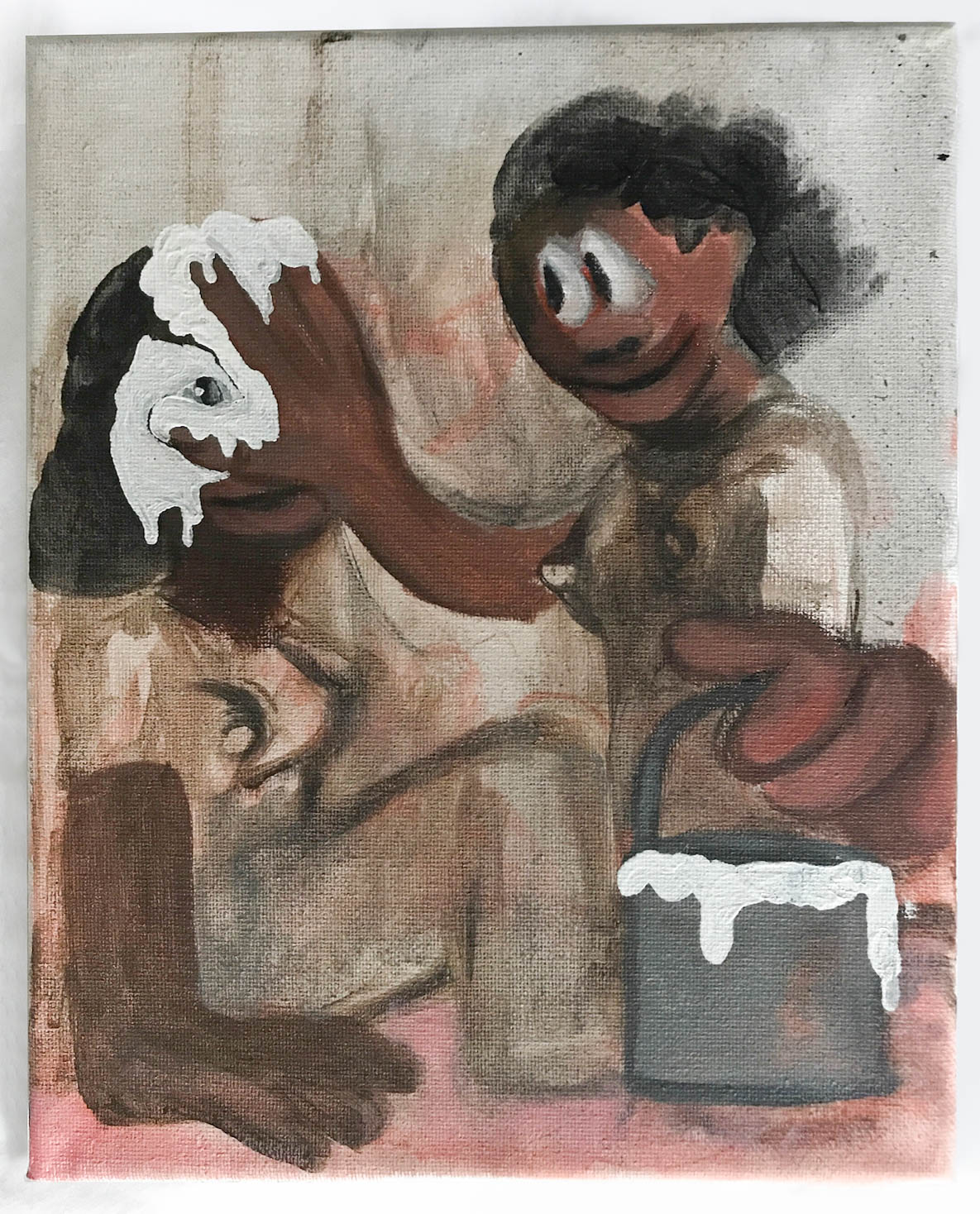 The Sunday Painter/Arcadia Missa hosting Stereo (Warsaw) and Dawid Radziszewski (Warsaw)
In their gallery on South Lambeth road, The Sunday Painter is co-hosting two Warsaw galleries with Arcadia Missa: Stereo and David Radziszewski. Arcadia Missa present four small but striking canvasses by New York artist Cheyenne Julien. Depicting cartoonish figures in states of heightened and tense emotion, Julien's painting is both gesturally playful and psychologically rich, often addressing the systematic racism that permeates the art world and all aspects of life.  Upon entering the gallery, the viewer is met with bright tapestries by Polish artist Alicja Kowalska (from Dawid Radziszewski), three of which were created in collaboration with her son, Tomasz Kowalski and are full of bright sumptuous colours and strange bodily architecture.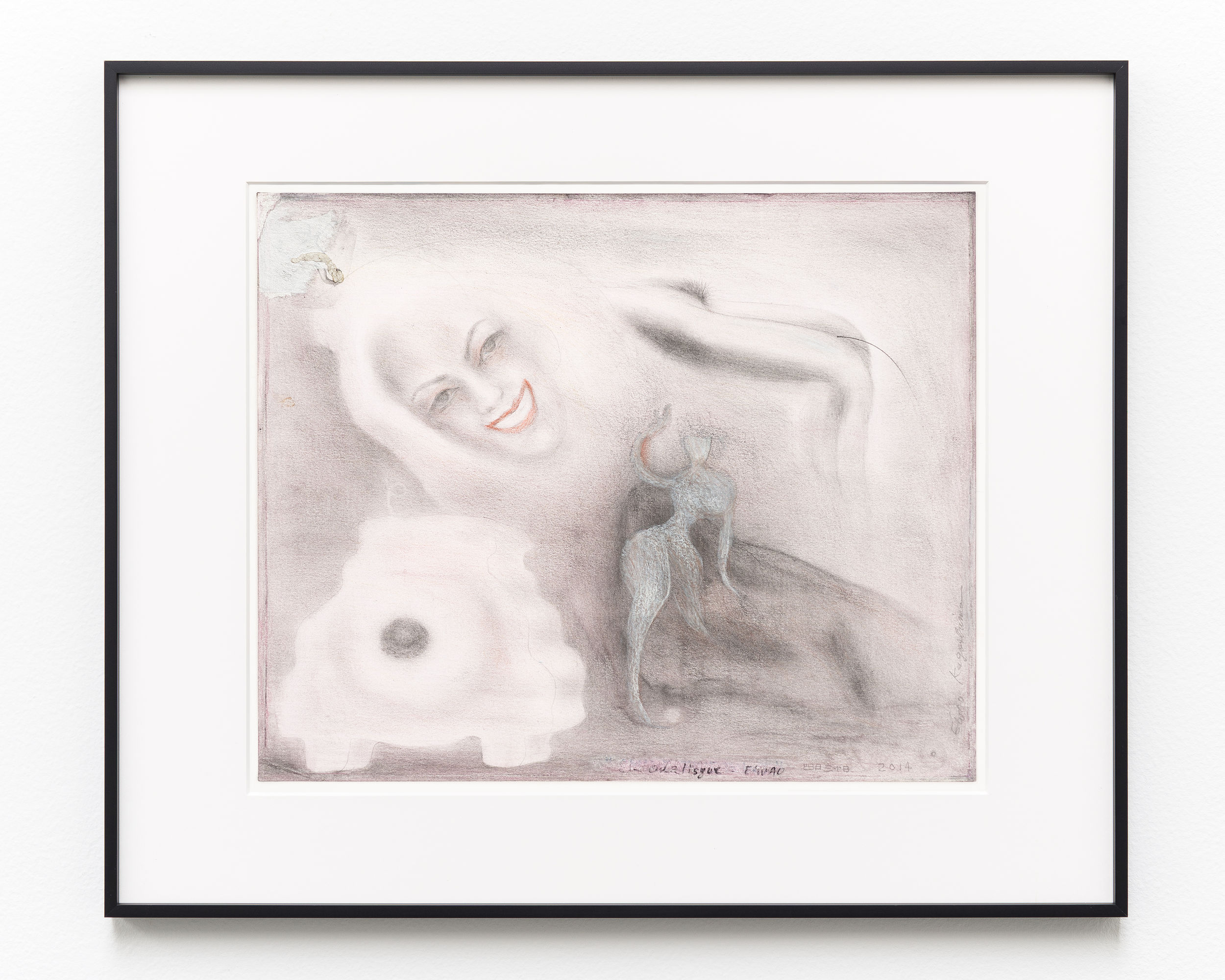 Union Pacific hosting Chert Lüdde (Berlin), Misako & Rosen (Tokyo) and Gregor Staiger Galerie (Zurich)
The exhibition at Union Pacific is a balance of dreamy surrealism and the heaviness of real, physical life. The industrial steel sculptures of Caroline Mesquita (presented by Union Pacific) feel almost like vintage predictions of our robotic futures, at once human and vulnerable, and evocative of the machines that manufacture our world. The mixed media works by E'Wao Kagoshima (presented by Gregor Staiger) appear as the opposite. Delicate and powdery, sharp faces and limbs appear out of smoky pencil work. Subtle mixed media elements, like the gummy white patch in the top corner, add to the work feeling almost like a found object, something chanced upon whilst rifling through an old cabinet somewhere.
Installation view. Noel McKenna, Scene from Iran, 2017.Horse beside Fence, 2016. Two Homes, 2016
Installation view. Sam Anderson, Eyai Standing, 2016
Mother's tankstation hosting Edouard Malingue Gallery (Hong Kong, Shanghai)
Mother's Tankstation is sharing Morley House with Project Native Informant again this year (who also have an excellent show on—of which the three-channel video Forerunners, by Shen Xin is a highlight). The building is a disused office tower in Holborn waiting to be demolished, and the fluorescent lighting and slightly awkward nooks and crannies in the space particularly work for exhibiting the whimsical epoxy sculptures of Sam Anderson. Suggestive of narrative (even fairytale) but not prescriptive, the small scale of Anderson's figures force you to crouch down to get a closer look—leaving the world of the gallery partially behind and entering their miniature landscape. Anderson also uses projected video to activate some of the work, as in To the Omega (2015), in which a tiny figure of a woman rides a donkey, projected with a small moonlight-like light that slowly shifts—disappearing and reappearing as if journeying through a night landscape. Also on show are paintings by Elephant issue 33 artist Noel McKenna, depicting spaces in muted tones that are equally bleak and humorous—and dotted with cats.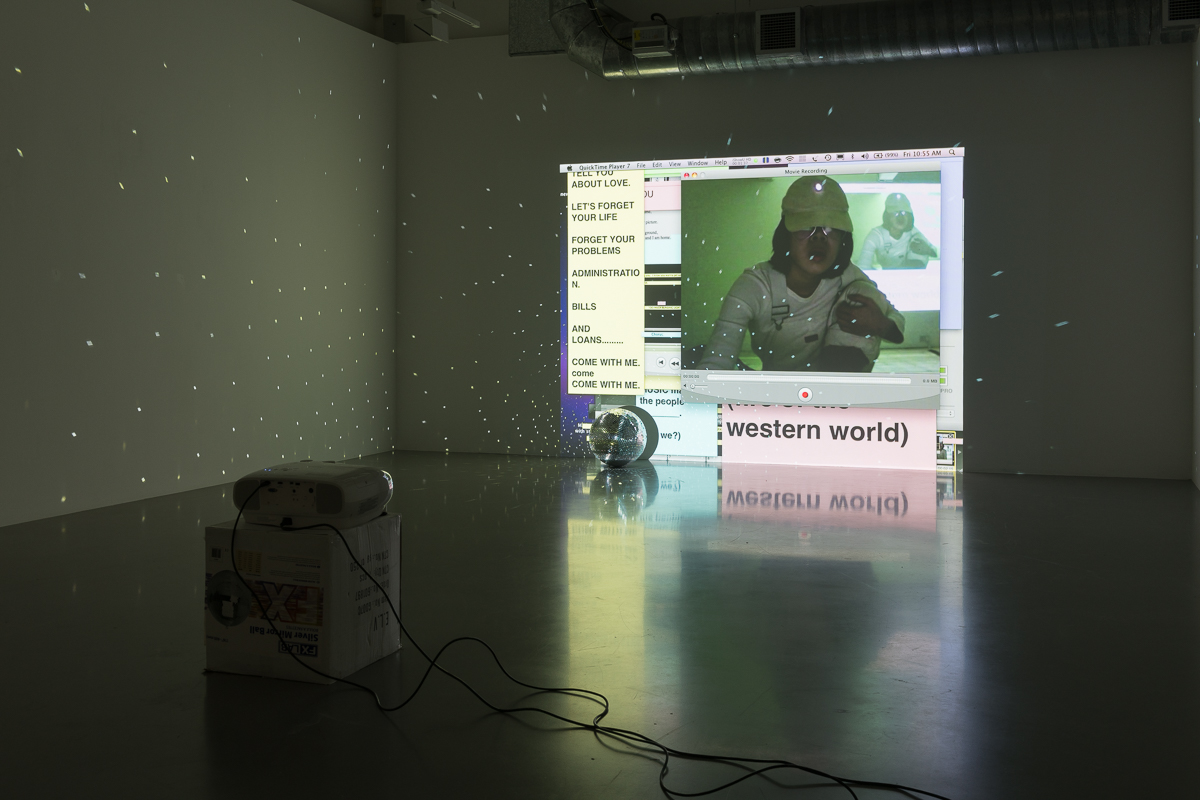 Pilar Corrias hosting Société (Berlin)
Plastic textures and acid, popish colours abound in Pilar Corrias's Slump Love, featuring paintings and assemblages by Christina Quarles and Gerasimos Floratos. Downstairs these are echoed in the seductive acrylic-splattered lenticulars of Trisha Baga, presented by Société. At once solid and shifting, the exploration of layers is continued through Madonna y El Nino, a video installation by the American artist in the adjacent room. In parts the video feels almost like a live performance piece: Baga records her computer as she clicks and drags windows, presses play and pause on clips from a Madonna tour DVD—you can even hear the whir of the disc in the drive. The layers push out into physical space with the addition of a disco ball, throwing shimmering lights across the room as Madonna leaps and stumbles across the stage and Baga observes herself through PhotoBooth on a projected image of her screen.
Carlos/Ishikawa hosting Queer Thoughts (New York) and Schiefe Zähne (Berlin)
After finally finding the gallery (I personally spent a good deal of my day getting lost down the wrong alleyways due to an over-reliance on misleading CityMapper directions), in order to enter the exhibition at Carlos/Ishikawa, which is themed around puberty, one has to squeeze through a claustrophobic terracotta-coloured cardboard tunnel (the dark tunnel of adolescence?). The passage opens out into a bright space, with a low false ceiling of white paper, made even more cocoon-like by the decision to hang works in clusters from the ceiling. The gallery, owned by Vanessa Carlos, founder of Condo, has paired with Queer Thoughts from New York and Schiefe Zähne, a Berlin gallery that is less than a year old, and the resulting exhibition is the vision of two of the artists on show: Richard Sides and Lukazs Quietsch. The spookily kitsch paintings of artist and Mission Comics curator Quintessa Matranga, and a piece by Diamond Stingily titled The Last Stage of Love, consisting of marble hand-carved to look like the plaster tooth casts made when you get braces (both presented by Queer Thoughts), perfectly evoke the awkwardness and pain of this stage of life.