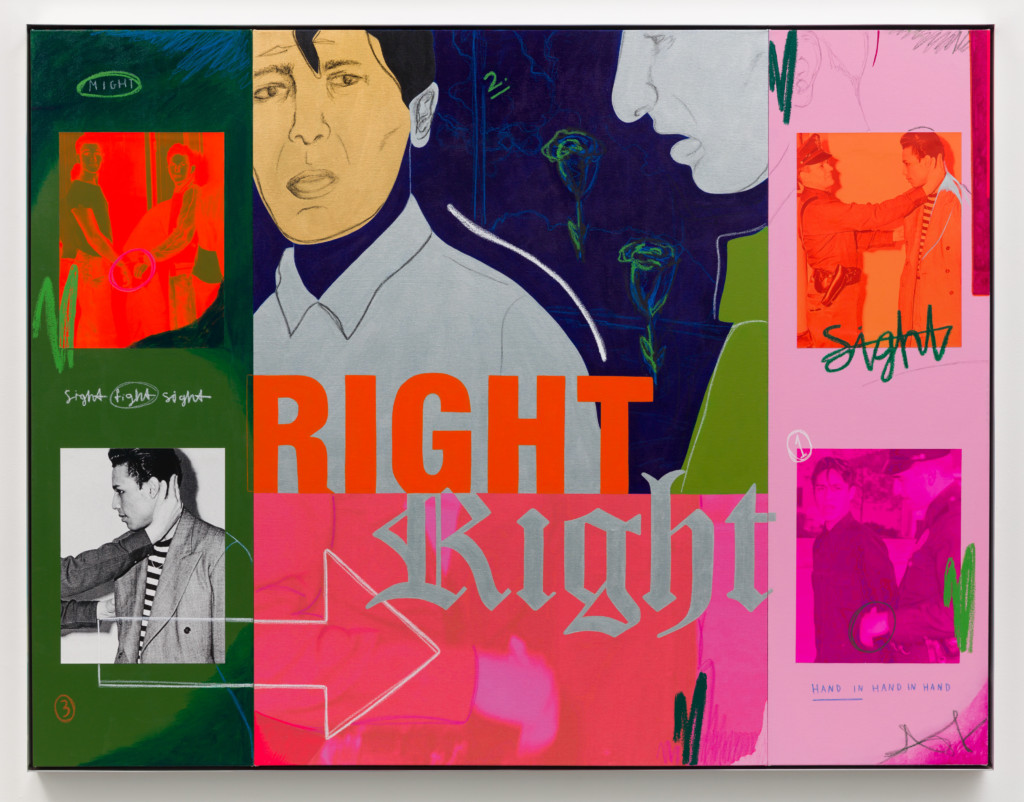 With booths at leading fairs rumoured to cost well into five figures, taking creative risks in these spaces is becoming less and less appealing. But without such risks happening, how are emerging artists going to break through and stop being classed as "emerging", and are we ever going to see much variation in the "established" set of names? There certainly is nothing like a fair to bring out state of the art world questions from within. There is an explicit display of masculinity at this year's fair, and moving through its temporary white walls it became apparent quite how dominant male  artists are in comparison to womxn and/or non-binary artists—who are often kept to "women dedicated" booths. Below, I celebrate the womxn trailblazing the way in this year's show.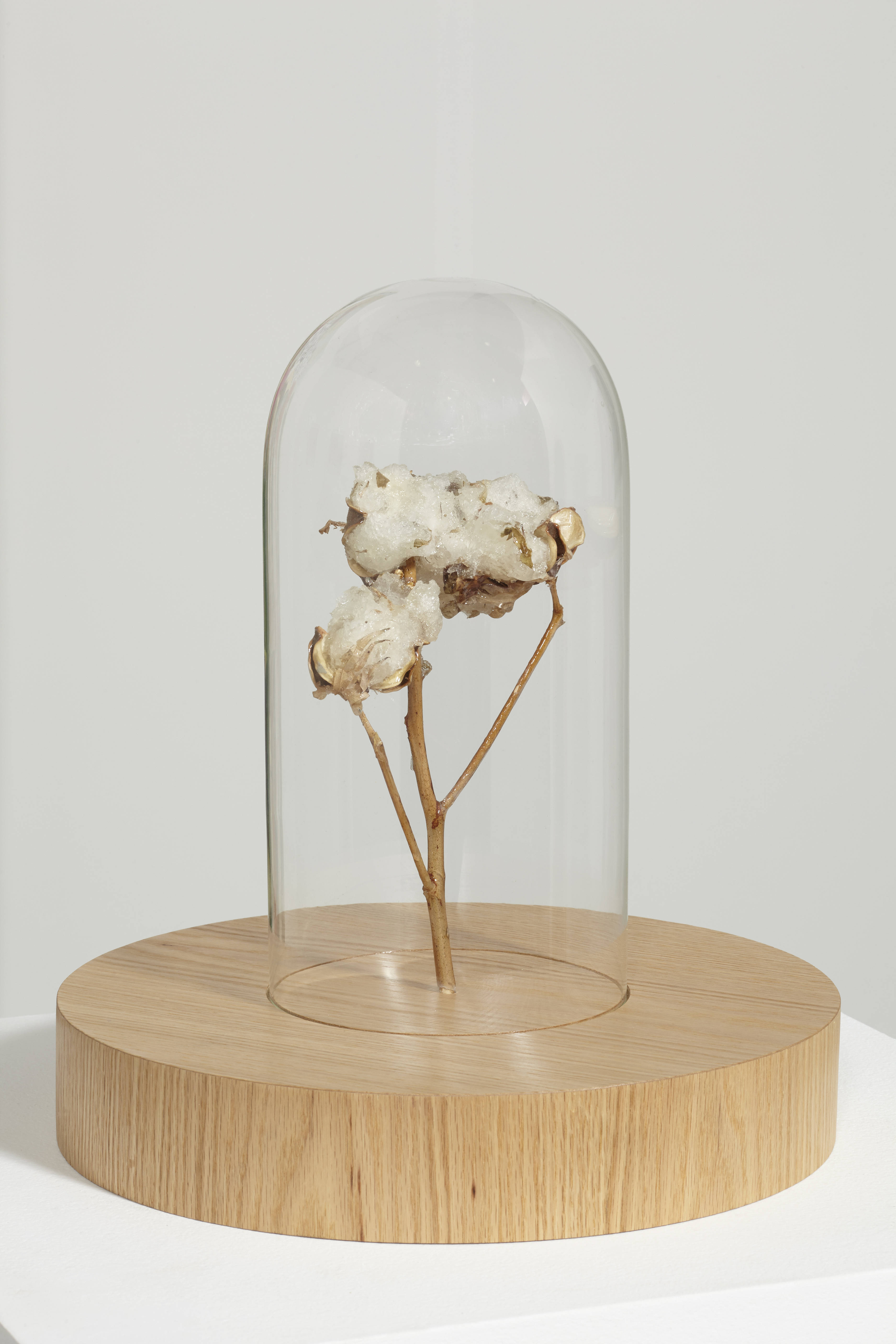 At first glance, the bell jar in Aria Dean's Dead Zone (4) might make you think of Beauty and the Beast's timekeeper of love. But, like the famous Disney image of petals falling, which reveals a dark place for the Beast, Dean has created an artwork that reveals itself the longer you linger—and it simultaneously takes from you the closer you come towards it. In this work, cotton seeped in polyurethane looks like an organism that is both growing and dying, representing the state of the slave trade and contemporary existence for Black bodies living and dying in the name of America's economy. The base of the dome is fitted with a signal jammer, self-referencing the 2016 essay "Poor Meme, Rich Meme", in which Dean spoke about the use of the Black body in digital meme culture and digital blackface. A cell phone dead zone is created when the signal jammer is active, effectively wiping out the ability to mass consume Black existence in the vicinity of the work. Ironically, this element is not actually allowed to be active while the piece is on display at the fair… a worthy perusal nonetheless.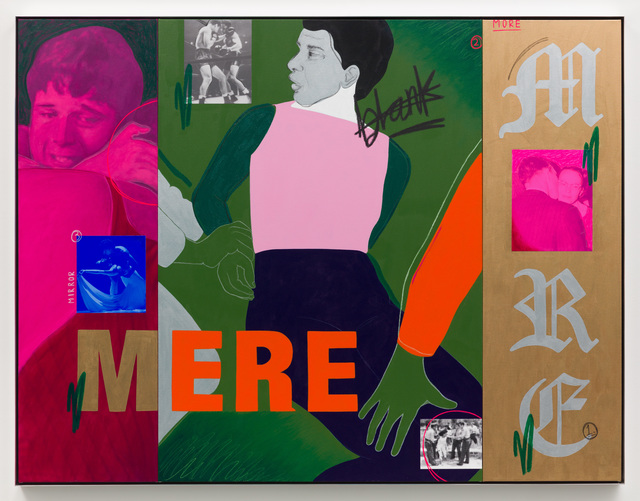 Charlie James Gallery has a booth dedicated to Gabriella Sanchez's newest pieces. An ode to her Mexican heritage and culture, each work plays with a visual language that can be read entirely differently depending on the viewer's own background. In these works, she juxtaposes mainstream visuals, using Helvetica font and Old English Gothic typeface, which is now synonymous with Latinx culture and graffiti. The works invite a beautifully saturated reconsideration of social hierarchies and histories of racial conflict.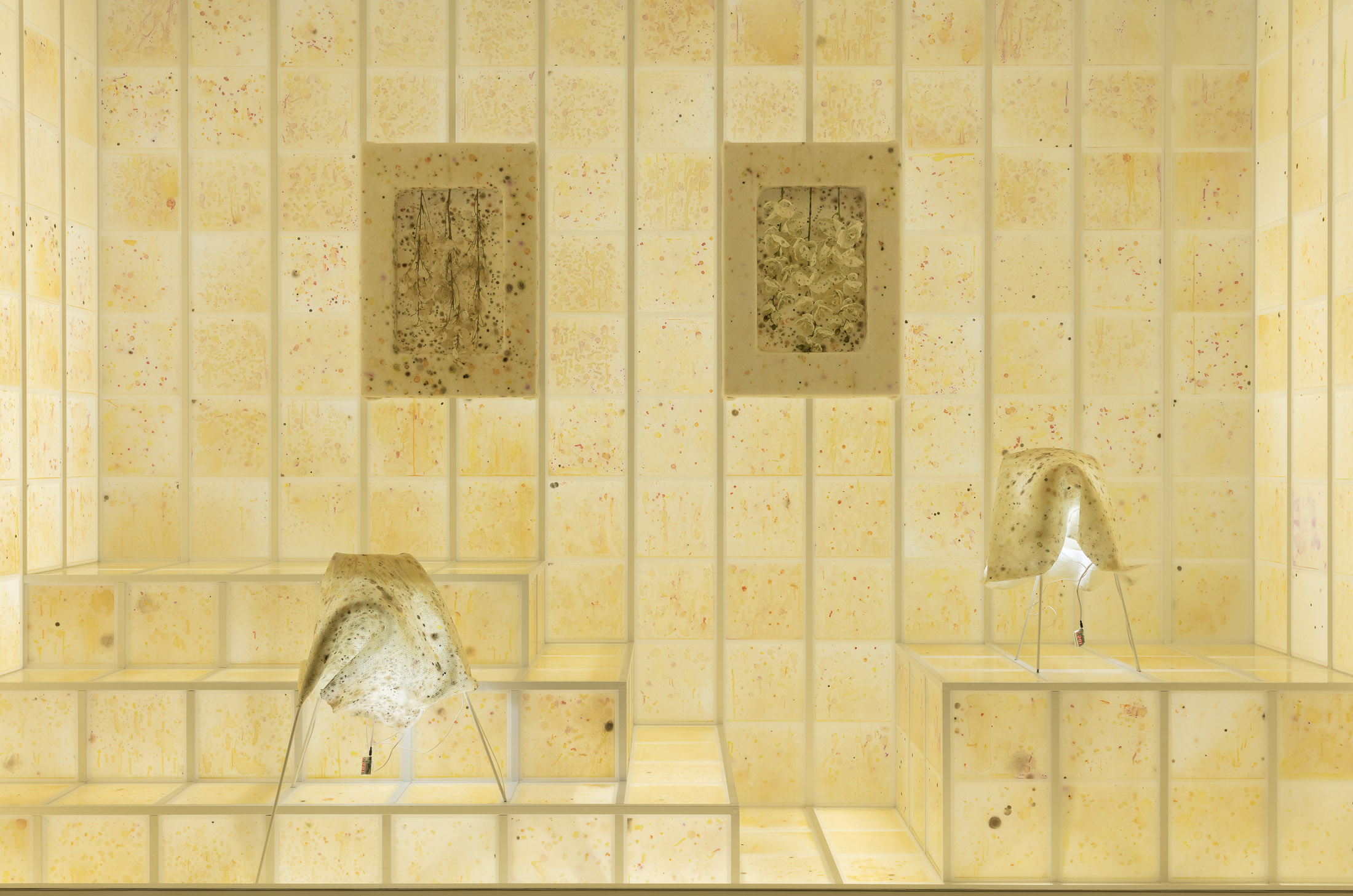 Anicka Yi is known as an artist who doesn't have many limits. Working across video, sculpture, installation and olfaction, she has a keen interest in the scientific bindings of her own fictional creations—which have strong references to real society, and which she sees as involving the "biopolitics of the senses". Cloned Milk is an exploration of a single-cell organism which has the ability to alter its shape, portrayed through layers of undulating waves of resin that build up to form amoebas. The amoeba is used by Yi as a way of rejecting the division between what is natural and unnatural, suggesting a future where those will soon be indistinguishable. 
Sue Williams, Magical Moments, 2019
Two large pieces by Sue Williams in 303 Gallery's all womxn booth seem to place the viewer in the midst of explosive mystical interactions and new worlds. Williams came to prominence in the early 1980s, with works that echoed and argued with the dominant postmodern feminist aesthetic of the time. Now her work draws upon memory and abstraction, sex, and a distorted everyday language that hints at the magical. As soon as you feel you've picked up a thread, a new language explodes in your eye line—inviting you into a forever dream.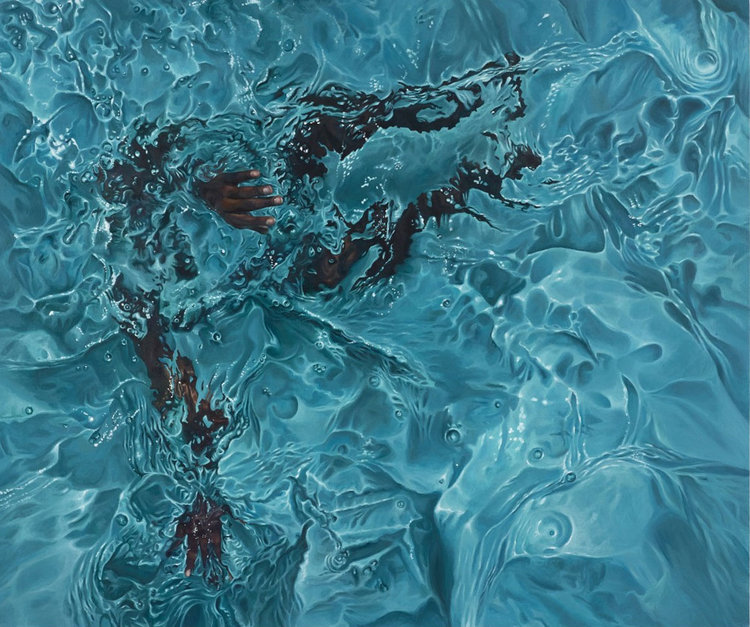 Beneath the watery surface of Calida Rawles's photorealistic paintings lie many stories. Notes on water therapy; the artist learning to swim as an adult; the stereotypes of Black people "not being able to swim" due to inherited trauma; Drexciya… the list could go on. The spiritual Wade in the Water cleanses the negative ties of blackness and the water—instead, she visualizes the resilience to just be. At times the dark shadows of a body reflect silhouettes of topographical maps of places such as the San Francisco Bay Area, where acts of racially targeted violence have occurred. In the same instant, her work reflects the consistent beauty and love that exists within Black culture—in one painting she has created a poetically abstract portrait of her friend and fellow artist Diedrick Brackens. Her works are truly something to be witnessed in person and she also has a solo show at VSF gallery space two blocks away from Frieze.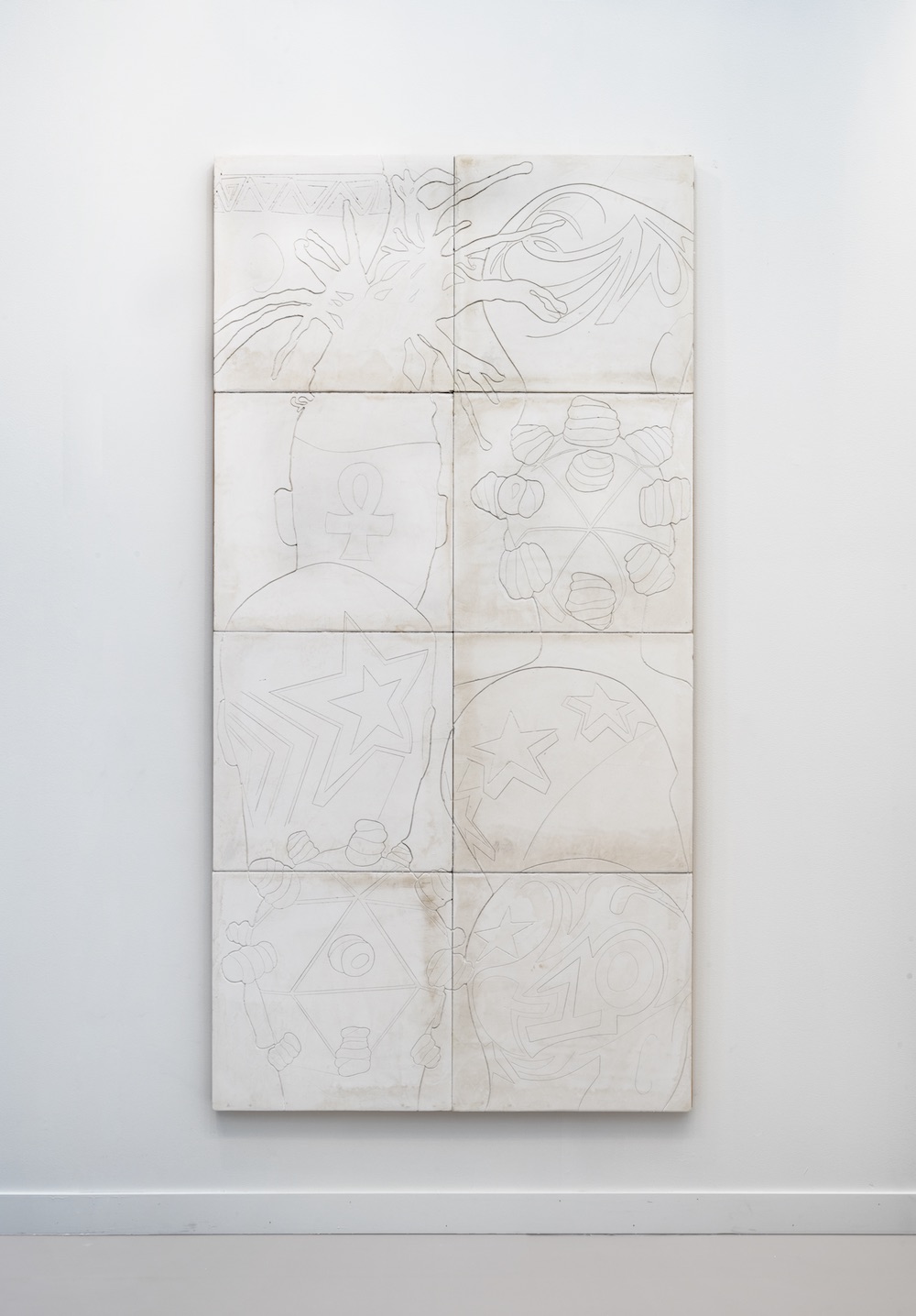 Lauren Halsey is LA, heart and soul. Sampling ancient hieroglyphics and forms from the pyramids of Egypt, Halsey has hand-inscribed the panels to reflect her community and neighbourhood of South Central Los Angeles. Her practice directly considers the relationship between architecture and community-building in her local area, and black and brown neighbourhoods. Halsey currently has a solo show at David Kordanksy, which had the whole world and their sis coming out on opening night—much like a Beyonce concert queue! Strictly not to be missed for anyone within the LA vicinity.  
Commonwealth and Council has been ahead of the game in the LA scene for a while. FOCUS LA, the new section for 2020, celebrates galleries aged fifteen years or younger, and is curated by Rita Gonzalez (department head of contemporary art at LACMA). For this, C&C presents its sixth installment of G.L.O.W., pairing artists to face off/join forces in tribute to "Gorgeous Ladies of Wrestling". The acronym takes on a new form in this round as "Gaze Living Other Worlds", where Young Joon Kwak and Oren Pinhassi go head to head in proposing new stories of queer embodiment, offering us glimpses into liminal and underexposed spaces present in our daily realities. Kwak's sculptures give space to non-normative and queer bodies. A riff on Brancusi's Sleeping Muse—comprised of casts of male sex toyș—makes the viewer question what the interior of a vagina might look like during sex. Pinhassi's tactile sculptures appear neither natural nor artificial—The Walker involves a glory hole on a care support frame that is ironically too heavy to manoeuvre. This is definitely a fun house.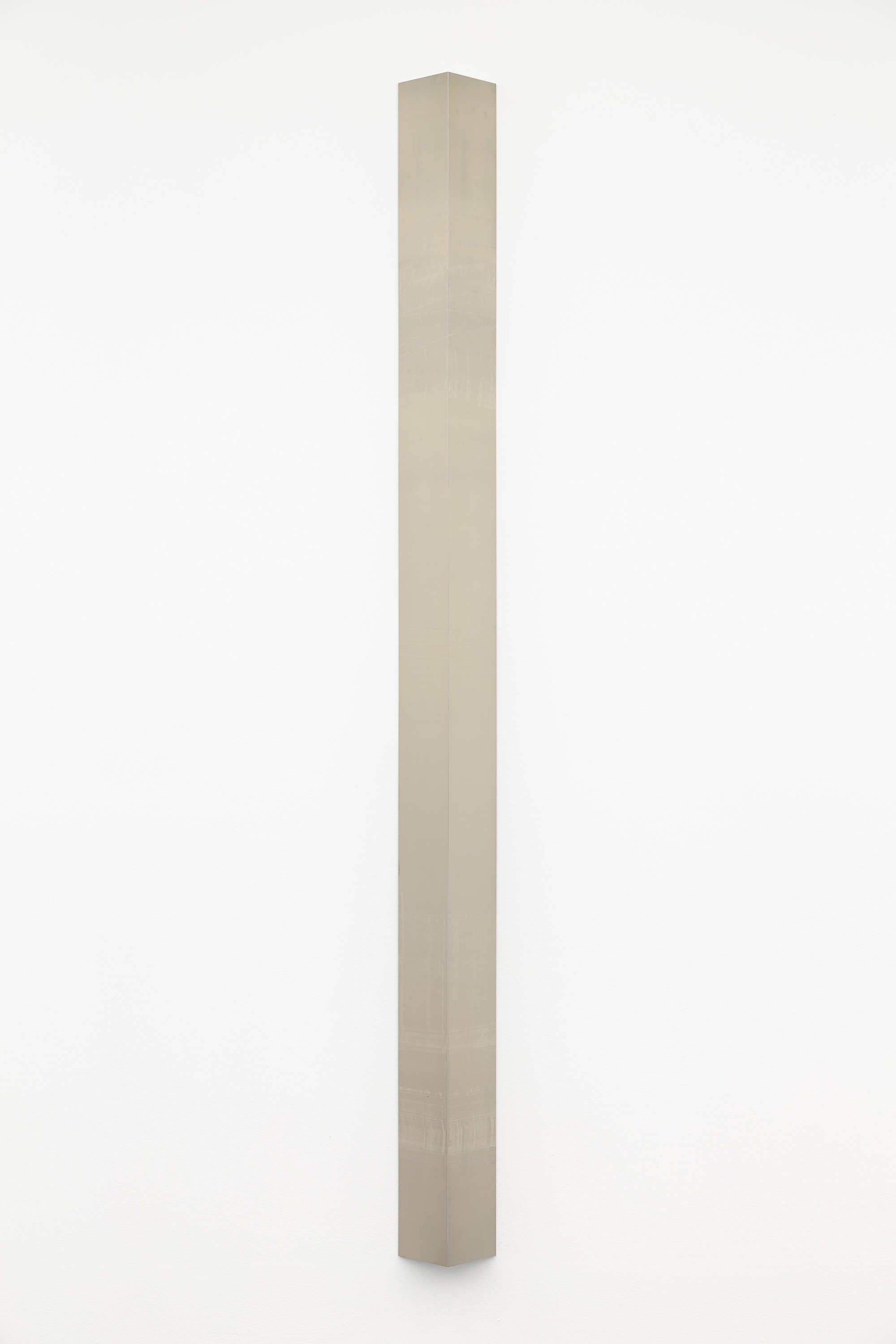 Liz Deschenes explores post-conceptual photography and minimalism through her cameraless images which are exposed by moonlight. The artist looks to the vintage stereograph for inspiration, and her work inhabits a place somewhere between sculpture and photography. The elongated shape of the wall-mounted sculpture offers a dual sight of two images, shown along tall wooden frames which create a 3D effect, and connect with the photos typically found inside a stereograph.