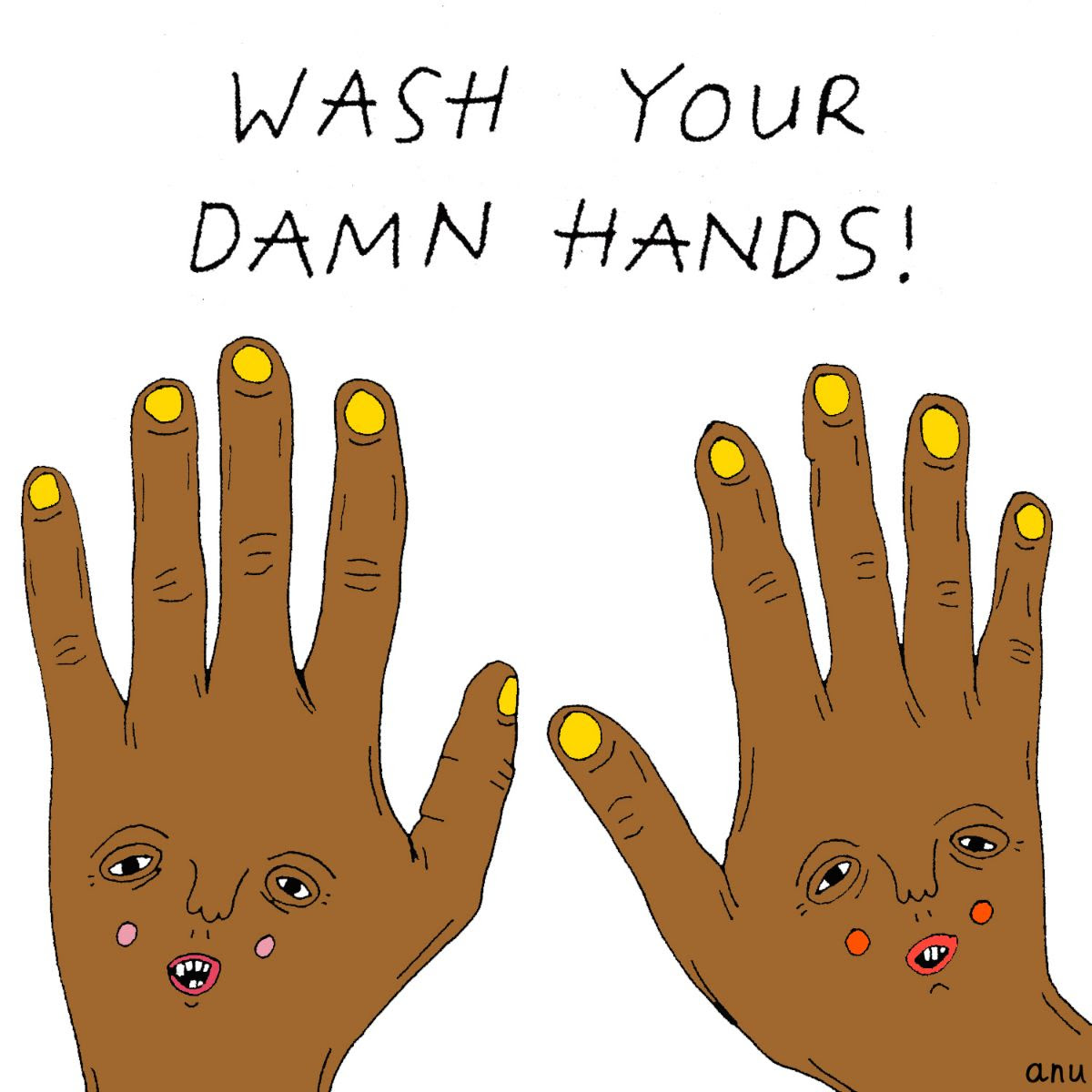 As you might have heard, everything is closed—including, of course, art galleries. If even Wetherspoons has had to close (despite the big man, Tim, and his scientifically-proven theory that you can't catch Corona in pubs), naturally the likes of the Tate and the Met ain't keeping their doors open. But unlike large chain pubs, galleries have had to rapidly adapt to these conditions and encourage virtual visits in lieu of footfall. Instead, they're all still encouraging us to "visit" from the comfort of our quarantined homes.
While seeing a show from the comfort of our quarantined homes will never be quite the same as actually visiting the works, there are a lot of positives in the forced migration online. For one, geographical boundaries are no longer a limit—we can visit galleries the world over now, without so much as a passport check. They're also free, meaning that they have the potential to open up the arts to  wider audiences. With reports that sales online aren't doing great compared to usual art fair figures, it could also be suggested that commercial galleries are forced into being more open and public-facing; bringing art into the arena of culture once again, rather than purely commodity.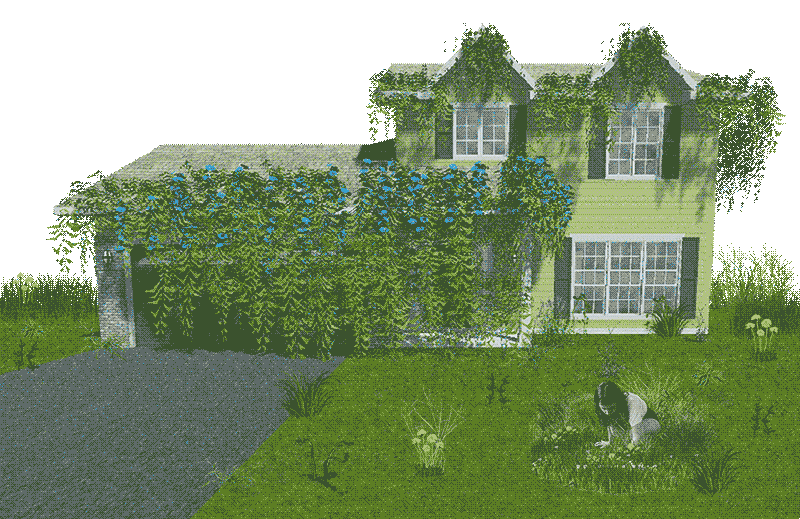 A more democratic art landscape also aligns to the breadth of content we now have access to online, having been in lockdown for (only, let's remember) a week or so. If you'd told me three weeks ago I'd be having drinks with fifteen people I haven't seen IRL for months in a "virtual pub", through some sort of conference calling app, I'd have called you an idiot. Now, such things are the highlights in a suddenly very empty calendar. Such voracious content-hunger indicates people might now take an interest in disciplines they formerly saw as outside of their interests, or perhaps too strange, lofty or prohibitively expensive, such as performance art or dance.
The ways in which galleries are tackling this brave new online world vary hugely in terms of quality: just as there's no one-size-fits all way of displaying an viewing art IRL, what works for one show online won't work for another. Video exhibition walkthroughs are two-a-penny, but they're pretty useless for the sort of large-scale works that you can imagine people might have visited in-situ for a nice Instagram selfie. And while we appreciate that smaller galleries don't have the resources of huge public institutions such as the Tate; the idea of being smart and considerate to the works themselves in how they're shown applies to galleries of any size.
The approaches that we're seeing broadly fall into five different camps, from digital private views to personalized reading recommendations direct from curators.
When Gallery Becomes Broadcaster
The BBC has ramped up its arts offering across television, radio and online in light of lockdown, with its Culture In Quarantine virtual arts festival. It has also launched as well as a new fund, in collaboration with Arts Council England, to commission and distribute twenty-five new works by independent artists in response to the COVID-19 outbreak. Savvy galleries, too, are taking on the role of broadcaster; creating content septically for online around their shows, along with extra sidelines such as talks and interviews with their artists.
Rijksmuseum is one such institution. Its global online platform, Rijksmuseum Masterpieces Up Close, aims to "recreate the experience of casually browsing a museum" at your own pace, viewing artworks with the help of a multimedia guide, high-resolution 360º images that you can zoom into to see every tiny detail (something that would be impossible in real life), short videos, audio clips and text descriptions detailing eighteen masterpieces.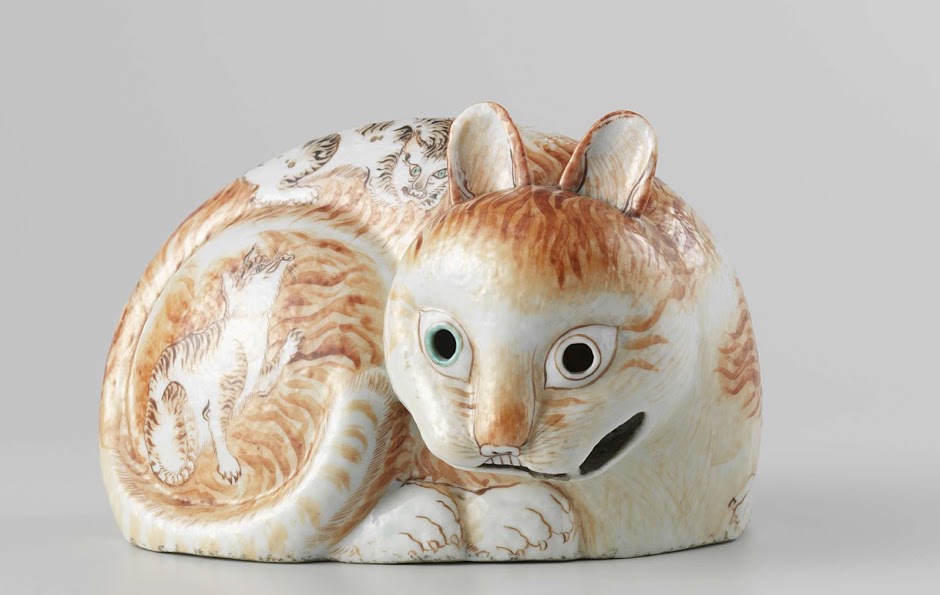 Other offerings include Curators from Home, in which Rijksmuseum curators share short videos telling the stories of their favourite artworks from their homes; a new interactive website devoted to Rembrandt's largest and most famous painting, The Night Watch; the "10 Things" blog series (a highlight is 10 x Cats in the Rijksmuseum) and the RijksTube YouTube channel, which hosts videos exploring contemporary pop culture through a classical arts lens (such as examining how the poster for Avengers: Infinity War might have subconsciously been inspired by The Night Watch).
Meanwhile, Wysing Arts Centre has announced the launch of new digital broadcast programmes over the coming year, with more than forty international artists, musicians, curators and researchers creating works with digital broadcast technology in mind. Aiming to connect remote audiences and build community, Wysing says it aims to "become an experimental broadcasting space where ideas are explored through residencies, commissioned works, events, new collaborations, podcasts and works presented through a diversity of digital channels."
Artists and Institutions Get Personal
It's a challenge to feel some sort of basic level of interpersonal connection outside of whoever you happen to live with, and it can be pretty lonely on lockdown. Perhaps that's why, in light of the pandemic, we're seeing more and more galleries offer up personal insights, bringing a welcome human side to typically white walled, faceless organisations.
The Institute of Contemporary Arts in London is running a charming little initiative in its daily newsletters: at 10am it sends out links that its subscribers "might find useful, inspiring, informative or that simply cheer you up while self-isolating, social-distancing, working from home or working to keep essential services going," according to ICA director Stefan Kalmár. He's taking part alongside ICA curators "Rosy, Sara, Steve, Nydia, Nico"—so informal that there's no need for surnames here—who recommend books, talks, mixtapes, films and more.
Among his recommendations are poet Ingeborg Bachman's Alle Tage from 1952; and Rosalie Doubal highlights ICA Talks from the British Library Sounds archive, which brings together around 900 discussions from 1982 – 1993 online from the  likes of Julia Kristeva, Chinua Achebe, Nawal El-Saadawi, Derek Jarman and Jenny Holzer. Kalmár signs off, very sweetly and quite unexpectedly, with a quote from Mary J. Blige.
Newsletter illustration by Anu
On an individual level, illustrator, DJ and all-round superdude Anu recently started sending out weekly missives packed with great music, her distinctive illustrated characters (odd proportions, brown skin, a playful take on noses and hands), some damn fine grub recipes and just general good vibes. This week's dinner/breakfast/lunch is Khichdi, a dish she grew up with, and describes as "always so comforting to eat. It's good for when you're sick (especially if you have an upset stomach as moong dal is easy to digest)." Among her ever-fabulous music tips are a ton of NTS freebies to stream, including Bad Vibes with Eyedress, Ok Williams b2b kast and Creep Zone with James Pants and Marc Schaller.
The Screen as a Stage
Many galleries are taking advantage of the video-hosting potential the internet offers, making smart use of shows or artists they work with by streaming performances online. The Tate, for instance, is now showing a new, reinvented version of Congolese choreographer and dance artist Faustin Linyekula's My Body, My Archive, which combines segments of his works Sur les traces de Dinozord (2006), Statue of Loss (2014), Batanaba (2017) and  Congo (2019). 
Linyekula was due to perform in the Tanks at Tate Modern over nine days at the end of March, as part of 2020's BMW Tate Live Exhibition: Our Bodies, Our Archives, alongside performances by Okwui Okpokwasili and Tanya Lukin Linklater. All were faced to cancel their pieces due to the mass gallery closures. Linyekula, however, worked with the collaborators who could make it to London and Tate to create a site-specific piece performed to camera in the eerily empty Tanks space.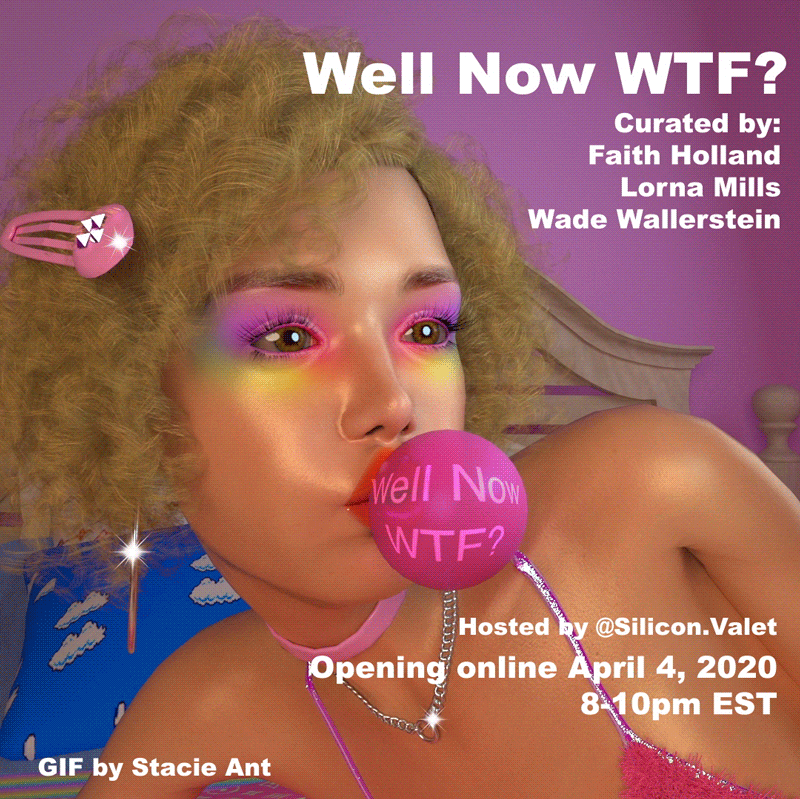 Virtual Private Views… But Is There Still Free Wine?
Like Marsha in Spaced, unwittingly charming a gallerist with her forthright admission that she's only at a private view for the free wine, we'll admit that there's more to a PV than art (for starters, they're usually so packed it's hard to see the art). As much a social space as a cultural one, exhibition openings keep the wheels of the art world turning in more ways than one. So it's interesting to see galleries hosting virtual private views—specifically when they're in direct response to the COVID-19 pandemic, like Well Now WTF?, which is hosted purely online. Not to mention that it gathers together its PV crowd over that most contemporary of mediums, Twitch, best known for its popularity with gamers.
Scheduled for 4 April from 8-10pm New York time/3-5pm London time, and hosted by digital art platform Silicon Valet, the exhibition features more than eighty artists working in moving image. "With everything going on, we ask ourselves: Well Now WTF?" says Silicon Valet. "We have no answer, but we do know how to make GIFs. We can come together and use the creative tools at our disposal to build a space for release outside of anxiety-inducing news cycles and banal social media feeds." It adds, "as co-curator Lorna Mills suggests, Why masturbate alone, when we can all be wankers together?"
The "Lucky We Were Installed Already" Walkthroughs
Clearly the exhibitions that had already been onsite, installed and smartened up pre-quarantine are the ones lucking out when it comes to the ease of creating a virtual approximation of actually visiting them. We're seeing a raft of galleries billing a high-production-value, serene video walkthrough as a "virtual/experiential/interactive/exclusive" digital exhibition. While this is a rather obvious approach, when it's done well, you do feel like get a real sense of what it's like to be there in front of the works.
As simplistic as it is, we really dug the Sadie Coles gallery's video of Sarah Lucas' show Honey Pie. Many galleries are offering VR, with user-guided navigation rather than a video dictated by the route of the camera. Among them are Modern Art Oxford's online presentation of Johanna Unzueta's Tools for Life, which boasts additional short videos including "behind-the-scenes moments, curator's notes and children's activities". Just watch out for cultural fatigue—it seems that is possible to consume too much art, even in the time of Corona. 
Stay the Fuck Home
Our special series offers creative approaches to the long days of self-isolation during this global crisis.
EXPLORE THE SERIES