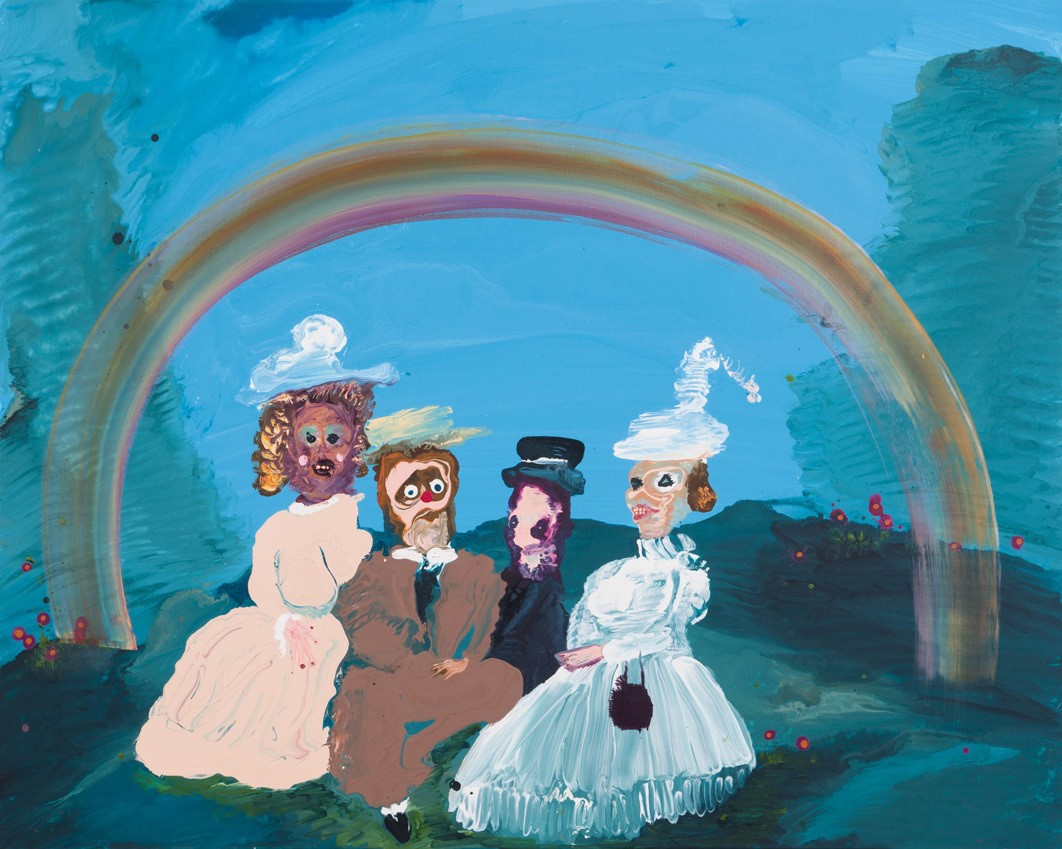 Genieve Figgis takes inspiration from high society, bourgeois homes and traditional portraiture, and paints with thickly slathered acrylics and a Rococo-like style to create ghoulish yet amusing scenes.
Filtered through a contemporary lens, Figgis takes the forms of aristocrats in seventeenth- and eighteenth-century garments and distorts them, thereby subverting the power structures these figures once flourished in. Most paintings are set in grand houses and lavish gardens, and Figgis creates an impression of these luxurious estates with long, column-like brushstrokes and frantically painted curtains and tall windows, offset by more detailed and ornate flowery murals.
"There is a lopsided haughtiness to the work which feels funny rather than tragic"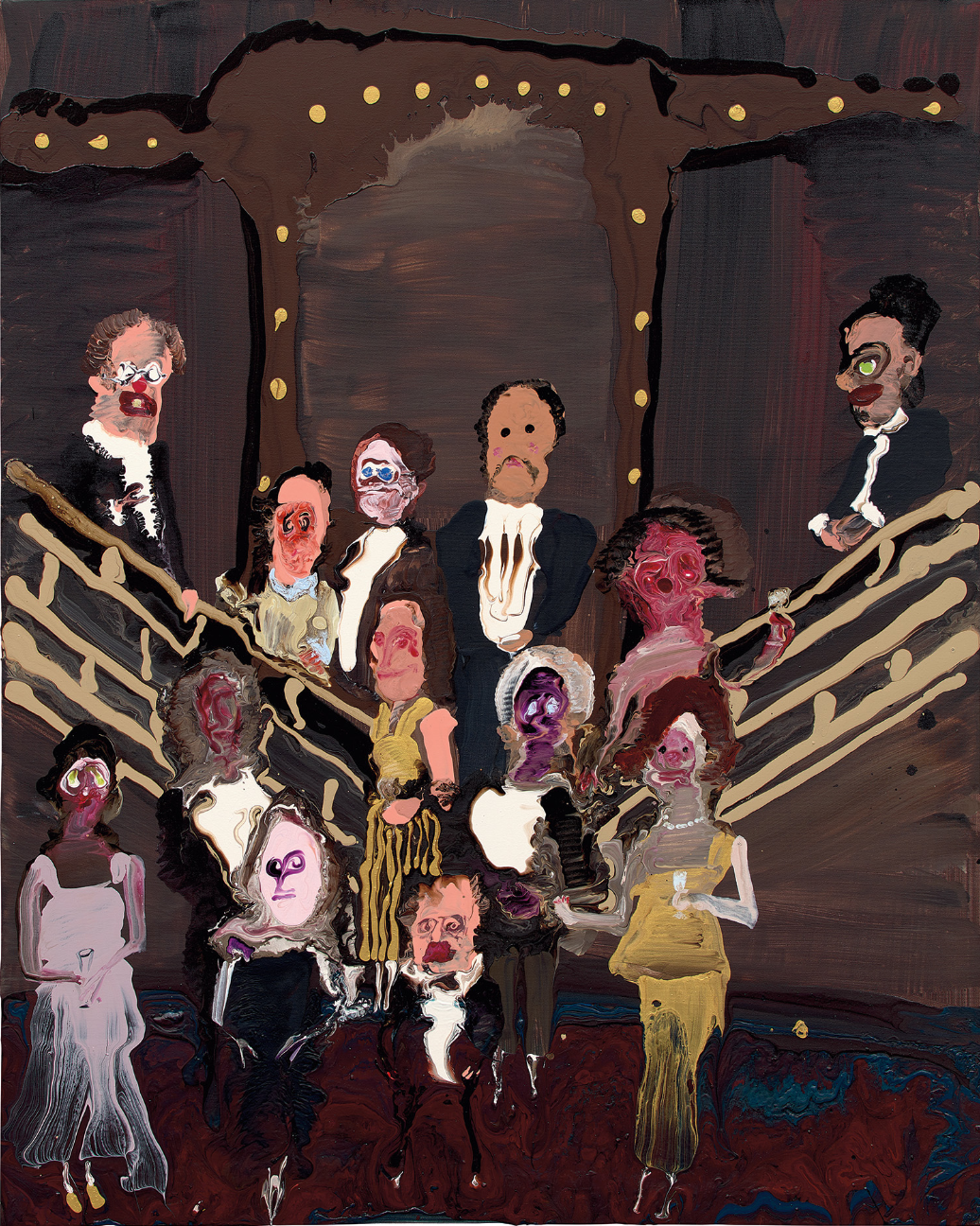 Referencing Irish-English literature and Old Masters such as Goya, the loose silhouettes of Figgis' characters give them a quivering energy. Their faces, a mix of hollow eyes and pained expressions, create an almost macabre feeling, as though something dreadful is about to happen as soon as Figgis puts down her paintbrush. The artist typically creates her works in one sitting.
There is a lopsided haughtiness to the work which feels funny rather than tragic, and this combined with Figgis' psychedelic pastel colour palette allows the artist to tackle heavy topics such as morality and social hierarchy with a light touch.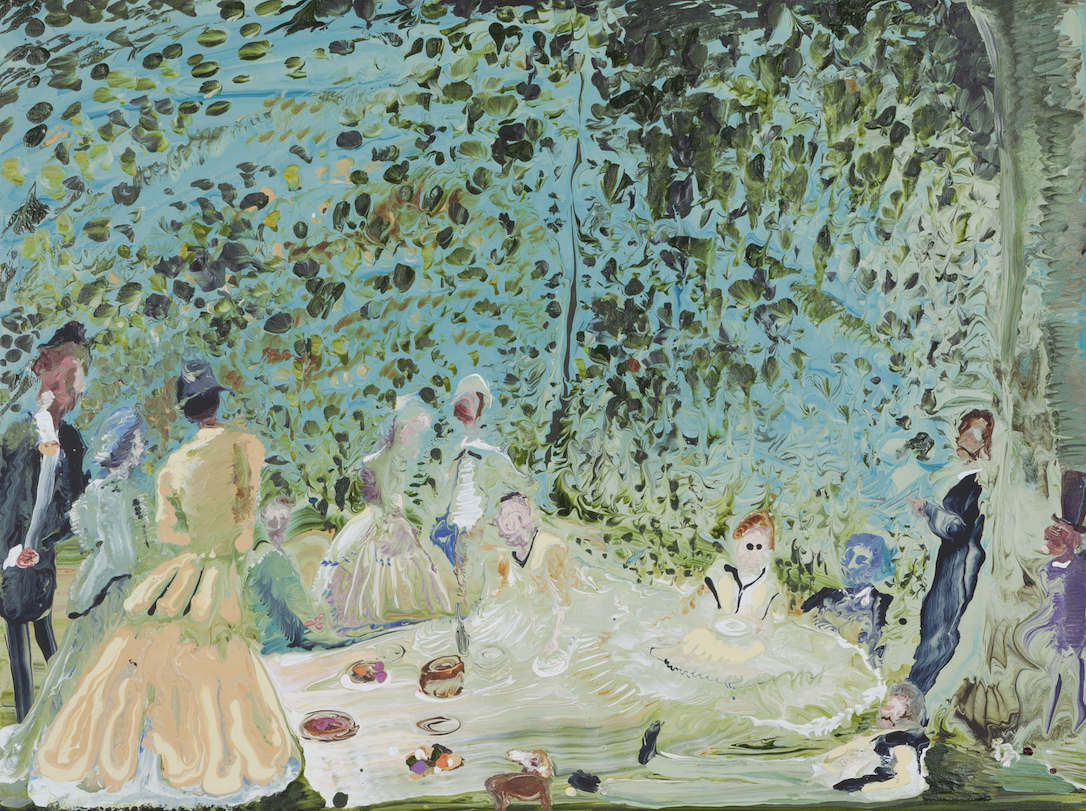 Figgis lives and works in County Wicklow, Ireland, and at the beginning of her career she took to sharing her work on Twitter and Instagram, having little opportunity to exhibit. When her paintings caught the eye of American artist Richard Prince, who bought one, Figgis was catapaulted into the New York art scene. As she continued to gain recognition for her work on the internet, eventually the galleries caught up, and in 2015 London's Almine Rech began representing her.
Since then, the artist has exhibited in London, Paris, New York, and most recently Shanghai with her solo show Floating World. Figgis' theatrical artworks are her own interpretation of historical paintings, and what's most compelling is that they can be interpreted as both a look to the past, and a mirror to today.