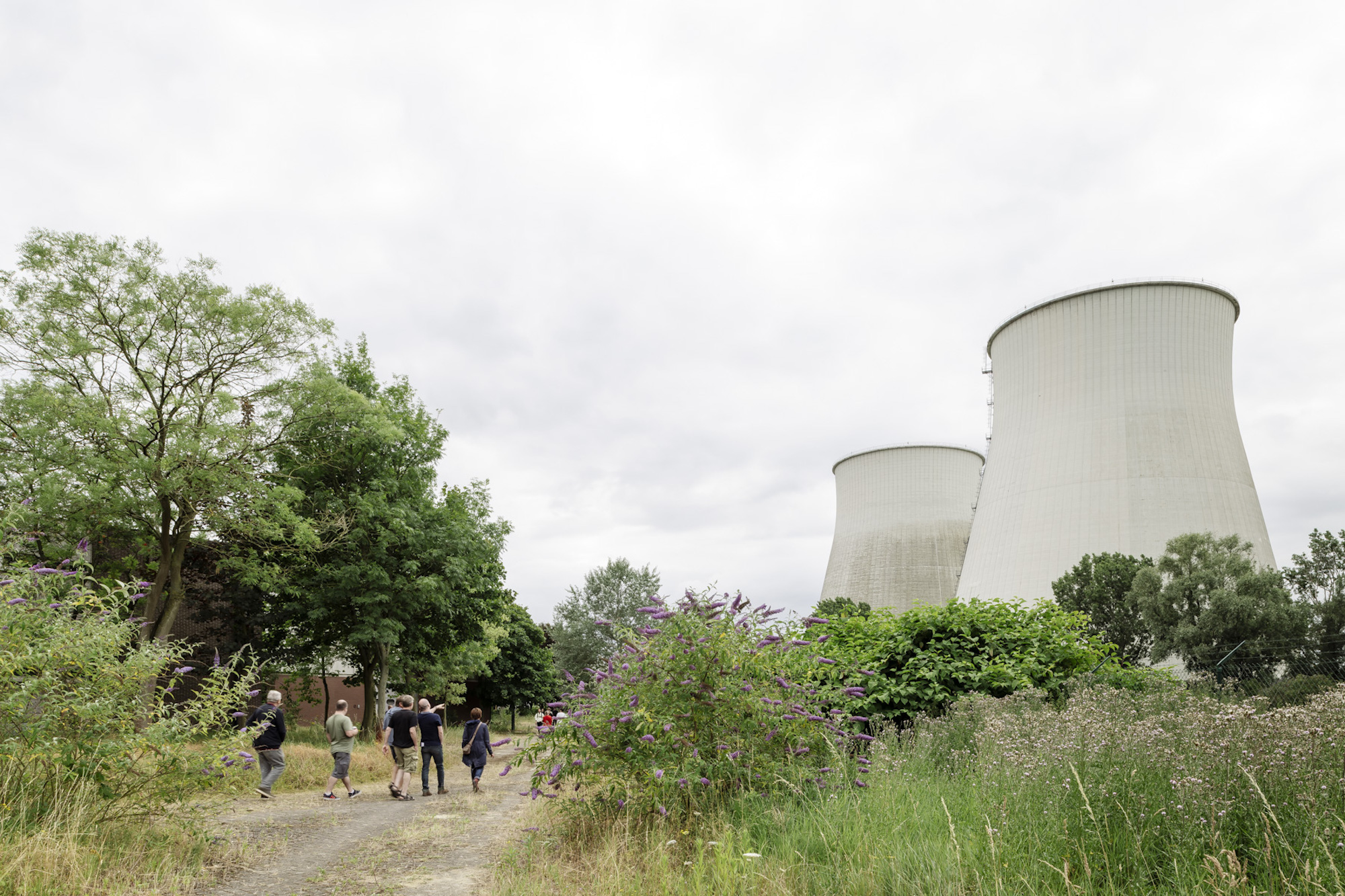 A sprawling ex-military base, abandoned to the wild ways of nature, might seem a more likely venue for an illegal rave than a contemporary art exhibition. But then, an art exhibition that complements an interwoven programme of performance, dance, music, architecture and design is far from the traditional set-up, and this is no ordinary presentation. Instead the industrial wasteland sets the scene for artists who are seeking a shift away from modern-day cynicism and melancholy. Amidst these technological ruins, a relic of a former time, they move towards a rediscovery of nature, the organic and their own body. 
Horst is a Belgian festival established five years ago, named after the Horst castle whose grounds they formerly inhabited. This year's iteration is the first to be situated at the Asiat former military base, located in the northern outskirts of Brussels, previously an education space for the military rather than a combat one. This was where new technologies were trialled and experiments in equipment were carried out. The site has sat empty for the last seventeen years, bar (fittingly) a number of illegal raves. It was reportedly at the last of these raves that the local mayor, initially called to close it down, saw the potential for a cultural festival like Horst in the space. 
"Amidst these technological ruins, they move towards a rediscovery of nature"
Fast forward to 2019, and the festival is well and truly embedded at the site. Architects and artists alike have been invited to intervene and influence and transform it, responding to the unique conditions of the space. A three-day music programme, complete with onsite camping, is scheduled for September, while weeks of educational workshops between design, architecture and music students take place during the summer. These learning opportunities act as creative laboratories for the festival, informing its direction and programming for the future. 
Too often, works by visual artists are sidelined in favour of headline acts at numerous music festivals, dismissed as mere eye-candy for revellers. The visual arts programme of Horst is central to its outlook, opening this July—a full two months ahead of the music billing. Curated by Evelyn Simons, an independent curator, researcher, art critic, and writer based in Brussels, who has previously overseen exhibitions in collaboration with Fondazione Prada, the exhibition brings together more than ten artists from all over Europe. These distinctive voices have taken over and entwined with the Asiat base, responding to its cavernous spaces and state of disrepair. As Simons puts it, "The terrain is already an artwork in itself."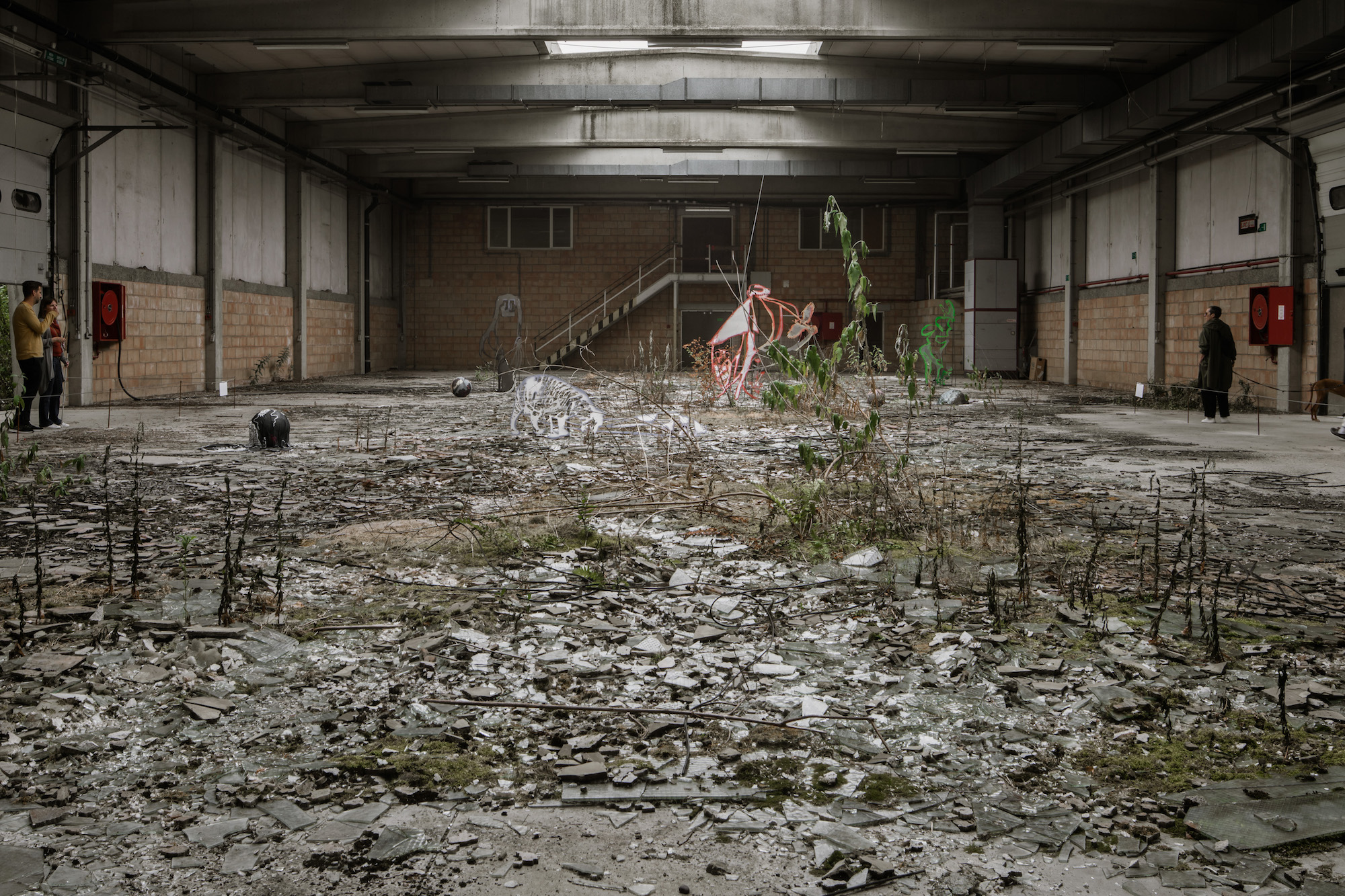 Cypriot artist Lito Kattou takes over a glass-roofed building, where smashed ceiling panes have allowed moisture to seep in and settle on the ground. From here, plants and weeds rise up, a secret garden grown over years of neglect. Kattou has inserted wafer-thin aluminium cutouts amidst this landscape, spray-painted in bright pinks and oranges that stand out against the natural greens. These enigmatic creatures convey an altered relationship with nature, recalling mythological and animalistic beings put through a sci-fi filter. Inspired by humanity's longing for spirituality in a landscape informed by post-humanism and ecological crisis, her creatures feel as ancient as they do modern. 
Past and present meet again in the handmade terracotta sculptures of Milan-based Benni Bosetto, whose work merges anthropology, religion, iconology and history. The sculptures, which resemble the long-buried bone structures of unknown animals, are hung with chains in a vast room that Bosetto has flooded with water. Visitors must remove their shoes and wade through it to view the sculptures close up, in turn themselves becoming a part of a ritualistic activity of sorts. Amidst this staged theatrical setting, questions of human communication and performance are raised, offering an alternative mode of connection through gesture and shared movements over language.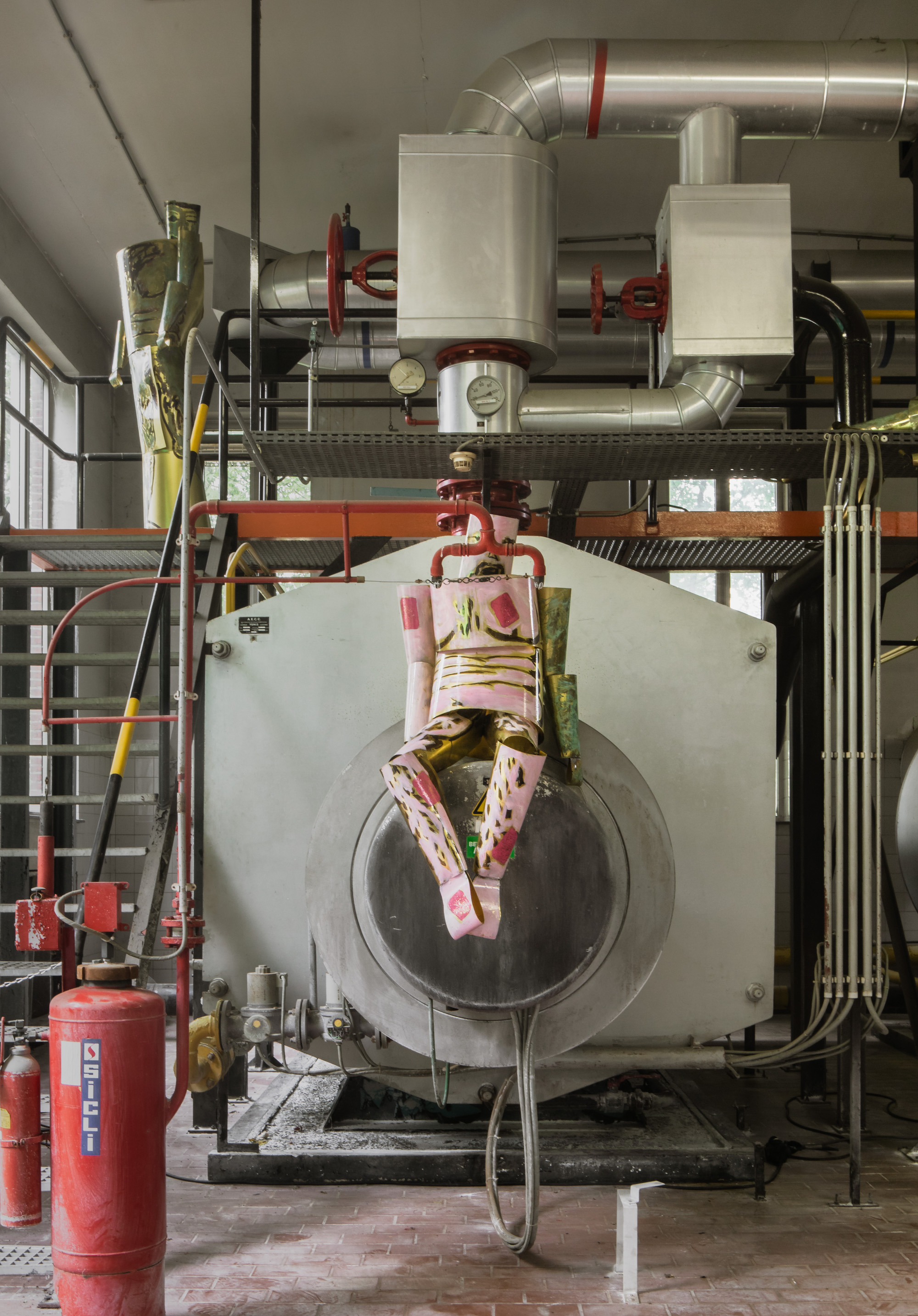 French artist Caroline Mesquita, meanwhile, invites viewers into the heart of the former industrial workings at the military base, in an abandoned engine room. Life-size figures made from bent copper and brass appear to be at the helm, stationed at the controls for the machines and with an uncanny appearance of concentration. These anonymous anthropomorphic bodies are suggestive of everything from Ancient Egyptian figures to early sci-fi cinema. Shiny and cheerfully painted in bright colours, they are mysterious and yet familiar, static and yet alive. 
"These enigmatic creatures convey an altered relationship with nature"
At the furthest reach of the site two vast cooling towers stand tall, overlooking the Senne river. Their presence, although deactivated, appears almost to hum with the activity of their past life, dwarfing all that surround them. Nigerian Emeka Ogboh has filled the inner cavern of one of the towers with a sound installation that interweaves recorded sounds into a dense tapestry of voices, songs and general noise and clatter from the streets. Reverberating around the cooling tower, the effect is an immersive, almost religious encounter with the echoes of strangers. 
Originally conceived for the Athens chapter of Documenta 14, a series of LED screens installed within the chamber display stock exchange data from around the world. Positioned alongside the chanting voices, which ascend into a polyphonic choir to sing a Greek lament, there are painful realities to be faced here. The ruthless free market and the forced movement of people worldwide are brought into focus on a personal level, as the daily inequalities of our world are laid bare.
Within the open and wild green landscape, Horst could not have found a location further from the standard white cube format. Simons explains that she was drawn to this setting, with its heavy, overtly masculine military connotations, and the counterpoint of the softness that the creeping nature offers. Together they challenge ordinary hierarchies in culture and society at large, initiating an ongoing experiment of where, when and how contemporary art can resonate far beyond expected boundaries. Horst incorporates stage design and architecture to offer a new model for art-making, and in doing so  acts as a catalyst for radical modes of collaborative thinking. 
Photographs by Olmo Peeters
Horst
Exhibition 14 July to 15 September; Music Festival 13 to 15 September
VISIT WEBSITE