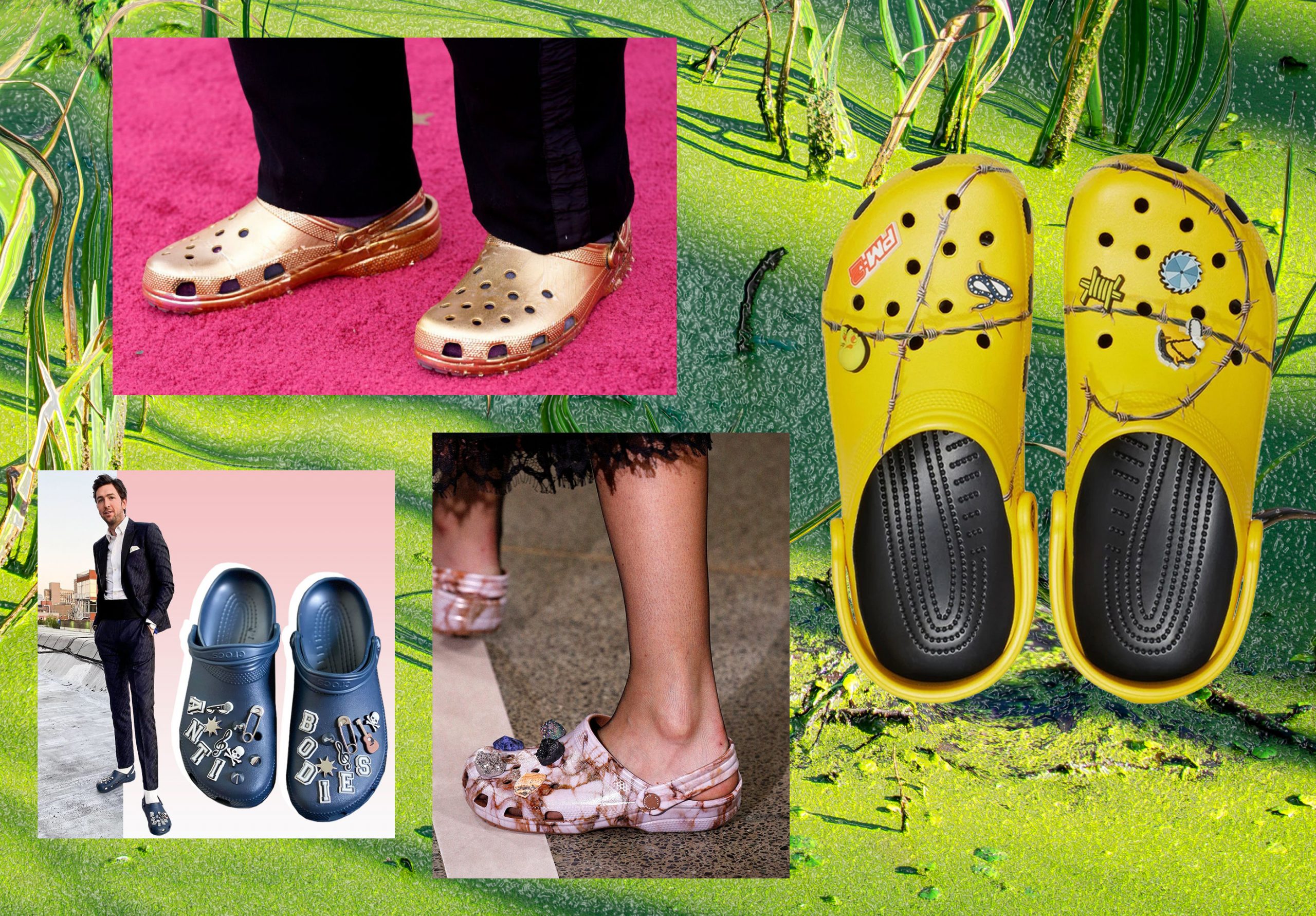 In my pre-teen years, I wore the same outfit to every social occasion: a bright purple long top with a panda bear on it, black three-quarter length leggings, and a pair of purple Crocs with black-and-white dice Jibbitz to match. Convinced that the key to a successful outfit was colour coordination, I was confident in my sartorial choices.
That is until I reached secondary school, where, in a manner that pre-empted the savagery of the "What are those?" Vine, my beloved Crocs were targeted at every park hangout for being "ugly dad shoes", which were the polar opposite of cool. Eventually, the merciless teasing became too much. I closed the cupboard door on unparalleled comfort and swore I'd never wear them again.
I was clearly ahead of my time. In the years that followed, the Croc came of age. Today, the bulbous foam clogs are everywhere, inspiring shaving cream challenges on TikTok, marking Nicki Minaj's return to Instagram, and taking a turn on the red carpet—Questlove's shimmering gold pair at this year's Oscars outshone the ball gowns. Over almost two decades, Crocs have leaned into their reputation as the Marmite of the shoe industry and ascended to the zenith of anti-fashion.
"They're vulgar, they're tongue in cheek, they're a bit childlike, but they're also accessible"
Launched in 2002 as a boating shoe by Colorado-based businessmen Lyndon "Duke" Hanson, Scott Seamans and George Boedecker Jr, the popularity of Crocs quickly extended beyond the water. Prized for their squishy, lightweight feel and wearability, they became a practical favourite of chefs, healthcare workers, gardeners and kids the world over. By 2006, Crocs, Inc. was afloat on the NASDAQ stock market as well as the high seas. The shoemaker raised $208 million in its initial public offering, making history as the largest US footwear IPO at the time.
It wasn't all plain sailing, however. While I won't be so bold as to presume that my decision to ditch my purple pair towards the end of the 2000s influenced global trends, Crocs did indeed enter a rough patch. "Crocs had a massive drop in sales from around 2010, when they also had the questionable honour of being named among Time magazine's 50 Worst Inventions," says Louise Loecke, senior trend strategist at Kjaer Global Ltd.
In 2014, the company announced plans to close 100 stores and axe 200 jobs, which some commentators put down to the paradox of its USP. As Guardian journalist Morwenna Ferrier speculated back then, "one pair will apparently 'last you for life', which means no one's buying them any more". The fact that they weren't yet ugly-cool, just ugly, probably didn't help either.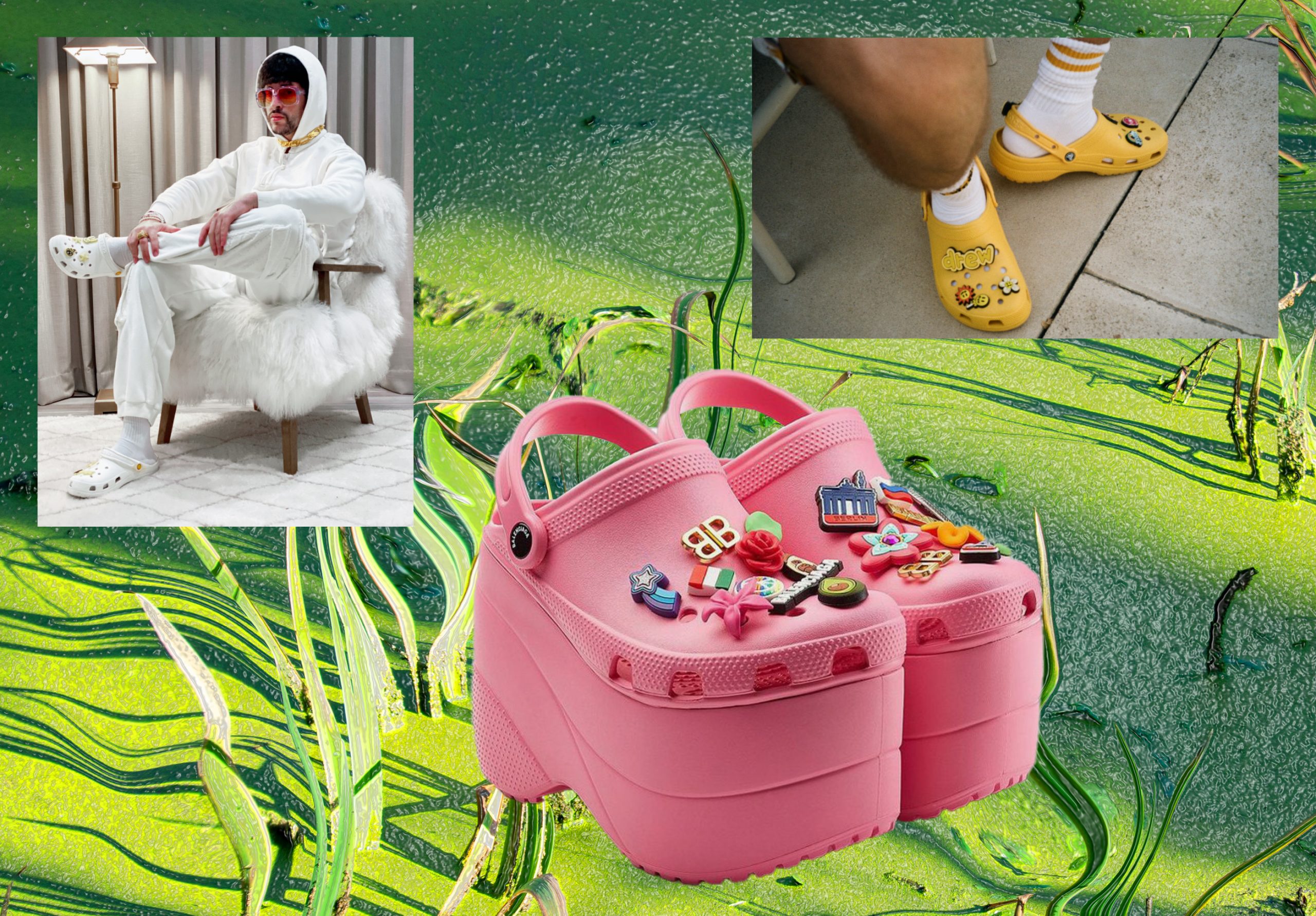 Crocs survived by pivoting from footwear staple to footwear artefact, doubling-down on their divisive clog shape and offering it up as a canvas for experimentation. Salvation came not from the humble ranks of Crocs-and-socks wearing dads, but from the upper echelons of the fashion industry. Ever since Christopher Kane debuted his marble-patterned Crocs with gemstone Jibbitz on the runway of London Fashion Week in 2016, designers and celebrities have fallen over themselves to collaborate with the brand, flirting with what Loecke describes as a "low-status symbol of iconic value".
Justin Bieber daubed his in pastel colours while Puerto Rican rapper Bad Bunny opted for glow-in-the-dark Jibbitz. Russian rave band Little Big studded theirs with chains and spikes while upcycling designer Nicole McLaughlin turned hers into a veritable camping shop. Rapper Post Malone, the first celebrity to dip his toe into Croc-infested waters, is on his fifth collaboration. "Crocs carry emotions, even the hate they garner is powerful and that is attractive to work with as a designer," Loecke remarks.
When Ferrier joked in 2014 that "thanks to the clog's uniquely robust construction, they will inherit the earth should we be faced with an apocalypse", she wasn't wrong. As housebound consumers coveted softness during the hard reality of the pandemic, the Croc craze ballooned even further, prompting a 12% sales increase in 2020.
"Crocs have leaned into their reputation as the Marmite of the shoe industry and ascended to the zenith of anti-fashion"
"It's undeniable that their rise to must-have status was confirmed during the lockdown period," asserts WGSN's footwear editor Ana Correa, though she dates the uptrend back to 2018, when Post Malone's first collaboration caught the attention of Gen Z. Loecke agrees that there is also a generational driver behind the Croc resurgence, and Y2K fashion more broadly: "Gen Z have the appropriate distance to Crocs that allows them to appropriate the iconic shoe and make them cool."
For Anna Choutova, curator of Bad Art Presents, Crocs sit alongside Post-Internet Art and Naive Art in resisting conservative beauty standards. "They're vulgar, they're tongue in cheek, they're a bit childlike, but they're also accessible," she says. "Even the designer versions have this reference point to everyday culture."
KFC's scented Crocs were the epitome of bad taste (and smell), while Balenciaga, who made headlines with their platform versions in 2018, performed the reductio ad absurdum of Croc collabs last month by adding a black stiletto heel to a bright green pair. These varied Croc renaissances are playful exercises in elevating the ordinary to the extraordinary, and collectively they confirm that Crocs are the most memeable shoe on the market. I think it's about time I invested in a new pair.
Madeleine Pollard is a Berlin-based journalist specialising in culture and current affairs