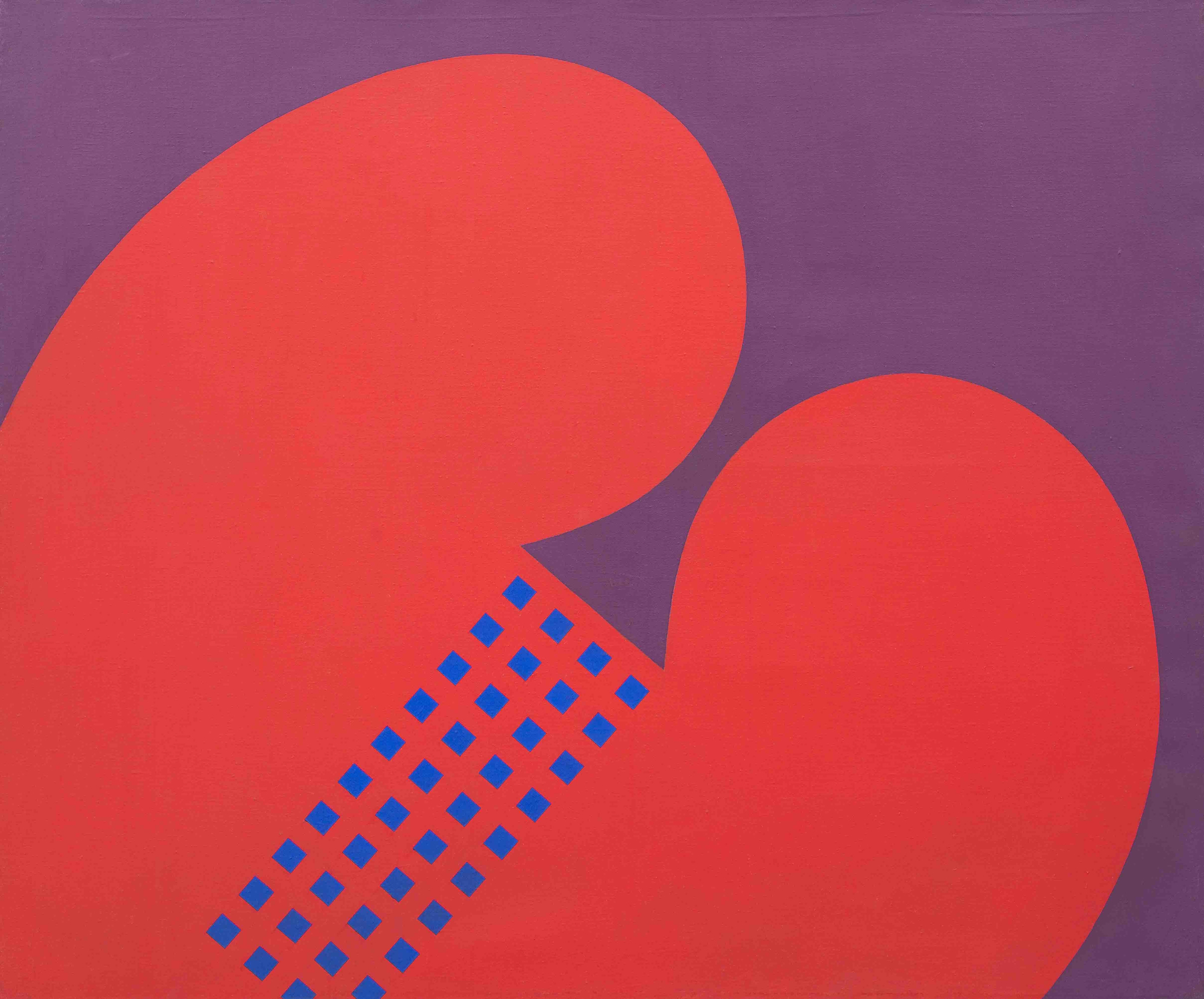 Who was the most hard edge painter of all time? When Moroccan artist Mohamed Melehi was a Rockefeller Foundation scholar at Columbia University in New York, he participated in the 1963 group show Hard Edge and Geometric Painting and Sculpture at the MoMA, alongside the hero of American hard edge Frank Stella, a friend of Melehi who introduced him to the movement and its abstract, geometric style.
Stella and the great American abstract artists ignited in Melehi the desire to go deeper into his roots. Their work was modernist, but it reminded him of the aesthetic of traditional Islamic art and architecture, the kind that can still be seen all over Morocco. "Moroccan art was always hard edge", Melehi told The Guardian in 2019.
Melehi was born in the port town of Asilah, Morocco in 1936. By the age of 19 he was frustrated with the limits of traditional forms in Morocco and first moved to Seville, then Madrid in search of new ideas and inspiration. Finding Franco's Spain too restrictive, he relocated to Rome, and became embedded in its vibrant cultural scene, hanging out with the likes of Lucio Fontana and Alberto Burri. By the time he arrived in New York, the city's art scene was booming: he met Stella, and the in crowd at Leo Castelli gallery, and was surrounded by artists such Jasper Johns and Robert Rauschenberg, whose use of colour helped transform his previously quite austere work.
"Melehi began incorporating things that spoke of local identity: he used the same cheap materials that a Moroccan craftsman might"
The connection Melehi made with his country through abstract painting (and the fact that his visa didn't allow him to stay in the US) saw the painter return to Morocco. He remained there for the rest of his life, becoming part of an important shift as Morocco emerged from a long period of European colonisation into a violent and oppressive regime under King Hassan II. Melehi's work was a vital part of that emergence.
He began incorporating things that spoke of local identity into his work: he used the same cheap everyday materials that a Moroccan craftsman might, and introduced lacquer paint, usually used for cars, to signal a connection to labour and the working class. Melehi was also involved with the country's radical leftwing press, helping to produce the first open-air exhibition in Marrakech, in 1969, a week-long affair in Jemaa el-Fnaa Square.
Art and politics were always related for Melehi. He took part in the Pan-African festival in Algiers in 1969 and founded an arts festival in his hometown Asilah. He was also engaged with Pan-Arab culture, and in 1985 took up the position of arts director at the culture ministry for seven years, remaining a cultural consultant to the Ministry of Foreign Affairs and Cooperation thereafter.
"You only need to look at his exceptional work to understand his influence"
Melehi died in October 2020, age 83, from covid but in the last decade of his life he had seen interest in his work from the UK and the US renew: the Tate, Pompidou and MoMA all bought pieces and he had a survey at the Arab Museum of Modern Art in Doha. His work is currently included in a major exhibition, Moroccan Trilogy 1950-2020, at Museo Reina Sofia in Madrid.
Melehi was truly ahead of his times. You only need to look at his exceptional work to understand his influence and mastery of the movement he helped redefine and reinterpret. His legacy is slowly being recognised, a familiar story for an artist who dared to go his own way and brought vibrant, vivid colour wherever he went.