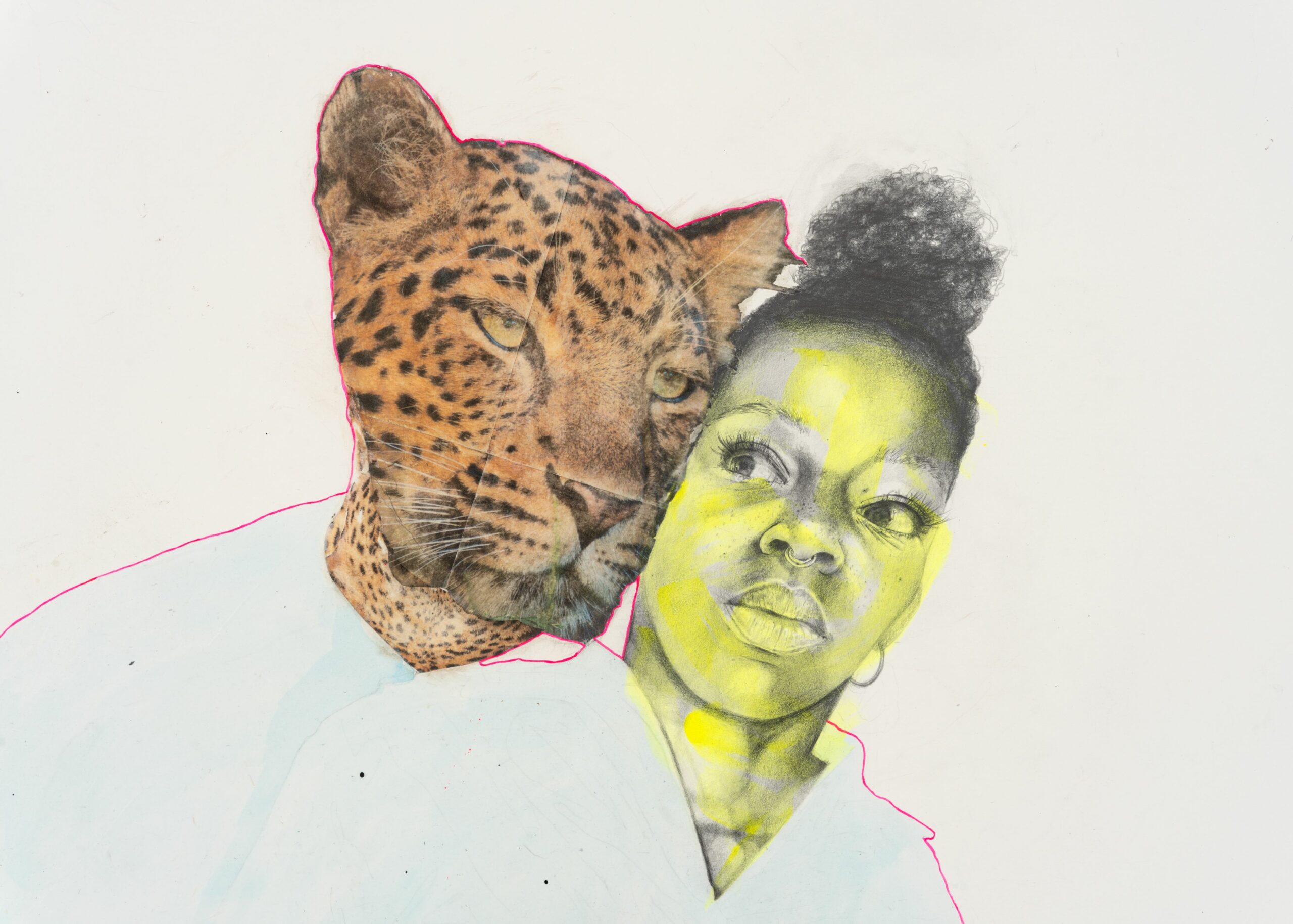 ruby oyinyechi amanze has spent the best part of the last month showcasing Poetics of Space, her second solo show with Mariane Ibrahim Gallery and her first solo in Paris. In the exhibition, the artist returned to topics like space, movement and motion – concepts that remain consistently integral to her practice. Also making a return are the seven motifs that find themselves all over her work in new configurations – birds, bikes, architecture, Ada (an alien), Audre (a hybrid leopard), swimming pools (also an architecture) and the paper itself.
The exhibition takes its title from an architecture book by the same name. It's more like a philosophy book…about the ephemeral impacts of architecture on our emotions or memory. I'm interested in spaces and architecture from a more poetic lens. This is not linear or narrative. I'm not telling a sequential story. I have my set vocabulary, and I'm playing with how I put it together; that, for me, is closer to writing poetry than to writing prose."
ruby oyinyechi amanze was born in Nigeria and raised in the United Kingdom. She eventually moved to the United States, where she bagged a degree summa cum laude from the Tyler School of Art at Philadelphia's Temple University in 2004 and ultimately achieved an M.F.A degree from Cranbrook Academy of Art in Bloomfield Hills. Amanze's experience of being raised across three different continents during perhaps the most formative years of her life has shaped her practice as an artist, which largely sees her exploring and meditating over the reality of cultural hybridity.  
In a conversation that takes place as Amanze's Poetics of The Space exhibition at Marianne Ibrahim comes to an end, and just before she takes off to Johannesburg, where she will be showcasing a new dance performance, Amanze invites us into her practice over a Zoom conversation and peels back the process and thought behind her practice.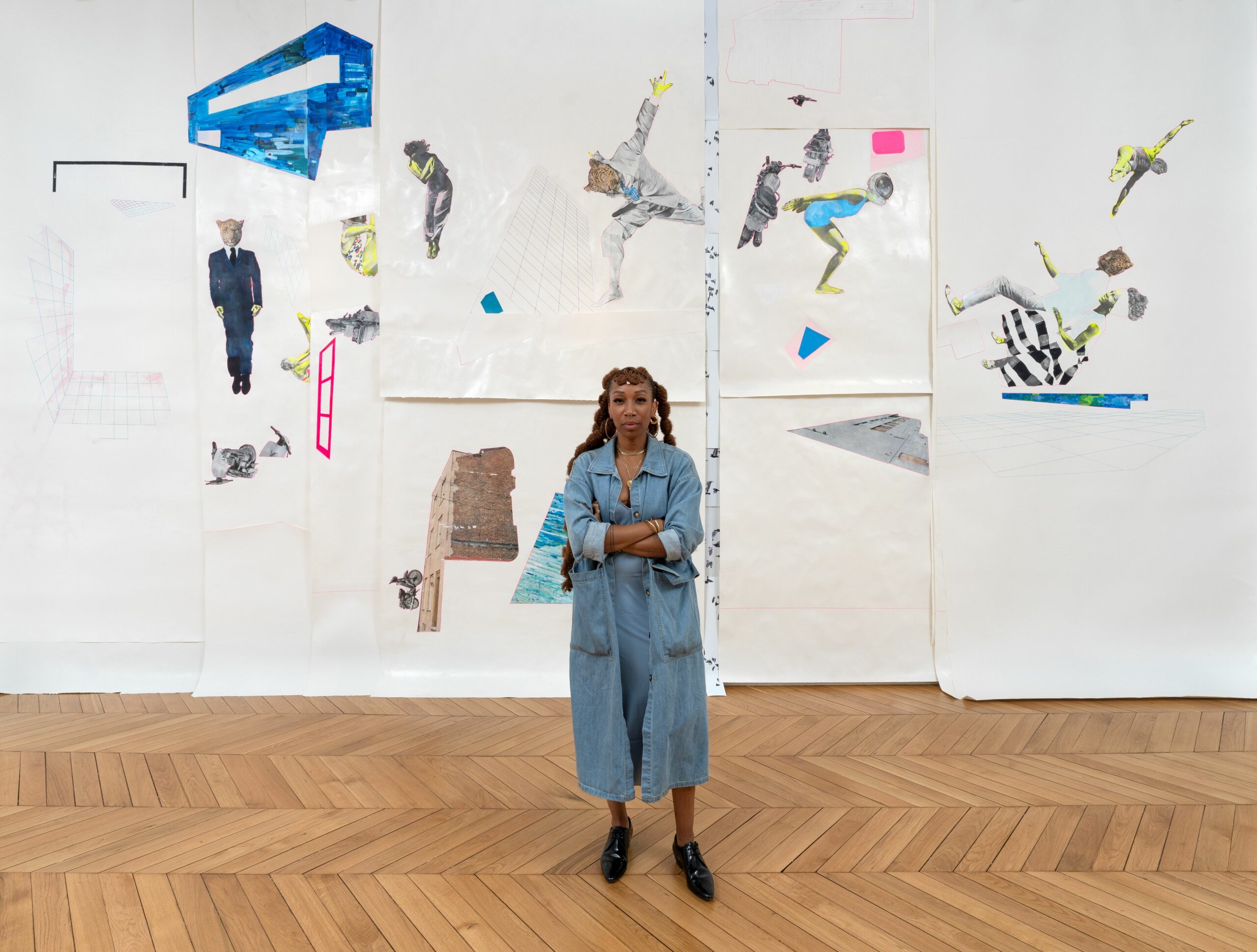 How is your day going?
I'm pretty chill. I'm just in the studio cleaning up a little. I'm about to start some new work, so I am resetting the studio in preparation. I just finished the show with Marianne Ibrahim in Paris. So that opened three weeks ago. My next show is with Goodman, which will be in Johannesburg in June and July next year. So, continuing my body of work but with new drawings, which is what I am about to embark on.
What is your upcoming work going to be about?
The works are about space. And I have seven recurring elements in the work that I use in different configurations to make relationships. So, I have that already set out for the foreseeable future. So, for each new exhibition of work, I'm starting with the same vocabulary of the seven figures and making new combinations and configurations with them.
In the past, your work has touched on displacement as much as movement and cultural hybridity. I imagine that comes from your multicultural background. Is that true?
I may have used some of that language previously and then shifted away from that, but sometimes, people don't shift with you. I am not making work that has anything to do with displacement. Looking for roots, longing, none of that is my concern. I am quite happy with my connections to multiple places and my ability to exist simultaneously. I'm not the only person born in one place, grew up in another place or moved to another place. You can add on X number of countries, you can add language, and you can add many complexities to it- but it is still a very common story. No, I am interested in that third identity.
What does the third identity mean to you?
In my specific case, Nigeria and England, all of those places which have been my home are now so inextricably linked to who I am that there is no separating from it. That becomes another identity in itself. The identity is the hybrid of x plus y plus z. And because of that new identity, I have access to all of these points. I am free from certain tightly formed land and cultural restrictions. I can take a piece from here and there and connect with both.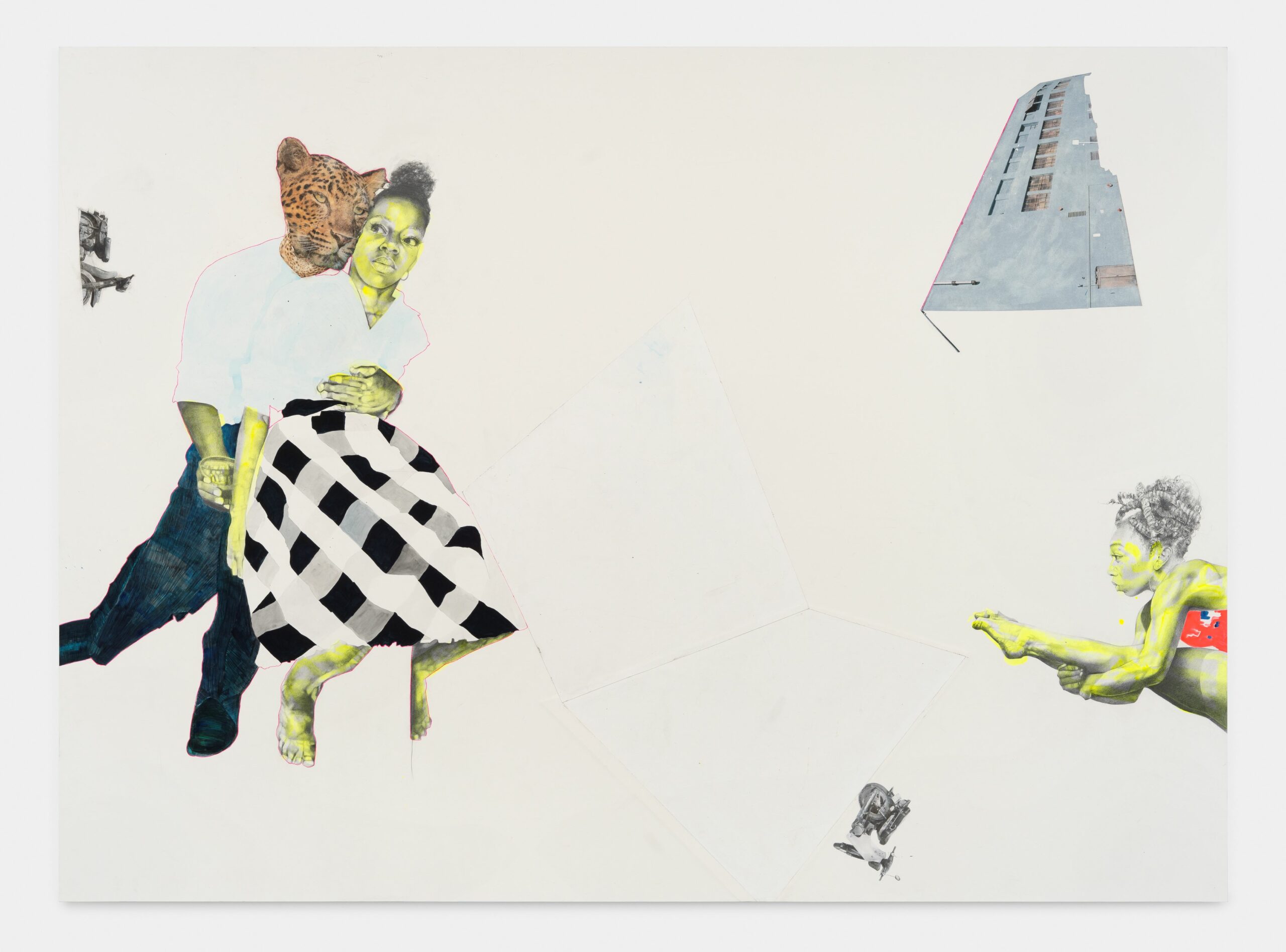 Was Ada a way for you to insert yourself or a part of yourself into your work?
Initially Yes. Ada was an alter ego. But a few years after working with the character, she's not currently an alter ego. She's just a very interesting character that kind of looks like me.
What emotion do you want people to experience when witnessing Poetics of Space?
I want them to be aware of the space which has been constructed. There are a lot of pieces that interact with the architecture in ways that are not typical. So, that's an important aspect that you will see if you walk into the gallery or look at the work or be aware that this is a place that has been altered. That relationship to space is what I am hoping the viewer feels and sees when they view the work.
You said that in your practice, you are always looking for an off-ness, something to break the space. Why is that?
It's something that guides the composition. I'm starting with the empty paper, and then I'm deciding where to move the seven elements, which ones to use and how to move them across the paper. There are ways of composition that are very classical and traditional and expected in some way. If you think about, let's say, portraiture, there's a way that the figure is positioned, and I'm not interested in spatial relationships that are typical or classical. I start with some awkwardness, some tension, and the edge-the-corner-like parts of a paper plan that aren't typical. Framings allow me to make a different space. And that's part of the point: I'm creating different spaces, not classical spaces.
Written by Desmond Vincent