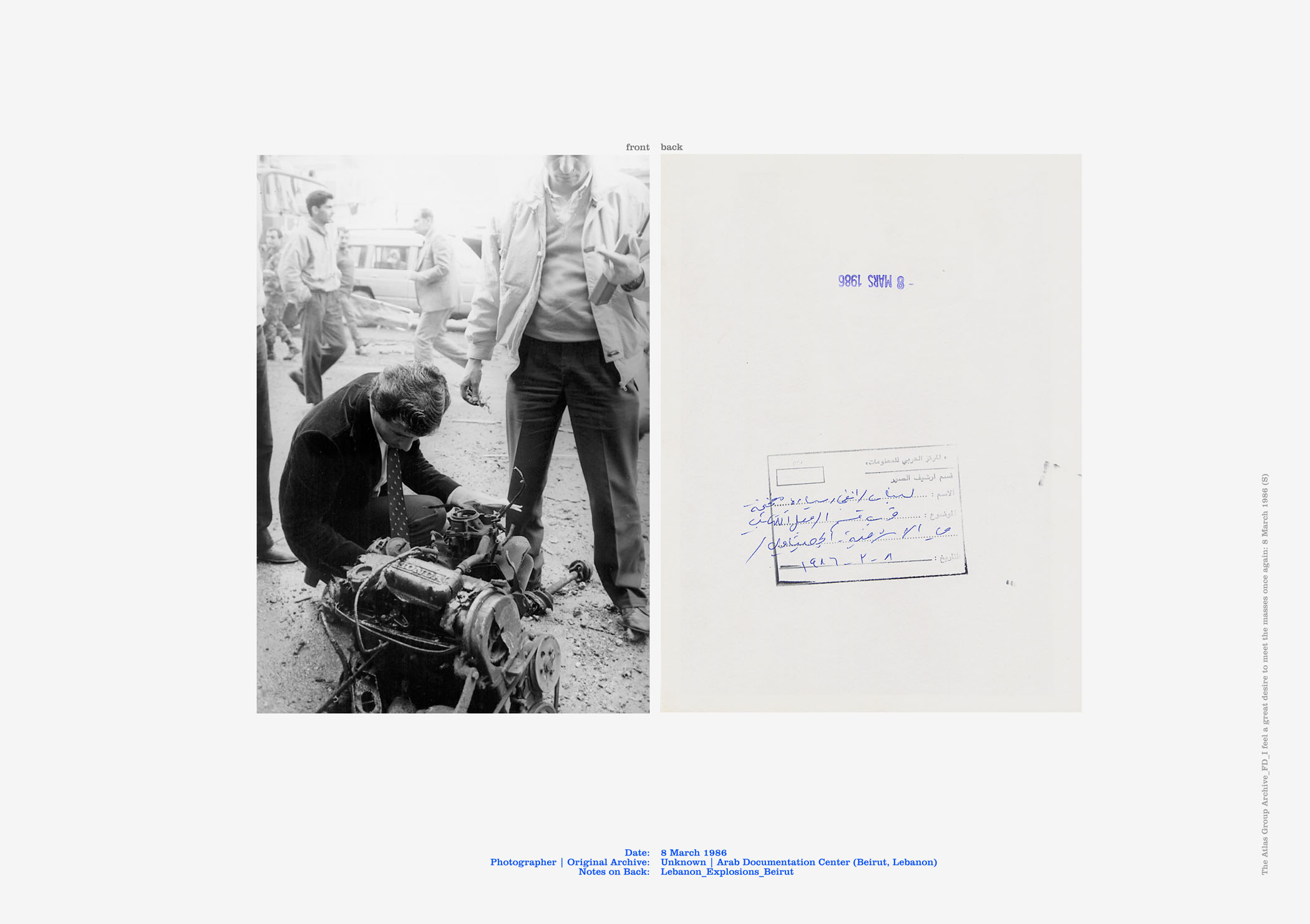 I grew up describing myself as a futurist. I daydreamed about how my life would be tomorrow, in five or twenty years. I was always looking forward, never taking a step back to analyse the past. I was critical of it, I considered it meaningless, irregular, and destructive.
As an art foundation student, I attended lectures featuring slideshows filled with lavish artworks, which I was told held an influence on the evolution of visual culture. While I sat there admiring the skills and craftsmanship of the artists, they made no lasting impression. To me, all these works were merely artefacts, consigned to history.
One day, an entirely different work popped up on screen. Walid Raad's My Neck is Thinner than a Hair: Engines (2000-3) consists of a rectangular display of a hundred archival records featuring the aftermath of car bombs that took place during the Lebanese Civil War (1975-90). Each entry includes a black-and-white photograph of a blown-up vehicle's engine, many of which were found scattered throughout Beirut, often metres away from the site of the explosion.
The photos sometimes depict military officers or concerned civilians inspecting the remnants, bearing witness to the violence. Raad sourced these journalistic images in newspapers and reprinted them alongside handwritten notes that include the date, name of the photographer, and a file number that relates to his far lengthier project The Atlas Group (1989–2004).
"The history of my country has been damaged, wrecked, and sold"
I felt a strange closeness to My Neck is Thinner than a Hair: Engines, and a particular affinity with these reclaimed archives. Where or how the work was displayed, and even the specificities of what it was about, wasn't important to me. I was fixating on the fact that a narrative was being told through these records. These documents are vital in telling the hidden stories of people caught within conflict. It was as if the work was revealing more about me than I was learning from it.
I am from Kurdistan Iraq, a country that has been living with different forms of conflict for decades. Corrupt leaders, invasions, wars, protests, all compromise the state of the region's official archives and documents. The consequences of the gulf war and the US invasion of Iraq were the mass lootings of museums, libraries, and ministry offices. In 2003 looters broke into the National Museum of Iraq where the largest artefacts of Mesopotamian history resided and stole thousands of pieces. Today, many of them have still not been recovered.
However, some of these objects appear on online auctions, being sold for as little as $50. Through conflict, opportunities arise to displace history and cultures from their original homes. When I was young I thought these events were the result of being from somewhere that no one cared about. Whoever the looters and thieves were was not important. The consequences sent a clear message: that these cultural objects were not of value.