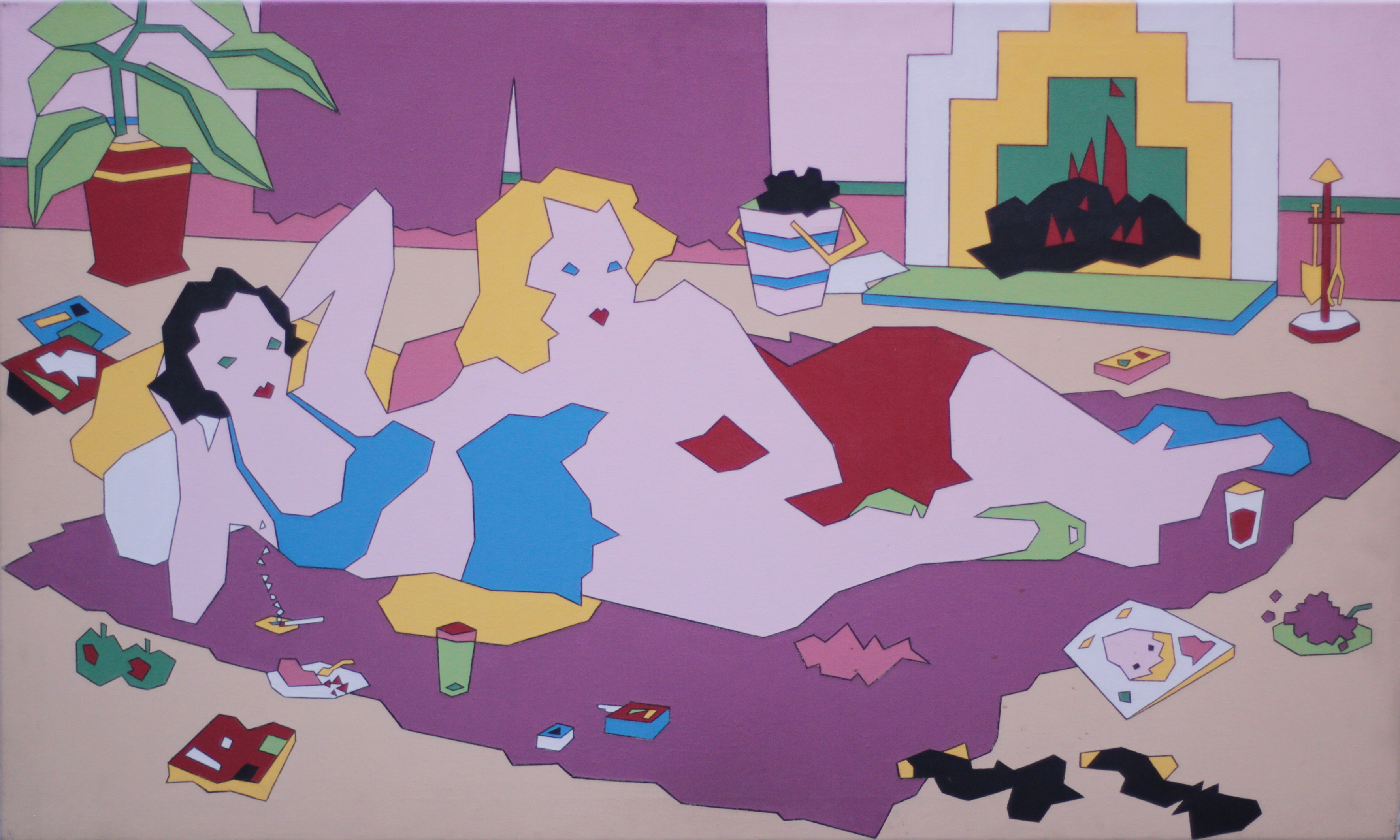 In 1976, a new aesthetic sensibility was defined in London—one that eschewed sexiness and fashion in any sense of definitive "trend" in favour of a new mode of camp, conceptual art-leaning approaches to popular culture and partying and a bold, modern take on gender-play. This sensibility was dubbed "Them" in an article of the same name for Harpers & Queen by cultural historian Peter York in October 1976. He described "Them" as "a mysterious aesthetic conspiracy"; and in part was a product of an era where traditional notions of "camp" in fashion, music and so on (think, perhaps, the pomp and sparkles of glam rock) was being co-opted by marketers "of all sorts of things sold to non-queer people."
Among the things and people listed as "Them" were former Roxy Music crooner Bryan Ferry; fashion designer Zandra Rhodes; David Bowie's 1976 film The Man Who Fell to Earth—termed by York a "ThemThem movie"; while he also billed Andrew Logan's Alternative Miss World contest as "the ultimate Them event". Logan is one of five artists currently showing at the Redfern Gallery in London, alongside others who became prominent in the early 1970s, namely in the British capital and whose shared sensibilities were definitively "Them".
These artists included Duggie Fields, Derek Jarman, Kevin Whitney and Luciana Martinez de la Rosa. Their pieces span the late 1960s to 1980s, and while they share that somehow immediately visible yet rather abstract connection to "them", they otherwise have little in common when it comes to subject and medium.
Among the works on display at THEM are paintings, sculptures and collage; often showing artists known for one discipline working in ways we've rarely seen before—take Derek Jarman's The Kingdom Over the Sea from his 1987 Black Paintings series, for instance. While he's best known for his film work, these pieces delineate Jarman's reactions to his AIDS diagnosis the previous year in heartbreaking visual representations of his emotional states. Tar and found objects were used to create The Kingdom Over the Sea from the series—a candle and shards of brown glass, for instance, are viciously scarred with snippets of text.
"The feel is still kitsch and ostensibly glamorous, but with a dose of very British humour that makes for something accessible and, ultimately, more fun"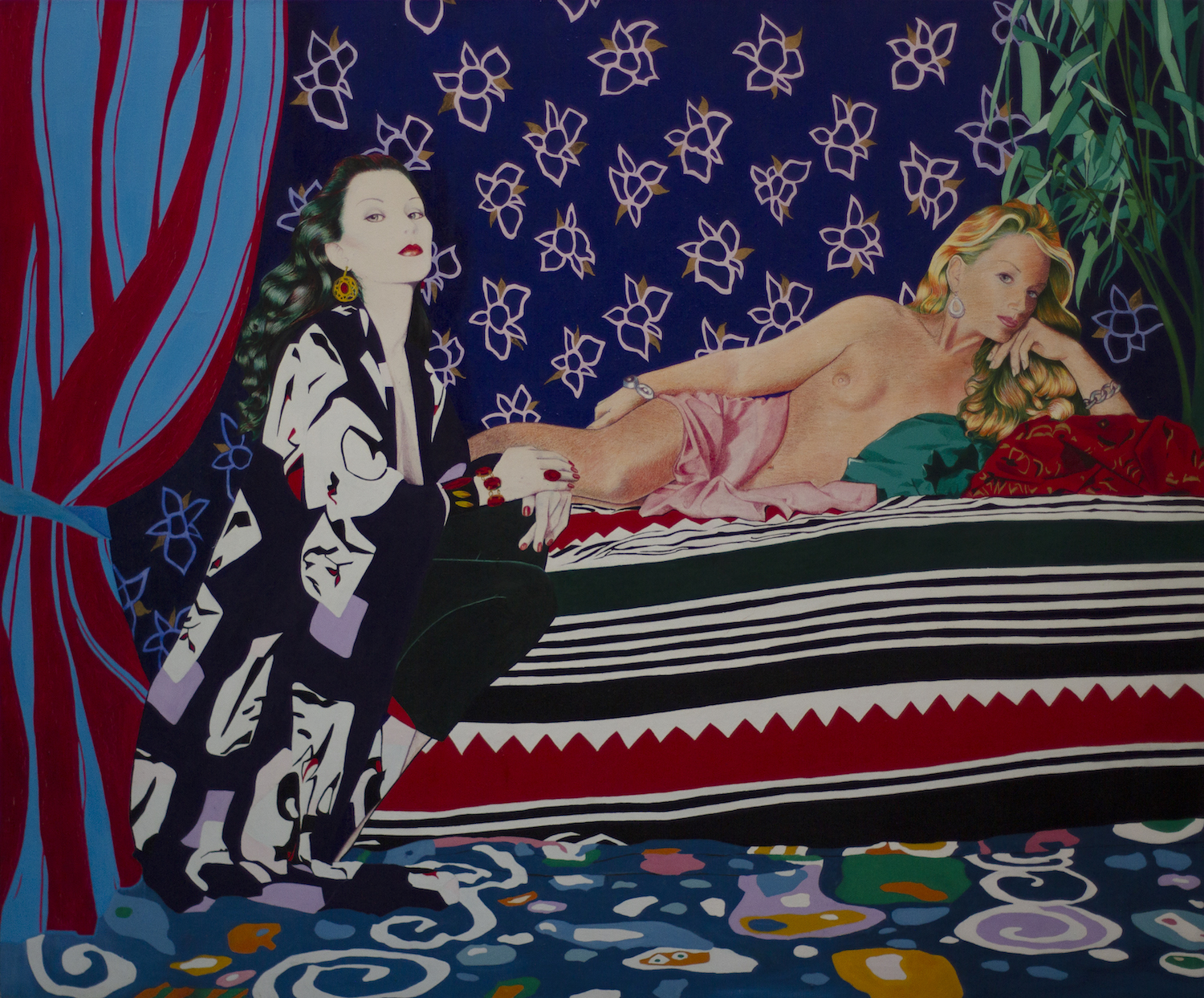 Other painting works include Duggie Fields' Fireside Cookies. Created in 1969, just a year after he graduated from Chelsea School of Art, it offers up a boldly abstract new approach to a familiar Pop Art style. It uses the pop tropes of flat blocks of colour and hourglass-figured women—all Cupid's bow lips and louche sexuality—scattered with the accoutrements of a modish modern lifestyle. The feel is still kitsch and ostensibly glamorous, but with a dose of very British humour that makes for something altogether more accessible and, ultimately, more fun.
Luciana Martinez de la Rosa's 1981 epic painting Pru Pru, meanwhile, is an homage of sorts to Manet's Olympia; though the servant figure is replaced by that of the artist herself, one of the original Blitz Kids the served as the darlings of the burgeoning New Romantics Club Kid scene in London.
The show's curator, James Birch, reflects on the fact that the mid-70s "was a time—perhaps the last time—before culture became commodified. As he concludes, "While its time in the spotlight was fleeting, it has endured and the art created by the featured artists remains as fresh and exciting, almost timeless, and is still invested with the power to provoke and disorientate, amaze and excite."