Jonny Negron's illustrations bulge with hyper-erotic energy, as comically ripped, pulsating male bodies lounge around in damp, torn clothes in his current show at LA gallery Chateau Shatto. Yet many of the eleven gouache works in the exhibition, titled Small Map of Heaven, are also quietly melancholy. Glistening tears roll from the eyes of Negron's characters as they seem to contemplate past mistakes, a bodybuilder sits alone injecting his bicep; the lonely figure in Bonus is quite literally washed up. It seems that heaven is not all it's made out to be.
The works are drenched in pop culture references, for example, J Lo's Dress, which depicts the infamously sheer green Versace dress worn by Jennifer Lopez to the forty-second Grammy Awards. Lopez herself has been magicked away, and the dress floats alone as a seductive vision in the dark blue night. Negron's scenes are abundant with trash, overflowing with the excesses of contemporary culture but also sparkling with mysticism and the sense that there's always something supernatural going on. The self-taught artist's sci-fi and comic book influences are clear in his stylization, setting him apart as a queer R Crumb of sorts, with surreal scenes that are ultimately rooted in the messy, interconnected reality of human experience.
Left: Currents. Right: Bonus, both 2018
How has your drawing and painting developed over the years, and what are some of your early memories of drawing?
I've been drawing since I can remember. I've been drawing since I was two, and I never stopped. I studied art but I think my work has developed with my world experience, with maturity. I think, because of the fact I've been a creative person for my whole life, you can see remnants from my past. There is a naivety to the work; a lot of the work is rooted in cartooning and the stylization of the comics I was into. Comics were a pretty big influence for me.
I remember the first time I saw a comic book; I must have been very young, and I was at the barber shop. I was crying sitting in the chair, and he gave me a comic to get into. The images must have made a really big impression on me, and I just wanted to see more. I was into X-Men, Spiderman, Superman, all that stuff. I have an older brother, and he would draw too. I would always want to copy him.
Left: Denissa. Right: Ting, both 2018
The comic book world exists, for the most part, outside of the gallery space, and they are often seen as high vs low art. What has your experience been of navigating the two?
The demographics for both can be really different. I think, for me with my illustrative works and publications, I was lucky to work with publishers who were interested in bridging that gap. Publishers who were printing comics as well as art books. They had an awareness of presenting sequential art in that context. And as my interest broadened, I started to look to a different audience and look to artists who had a base in the two worlds, like Roy Lichtenstein.
Left: Bendito. Right: Rubia, both 2018
The women who you draw are usually very voluptuous and highly sexualized, calling to mind R Crumb's female figures and even Tom of Finland's male pin-ups. What's your take on the art/porn debate, and what is it that you enjoy about creating these characters and body shapes?
That has been my most frequently asked question, and when I started out I kind of shied away from it, partly because I hadn't made enough work yet to elaborate on it. I am aware that the work can be perceived as objectifying or lowbrow, but there are a number of different perspectives I take when I think of these types of figures. For me, at the core, these figures are very maternal. Since I have been working, it's been really refreshing to see more visibility of diverse body types, in fashion and the media and beyond. There is this maternal aspect and it's a feminist statement.
A lot of times, they are sexualized by me as a commentary on the kind of media that we're exposed to, and the very narrow projection of what is acceptable to be sexualized. It's something that I'm also poking fun at in some of my work. There's a sense of humour about it. There is a contradiction that I'm aware of.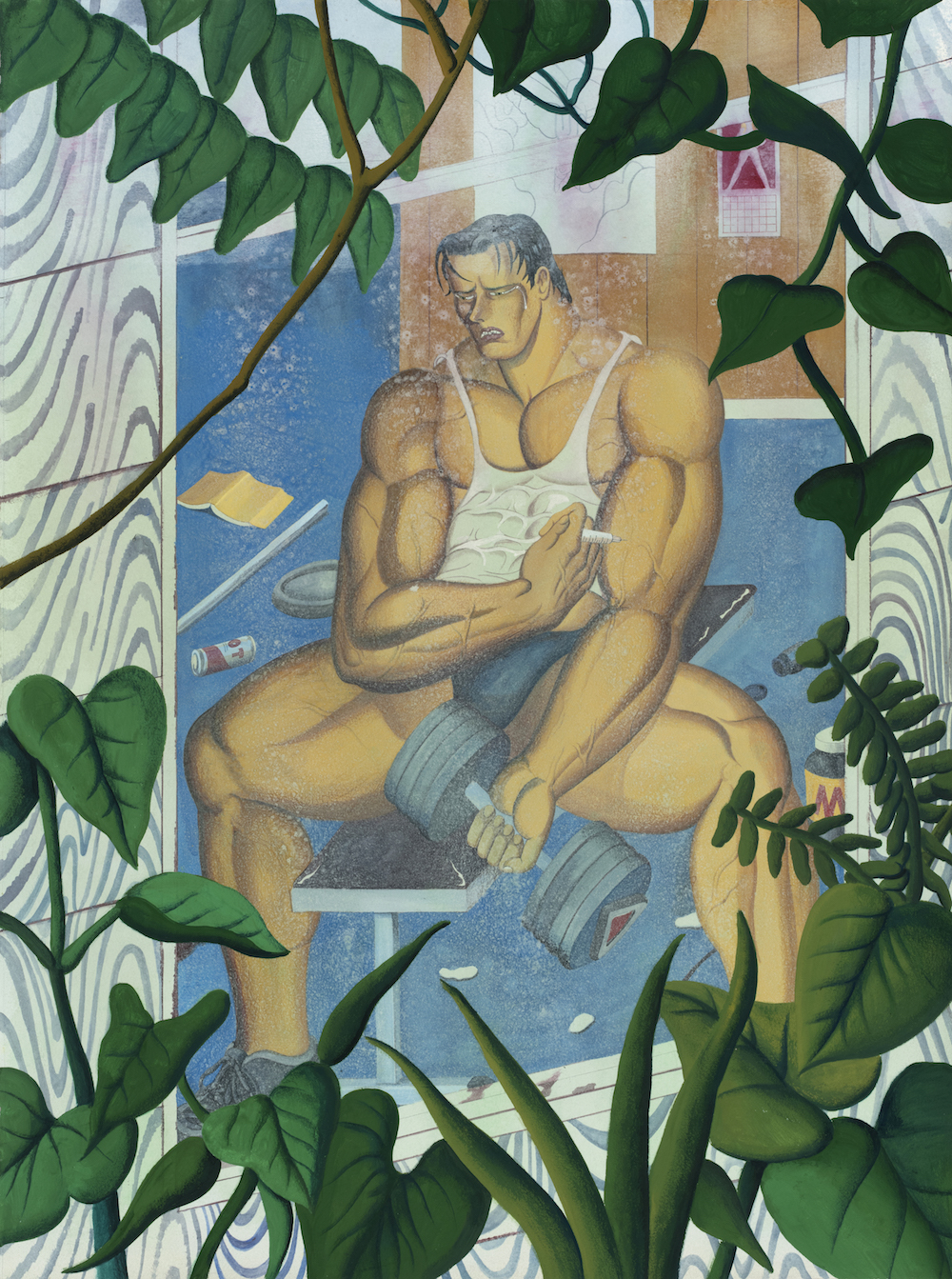 How important has the internet been to the development of your work? You were involved with web comics previously, and with platforms like Tumblr and Instagram you have been able to reach a wider audience. How infused is your work with internet culture itself?
It certainly is a large influence. We have access to so much information and imagery too. You can find out about art from all over the world. When I started to really expose my work it was through Tumblr, and that gave me a platform to share my work. Back then, I saw Tumblr almost like a sketchbook, where I was just sharing my drawings. I would often update it daily. It was a great way to practise. I stopped going to art school—I was a bad student—and I just sought to gain life experience and study independently. There was a part of me that just wanted to retain this sense of naivety, I think if I had gone to school then my work would be very different.
Left: J Lo's Dress. Right: Generator, both 2018
There's a lot of humour in your work, particularly in the little pop culture elements and details of the everyday. What kind of story are you looking to tell when you create these scenes? What is the mood that unites them?
The unifying theme is that they're humans and they're relating to the human experience. With my current solo show at Chateau Shatto there's a sombre quality to the pieces. For me, I feel there's something about nature that's linking the works, thinking of it as the force that keeps everything alive, something transcendent. I think about entities, unseen forces. There's a piece I did called J-Lo's dress, it's an image of a jungle but there's a vague imprint of this dress, and I was thinking of it almost as a ghost. In some of these works, where it's an emotional or sad image, I imagine a presence lingering in the scene.
All images courtesy the artist and Chateau Shatto