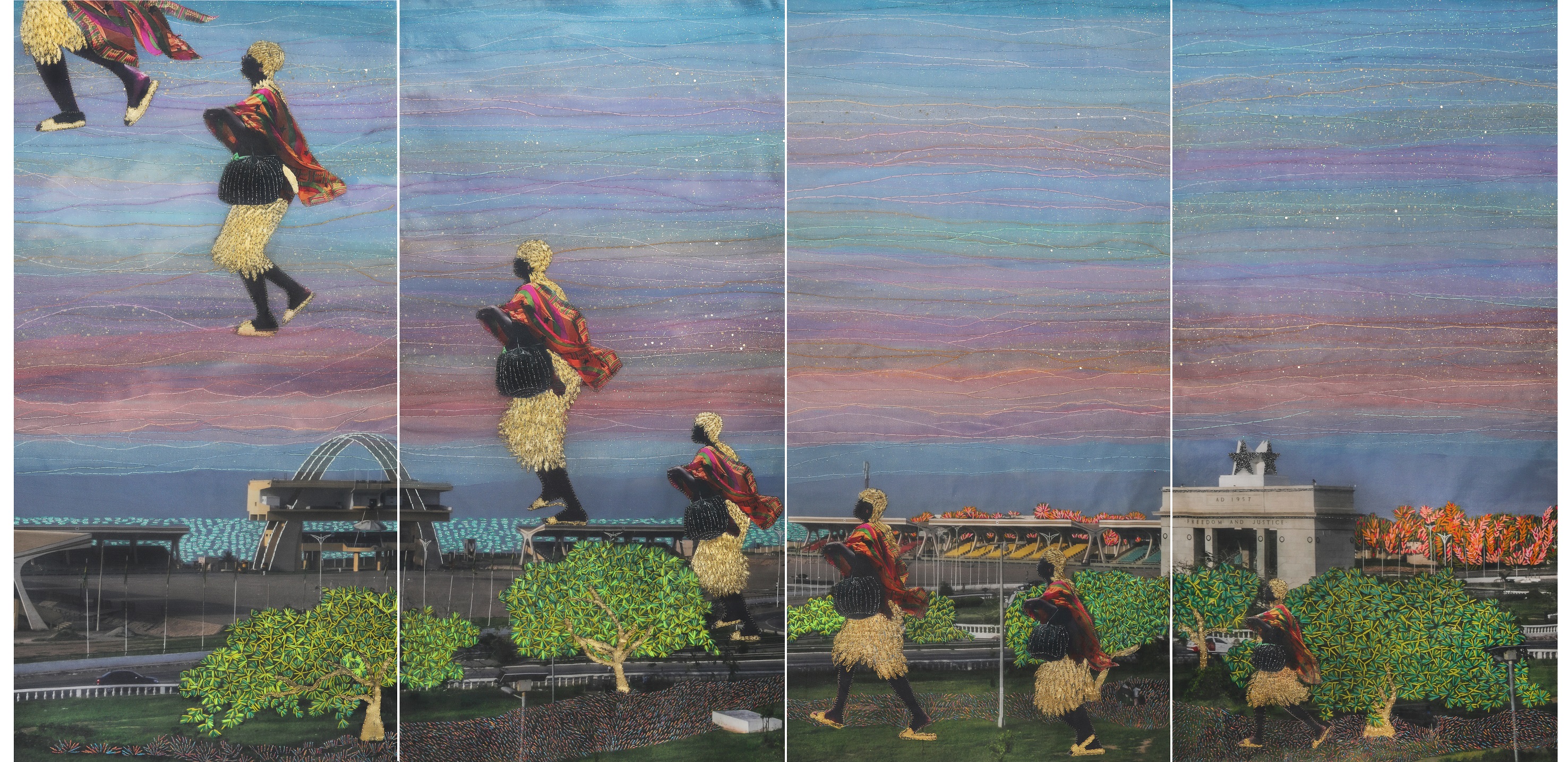 "I like to compare cities to human characters", says Joana Choumali, who is based in Abidjan. This summer, Choumali spent time living and working in Accra, on a residency organised by Gallery 1957. "Compared to Abidjan, Accra reminds me of a dignified and reserved woman—not shy but guarded", the Ivorian artist reflects.
Accra in the early morning light proved to be a powerful muse for Choumali, who made a new series of works based on early morning walks around the city—a habit that informed the artist's practice back at home. "I can see similarities between Accra and Abidjan. The culture is very similar. There is a welcoming and peaceful energy. I felt safe. Some places in Accra, like Osu, remind me of Blockhauss and Treichville, two of Abidjan's old town and traditional districts. There is peace in observing the city at sunrise. Walking in the morning for me is like walking on a white page, where anything can be printed. The first emotion that I feel is that of being in a neutral and safe place, where my emotions find a way to be in synchrony with the environment."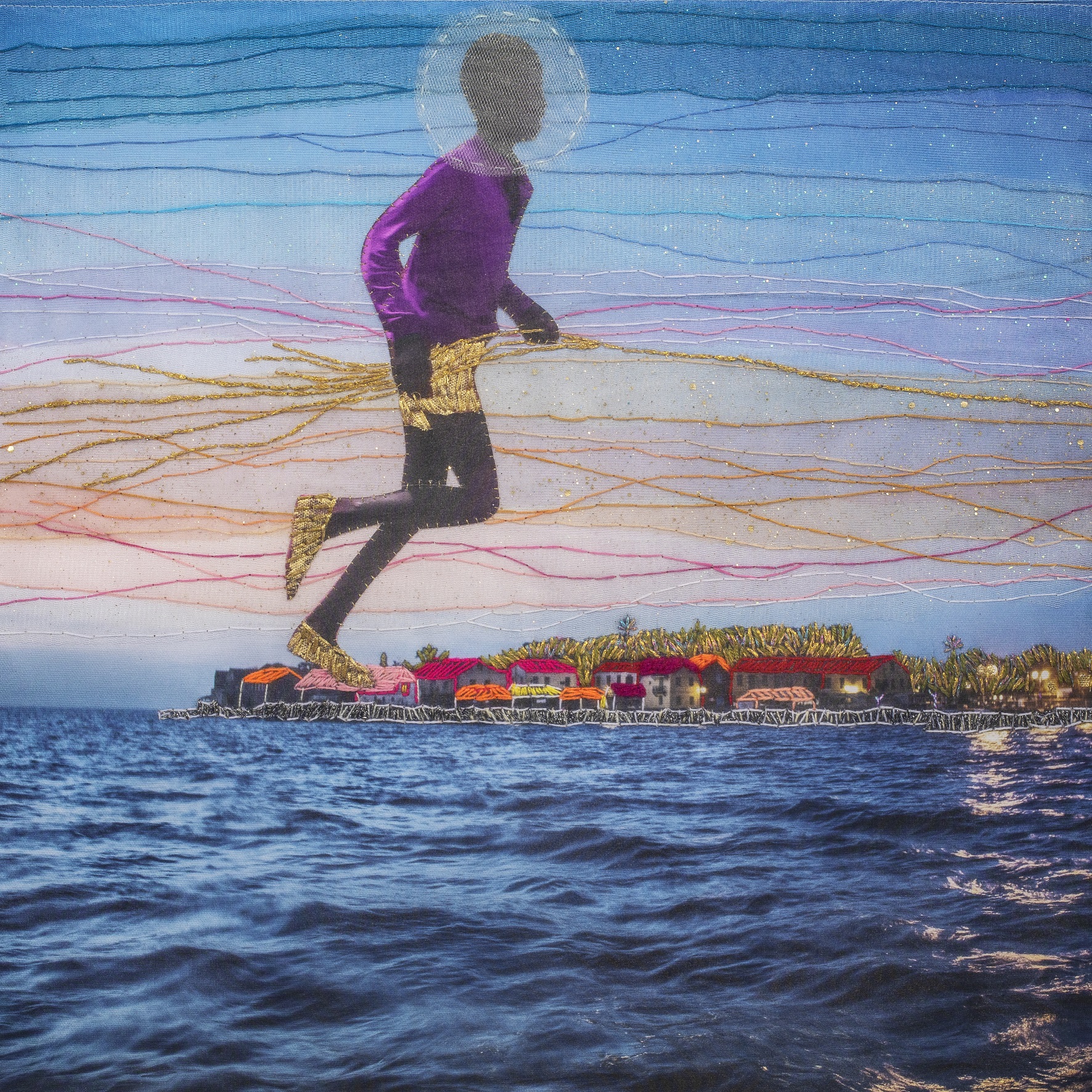 Ostensibly landscapes, Choumali refers to her latest series, now on view at Gallery 1957, as a "quiet diary", a description that reveals the link to the artist's inner world. "I constantly experience a very mixed and conflicting set of emotions that I cannot describe in words, and it is easier for me to express their complexity in an image. These finally come to the right place in my head when I walk at this particular moment of the day. I even feel stronger when I am walking—it is a soothing and humbling experience."
Gallery 1957 founder Marwan Zakhem elucidates the effect of Choumali's landscapes. "The subject matter of Joana's work is hugely emotive; her presence is very tangible within the work." At the same time, "her embroidered photographs address important contemporary themes—such as re-envisioning global perceptions of Africa."
Choumali was born in 1974 into what was then French West Africa's most prosperous independent country, and the world's leading producer of cocoa. But later she witnessed political and social turmoil as the economic boom turned into a sociopolitical to a crisis that would last until 2014, marked by the First Ivorian Civil War and its aftermath.
Choumali left for Casablanca, where she trained in graphic arts before returning to the Ivory Coast in 1998. She returned to the Ivory Coast in 2000 to work as an art director for an advertising agency, eventually quitting to embark on a career as an artist. Photography was a natural first step on her new path. Her traditional photographic series include HAABRE, The Last Generation (2016), documenting the practice of scarification in Abidjan, and Adorn (2017), portraits of Senegalese women's reinterpretations of European beauty trends.
"Walking in the morning for me is like walking on a white page, where anything can be printed"
Revisiting different cultures across the African continent from her perspective as an urban, cosmopolitan, Ivorian woman is something Choumali explores further in her embroidery works—going over pictures she takes on her camera with the meditative motion of sewing. "It's been a slow process of transition, originated by the desire to overcome the limits of the photographic medium." Chomali says of the evolution of her practice over the years.
"I came to the decision of using embroidery from the need of spending more time with each piece and to have a physical touch with my work. It was never a calculated choice but came naturally, almost instinctively. I felt that I needed to stand still and formulate things that I could not otherwise express simply with words or photography."
Unseen curator Amelie Schüle invited Choumali to participate in the fair's programme this year, recognising the relevance of her work in the discussion of a globalised image culture. "Her approach to photography is strongly informed by her relationship with her country and challenges contemporary visual tendencies by creating a new aesthetic and new application of photography. The success of her work is a prime example of how the photographic field is open to diverse perspectives."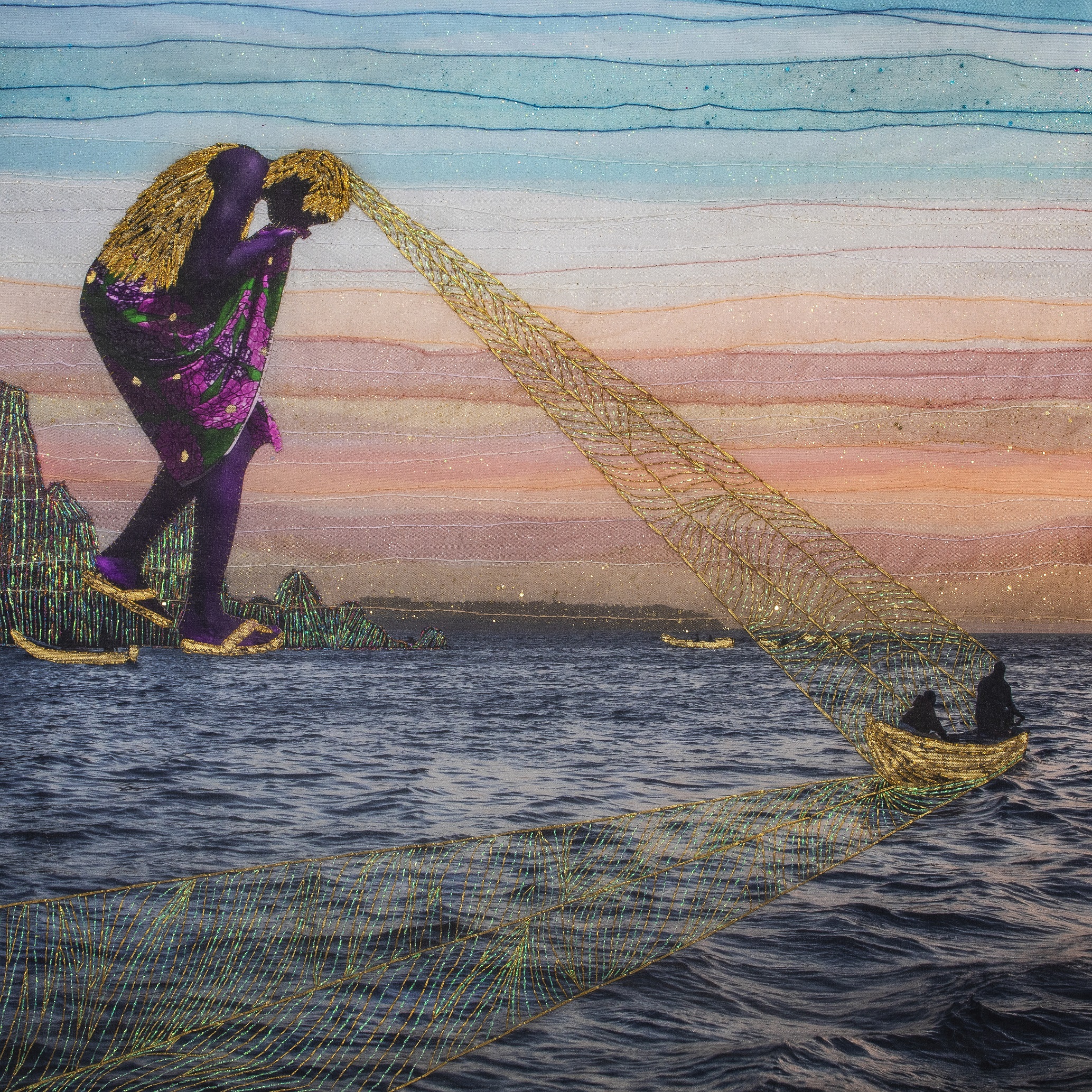 Choumali's process has also been a form of healing, as she has had to renegotiate her relationship to her home country again and again. In 2016 she began a three-year work, titled ça va aller, a direct response to the terror attacks at Grand Bassam beach. "I find that the fabric, the textile quality of it, adds a depth of emotion and energy that would not be equally obtained with the photo paper. Instead of adding effects on the image with the postproduction of digital images, I decided to obtain it in a more tactile way. I use the voiles and the fabric to highlight and recreate the soft and misty morning air. Embroidery is a practice that forces you to be more disciplined and focused."
Choumali returned to Abidjan after a summer in Accra. Coming back, she reflects on how what she has witnessed in her home city has shaped her, the violence and division giving way to more tender feelings and a "deep love for my city, especially after the war. There are things that I didn't like at the time, before the war, that now I revere. I feel very anchored here, rooted in my country. I belong to it when I walk, I contemplate it and I find poetry and beauty where people usually think there is none." Choumali reflects. "Abidjan possesses an undefinable charm, something special that people can feel, a bit like New York. It is a place that either you love immediately, or you detest. Many foreigners feel Abidjan is a city that is welcoming you."
"I felt that I needed to stand still and formulate things that I could not otherwise express simply with words or photography"
Urban centres are often depicted as crowded, pulsating and polluted—something Choumali deliberately tries to subvert. "The big contemporary megalopolis is never or rarely associated with an idea of poetry but there is a beauty and delicacy in every corner, if you know how and when to look. It is possible to find magic and poetry; I believe that poetry is everywhere." The motif of water in Choumali's works symbolises this poetry and conveys a notion of subliminal soothing. "For me, working on recreating those images of beauty that I find around me, in those busy and lively towns of Africa such as Abidjan and Accra, is also a way of breaking the misconception that you can only find poetry in ordered, clean and solitary places."
Though the process of the new body of work is similar to earlier series, "the discourse is more personal." Choumali explains. While those works examined trauma and emotional fallout on a collective scale, this work signifies something much more intimate and personal for the artist. "I allow myself to use photography, golden paint, collage, embroidery and several layers of fabric to recreate feelings, memories, thoughts and visions that I have whilst I am walking and witnessing the sunrise. For the first time, I have let my personal memories and emotions lead me. It is like a therapeutic automatic scripture." Choumali reflects.
In Accra, the works she has left behind have provoked strong reactions from local audiences, according to Zakhem, who observes that "the places within Joana's works seem to exist somewhere between the city you inhabit daily, and an otherworldly dreamscape that she invites you into. I think it's this straddling of planes—dream or reality, city or nature, photography or embroidery—which can produce such a destabilizing, yet beautifully moving, response."