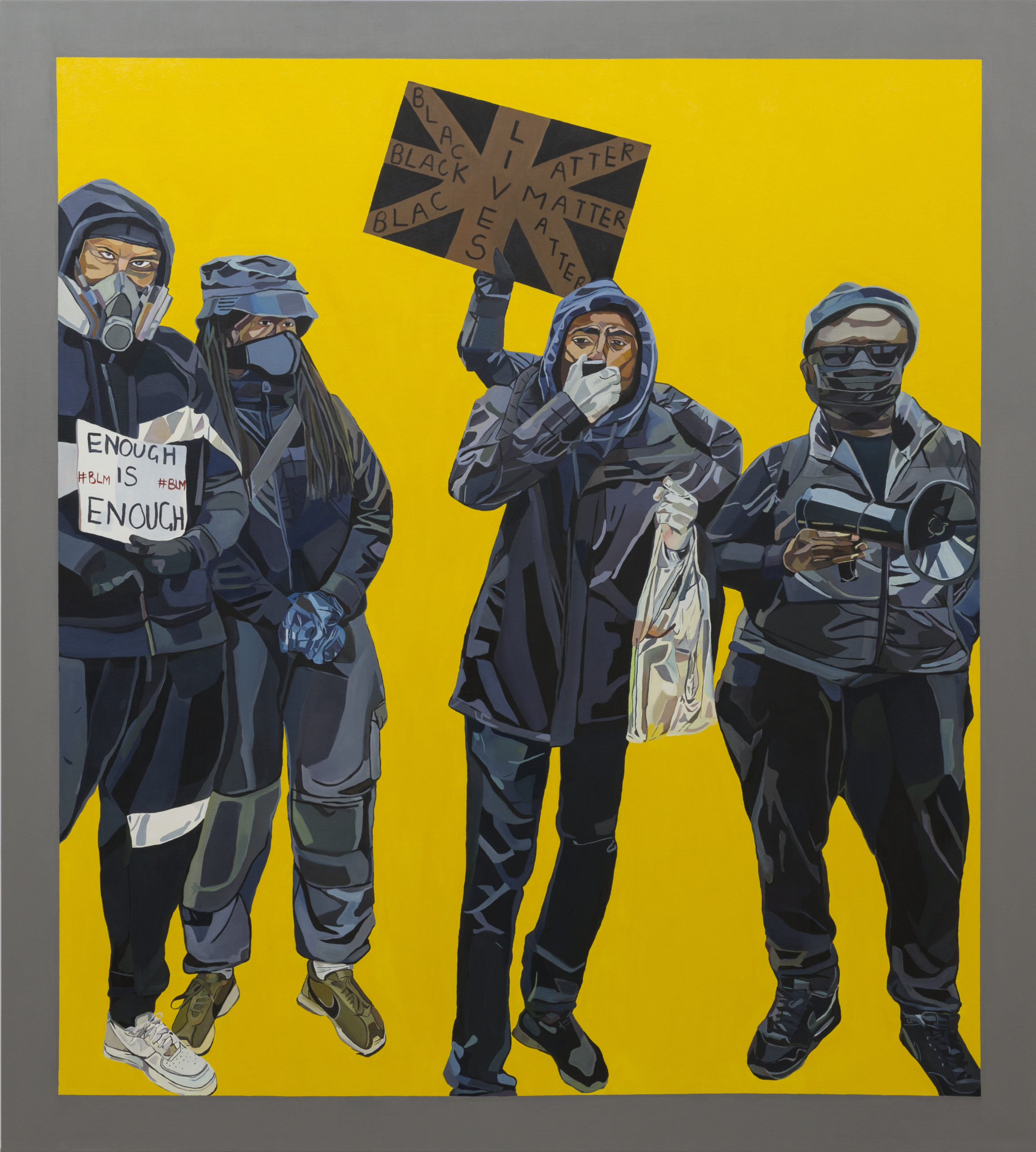 Joy Labinjo's new body of work was made during lockdown in London, during the latest Black Lives Matter protests across the UK, and in an open studio at The Breeder gallery, housed in a former ice-cream factory in Athens. The Breeder will present the paintings to the public for the first time as an exhibition titled The Elephant in the Room, which spans two floors and runs until the end of October. These might be the last Labinjo presents in public for a while; when she returns to the UK in October she begins an MFA at the Ruskin School of Art.
Labinjo's new paintings have a sense of urgency and accusation that is distinct from her previous, much-acclaimed work. With the same larger-than-life scale, her canvases remonstrate with British racism and attitudes to colonialism, using symbols that speak of violence in the past and images that speak of brutality in the present.
One particularly striking work depicts floating white heads covering their eyes, looking away, or cringing under the painter's scrutinising gaze. In another, an older, white male subject stares vacantly out; behind him, shelves are laden with the produce brought to the UK through colonialism and continued through capitalism. It is an incisive comment on the way racism continues to be treated by white people, and deftly deals with the idea that being seen isn't the same as being visible.
Left: Joy Labinjo, The Real Thugs of Britain, 2020. Right: Joy Labinjo, Africa-Britain, 2020
"Labinjo deftly deals with the idea that being seen isn't the same as being visible"
Despite the shift in tone, this is unmistakably still a Joy Labinjo show. Her trademark colours of bright orange and green are present, but here there are also new hues of fleshy pinks and creams, and she moves between the private sphere and the public realm, from the quiet intimacy of a young girl and her grandma, titled The Conversation—which anyone who has grown up in a cross-cultural family will relate to—to a painting of police and protestors, painted from a stock image. Labinjo continues to work from photographs, reflecting her affinity with the contemporary way of storytelling; indeed, these paintings draw multiple narratives, but they aren't always comfortable.
The Elephant in The Room shows the growing confidence of the 25-year-old artist—these aren't paintings designed to crowd-please or parlay to collectors. Labinjo is known for her domestic, familial scenes, but now she is facing outwards too; the comfort of the homes shown here provide fractious contrasts with what we see happening out in the world.