In Nigeria, we refer to the last few months of the year as the 'ember months'. According to the mainstream Nigerian lore, these last few months are marked by an influx of road accidents as much as they are by an uptick in events. Nowhere is this more obvious than in the Lagos creative calendar, which gets filled up quickly as we approach the last few months of the year. From Lagos Fashion Week, often referred to as the biggest fashion week in Africa, to Art X, the premiere West African art festival, art and fashion enthusiasts in Lagos or visiting Lagos are rather spoilt for choice these next couple of weeks. In the middle of these two cultural juggernauts lies a slew of fun, exciting art exhibitions and gallery openings showcasing in Lagos within October and November that you need to plan to attend.
Abe Odedina: Walk Like A Champion 
Oda Art Gallery, 28 October – 25 November
Nigerian-Brtish artist Abe Odedina's new exhibition Walk Like A Champion(2023) is quintessential Odedina. His work has often evaded being defined by limiting categories – a formlessness he embraces, and in Walk Like A Champion (2023) it serves to make the story that much more impactful. Using acrylic alchemy in different styles, the artist explores being ever-changing while eternally being you. It is a beautiful paradox, like everything Odedina does, inspired by the artist's mother, showcased with the aim that viewers will leave impacted by some of the traits the artist learned from their mother that have shaped him.
While We Live, We Are Not Strong
Galari, 29 October – 12 November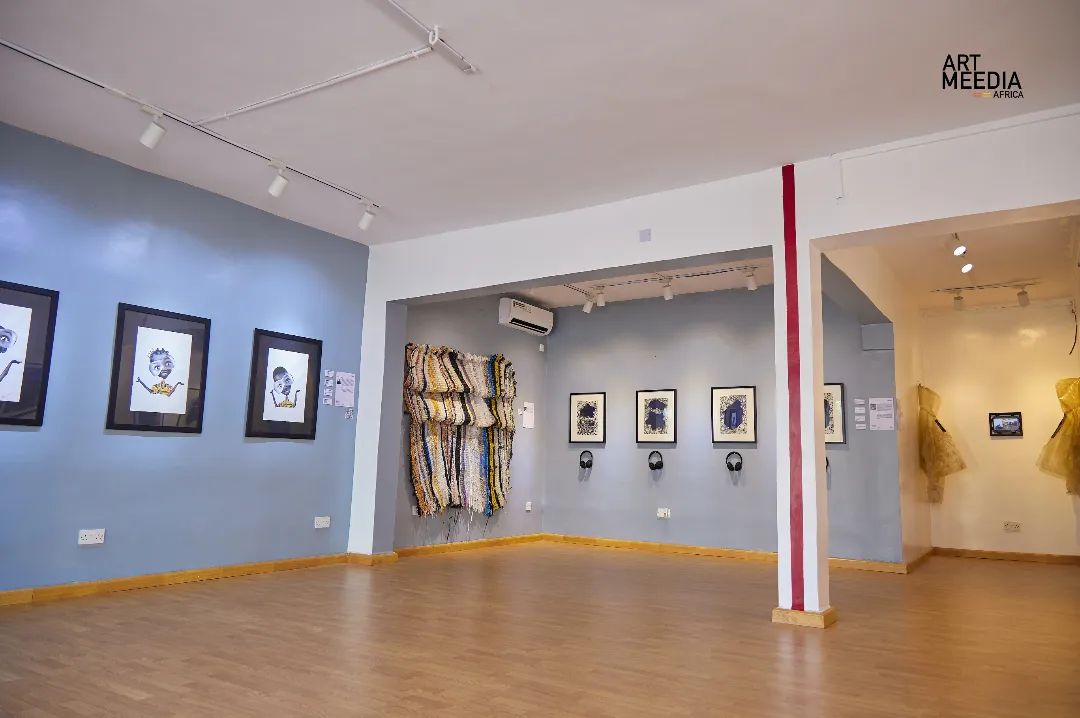 Showcased at Galari, this group exhibition features the work of Olushola Olajobi, Ola Atunbi, Onesa Oruoghor, Ehinomen Okoeki, Derek Jahyem Jombo-Ogboi and Oluwayemisi Abejide Akingbola. While We Live, We Are Not Strong asks questions but doesn't answer them rather, it takes you on an existential journey through death, pain, strength and the opposite ends of creation as well as destruction across the different practices of the featured artists.
Art X 
Federal Palace Hotel, 2 November – 5 November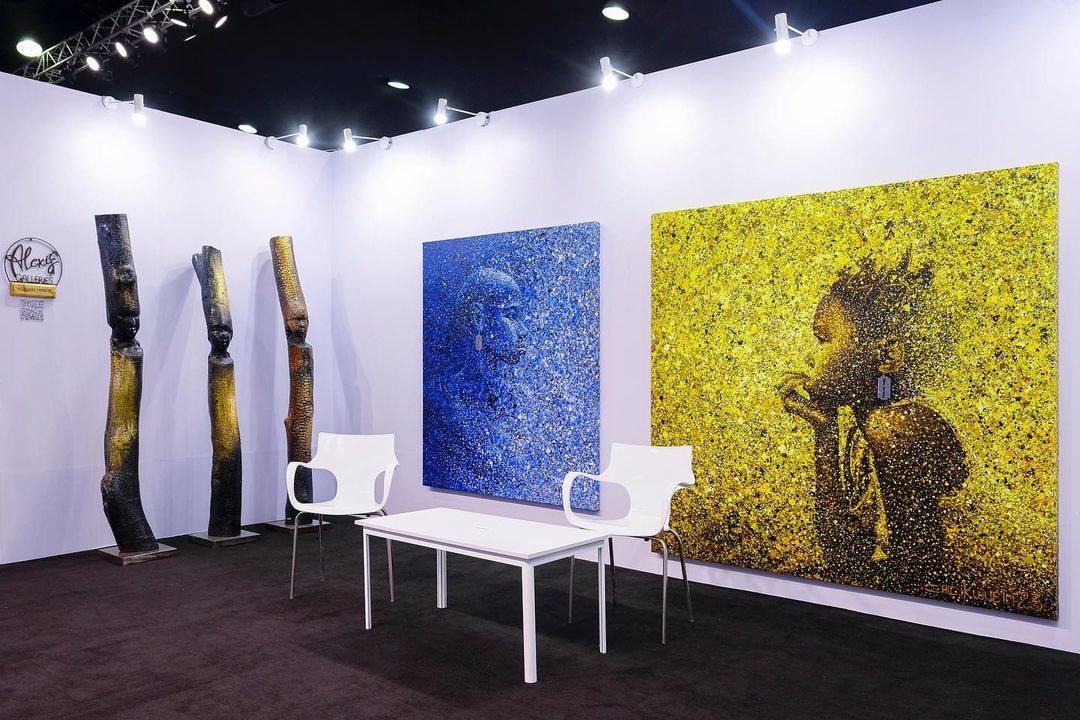 In the decade since it was founded by Tokoni Peterside as a way to provide African artists with a platform to launch their careers and tend to the growing art community in Lagos, ArtX has taken on a life of its own becoming the biggest art fair in West West and a mainstay on Lagos' annual social calendar. It returns this year to kick off Lagos Art Week from November 2 to November 5. This year's Art X features artists like Bruce Onobrakpeya, Nike Okundaye, Andrew Pierre Hart and more.
Bruce Onobrakpeya: Independence To Festac
Hour Glass, 29 October – 10 November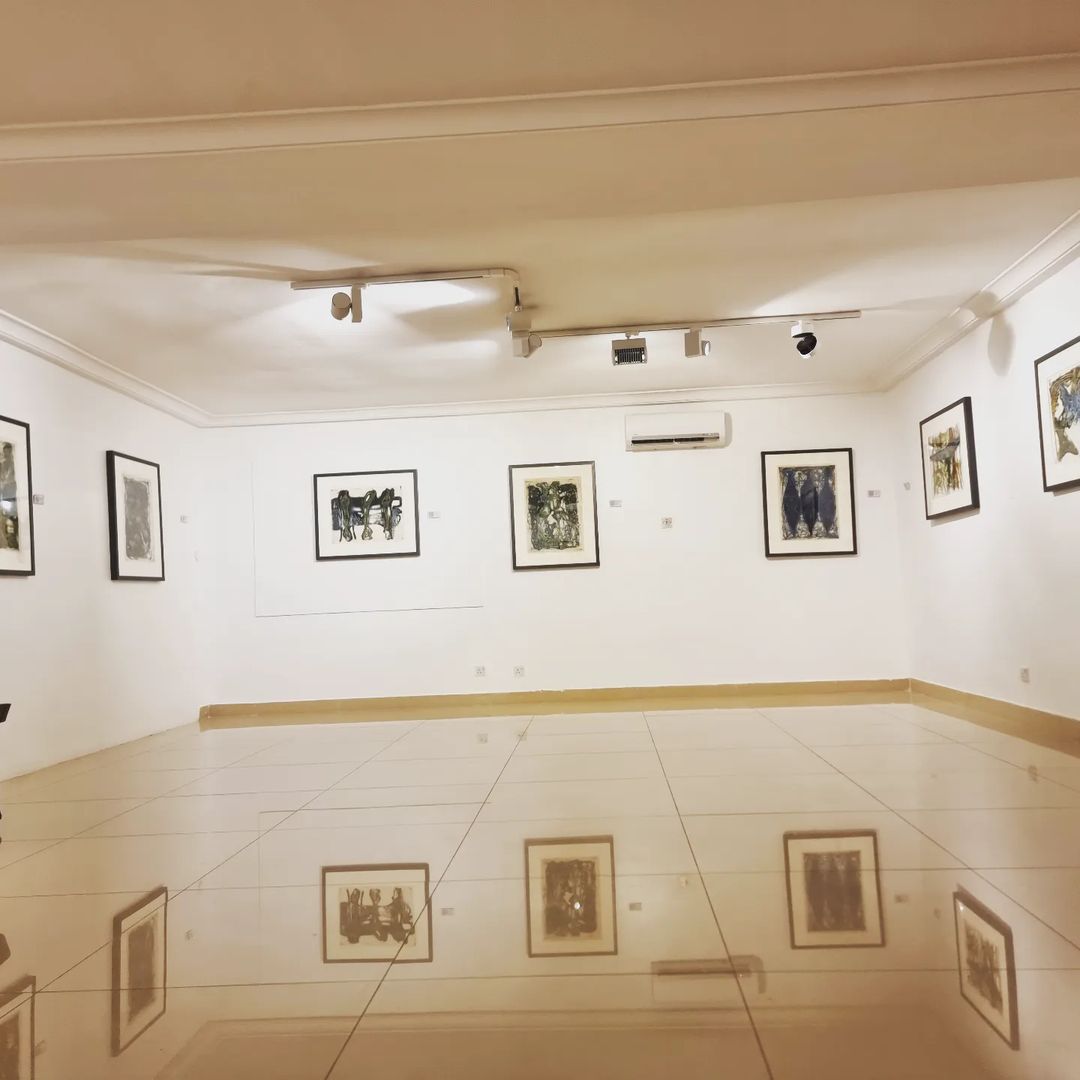 Bruce Onobrakpeya's career is impressive both in terms of its longevity and the heights he has reached as a Nigerian artist. A versatile artist whose work has combined serigraphy, painting, sculpture, and installation and has excelled in every area he has explored while also serving as a pillar in the Nigerian art ecosystem. Many contemporary African artists cite his work as some of their biggest art inspirations, and his career has shattered a glass ceiling that benefits many Nigerian artists today. This year, Onobrakpeya is showcasing primarily work he made between 1960 and 1977 – Nigeria's independence to Festac '77, the second World Black and African Festival of Arts and Culture, which took place in Festac, Lagos.
There Is A Country by Anthony Azekwoh
Yenwa, 2 October – 3 November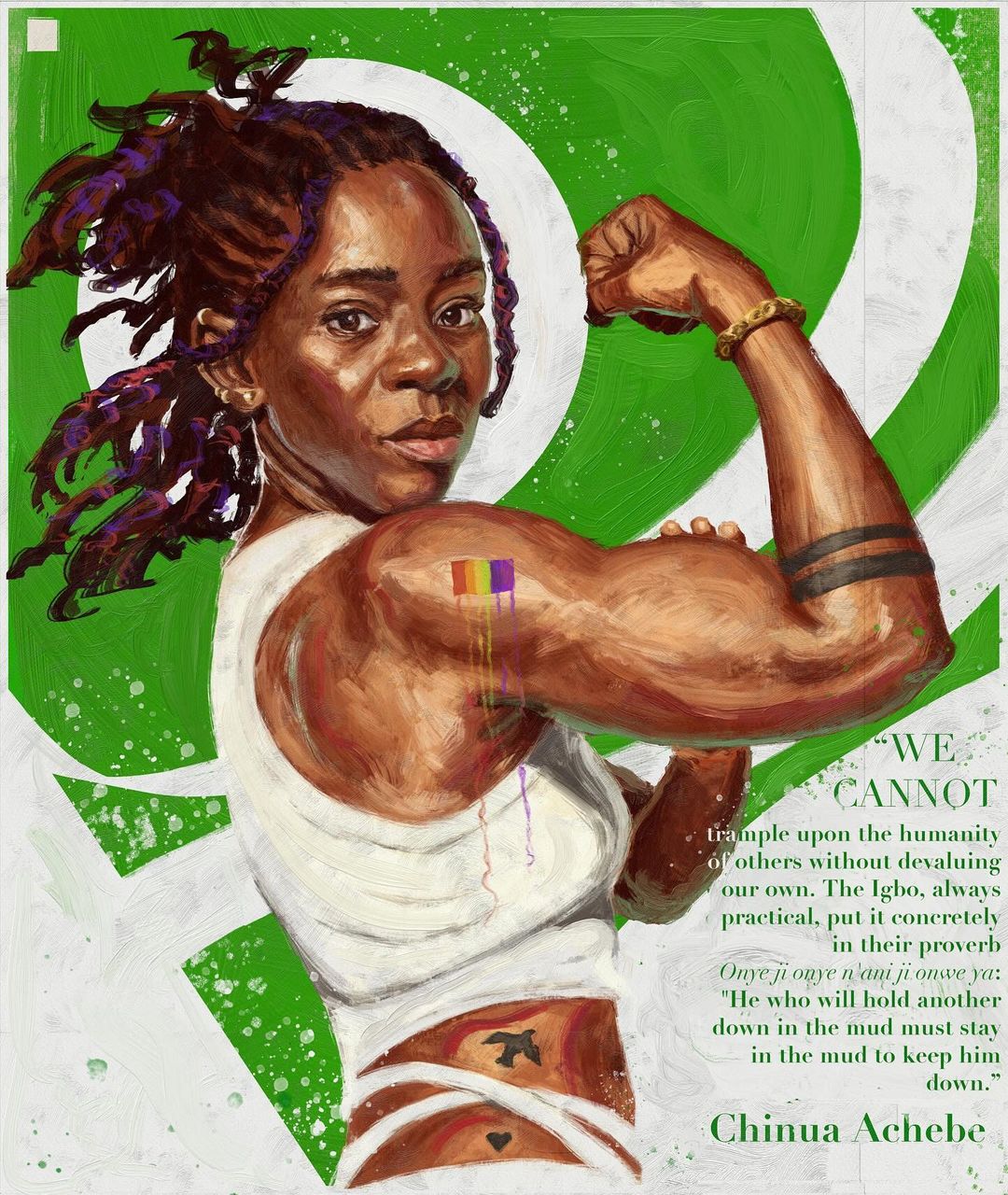 In the last few years, 23-year-old Anthony Azekwoh has established himself first as one of the promising voices from the Nigerian art scene which he broke into his viral NFT work paintings land now has firmly placed himself as one of the defining voices from the era showcasing his versatility with his sculptural work and his entrepreneurship by launching Lewa Gallery with the hope of spotlighting upcoming talent. His second solo exhibition, There Is A Country (2023), is a deep dive into Nigeria's defining moments in political and social unrest throughout history – all the way back to the Nigerian civil war and as recent as the 2020 Nigerian eENDSARS protests.
Ameh Egwu – It Wasn't Meant To Be A Game
Rele Gallery, 22 October – 26 November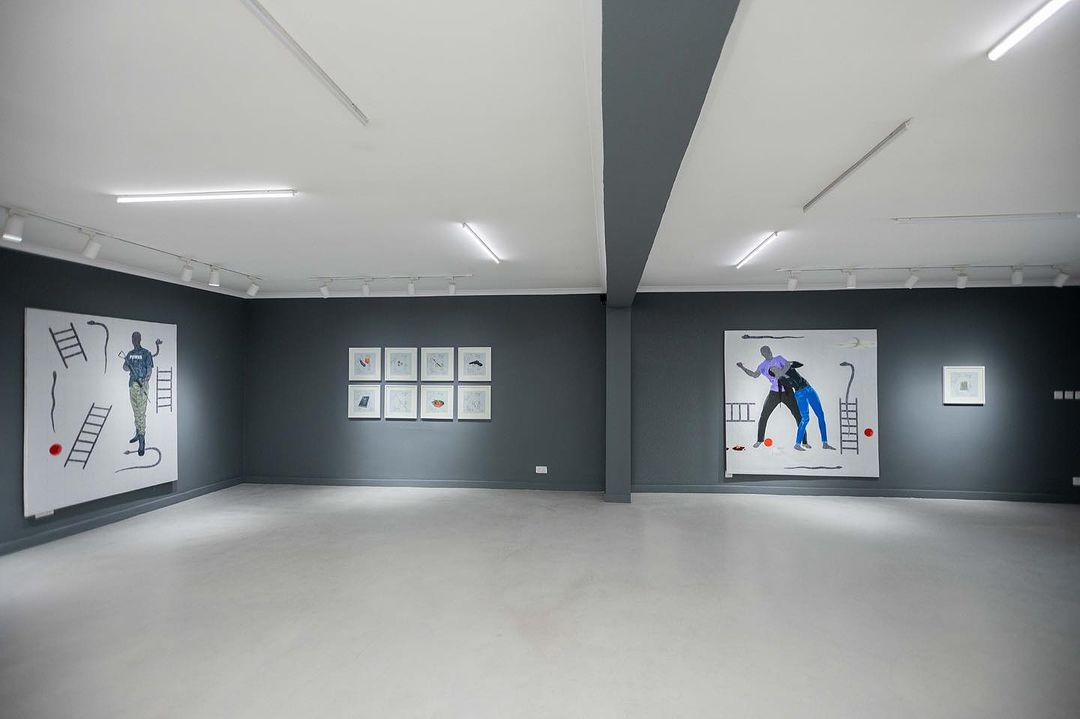 With It Was Meant To Be A Game, Ameh Egwu brings back his fascination with lines. However, he offsets it by leaving behind his brightly coloured canvases that have defined his work in the past for grey muted backgrounds. The title of the exhibition, It Wasn't Meant To Be A Game, refers to the classic Snake and Ladders game popular amongst children, which is the main framework Egwu uses throughout the exhibition. However, Ameh Egwu takes us back to the sombre history of the game, which is rooted in Indian philosophy with the goal of teaching important moral lessons. Viewers are invited into a process of deciding morality against the greyness that is life and the background of It Wasn't Meant To Be A Game.
Peju Laiwola – Body, Blue and Beyond
Mydrim Gallery, 1 November
On November 1, Peju Laiwola will open Body, Blue and Beyond, which will build on her 2019 solo exhibition Indigo Blue, and, much like Indigo Blue, will explore historical references to sartorial traditions and textile and indigo dyeing processes in Southwestern Nigeria. The show kicks off with Body Blue at Thought Pyramid Center. Body Blue is a video and performance piece which centres the body – the sound of running water, sewing machines, and laughter convey the essence of the body during labour and leisure. The show then continues at Mydrim Gallery as a fashion show showcasing Laiwola's designs from the past year in 100 per cent cotton, silk and linen.
Papa Omotayo and Max Kalaiwo, The Hands That Remain
ArtX, 2 November – 5 November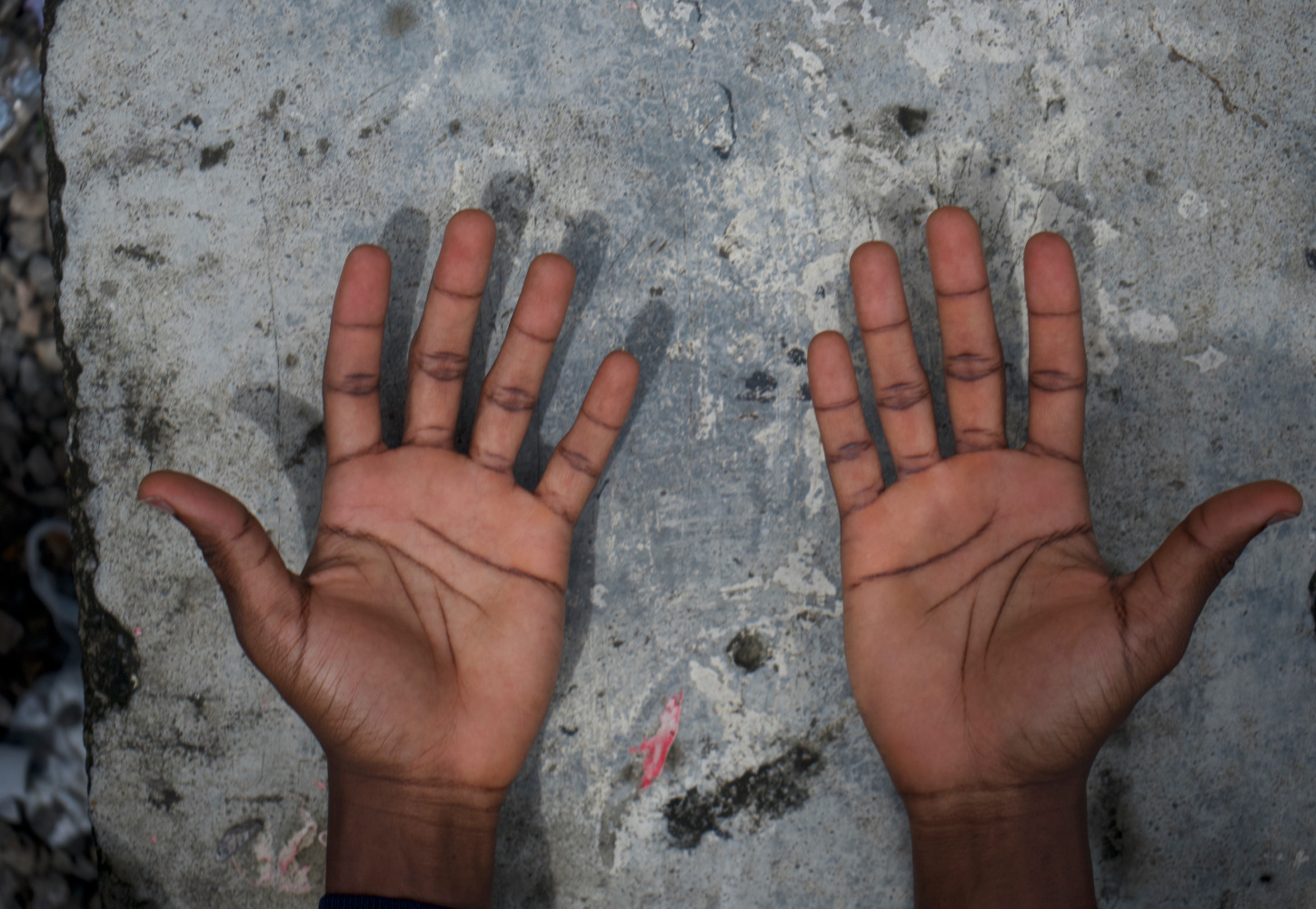 Recent years and happenings have placed permanent relocation from Nigeria into the mainstream discourse in Nigeria. The reality is many young Nigerians are leaving in such large numbers and steady rate that it has inspired government intervention, with some government officials denouncing the mass exodus, while others have attempted to pass laws to make it harder to achieve. The Hands That Remain, an ArtX special project by Papa Omotayo and Max Kalaiwo, looks at the history of this mass exodus through the eyes – rather than the hands – of those who stay behind in a country like Nigeria still being built.
Written by Desmond Vincent