Thao Nguyen Phan's art toggles between fact and fiction. It explores Vietnam's turbulent past and universal issues around the environment, colonialism and industrialisation through myths and legends. "When I was growing up, I felt that the facts I was learning from my textbooks had been manipulated," says the artist, who was born and raised in Ho Chi Minh City. "So, to find another way of understanding truth, I turned to collective memory and folklore. It might seem fictional or like fantasy, but it can be a more honest way of looking at things than the official histories."
Nguyen Phan is thoughtful and softly spoken. She's talking to me from her home in Vietnam, having just returned from the UK, where she has a solo show at Tate St Ives. The exhibition brings together new and recent drawings, delicate silk and lacquer paintings, sculptures and video installations, and serves as an introduction to her as an artist. "Because of the broad scope of the show, we decided it didn't need a title: it could just have my name on it," she says, smiling.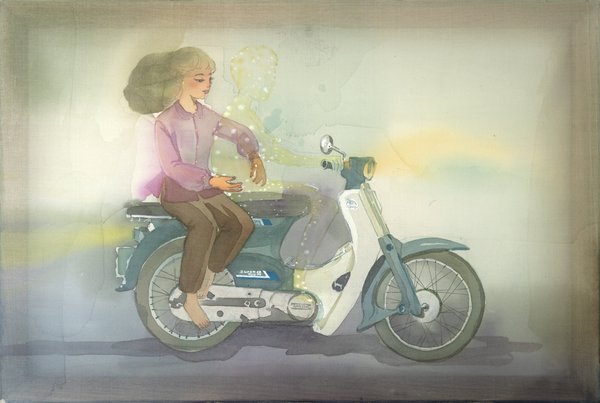 "The Vietnamese people are optimistic and forward-looking. But it's also important to look at the past and to learn from it"
Nguyen Phan resists categorisation. She initially trained as a painter at Ho Chi Minh University of Fine Arts, where she found the conventional approach and focus on representation too rigid. During her MFA at the Art Institute of Chicago, she began to work with film. "But even though the art education there was more open than in Vietnam, for me it was still limited because it didn't cover artists from continents outside Europe and America," she says. "Of course, there were Asian art courses and African art courses, but the way things were grouped was problematic."
It's perhaps no surprise, then, that on returning to Vietnam in 2014, Nguyen Phan expanded her practice to include a range of media and multi-layered subjects. Most of her work, which has a poetic quality to it, is research-based and stems from her interest in areas such as women's history and modern architecture. "I'm still most comfortable with drawing and painting, so I start there, then I turn them into sculptures or develop a script for a video work."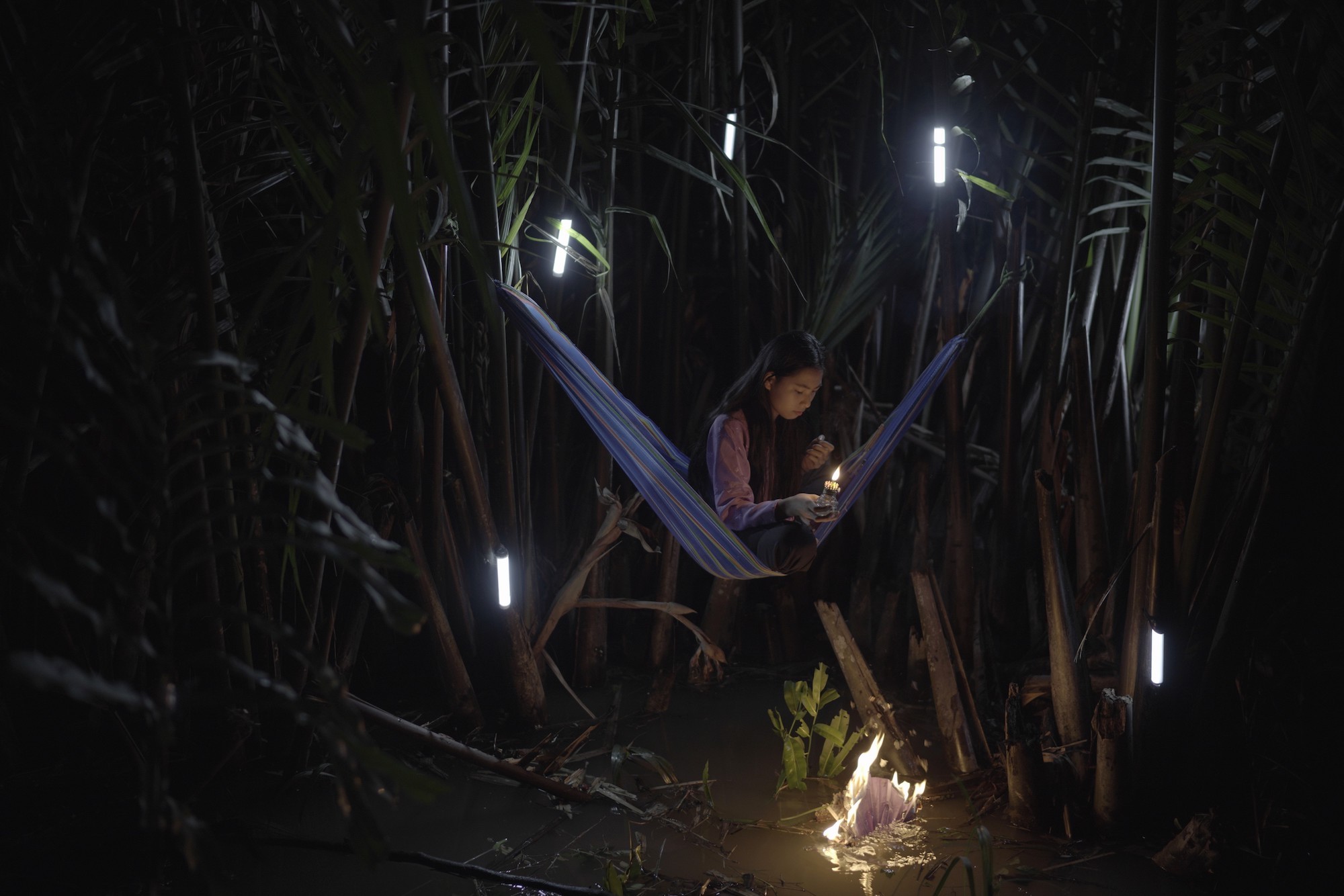 The first things you see at the exhibition at Tate St Ives are The Rise (2016) and The Flower (2016), two sculptures made from lights originally used to illuminate the streets in Ho Chi Minh City during the annual Luna New Year celebrations and Communist Party congresses. Nguyen Phan collected these found objects and transformed them into the shapes of a bird and a sunflower, traditional Vietnamese symbols of harmony and prosperity, and a nod to the motifs used in state propaganda.
"I know I can't do it alone. But I have certain beliefs in concepts like peace and truth and mindfulness"
When she started out, Nguyen Phan was reluctant to make art about her native country. "I shied away from telling local stories, but then I realised there are so many that need to be heard," she says. For example, the Vietnamese famine of 1945 is barely documented despite causing the deaths of up to two million people. In her video Mute Grain (2019), a fictional tale of two siblings, the artist weaves together oral records, archival photographs and literature to reflect on the toll that the famine had on people and places and the ongoing issue of food security.
Nguyen Phan isn't advocating for political or social change. "I know I can't do it alone," she says. "But I have certain beliefs in concepts like peace and truth and mindfulness."
What she does is revise standardised histories and transform them into absorbing visual narratives that give a voice to silenced individuals and communities.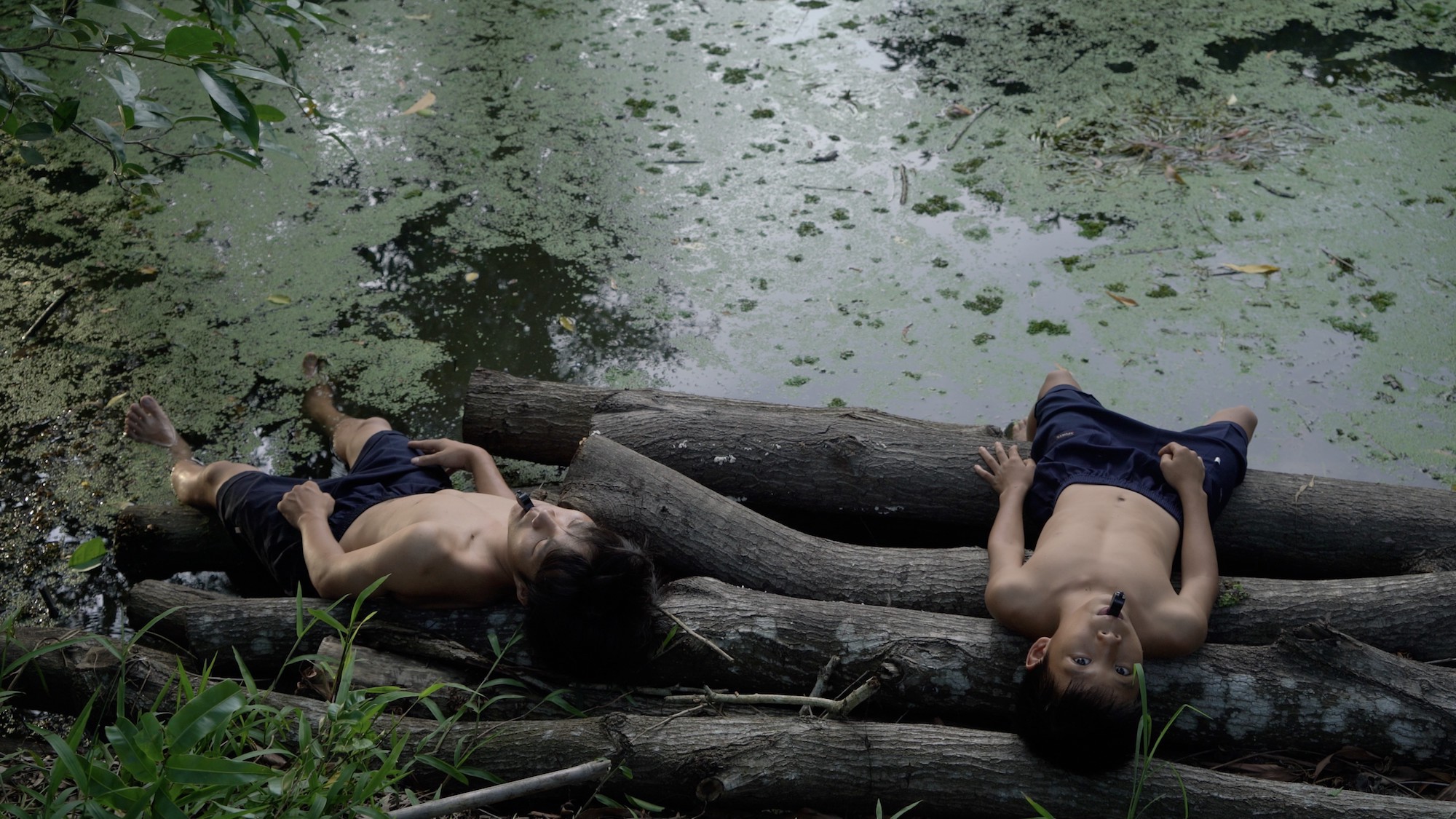 The most recent work on show, a three-channel video installation called First Rain, Brise Soleil (2021-ongoing), proposes a balance between historical continuity and progression and continues Nguyen Phan's exploration of the Mekong River, which connects half-a-dozen populations. It begins with a construction worker considering the solar shading systems he has installed in the past, then cuts to the inevitable downpour that marks the beginning of the monsoon season in Southeast Asia. The third and final chapter recounts a folktale of lost love that speaks to the conflicted relationship between Vietnam and Cambodia.
"From what I've seen, the Vietnamese people are optimistic and forward-looking," says Nguyen Phan tentatively. "We have a turbulent past, and we tend to try to overcome and forget about it and just focus on the future, trying to build better homes and give children a better education, everything has to be better. I think it's a natural tendency. But it's also important to look at what has happened in the past and to learn from it."
Chloë Ashby is an author and arts journalist. Her first novel, Wet Paint, will be published by Trapeze in April