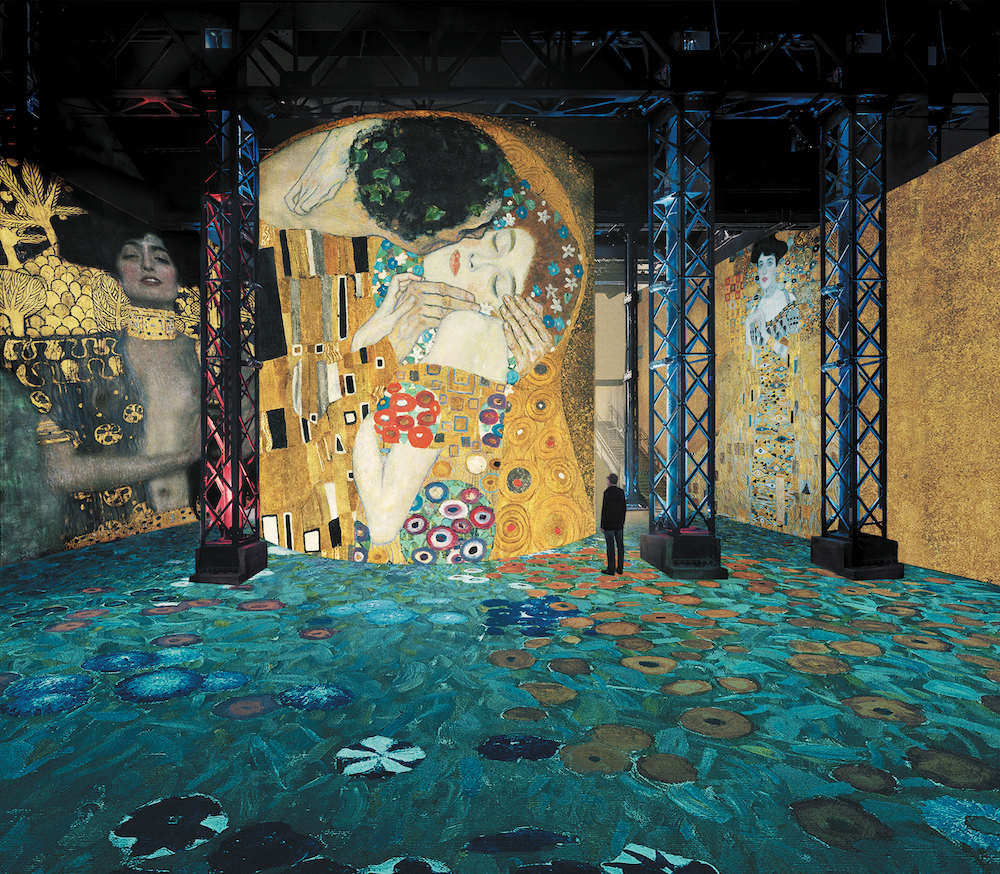 In the neck of the perennially trendy 11th arrondissement in Paris, flanked by an assemblage of discount supermarkets, independent art galleries and anarchist dive bars, sits the freshly unveiled Atelier des Lumières. As the city's first dedicated digital arts centre, the studio of lights is spearheaded by the private museum management firm Culturespaces. The Atelier's 16,000 square-foot expanse—graciously loaned by the Martin family, owners of the foundry since the early twentieth century—will play host to convalescing light projections inspired by the life and work of famous artists. First up is everyone's favourite purveyor of glitzy sensuality: the Austrian secessionist painter, Gustav Klimt.
Klimt's digital life-scape is a luminescent and metamorphic expanse that rivals some of the best multimedia installations I've seen in recent years. Conjured into being by some 140 projectors, its immediate excitability, Disney-like drama, tangible emotional impact and high levels of accessibility and audience engagement swiftly dismantle my own biases against so-called "immersive" art (primarily, that the genre is so cringe-worthy, it needs a strong shot of irony and so-over-it self-awareness to save face: think Ryan Trecartin and Lizzie Fitch, or Jon Rafman). Instead, the Atelier is unapologetically extra. It makes no concessions on its drive to entertain. In doing so, it liberates the art world from its oft-obnoxious invisible hand of corrected posture, self-censorship and aggrandized curatorial texts, stalwart docents and roped-off forbidden fruit. If this is what the death of art looks like, I'm 100% a guilty accomplice.
A brief scene of the crime: dimming lights and a countdown indicate the show is about to begin. Forgoing The Kiss, resplendent muses and writhing sunflowers for now, the Atelier first transports its hordes of hushed visitors into a scene of pre-Secessionist Vienna. Neoclassical venues like the Kunsthistorisches Museum and the Austrian National Theater housing Klimt's work today first rise up first from the darkness. Their marbled decadence is projected onto the bare warehouse digs in an effort at trompe-l'oeil that isn't without its own type of humour.
As the architectural splendour melts away into Powerpoint-like projections of glitzy material wealth from late-ninetieth-century imperial Vienna, gaggles of toddlers play leapfrog on swirling clock faces and elderly couples waltz to Secession-era music that their grandparents once lost themselves to in fin-de-siècle Vienna. It's a hallucinogenic space in which disoriented tourists, locals, lifestyle bloggers and culture vultures stumble over each over trying to achieve the perfect art selfie; where teens make out in darkened photo booths and pregnant moms-to-be nurse their swelling bellies over pools of shimmering water filled with Klimt paintings. Something between a theme park and museum, the Atelier des Lumières still keeps its distance from Instagram-era museums like the Museum of Ice Cream in San Francisco, Rabbit Town in Indonesia or the freshly-unveiled Museum of Selfies in LA. It does this by refusing to bow down to the iPhone-brandishing visitor. At the Atelier, the dedication to telling a technicolour tale of art history—however whimsical and factually unhinged—always trumps any concessions made for the perfect selfie. Visitors will note, perhaps with no small amount of frustration, there is not one angle in the Atelier that satisfyingly captures the essence of its exhibitions. It ultimately remains a space of in-the-moment experience, as opposed to a dedicated trending geotag. Resisting an easy photogenic flattening, the Atelier des Lumières intends to be seen in three dimensions only.
It may be surprising to learn the idea behind Atelier des Lumières actually dates back to 1977, inside a nineteenth-century rock quarry on the outskirts of Paris. Les Baux-de-Provence was decommissioned in the 1930s as demand for new building materials such as steel and concrete eclipsed the need for stone. In the 1960s, creative visionary Jean Cocteau took to the space as saturated by a century of human history and twenty million years of earth history, with much of its calcareous limestone lined with fossils. After Cocteau filmed Testament of Orpheus on site, alternative futures for the quarry caught on.
Spurred forward by the cinematic and video art movements sweeping New York in the late sixties and early seventies, this old rock quarry achieved its full transformation into an alternative art venue called the Carrières de Lumières in 1977. Equally inspired by Josef Svoboda and other mid-twentieth century scenographers, it was decided that the huge rock walls of the quarry would form the backdrop for site-specific moving image shows using sound and light as ammunition. When Culturespaces became delegate of the Carrières in 2012, it rolled out its own brand of digital art: AMIEX® (Art & Music Immersive Experience). Gauguin, Van Gogh, Painters of Colour opened in the spring of that year, and the sweeping prehistoric walls of the quarry were saturated by a human history more colourful and sonorous than it had ever known.
The Atelier des Lumières is an urban translation of this vision, with rough limestone swapped out for cool industrial interiors. Culturespaces has stuck with its holy trinity of Gianfranco Iannuzzi, Renato Gatto and Massimiliano Siccardi, the trifecta behind the inaugural Klimt and Friedensreich Hundertwasser exhibitions. In a nod to the emerging figures of Paris's growing digital art scene, Culturespaces has also given a carte blanche to the new media agency Ouchh, who are showcasing a short video installation titled Poetic_AI. Within a statement released at the opening, Bruno Monnier, the president of Culturespaces, suggested multisensory digital art is to be the way forward for the art world, and that "the passive observation of works of art is no longer relevant".
Indeed, the Atelier des Lumières is a future "end" of art in which there are no rules about talking, touching, tasting or kissing the art (or each other). It's an art liberated from gallery guides and suited docents-cum-bodyguards; where curatorial texts, red dots and bulletproof glass take the backseat to sensory immersion and here-in-the-moment joy. It's an art that doesn't privilege prior knowledge, passive learning or sitting still. It is an art for everyone, and a promising afterlife indeed.
Gustav Klimt
Until 11 November at the Atelier des Lumières, Paris
VISIT WEBSITE