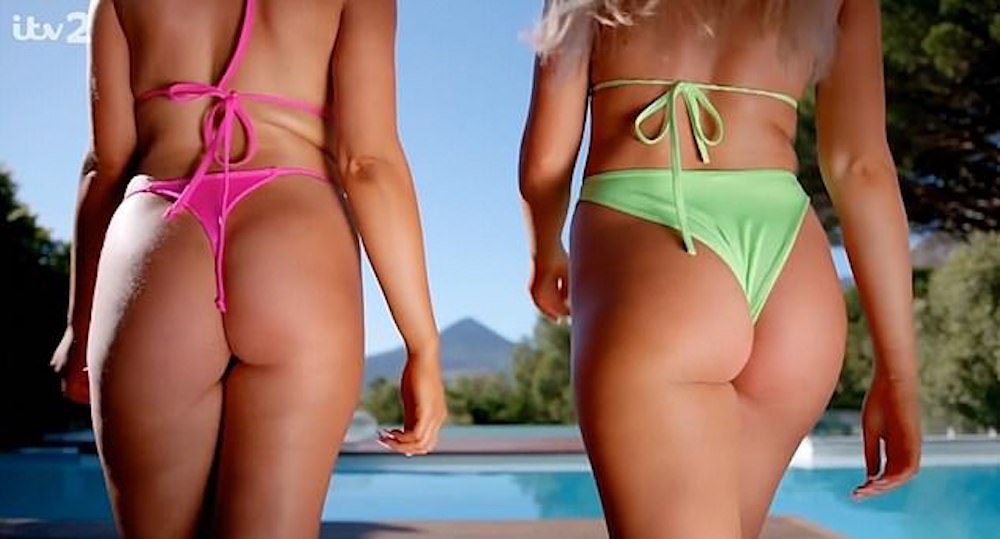 One of my first introductions to thongs came from an episode of The Osbournes on MTV in 2002. Kelly Osbourne says to her mum, Sharon: "I have to tell you, my thong… is so far up my crack right now I couldn't even pull it out." Sharon is appalled: "I'll cut it off. Let me cut it off, Kelly. Kelly, you'll get yeast infections from that. Do you know that?"
At 13 I remember being fairly concerned about underwear that could be painful or get stuck, and I doubt I'd even considered what my underwear looked like before then. Not long after that though, about a year later, my friends and I took a trip into town to browse Tammy Girl, Topshop and Miss Selfridge, where a plethora of thongs were on offer, with a 3 for 2 deal.
Looking back it feels uncomfortably wrong that us young teens were perusing such tiny pants on miniature hangers that had things like Little Miss Sunshine, provocative phrases, and vintage comic strip patterns emblazoned across them. My concerns for Kelly Osbourne and her crack evaporated that day, and instead I started thinking about VPLs and what colour pant would coordinate with my school uniform best. 
For teens, the early 00s was full of contrasts, you are essentially still an innocent child but the trends and fashion at the time were laced with suggestive slogans (FCUK anyone?) and provocative cuts, which created a jarring juxtaposition. The thong played into this trend perfectly and it's probably why it flourished during this time, as wearing one felt like an easy way to flirt with provocation.
"Thongs garnered this cheeky reputation of allowing the wearer to show everything, but retain some mystery"
The thong's inception has a risque beginning, one which dates back to 1939 at the World's Fair in New York. The thong was not a new invention on parade at the fair, but instead it was created out of a need for so-called modesty. The barely-there panty was forced into existence by the then-mayor Fiorello La Guardia, who mandated that nude dancers and showgirls had to cover up their lady business during the World's Fair. To get around the ruling, the dancers donned thongs, which covered up just enough to be allowed by La Guardia. In that instant, thongs garnered this cheeky reputation of allowing the wearer to show everything, but retain some mystery.
It wasn't until a few decades later that thongs infiltrated the fashion scene and were seen as an item that us regular, non-dancing folk could wear. There are still disputes over who was first to sell them, but the first patent for thongs belongs to designer Rudi Gernreich, from 1979. The same man also created topless swimsuits for women––what a gent.
View this post on Instagram
Gernreich went on to create The Original Thong swimsuit, which has since garnered cult status among fashion photography buffs as it had a starring role in Helmut Newton's 1975 Miami beach shots of Jerry Hall and Lisa Taylor in Vogue. The design can still be purchased on Net-a-Porter for a cool £235. This image tipped the garment firmly into fashion territory, not just because of Newton's dynamic and sculptural photography, but because it feels aspirational. The key point here is that the thong is on show; it's not hidden under trousers or a skirt, it is there for us all to see.
At around the same time, the provocative nature of these stringy undies was becoming more apparent and even artists were beginning to see the appeal. John Kacere, for instance, made a career out of painting scantily-clad women in hyperreal detail, and the thong appears in several of his works. The painting Valerie 11 (1989) is classic Kacere in regards to composition and tone. Though figurative, the level of detail painted into the skin and fabric makes Kacere's paintings feel like a still life, but this contrasted with the large scale of the work (102 x 142 cm), makes it more akin to a landscape painting. Kacere's paintings are voyeuristic and again they play into this idea that while thongs are a piece of underwear, their appeal is in being seen by others, and in many cases through the male gaze.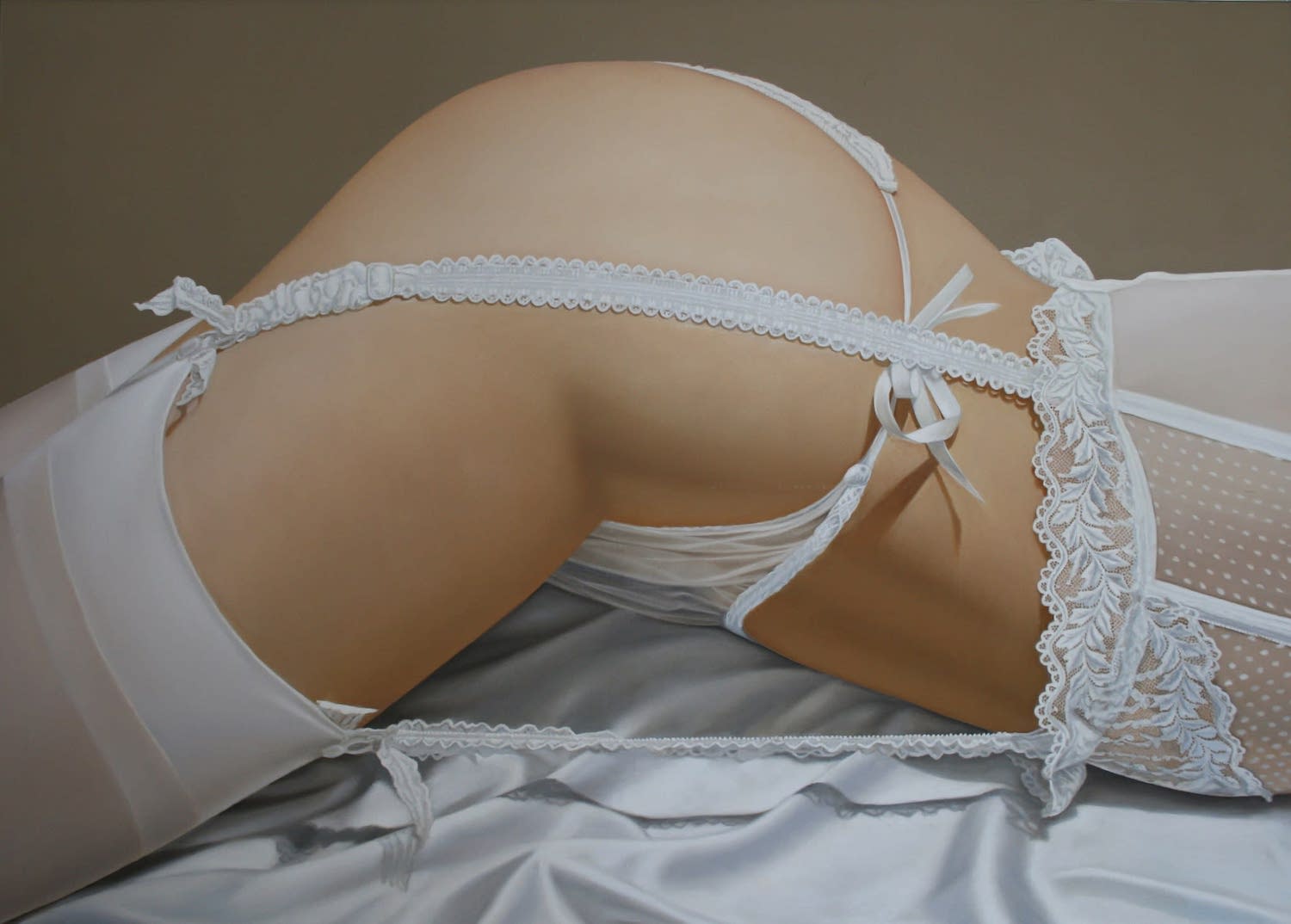 Of course, on our journey through history's vast knicker drawer, you can't help but acknowledge Sisqo's breakthrough hit, Thong Song, from 2000. Thong Song is a celebration of thongs and their wearers, and the catchy hook infiltrated dancefloors and car radios everywhere at the time. It was Sisqo's most successful track, and his love for the song is so huge that he reportedly sang it at his own wedding in 2018.
The video for Thong Song is iconic and takes place mainly on Miami beach. We see a silver-haired Sisqo sing, dance and leer (respectfully of course), as a troupe of beautiful vixens play volleyball, sunbathe and dance, all the while giving us a naughty peek at their thongs. The video is of course a clear objectification of women, but for a song about thongs, it's actually Sisqo himself who gets more airtime in the video. This is in contrast to the 2017 Thong Song remix from Norwegian EDM producers JCY. The video does feature Sisqo, but its shots of thong-ed women is decidedly more gratuitous, and it was also heavily criticized by many for not being as inclusive as the original. 
It might seem frivolous, but there's no denying the impact Thong Song had on shops like Victoria Secret and Abercrombie & Fitch, who soon after began selling multi-coloured thongs in big lacy troughs in the middle of their stores. After 2000, thongs became a staple fashion statement, and while it may lack the sophistication of Gernreich's Original Thong Swimsuit, the combination of low-rise jeans and the humble thong became as iconic a duo as Paris Hilton and Nicole Richie, both of whom carried off the trend with aplomb on multiple occasions.
Its true 00s fashion is a bit of a glorious cringe-fest but the prevalence of thongs (and thong's even naughtier cousin, the g-string) being worn by celebs walking the red carpet or papped in their off-duty looks, made it the new kind of everyman panty. Halle Berry even popped one on for the MTV Movie Awards.
View this post on Instagram
View this post on Instagram
Whale-tailing your thong with your low-rise jeans was a statement, and again highlights this idea that for thongs to be effective, they were supposed to be seen. Conservative critics labelled the trend as trashy, but the thong and its wearers stayed strong. This defiant attitude was perhaps fuelled by the residual girl power energy of the Spice Girls in the nineties and reignited by artists like Rihanna and Nicki Minaj who offered a new kind of empowerment of "not giving a fuck".
Though the trend died out by the beginning of the 2010s, it highlighted the thong's divisive nature and the power that showing a bit of underwear can have. As art imitates life, this notion has been reaffirmed by artists multiple times, and because of the thong's connotations with sex and image, it's become a loaded symbol of contemporary society.
"The combination of low-rise jeans and the humble thong became as iconic a duo as Paris Hilton and Nicole Richie"
In 2012 for instance, at Erik Yahnker's New York solo show, Virgin Birth 'n' Turf, he premiered a piece called G-String Theory, a room sized sculptural installation that suspended arcs of rope and fishnet thongs from the ceiling. The piece alludes to the hyper-sexed atmosphere of contemporary American culture, and by hanging thongs in a white gallery space, Yahnker elevates the underwear to an art object with weight.
Eric Yahnker, G-Sting Theory, 2012. Gallery view. Image provided by The Hole NYC
Likewise, artist Laurie Simmons politicized the thong in 2017. She produced a glittering, handmade thong with the word "Protest" across the front, as part of Marylin Minter's pop-up shop, Anger Management at the Brooklyn Museum. A year into the Trump Administration, the thong was a tongue-in-cheek culmination of Simmons' frustration and is perhaps a reference to Trump's "grab them by the pussy" comments, which were revealed during his campaign.
Despite The New York Times declaring the garment officially out in 2015, there's been another thong revolution of sorts. Our cultural obsession with big butts and a shift in beauty ideals has played a part in this, but it's also partly because of our recent love for revisiting trends of the nineties and noughties. A quick look at fast fashion outlets like ASOS, Boohoo.com and Pretty Little Thing and it's clear thong bikinis are in. But this has only filtered down to the masses because of TV shows like Love Island and top tier celebs like Bella Hadid, Jennifer Lopez and even a pregnant Serena Williams on the cover of Vanity Fair touting them on social media first. 
View this post on Instagram
View this post on Instagram
Previously, thongs (and the famous people who wore them) only really got air time when we'd see them splashed across the pages of glossy weeklies. These days however, it's as though Instagram has cultivated a kind of "safe space" for thongs to thrive in. People (whether famous or not) are now happy to take pictures of their thong-clad bots, and though the shock factor has waned a little, it's feels no less provocative than before, it's just now there's an air of nostalgia to it.
We'll always know when thongs re-enter the collective consciousness because we can see them, and that ultimately is where the beauty in thongs lies. The sheer brazen visibility of the thong is what's kept it a visual mainstay in pop culture. The thong can make a statement just by being seen, and it's why we'll continue repeating the mantra: if you're wearing a thong and nobody can see it, are you really wearing a thong?