In the video shoot for Calvin Klein's Spring 2020 campaign, Lil Nas X reclines at the head of an empty boardroom table, his bare torso gleaming underneath an open denim jacket. His smirk becomes a grin as he stands up and throws the white tablecloth towards the camera. "My name is Lil Nas X, I don't know what the hell is going on. Deal with it," his voiceover says.
It's an unusual, but not unfamiliar statement from the Atlanta-born rapper, whose country-trap hit Old Town Road rose to the top of the Billboard Hot 100 chart in the week of his twentieth birthday—and remained there for a record 18 more. Nas' line jars slightly with Calvin Klein's chosen tagline, to "Celebrate unapologetic confidence and self-love", but is characteristic of campaigns that tap into the bewilderment, at least from the established cultural classes, at his meteoric rise to fame.
This is perhaps justified; a generational gap remains, with millennials and older peers struggling to understand the mechanics of Old Town Road's ascendency: from Nas purchasing the sample beat for $30 from a Dutch student producer, to him debuting it in a Twitter meme before it went viral on TikTok. His appearance in a Calvin Klein shoot—alongside Kendall Jenner, SZA, Hunter Schafer, Lay Zhang and Justin Bieber—may signal his inauguration into an illustrious tradition of American fashion, but it was his reinvention of the Cowboy aesthetic which made him a key style figure in 2019.
With his stylist Hodo Musa, Nas updated classic Western clothing—such as suede fringe jackets and riding boots—with neon block colouring, mesh shirts and snakeskin makeovers, prompting a rediscovery of African American Cowboy history for a new audience. At the MTV Video Music Awards, Nas paid homage to Prince and glam rock with a cream lace shirt, adding a rhinestone-studded Nudie Suit and metallic cowboy boots. At the American Music Awards, he donned a Christopher John Rogers-designed green and zebra print tuxedo; at GQ Men of the Year, it was a full blue snakeskin ensemble.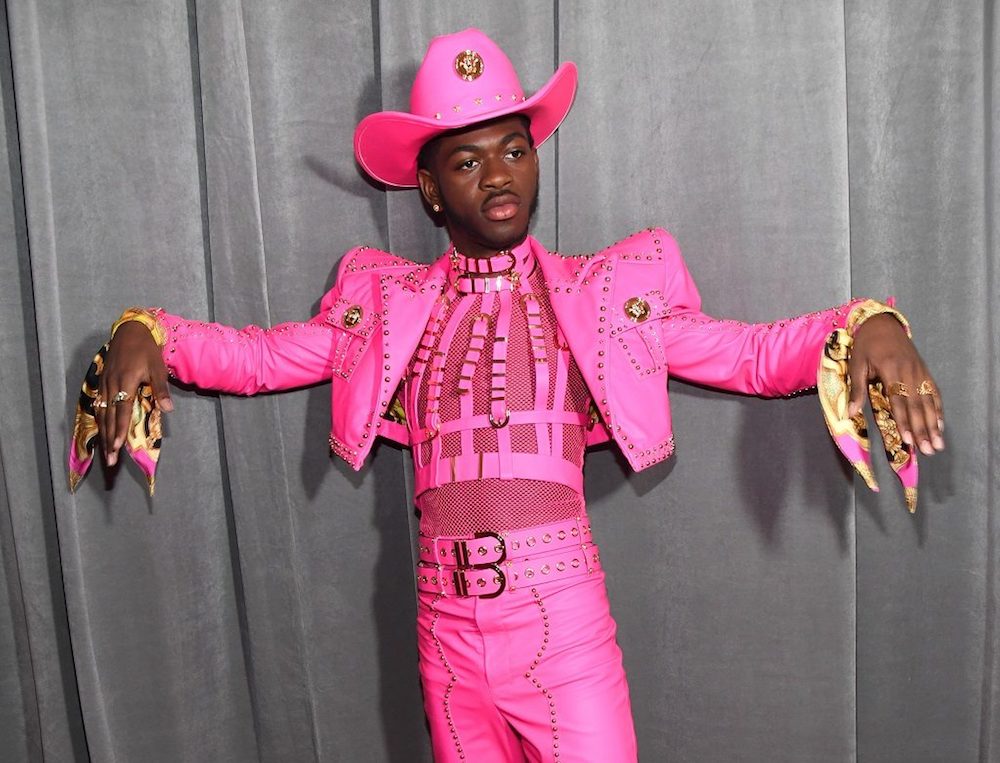 "Nas updated classic Western clothing, with neon block colouring, mesh shirts and snakeskin makeovers, for a new audience"
The 2020 Grammys—where Nas picked up two awards—was perhaps the epitome of his cross-fertilisation: a hot pink leather Cowboy suit with mesh shirt by Versace, Medusa-clad jewellery and a matching harness underneath. The ostentatious highlighter neon exemplifies the disorientating conditions that led to Old Town Road being embraced by the culture to which, some argued, it represented an existential threat.
The song was removed from the Billboard Hot Country Songs chart for "not [embracing] enough elements of today's country music," a decision which many saw not just as stuffy genre gatekeeping, but racially informed. And yet, the addition of a monochrome filter to Nas's Grammys outfit enables it to adhere seamlessly to the fabled Cowboy image; as with adding a trap drum line to country-inspired lyrics, the vibrant, in-your-face modernity that Nas captures is represented through colour and noise. 
Old Town Road—and the half-parody of its line "Cowboy hat from Gucci / Wrangler on my booty"—made the Nas brand instantly monetisable. A limited-edition collaboration with Wrangler debuted in May 2019, as (like clockwork) did a minor online backlash from some traditionalist diehards. But surging sales and a quick scroll through the customer comments on Wrangler's website lays to rest any suggestions of reputational damage: "I am so excited to be a part of the new Wrangler movement with Lil Nas X…thank you so much for making Wrangler cool again," reads one.
That Lil Nas X is a successful commercial asset is of little surprise. His choice of collaborations and appearances maintains the playful eccentricity which defined his emergence, while also displaying a shrewd self-conception and understanding of the potential delicateness of his image. In April, he revealed that he had turned down the opportunity to appear in a campaign video for Pete Buttigieg, the first openly gay Democratic presidential nominee (Nas came out publicly in July 2019). "Yeah, you're gay. But I don't know everything you're planning when you're running the entire country", Nas told the Guardian. "I don't want to base my support off, 'Oh, you're gay'." At the end of May, Nas performed a song with Elmo on the Sesame Street spinoff, The Not-Too-Late Show. "Streets needed this", he captioned the video on Twitter. A year on from his offer, the same cannot be said of Buttigieg.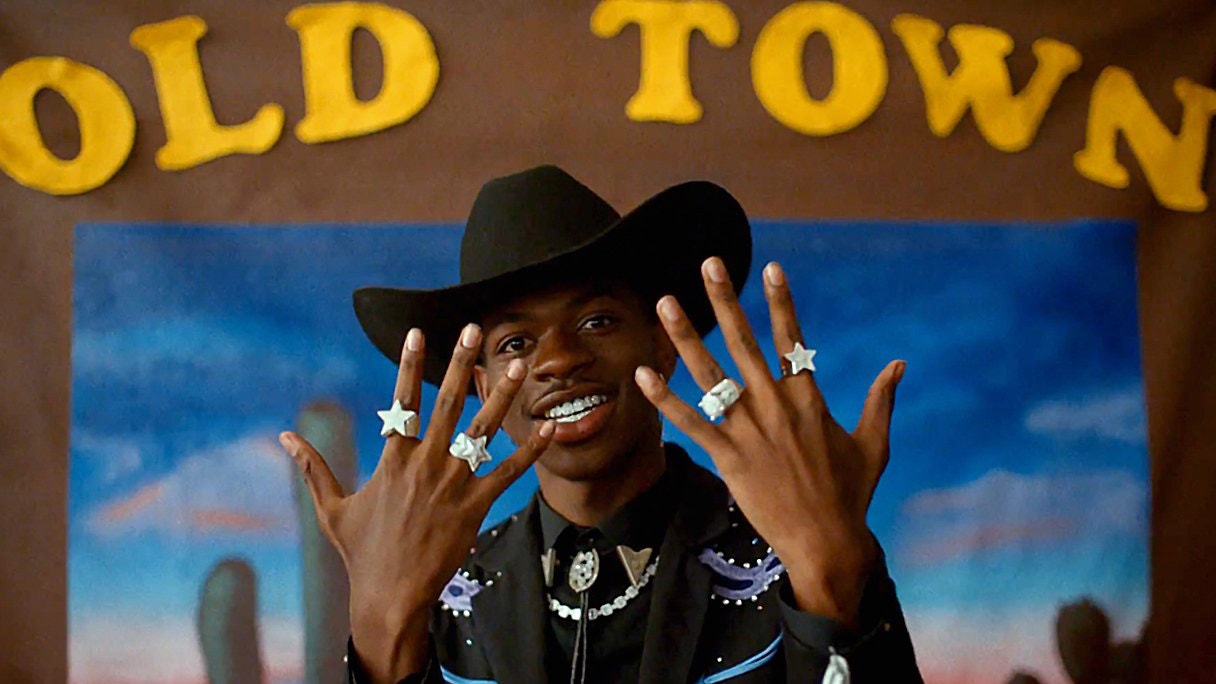 "His choice of collaborations and appearances maintains a playful eccentricity, while also displaying a shrewd self-conception"
Both Nas and his stylist Musa adopt a near-carefree yet purposeful attitude to their work, from design to digital brand-building. Nas has over 11 million followers combined on Instagram and Twitter, switching effortlessly from SpongeBob memes to Black Lives Matter activism. "We personally try to stay in a neutral mind and do things that come from the heart," Musa told the LA Times in January, also confirming that the pair were retiring the Western aesthetic. "It's not this deep [thinking] that we're going to change the world", she said. 
This might be the essential logic of Lil Nas X's popularity—a Gen Z sensibility which rejects overanalysing and navel-gazing in favour of reactive, playful personae. Like the neon Cowboy outfits which so defined 2019 red carpets, it is resourceful, light-footed and endlessly innovative.