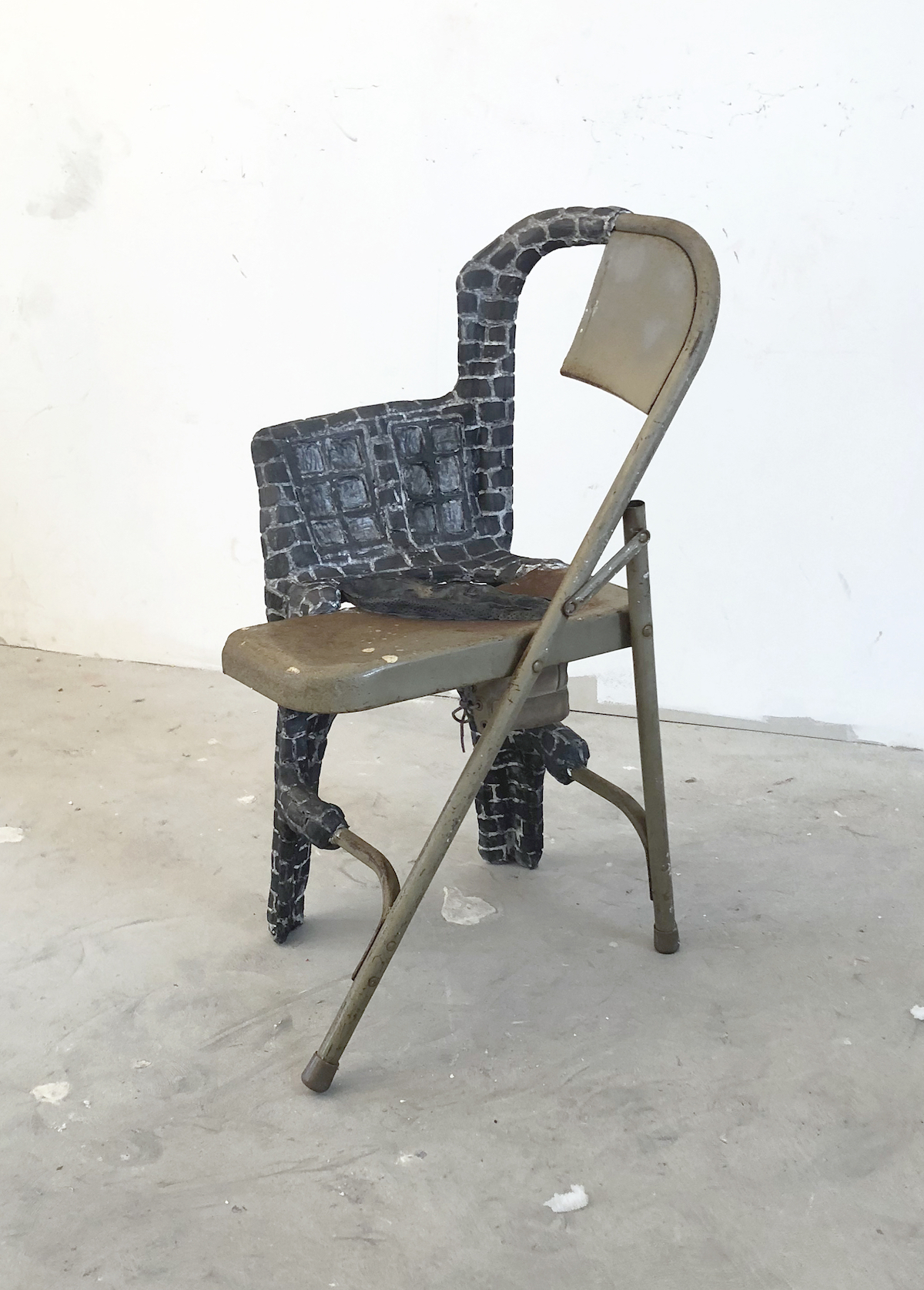 Independent hardly feels like a New York art fair. The layout is much more vertical than horizontal, leading to less of an overwhelming, mob-like feel and one more akin to a massive gallery that happens to harmoniously include several presentations. "Independent" may be a suitable term to differentiate the fair from others taking place in the city this past weekend, but it proves unsuitable to describe the collaborative environment found within. In fact, multiple galleries have worked together on a broad level, thus eradicating the more traditional boundaries placed on the predominantly individualistic booth model.
Issy Wood, Mad at me, 2018
Issy Wood, The wrapper (large), 2018
Bobby Vinton's Blue Velvet desires came to mind when encountering Issy Wood's The Wrapper (large) and The Wrapper (small) at Carlos/Ishikawa's booth, in conjunction with Chapter NY. The paintings embodied both the indulgence and opulent sensuality of Vinton's lyrics, as well as the darker themes associated with David Lynch's film. The equally opulent Mad at Me hung alongside; a slender hand delicately holding an intricate fan with an image of a near-naked person covering their face with a fan. Objects, value and materiality permeated through the swirls in the paintings, especially when placed across from the Chapter NY portion of the booth, where Ann Greene Kelly's sculptures explore new contextualizations and identities of waste objects. The act of looking through someone's trash is undoubtedly invasive, as it enters the intimate, private sphere. Kelly's repurposing of such waste in sculptural and organism-like form analyses histories and futures of objecthood as well as highlighting the tension between the private and the public.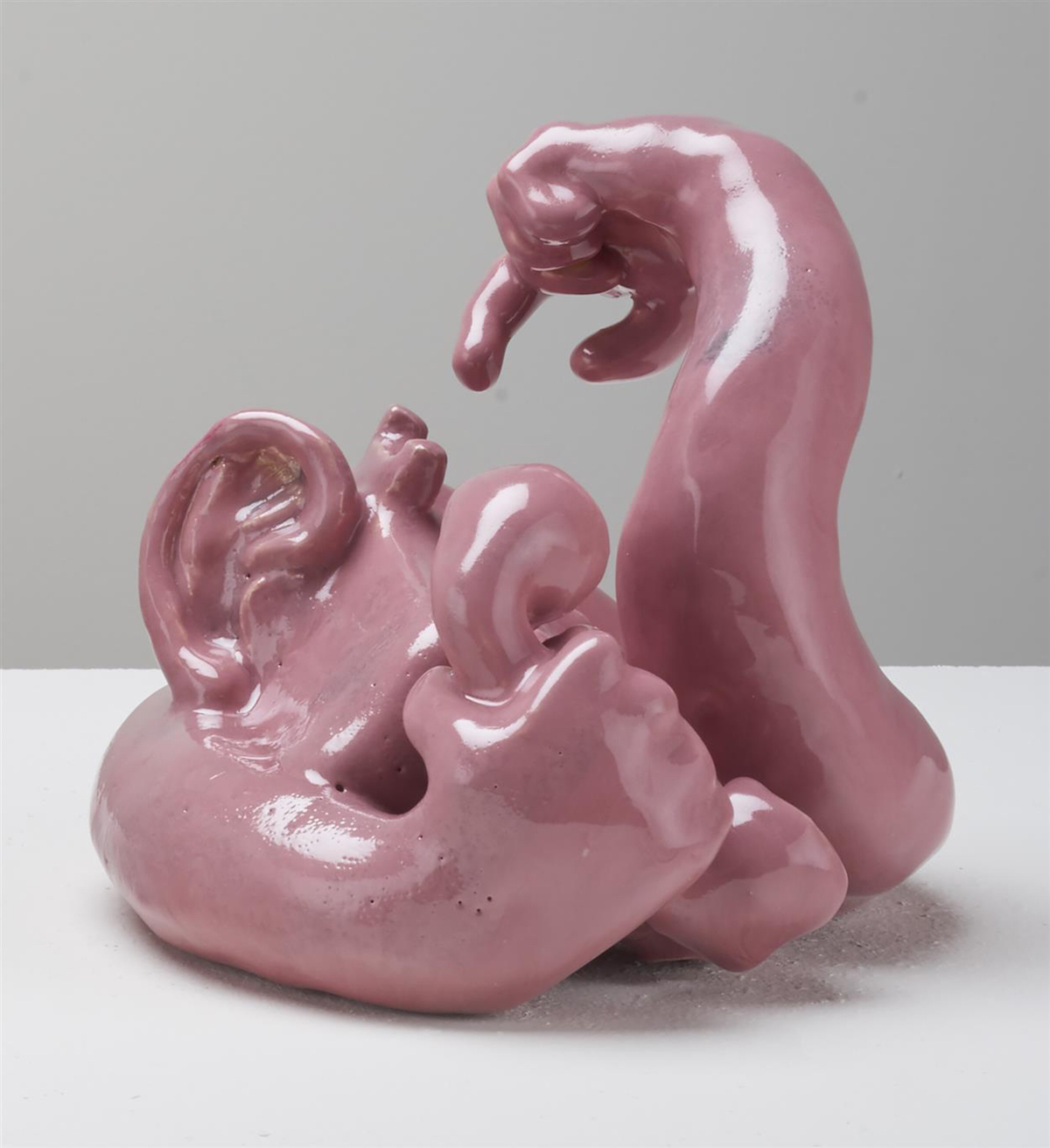 Similarly anthropomorphic were Woody De Othello's ceramics presented at Karma. His ceramics play with scale and abstractions in a maze of twists and turns best described as  intricately complicated Ouroboros. Three sculptures entitled Listening, Searching and Telling Time capture and freeze moments that embody each title, but in animated and absurd ways that create a fantastical sense of defamiliarization.
Elaine Cameron-Weir, the author chewed so that the baby is clear, just look at the picture and everything will become clear. Grandfathered war. Exhibit from a dripping personal collection., 2018
Borna Sammak, Not Yet Titled, 2018
At JTT, while resisting the urge to sit on Anna-Sophie Berger's candy-coloured chairs, I noticed Borna Sammak's canvas, aggressively covered with a plethora of t-shirt graphics and embroidery. "Don't act like you know EVERYTHING" is scrawled by a crude image of Santa Claus replacing a chimney as a toilet. The scramble of identifying markers are layered on top of each other, rendering them partially illegible and thus forming new, interconnected narratives. Beyond the logo-saturated canvas is another filled with remnants of beach towels; also embroidered. Both works challenge the limits of medium categorization in a similar fashion to those found at Karma, Carlos/Ishikawa and Chapter NY.