Designing an exhibition about a deceased artist is never easy, particularly when their work moves so freely between art and life as Frida Kahlo's did. We worship her fiery spirit and bedecked fingers, bold features and brightly patterned dresses, believing—perhaps because the topic of death still remains such a taboo in the west, even among adults—that external strength can eclipse internal pain. Yet the mental and physical disabilities that Frida endured throughout the majority of her life and which defined her practice often go unnoticed. With her recent ascent as a feminist icon within today's consumer culture, her likeness is appropriated, packaged and sold in the form of "Frida Nipple" iPhone cases and makeup collections (thankfully, sales of a Frida Kahlo Barbie have been blocked by the Mexican court). 
This unbalanced track record of representing Frida—one that seems forever geared towards selling an icon rather than presenting a real life—was precisely the challenge that Circe Henestrosa and Claire Wilcox, co-curators of Frida Kahlo: Making Her Self Up at the Victoria & Albert Museum, and their team of architects and designers signed up for when agreeing to steer the V&A's own take on the artist. The curators worked collaboratively with the London-based architecture practice Gibson Thornley, selecting their design proposal from a competition of four invited architects, as well as the theatre designer Tom Scutt and in-house researcher Ana Baeza. Together, they have produced a multi-sensory show that addresses all elements of Frida's life. At a moment where seemingly everyone wants a piece of the mysterious artist, but so few know what her life entailed, their unconventional approach is as groundbreaking as it is necessary.
A blue light beckons visitors out of the V&A's sweeping halls and into an architectural stage set. Moving past a towering and luminescent slab of rock that bears the title of the exhibition below an intimate portrait of Frida, visitors enter into an ever-shrinking procession of cloisters. Their laser-cut surfaces, referencing the pattern of a Tehuanan dress, dilate to give the illusion of exaggerated depth. The five arches themselves separate the photographs on display into loose data clusters of Frida's upbringing and family. But the photos are more than just backstory: caught in an otherworldly blue light, there is a peculiar energy to them, which is enhanced by the intimate feel of the dark cloisters.
During my visit, there is a wordless congregation of visitors around never-before-seen images of Frida's family, particularly of her father, the German photographer Carl Wilhelm "Guillermo" Kahlo. He moved to Mexico City in his twenties where he met Frida's mother, of Indian and Mexican descent, and likely inspired Frida's obsession with self-portraiture. With ambiguous origins himself that Frida mythologized into Hungarian Jewish descent, her father also fuelled on the soul-searching and self-fabrication that would consume her life and work.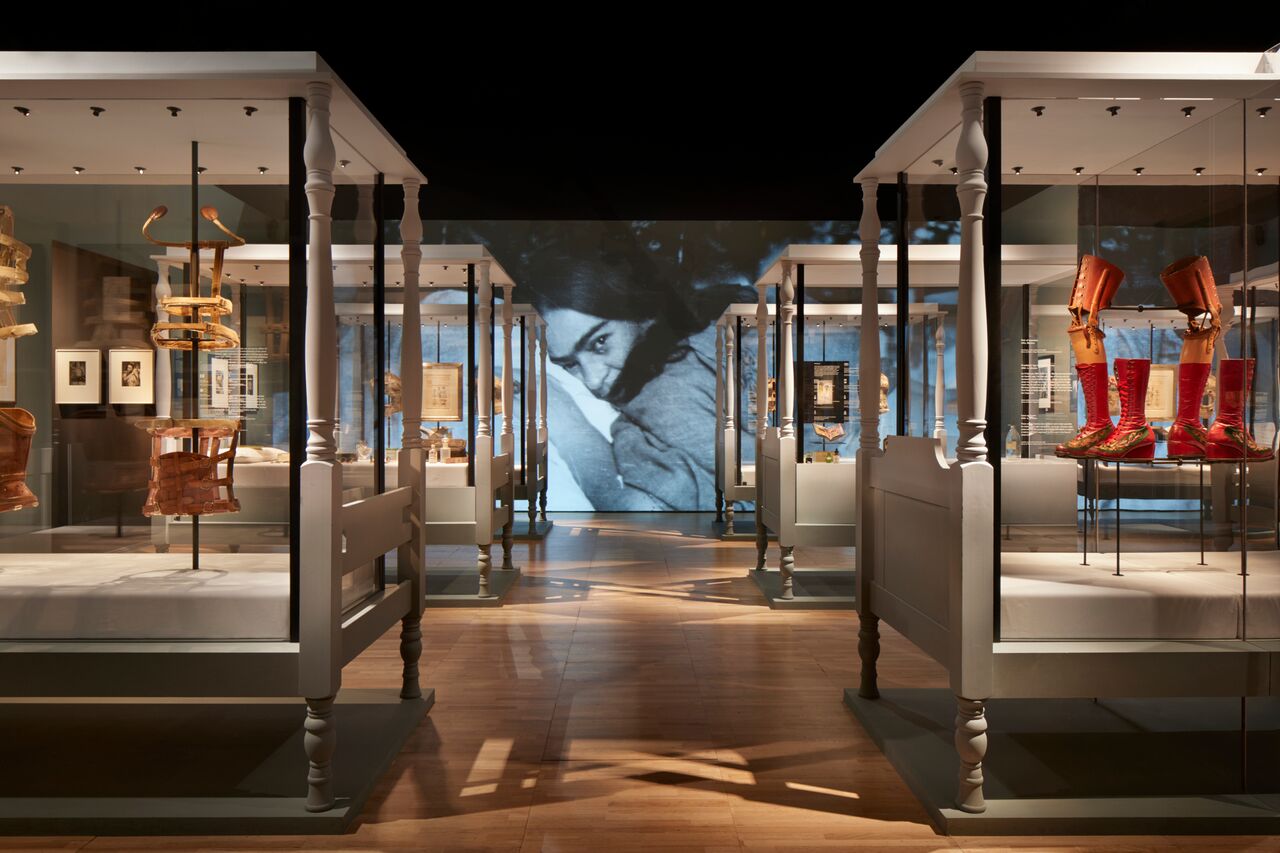 Modelled on Frida's own Casa Azul (Blue House) in Mexico City, there is a free-flowing element to the foot traffic of the exhibition that allows visitors to gravitate towards the objects that call out to them. It's a natural solution to the challenge of exhibiting over 200 items from the stash of personal possessions—including 6,000 photos and countless garments, jewellery and accessories—uncovered at the Blue House in 2004, fifty years after her death: allowing for moments of individual contemplation amid a larger collective experience. "It's not meant as a private experience," explains Matt Thornley of Gibson Thornley. "We made the exhibition as open, public and accessible as possible."
Moving into the first of its two core rooms, Endurance, the communal experience of the exhibition becomes a necessity as the content turns toward Frida's medical possessions and the rituals of self-construction that constituted her life and work. After a tram accident at the age of eighteen, Frida spent the majority of her hours confined to her four-poster bed, which she transformed into her own painting studio. Mirror-plating its wooden canopy, she attached a folding easel to the bedpost, so she could paint herself in the round. For Frida, self-portraiture was a powerful and necessary means of self-actualizing: as both a continual assertion of her identity as well as a means of expressing her fluctuating physical and emotional states.
In collaboration with Tom Scutt, Gibson Thornley have taken the architecture of Frida's bed as six full scale reproductions turned display cases that reveal what, precisely, made her up. Under Scutt's suggestion, the architects added in mirrors to backplate and bisect the cases, creating a forest of Frida's personal possessions. The mirrored surfaces expand and distort the dimensions of the room while reflecting a backlit photo of Frida in her bed that stretches across the back wall. There is an unmistakable sense of mischief flashing in her eyes; a life energy that carries through the entirety of the blue-soaked exhibition and keeps afloat the uplifting powers of self-imagining at the heart of Frida Kahlo.
Co-existing inside these display cases full of Frida's perfume bottles and dolls are the medical corsets and numerous medicines that literally held Frida's frail body together. A self-portrait in pencil from 1937 shows Frida with multiple arms, like a Hindu deity; making herself up was a daily ritual. Within the same case as her steel-plated corsets (emblazoned with hand-painted communist symbols), Frida's first and only lithograph—completed just five weeks after her miscarriage in 1932, while staying with Diego Rivera in Detroit—shows Frida stuck between worlds. On one side is Frida the artist, easel in hand; the other is Frida, the broken mother with her unborn child, floating in nebulous space. The lithograph belies her prior ambitions to be a doctor and life-long fascination with medical illustration; together, these unsung self portraits reveal Frida's acute awareness of her decrepit earthly state while seeking out a higher cosmological self. "I am not sick, I am broken," she is quoted as saying on the walls.
"On one side is Frida the artist, easel in hand; the other is Frida, the broken mother with her unborn child, floating in nebulous space"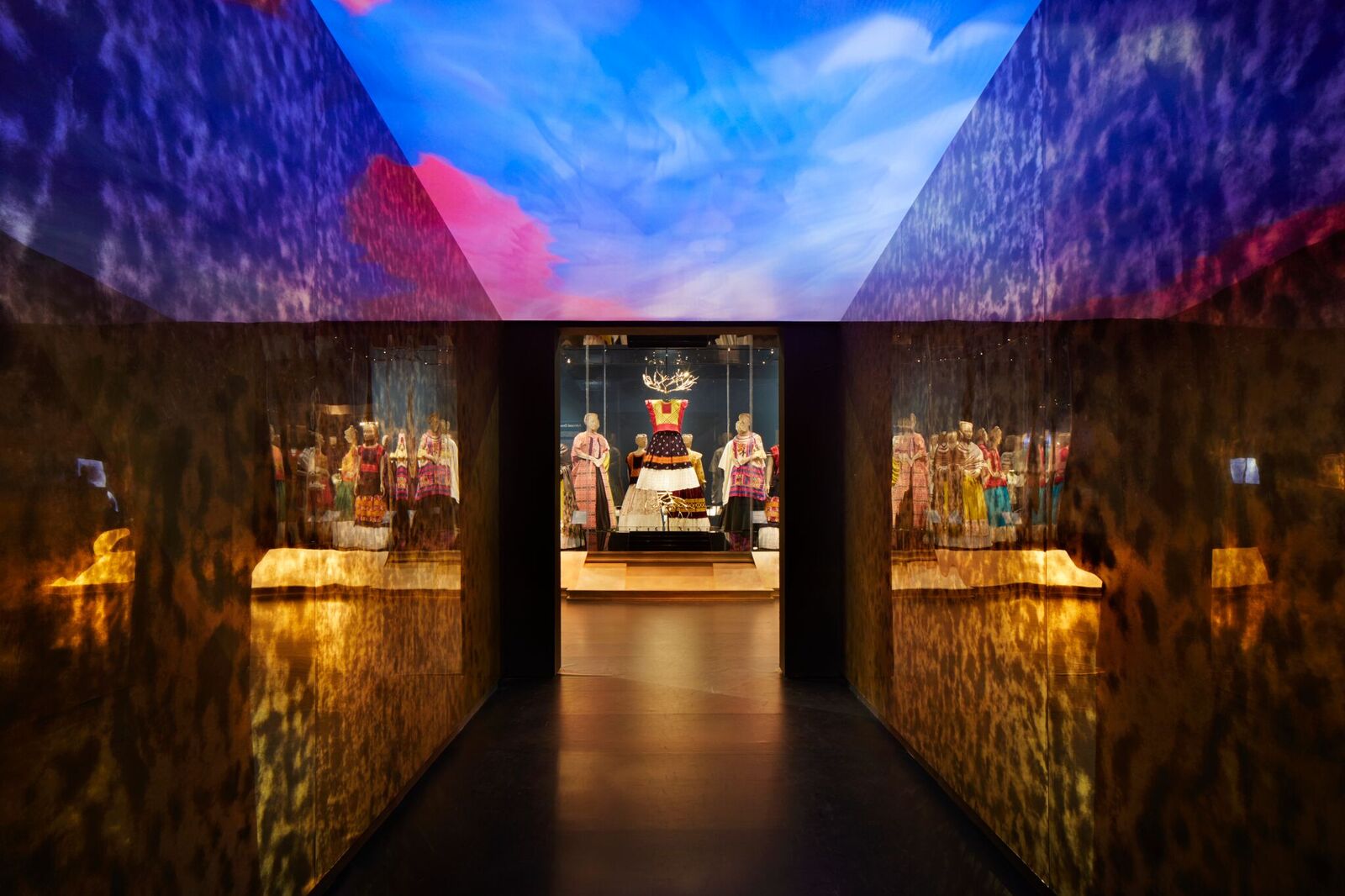 The exit from Endurance is mediated by another tunnel, this time a psychedelic audio-visual installation designed by Luke Halls Studio and Ben & Max Ringham. A billowing rainbow fabric that glows above a shrinking hall of mirrors ushers viewers into Art and Dress, where a massive display case custom-built by Gibson Thornley sits. "As architects, we tend to deal with built space in the long term," explains Gibson. "So a primary concern for us in designing the exhibition was creating a sense of permanence as an effect." Theatrics are very much at play in this room, with eighteen 3D printed Fridas modelling her various dresses, as seen in painted self-portraits and on Vogue covers.
In this final room, it becomes apparent that Frida's obsessive self-construction was an architecture of its own kind. The traditional Tehuana dresses, twinkling rings and heavy necklaces, exhibited alongside some of Frida's more well-known self-portraits, reveal the many material layers of her auto-mythology. Surrounded by brightly colored rebozos and glittering rabonas atop the elevated stage of the acid-treated display case, the cult of Kahlo soon starts to materialize. It becomes easier to understand how the less glamourous but equally significant components of her mental and physical disabilities could be swept under the glittering surface of her public persona—but not why it happened. 
In this final room, it becomes apparent that Frida's obsessive self-construction was an architecture of its own kind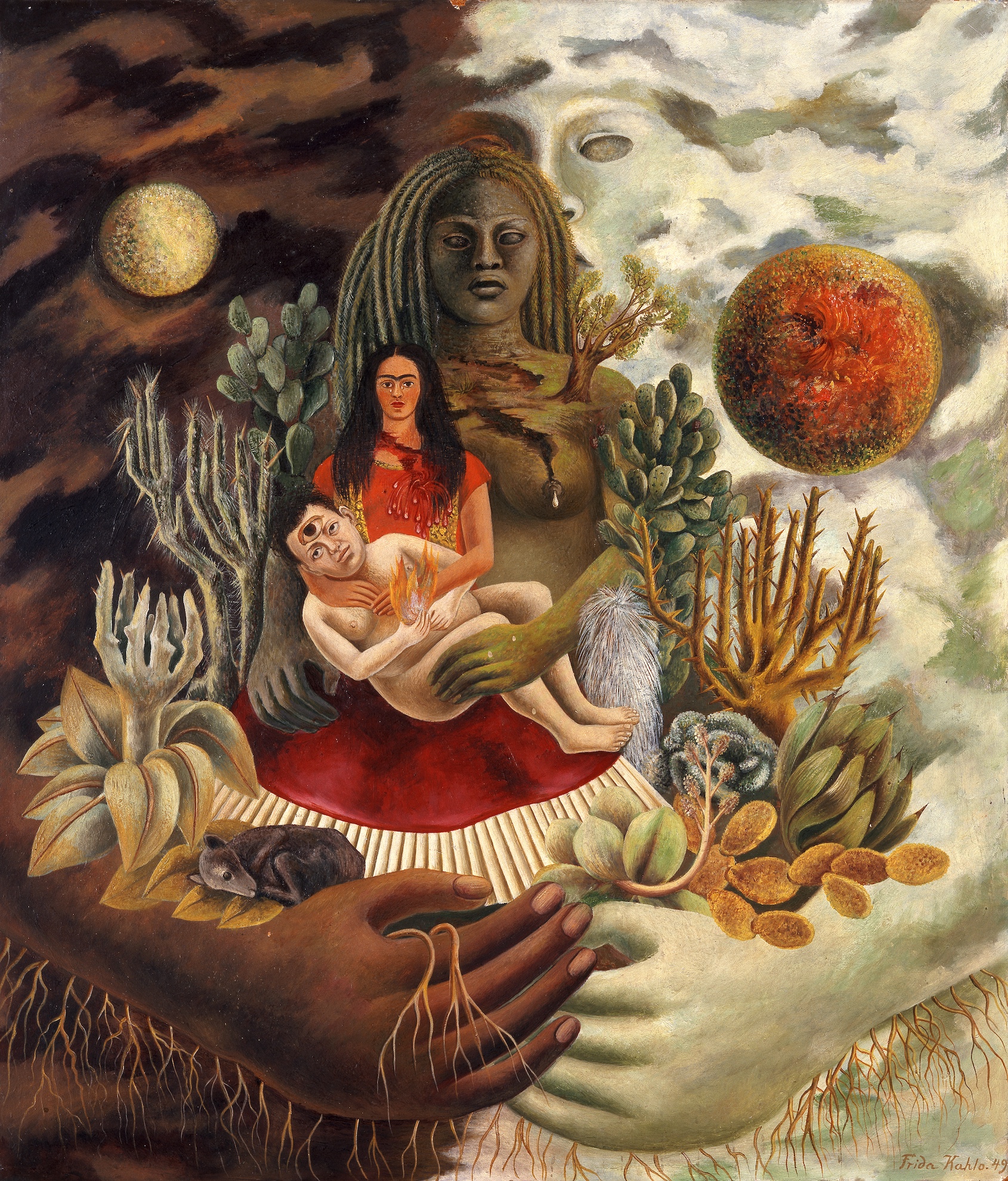 Death and suffering are still taboo subjects in Western societies, particularly in the UK, which makes an exhibition of this nature particularly hard to pull off at the institutional level. "The idea of death is built into Mexican culture," explains Henestrosa. "But here in London, it had to be softer: more opaque and human-centered." Ana Baeza, a research assistant brought in specifically to navigate these tricky questions of cross-cultural representation at the heart of the exhibition, confirms that "respect and focus on the individual were essential". By conceiving of Kahlo's ritualistic self-imaging as a type of embodied architecture, Frida Kahlo: Making Her Self Up addresses the many layers of joy and struggle, adoration and agony, the constant fracturing and self-making that constellate the artist's tumultuous and brief life, revealing—at a time more necessary than ever—Frida the person behind Frida the artist. 
All installation photography © Jack Hobhouse
SaveSave
SaveSave
Frida Kahlo: Making Her Self Up 
At the V&A until 4 November 2018
Visit Website