There is an intimacy to the photographs of Luo Yang, as if you might have been there with her at the moment she clicked the shutter, imbued as they are with a dreamlike presence. Hers is a distinctive form of portraiture—one that feels entirely her own. Often lit with natural light, and shot amidst street scenes or in the privacy of the home, her subjects are the new and upcoming generation of China. For a decade she has focused solely on young women, seeking out those who she feels an authentic connection and affinity with, for a series she calls GIRLS. Her photographs are snapshots of their lives, a world away from the straight-laced image that continues to shape Western preconceptions of China. 
Look at Yang's youthful subjects, and you'll find that they stare right back, frequently holding the gaze. Pink, green, bleach-blonde or shaved off entirely: the hairstyles of the women who appear before Yang's lens reveal a distinctive sense of style. Her portraits celebrate the subversive power and pleasure of personal expression, and shift beyond the constraints of gender norms or media-peddled perfection. Yang has recently begun a new series titled YOUTH, which extends her interest in androgyny to the young men of the generation born in the 1990s and early 2000s. Working between Beijing and Shanghai, she captures the vibrant, youthful face of a country undergoing rapid change. 
Could you tell me about some of the women who feature in GIRLS? What type of places did you meet them in, and how do you connect with them during and after the shoot?
I usually meet and shoot the girls in an environment they feel comfortable in, whether it's a place they like to go hangout, or in their own private space. Before the shoot, I try speak to them and build a connection and trust, so they'll feel comfortable enough to give me a glimpse of authentic and beautifully private moment for the camera to catch.
I want to find young people who can reflect certain degree of authenticity of their true selves and the generation, the ones who show strong liveliness and vitality with an attitude. They are the pioneers of their generation, and I believe perhaps more young people will be like them.
"These are the pioneers of their generation, and I believe perhaps more young people will be like them"
What does femininity and gender mean to you, and how did you want to portray this in the GIRLS series?
I think women are beautiful as they are a combination of vulnerability and tenacity. But I don't have any opinions on gender issues or femininity. I portray women as they are, and present what I've seen in them, this private inside of them which is strong, wild, sad, lonely, free, independent and brave.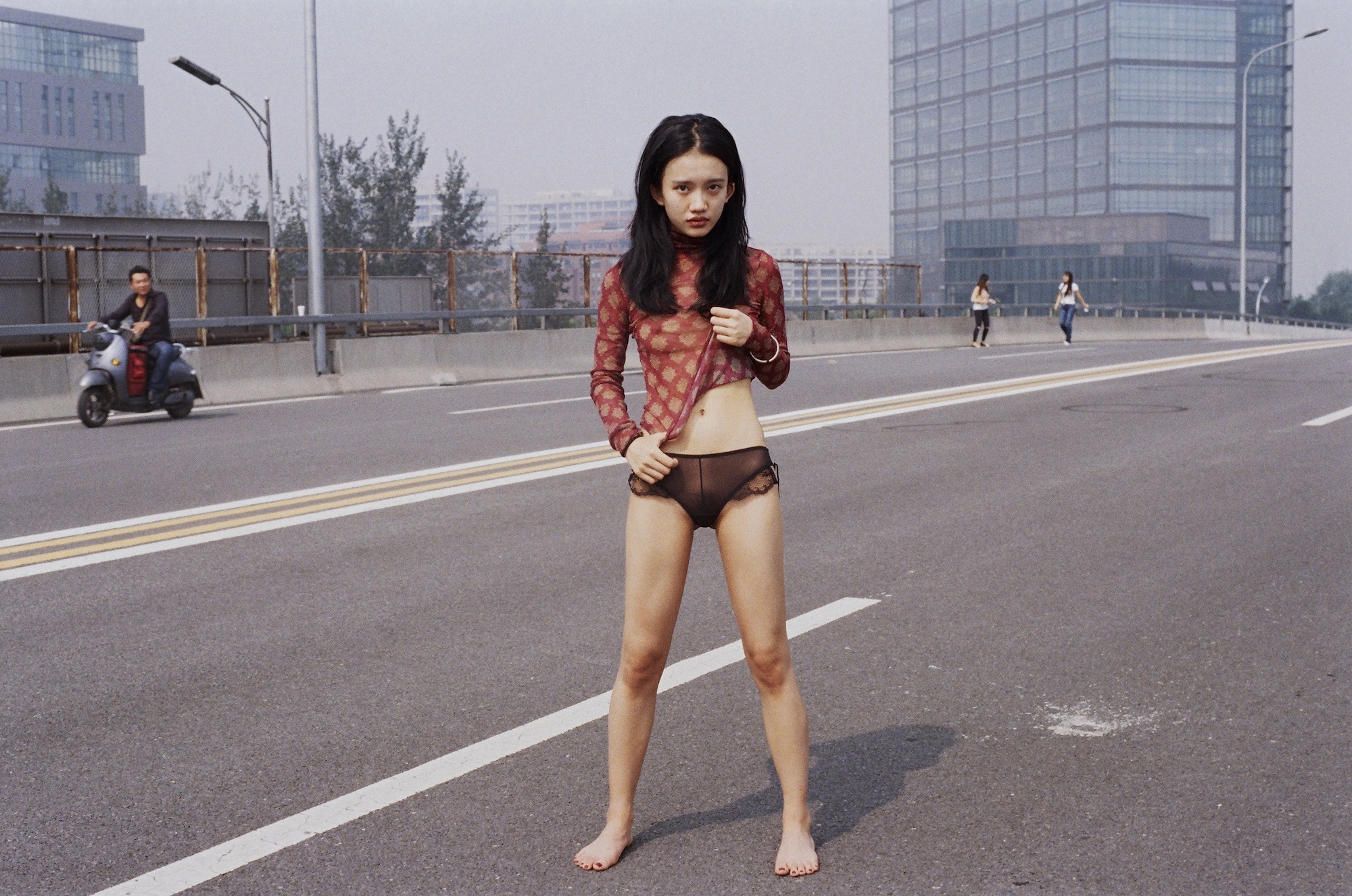 What is your relationship to Beijing, and what do you love (and hate) about it?
My first impression was that Beijing was a very simple and straightforward city, it was old yet still strong with great wild vitality. I spent most of my twenties in Beijing, it has been an important part of my life and influenced my work as well. I've shot many girls in Beijing, and many of them have a similar wild beauty, just like the city.
I love the city's simplicity and authenticity, almost primitive vitality and down-to-earth spirit, although transportation has always been a problem and the climate sometimes brings too much dirt and sands. I would recommend a visit to Jingshan Park, on top of which you'll be able to get the best view of the whole city. Walk around the hutongs, feeling the most authentic Beijing vibe.
What is the role of artists in a city like Beijing?
Being an artist in Beijing can be very simple and pure. You know your role is purely an artist and you have the environment in which you can be totally focused on your creativity, without too much external desire luring you. It's really home-like and kind. In the old hutong areas, neighbours basically know each other very well. Whereas in Shanghai, where business and commerce has penetrated everywhere, it's so much harder to concentrate on art itself; art in Shanghai always comes together with something else, but you'll see it in more crossover forms.
"I portray women as they are, and present what I've seen in them: strong, wild, sad, lonely, free, independent and brave"
You have been working recently on a new series called New Generation. What themes does this cover, and how did it feel to open up your work to men and transgender people too?
Compared to GIRLS, the new series focuses more on the younger generation, which is the 90s and 00s, and both boys and girls are included. I intend to use this series as an opportunity to explore and understand the youngsters who are from a different time background from myself, and present their emotions and lives. It is definitely an interesting and exciting experience for me to know a group of people I didn't have enough knowledge of before, but they were not excluded from my works, and I find it necessary to record them into the new series as they are an important part of the consistence of the youth today.