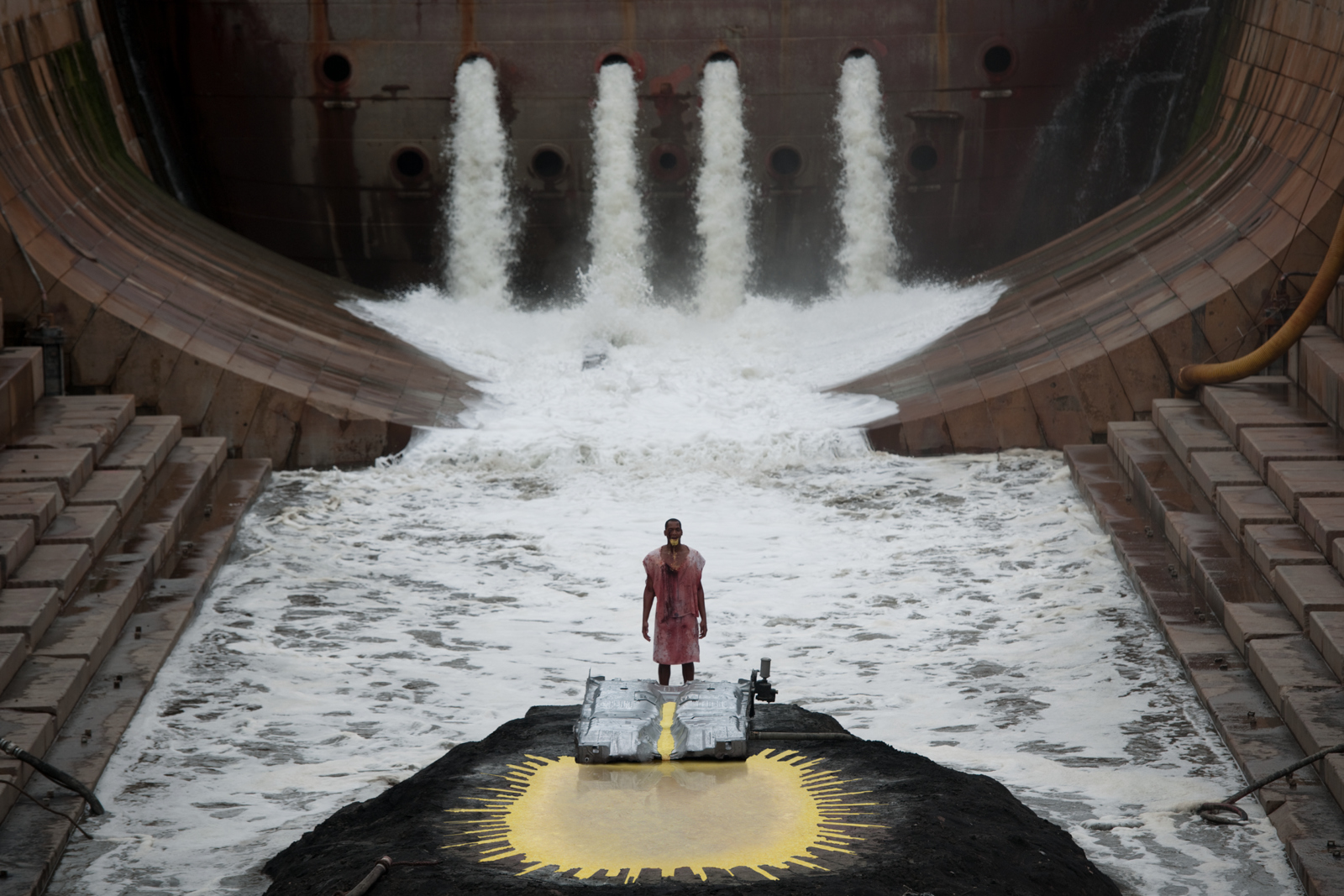 If you've opened the pages of US broadsheets and art magazines in the last two decades, Matthew Barney's role has consistently been that of America's modern artist-provocateur, a seer challenging much of what the western press will have you think. Formerly in a long-lasting romantic relationship with Icelandic musical icon Björk, Barney has stirred up more than his fair share of controversy over the years, from the brutal depiction of life onboard a Japanese whaling vessel in 2005's Drawing Restraint 9, to the violent, baroque mythology shown in his early masterwork The Cremaster Cycle, filmed in New York's Guggenheim museum.
Barney has done little to leave these provocations behind in subsequent years. Accused of weaving a dense web of introspective literary references, historical touchstones and mythology, which rarely give much away to his viewers, his magnum opus River of Fundament won't have scratched his harshest critic's reservations. Released in 2014, the 330-minute film (yes, almost six hours) uses an expansive, operatic format to adapt Norman Mailer's 1983 novel Ancient Evenings. Jonathan Bepler, the composer behind the music for The Cremaster Cycle, collaborated again with Barney on it.
"It opens upon a torrent of excrement and continues on a self-referential cycle of liquidity"
The all-star cast (think Maggie Gyllenhaal, Debbie Harrie, Ellen Burstyn, Paul Giamatti and Barney favourite Aimee Mullins) failed to soften the blow of the film's densely crafted, lofty ambitions, with almost half of the dialogue sung rather than spoken. "Matthew Barney's most punishing tour yet", the New York Times announced, while the LA Times dubbed even its source material as "sprawlingly bad—709 pages of benumbed egocentrism set in paranoiac Egypt". The latter paper's half-hearted concession that Barney's adaptation of Mailer's novel is "well, certainly big" offered little consolation by comparison.
River of Fundament is undoubtedly epic, featuring a radical melding of ancient ritual with the contemporary mythologies wrought by post-industrial Detroit, but in an age of digital hyperbole "epic" has increasingly lost its meaning. Extravagant and wholly excessive, the film doesn't shy away from the obscene or the grotesque. It opens upon a torrent of excrement (which is every bit as unflinching and uncompromising as it sounds), and continues on a self-referential cycle of liquidity. Molten metal flows alongside blood, sewage and open water, while the initial liquid shit makes recurrent appearances.
"Extravagant and wholly excessive, the film doesn't shy away from the obscene or the grotesque"
The scale of Barney's endeavour is impressive. A rare feat of art-making and endurance unencumbered by the requirements of ratings boards or cinemagoers, it reportedly took all of seven years to complete. The film has been screened only a handful of times in museums and opera houses around the world. I vividly recall watching it for the first time at its British premiere in the campy splendour of the London Coliseum, a venue built in 1904 as a music hall and described at the time as the "people's palace of entertainment".
Once I relented in my initial attentive struggle to follow each and every interaction playing out onscreen, I allowed myself to simply be washed away by the experience. Immersed in a world that looked at once familiar and bizarre, I marvelled at the lavish sets and caustic humour. Barney's sprawling meditation on the decline of the American dream, set in the context of life and death, power and folly, ancient and modern, operates on a level that is often built more from intuitive connections than direct narrative progression.
River of Fundament by Matthew Barney and Jonathan Bepler 2014. Production still © Matthew Barney. Photography by Hugo Glendinning (left) and David Regen (right)
Characters attend their own wakes and are reincarnated. At one point, there is a sexual scene involving a car engine (think JG Ballard meets Ancient Egypt). The rivers of excrement continue to flow, and Barney's libretto jumps between mythology and pop culture, nodding to everyone from Walt Whitman to William Burroughs. Cameos from the rarefied world of art and culture come thick and fast: Salman Rushdie, Lawrence Weiner and Jeffrey Eugenides all appear at a funeral, for instance.
A sculptor, creator of large-scale installations, painter and conceptual artist, Barney is much more than just a filmmaker. His onscreen worlds spill outwards and into the realm of the physical and the decidedly real, with gnarled and twisted sculptures fashioned from metal, wood, resin and, in one notable instance, whale fat.
"Easily parodied as impenetrable art waffle and yet unashamedly ribald and obscene…"
Redoubt, his latest feature-length film, with accompanying sculptures and copper etchings, sees Barney make his first return to cinema since River of Fundament. Showing at the Hayward Gallery, it follows a sharp-shooter in her pursuit of wolves across the winter wilderness of Idaho's Sawtooth Mountains, accompanied by two dancers. It takes a quieter and less macho direction than his previous works, in which excess and consumption were the order of the day.
Throughout Barney's work, there is an appeal to the viewer to engage on a sensory level that goes beyond the immediately comprehensible, and even beyond the conscious. Easily parodied as impenetrable art waffle and yet unashamedly ribald and obscene, Barney achieves a delicate balance between cloistered affectation and warm colloquialism. Taken together, it represents as much a test of patience as a joyful refusal of cinematic conventions.
Louise Benson is deputy editor at Elephant