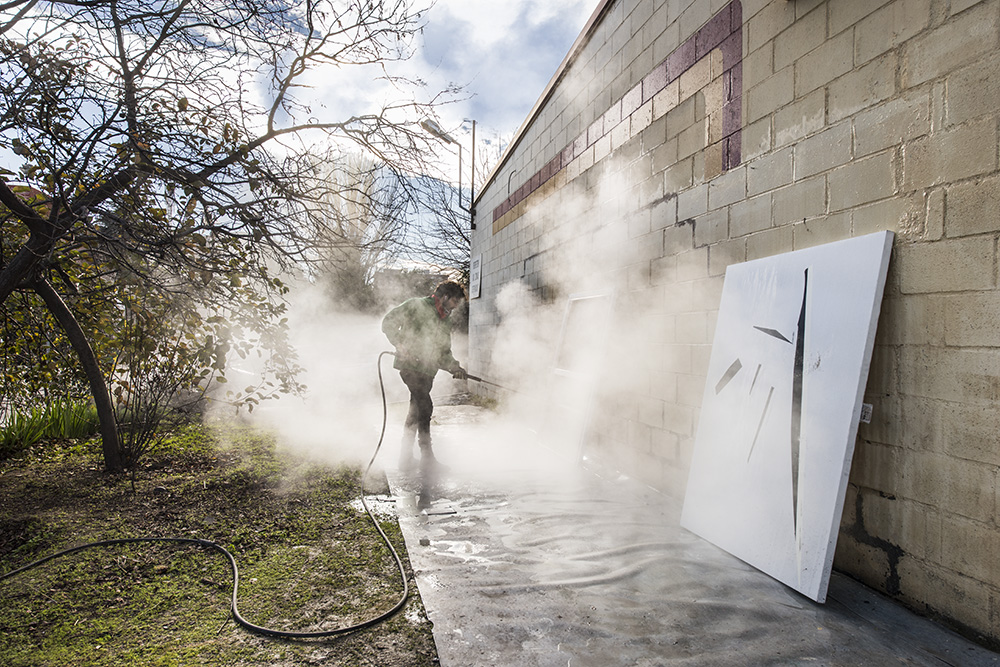 Sun is streaming through windows that stretch from floor to ceiling—you'd never guess that it was winter. Or, given the serene atmosphere in the studio, that it was only weeks before the opening of a major exhibition of new work occupying both of  Victoria Miro's spaces in London. Hernández's day usually begins with him tending to a table of cacti, which bask in the sunlight like lazy kittens. You can feel balance in everything the artist does: his team, for example, is comprised of three men and three women. He works between a studio in the cold European north (Berlin, where he's lived on and off since 2007) and another in the warm European south (Madrid, his hometown). Harmony spreads to every aspect of his work, from the exchanges that take place between the different paintings, to the relationship between them and the architecture that surrounds them. There's also the dyadic nature of the works themselves, where Hernández strives endlessly to find the sweet spot between exertion and ease. "When I do an exhibition I like to know the room and space, and then to find my own rhythm within it," he tells me. This will be his second exhibition with Victoria Miro, but his first at the gallery's more intimate Mayfair space.
On one side of the studio, a number of his palette paintings are in progress, lying on their backs. These are the works he is perhaps best known for: huge, heavy things, their surfaces made of craters of colour, created by adding paint from palettes used in the studio. In their scooped-out layers there are swirls that look thick and soft enough to make you salivate. "I always say they're very generous because they share the paint used to create all the other works. They're part of the ecosystem of everyday life in the studio," Hernández explains with obvious affection for them. "They're a memory of the process. I started to include the process in the surface of the canvas—cleaning my brushes, mixing and checking the colours—so it was a sort of brutal honesty. I wanted to show everything that was happening every day on the canvas."
Contrasting with the chunky potholes and Play-Doh colours of the palette paintings, on the other side of the studio lie incredibly restrained linen canvases—ultra-fine sculptures on canvas with muted, neutral palettes, made by applying a layer of a special primer that Hernández then pulls back while it's wet, an attempt to "paint without painting", as the artist puts it. Though he uses similar gestures to create both types of work, the results are totally opposite—but they complete each other, the protruding craters calling to the absent moons, the "desconchones", the flaked, peeled-away parts of the primer paintings. "I wanted to give the impression that they are done alla prima—that they are very spontaneous."Their surfaces, scratched and almost emphatically raw, do indeed seem to be the result of some kind of fast, emotionally charged exchange with the material. "Everything looks very easy, but it's all very planned. If you look closely at my work every detail is very much under control."
These two bodies of work coexist so well that it's a surprise that Hernández has decided, after a decade dedicated to abstraction, to go back to figurative painting. It's a major turn in the artist's practice—but one that, again, he seems very comfortable with. "To represent a figure now for me is like looking at someone for the first time, it's something very strong and radical in a way." Moving from an abstract language to create figurative paintings—something Hernández steered away from after 2008—has opened his mind to many new possibilities. "I decided I wanted to do something figurative, but then there's the question of what to do. In abstract painting everything is possible, there's no limit, but in figurative painting people need to recognize certain elements."
The works in question are a series of "invented portraits", people who have come to life through the paintings. Although they're not finished when I see them (Hernández has, he tells me, been working on them for a year already), they're a proof of his painterly finesse, a demonstration of the paradoxical way he's able to control a free line: using a tube to apply paint directly to the canvas, the portraits' lines are nibbled, so that they look like ink rather than paint. Hernández then sets about them with a washer—a similar process used on some of his larger works—buffing them in the same way graffiti is erased from a city wall. In fact, they recall graffiti, an urban palimpsest; others look as if they've been etched, rubbed or woodblock-printed. Stripping away at the figures in this way contributes graphic elements that Hernández likes. 
In reintroducing the figurative, there's the chance for Hernández to recentre himself artistically. "I want to balance my abstract world with a different world," he explains. Against the massive, performative works, a primordial display of physical stamina, aggressive and masculine like action paintings, these diminutive paintings of his "real" imaginary friends represent a leap into a completely different way of thinking. Making them, he says, "I feel more risk and more fun."
One of the things that makes Hernández so remarkable is the fact he has developed specific techniques for each body of work he does. But he doesn't see himself as an Abstract Expressionist. "I don't want to be considered a process painter, I don't care so much about process, and I was never keen on those artists—but more and more I realize the process is important in my work," he says candidly. It's been said that Hernández paints about painting. Does that make him a painter's painter? "I think I'm very much a painter's painter. I've always followed painters who paint for painters, people who weren't known or recognized in their own time but then show up as an incredible influence." Painting also teaches Hernández how to live. While the figurative works were a challenge to make him recalibrate his thinking and approach, his primer white paintings were an "exercise in learning to accept things; just the concept of accident, or freedom, not controlling".
I wonder how someone who seems so grounded was attracted to abstract painting in the first place. Hernández is much too down to earth to be an abstract painter, I suggest. "Abstraction sometimes maybe needs to be explained, and people like to ask very stupid or very clever questions about it. But maybe moving to the figurative world is a way to unconsciously escape all these theoretical questions.
"Once someone came to my studio, and I had five works there, and he asked me: What is this? What are you doing here? And I said I'm a painter, and he said: ok, so where are the paintings? He couldn't see the paintings, he couldn't see what I had done as artworks, you know. Those works demand to be explained, but no one is going to ask me questions about the figurative works, and that's great!"
Hernández has made works directly responding to his Spanish heritage in painting, but he doesn't want to be held back by the past. "I always thought art should be about the contemporary and we should burn all the museums because we don't understand anything about what was happening in the past. People think real painting is the painting done by Velázquez and what you're doing is crap because they think we can't paint that way, but I think art should only be important from two generations before yours." He gives the example of Bruce Nauman—an artist he says he loves, but who he also believes he can't fully understand due to their differences in time and place.
So how does he see the role of painting today? "It's impossible to isolate yourself from what's going on around you, your context, your environment, your education. I live my life, I'm a painter, and just being a painter is a position. To decide to be a painter is in itself quite political and quite radical. It's impossible to come to the studio without all these things in your mind, but it's not my intention to be political."That's perhaps obvious from his works. He might respond to a lineage of very political Spanish painters, but what he takes from the masters are tiny details that most people would overlook. El Greco, for example, used the corners of his canvas to wipe his brushes clean—something that Hernández takes and blows up hugely in scale in his palette paintings. I spot another palette painting that suddenly connects with Goya, in which
Hernández seems to have squeezed all the flesh, guts and blood out of the portraits and into his own work. But there is none of the darkness of Goya, only the bones. "I would never point to something I don't like, I would always point to beauty. Art to me is an idea of the world. Why should it be dark and ugly? My biggest aspiration would be just to do my own thing and let people recognize it, and then they can experience my vision. But if that doesn't happen that's OK. I don't want to be pretentious or to change the world. It would be great if I could do it, but I can't."
Finding a balance in art, as in life, isn't easy. It requires an intense amount of study and patience. Hernández has relentlessly researched the holy trinity of painting: line, composition and colour. What he seems to appreciate about painting is that it is meditative and can't be rushed: "Painting is low-profile. It's a slow occupation, which I like. Everything is happening very fast every day, but just to come to the studio calms me down." And he keeps a low profile too. It's the kind of quiet, single-minded dedication that is more associated with Eastern practices. His monochrome works, for example, have the sensibility of Korean Tansaekhwa paintings; they're subtle but irreducible, uplifting. In every part of his practice, Hernández shows us how delicate—and how rare—balance is. This is what makes his vision so special: he gives us harmony in its essence. That's something that can't often be found out in the world.
'Paso' runs at Victoria Miro, London, from 1 April to 6 May