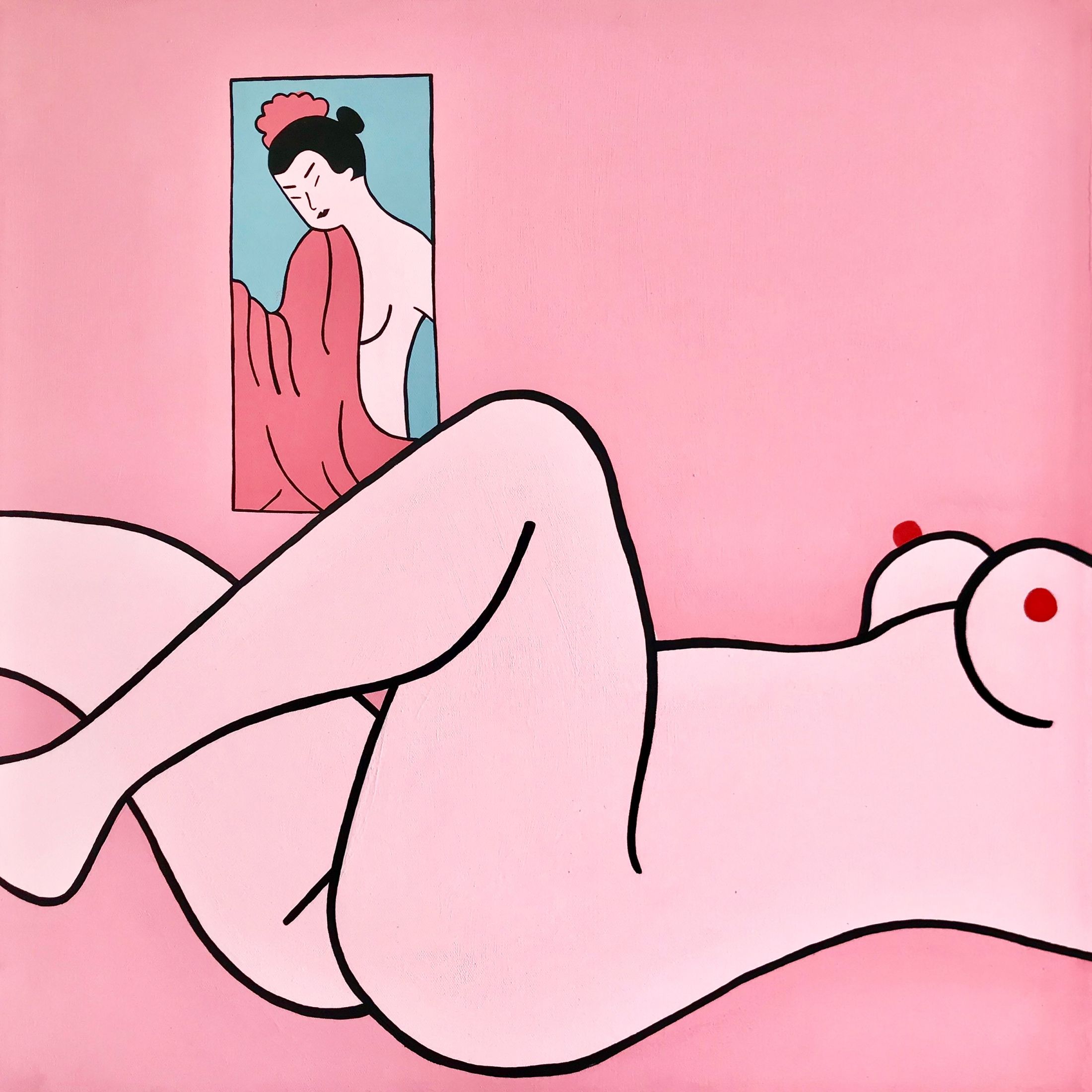 Based in Bushwick, Brooklyn, Alberto Pazzi is a Mexican-born painter with a penchant for pink and a deliciously infectious sense of joie de vivre that crackles down our phone line as vividly as the bright tones and bold lines that characterise his work. Naturally, things are never truly rosy; and his works use a campy pop art-inspired flatness and bold palette to explore the fundamental realities of being human: unrequited love, loneliness, desire, melancholia and all the spaces in between. His latest exhibition, There Are No Edges, Only Places Where Things Meet, presents nineteen acrylic paintings on canvas. They offer snapshots of the artist's experience of finding his close-knit community in New York. "I love this city so much," he said, emphatically, when we caught up over the phone this January. 
Your paintings seem to use a recurring set of sort of stock characters, including one with a particularly interesting backstory. Can you tell me more about them?
The things I paint are very universal, like the female body, clowns, ghosts… we've all felt like a clown or a ghost at one time or another. In my recent work I've used them almost like self-portraits; but the image of a clown, or a ghost drinking on its own in a bar… these are universal feelings that strike you even if you don't speak the same language or whether or not you've had the same experiences—everyone can relate to them in a way.
Obviously with the images of women I can't know how it feels to be a woman but I have a sense of empathy. In one piece there's a woman leaning down, a waitress coming home after work who is so happy to take her shoes off, which everyone can relate to. Most of my recent pieces are in the same frequency, playing with human emotions, the illusions of romance and the idea of solitude. They're not hard to understand: to me, if I have to explain them then I've failed as an artist. 
Paintings by Alberto Pazzi for the show There are no edges, only places where things meet
"To me, if I have to explain my work to people, then I've failed as an artist"
There's a pretty big, and weird, connection between you and clowns though….
Since I was a kid I've always been drawn to clowns. Then, in around 2017, this picture of me as a kid surfaced online, where I'm dressed as a clown in a family portrait photo, only everyone else looks so serious. I think I'm like six years old, but it just exploded the internet and went vial: people made t-shirts of it; websites and blogs interviewed me; it became a meme. I embraced it. It was cool: I Iove the idea of sad clowns and how we laugh at ourselves.
Humour is a big part of my work and has been ever since I started painting; comedy and music is what keeps me going honestly. Becoming a meme was the weirdest weeks of my life, honestly: someone from Buzzfeed contacted me and wanted to know everything about that picture. I think they thought the picture was recent and they wanted to interview the "kid", but I was twenty-nine years old by then—and suddenly it felt like everybody in the world saw that picture. I'd be bartending and have people pointing at me and laughing. It was overwhelming to a point: there's still not a single day someone doesn't send me the meme, but it's a hilarious picture. My family was like "what's going on?!" Luckily they have a great sense of humour, too.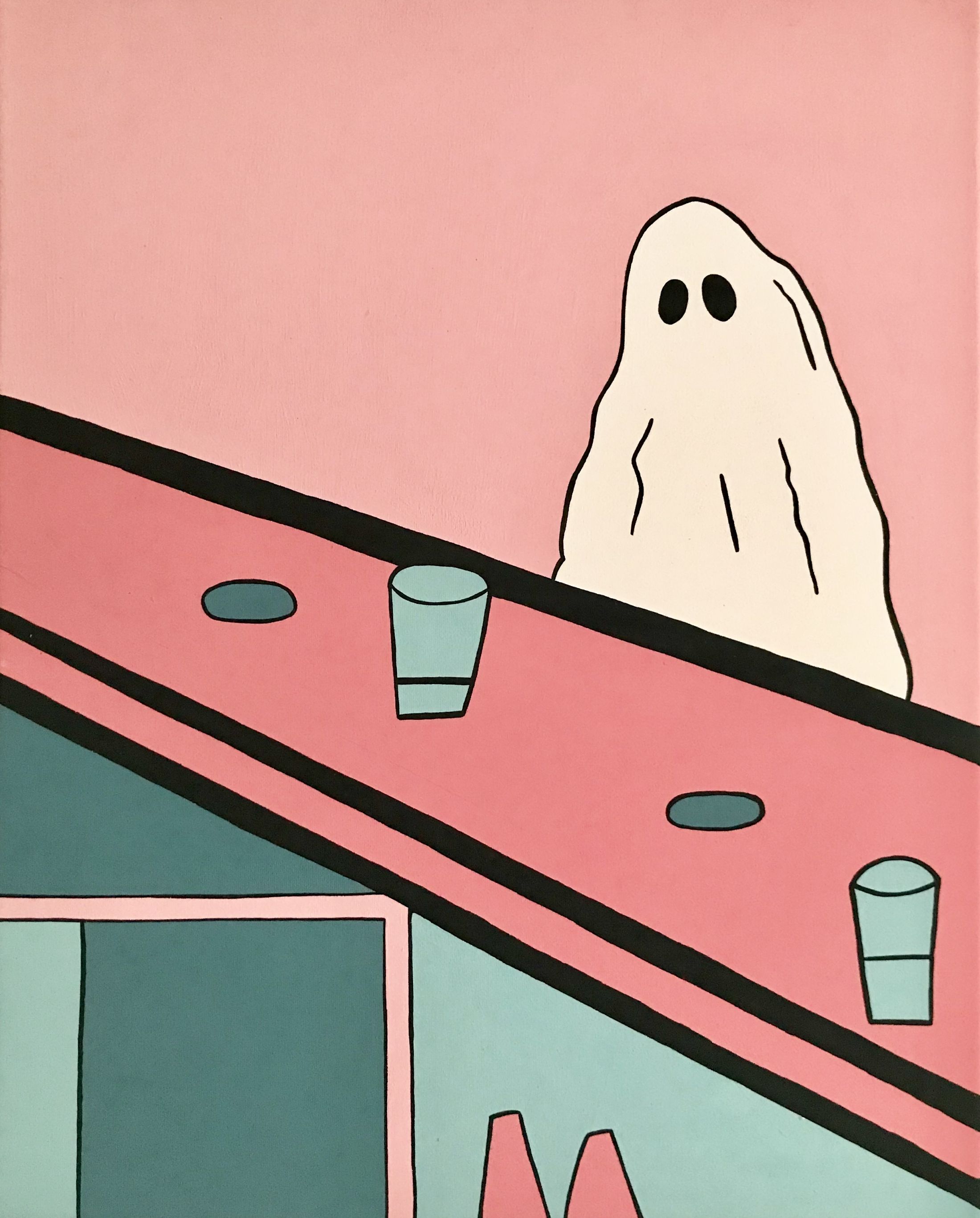 You named your latest exhibition, "There are no edges, only places where things meet" after a Gary McFarland record. Why did that quote resonate so strongly with you?
To be honest, I stumbled upon that record in a record store and the first hing that hit me was the quote. It's only in very tiny words and you have to look very closely at the sleeve to notice it find the beauty in it, but I felt really connected to it. To me, it feels like it's about reinventing yourself. Before I moved to New York I'd dropped out of graphic design school in Mexico because I wasn't satisfied with the programme. I had no passion for branding and logos, and I soon realised I wasn't a designer, I was a painter.
Alberto Pazzi's studio. Photo by Michelle LoBianco
You created all nineteen new works for the recent show in just one month. Why did you set yourself such an ambitious task?

I've never had to work that hard before in such a short space of time, but I like working under pressure. Also, I'd had a show in July which almost sold out, then I realised I have a bunch of ideas laying around and I couldn't wait to make them. If you have that momentum you don't have to stop and sleep on them. I thought, why not end this decade with a bang and just do the show in December? Even though that didn't give me much time, I already had the sketches and just had to execute them. I also have some new ideas which might not be pink… my pink obsession started two years ago when I was in Staples and found this pink paper. Pink looks sort of sexy—even when you're just drawing in pen, on that cheap paper, the images have this elegance. Pink became the only colour I saw for like two years.
Why do you think you're drawn to painting over other mediums, particularly given that you started out as a graphic designer?
Graphic design gave me the tools to make money and showed me a way to do certain things, but it wasn't for me. I've been drawing and painting since when I was a kid; I have a bunch of films from high school and college but my favourite vehicle of expression is painting—it's the most satisfying process. I know a lot of artists who are very talented but they can't let go on a piece; but for me, if it's not working I just throw it away and start again.
"You have to see it as a profession and do it every day, otherwise you can't call yourself an artist"
One of the things I'm lucky with as a painter is that the medium only depends on me: any progress I make is through just having to sit and do it. You have to take art seriously; you have to see it as a profession and do it every day, otherwise you can't call yourself an artist.
I cut down my shifts as a bartender recently; I feel like if people see you making drinks five nights a week they won't see you as an "artist", and the only way an artist can make it in an expensive city like this is to have rich parents or another job as well. But it depends on how much you want it: I'm so proud of my community, they're incredibly creative but all have day jobs flipping burgers or whatever. What I love about working in a bar is anyone can walk in, and you don't know where that relationship is going to go.