There's likely a very long portmanteau term for it in German, but in English it's very hard to describe that sense of nostalgia and wistfulness for an era you never actually lived through, or truly experienced. As a person who doggedly still uses a Kangol wallet I got for Christmas in 1998, and delights in hearing liberal use of the word "snogging", the 90s feels so familiar. After all, there aren't many things that make you feel as old as realising the stuff you wore two decades ago is very much back in fashion, and then, so suddenly, back out again.
Many have come to fetishise the 90s today as a heady era of bonkers television a la TFI Friday, "ladettes", Blur vs Oasis, waving a cheery goodbye to the grey old Tories, and bellowing a coked-up greeting to New Labour with all the hope it symbolised. Bathed in the optimism of the 1989 "second summer of love", things must have felt very rosy indeed. And from my little inflatable chair, gazing at the 90s from the carefree periscope of childhood buoyancy, it did indeed seem rosy.
Salford, Amelia Troubridge (left); Tony Wilson, staning where The Hacienda once stood, Amelia Troubridge (centre); Warehouse party, Amelia Troubridge (right)
"For many born towards the end of the 1980s, it can feel like we had all that culture right at our fingertips—we lived those experiences vicariously"
What with being so young, I didn't experience the "real" 90s—the raves, and the voting, and the being old enough to blow loads of money on phoning Noels House Party to play "Grab a Grand". But for many people like me, born towards the end of the 1980s, it can feel like we had all that culture right at our fingertips—we lived those experiences vicariously—and that's largely thanks to films like 24 Hour Party People.
For the uninitiated, the film traces Manchester's dance music heritage from the late 1970s to the 90s through its central character Tony Wilson, the former television presenter who went on to found the legendary Factory Records label (which released the likes of Joy Division and the Happy Mondays). Wilson was also behind The Hacienda, a nightclub that grew to be as famed as the likes of Studio 54 before it, thanks largely to his knack for spotting incendiary musical talent before most others.
London-based photographer Amelia Troubridge documented the Manchester Hacienda music scene as it happened. In 1997, she was commissioned by Esquire magazine to document Manchester's music culture, and get to know the blokes (for they were, it seems, mostly blokes) who were making the city's music, heading up its clubs and managing its frequently debauched stars.
When director Michael Winterbottom was shooting 24 Hour Party People four years later, she was called back to document the making of the film that went inside the making of Manchester. The pair have had a fruitful working collaboration over the years: Troubridge shot specials and poster campaigns for his 1999 film Wonderland, and went on to do the same for A Cock and Bull Story (2006), The Look of Love (2013) and The Face of an Angel (2014). Nearly two decades on, Café Royal Books is publishing a stunning new volume, comprising her images from the 90s and those from the 24 Hour Party People film set.
Peter Hook from New Order, Amelia Troubridge (left); From 24 Hour Party People, Amelia Troubridge (right)
Among the famous faces unflinchingly immortalised by her lens were Tony Wilson himself, Happy Mondays stars Shaun Ryder and Bez, indefatigable TV twerp Terry Christian, Hacienda DJ Dave Haslam, manager of Simply Red Eliot Rashman (lucky guy), New Order's Stephen Morris and Peter Hook, and Steve Coogan (he of Alan Partridge fame) who played Wilson in 24 Hour Party People. 
Often though, it's not the images of famous faces that are most telling and touching in the book, which is simply titled Manchester 1997-2001. There are countless stories to be found in the creases of a sad, creamy leather chair, before we even see the creases on the face of the man who's sitting on it. What is left unseen allows the casual viewer to see the scene shot by Troubridge all the more clearly.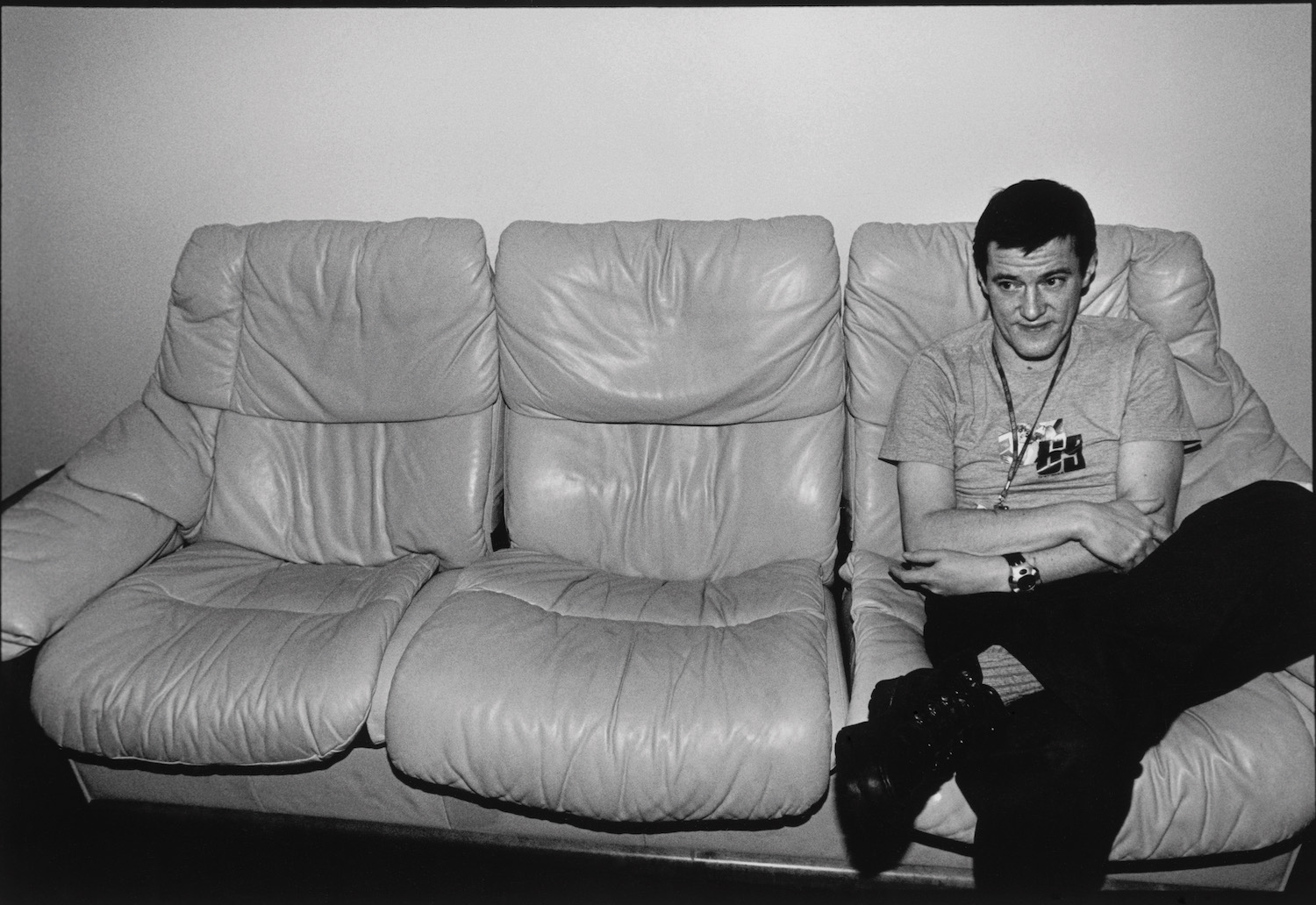 "Shot in moody black and white, a certain weightiness is bestowed on club photos that today are usually treated with mega saturation"
It is the same, too, with her exterior shots, which often appear to have been snapped in such kinetic fury as to feel like fleeting glimpses of a truly bygone era. The picture of dear old Woolworths, purveyor of "pick 'n' mix" sweets and one-hit-wonder CD singles to the youth of Britain, until it closed its doors in 2008, feels particularly poignant.
Troubridge's work in this volume is shot in moody black and white, bestowing a certain weightiness on club photos that today are usually treated with mega saturation and intense flashbulbs (or at least in the post-Vice magazine school of party photography). However, you still see this sense of debauchery and vibrancy in the shadows: for all the gravity of monochrome, there's largely a beautiful lack of seriousness. They capture everything a good night should be—wild, carefree, a little over the top, joyful, but with a wry sense of self-awareness. These kind of partygoers—real, cinematic or otherwise—seem to have long been privy the darker side of the "scene", and because of that, can now lose themselves to its laser beam lights all the more furiously.
Dave Haslam, Amelia Troubridge
The Hacienda, on set for 24 Hour Party People, Amelia Troubridge