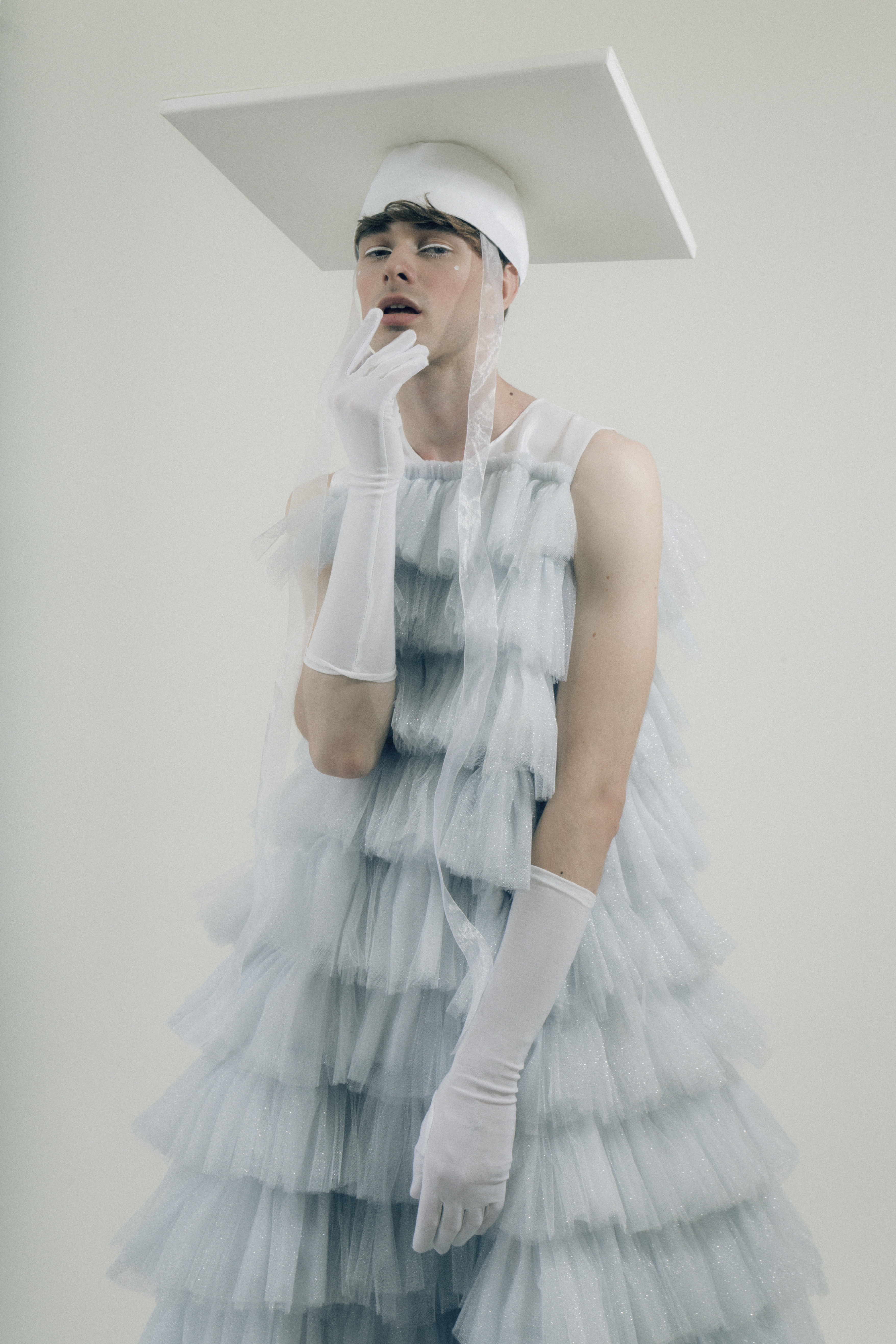 What do men's clothes have to say about masculinity? Is what a man chooses to wear really an expression of his identity and of the values he holds dear, for all the word to see? And what are we to make of the glaring disparity between what we see in the street—sober suits and ties, the unchallenged uniform of executives and office workers alongside a safe normcore of denim and hoodies—and the fevered multi-coloured dreams staged on the catwalks of high-fashion menswear?
Do you remember when Madonna's male dancers popped out of the incubator of designer fashion, sporting conical bras designed by Jean-Paul Gaultier? We had never seen anything like it. Since then, non-normative, subversive menswear has blossomed, its searing energy pouring itself, like some deities, into many different incarnations. In Britain, Bobby Abley sent muscular models down the catwalk in tight tank tops and pink ra-ra miniskirts and Liam Hodges's "expressive polysyllabic masculinity" is enriched with influences drawn from all subcultures. Grace Wales Bonner imagines long-haired Afro-Eastern global travellers while JW Anderson, who creates collections for men and women with a strong overlap, made the news with halternecks and ruffled shorts for men. There are also the gender-bending creations of Madrid-based Alejandro Gómez Palomo, the enigmatic mask-like "hyper-fashion" of Belgian designer Walter van Beirendonck, whose clothes will wear you, and, in Italy, the astonishing fairy-tale menswear of Alessandro Trincone: babydoll dresses, transparent billowing tulle, trains and plumes.
"Is what a man chooses to wear really an expression of his identity and of the values he holds dear, for all the word to see?"
Alessandro Trincone, Avvolgimi: SS19
How meaningful is this? By choosing softness, prettiness, transparent fabrics that display the body, like Trincone, or the sort of clothing that engulfs it, like Van Beirendonck, are the most innovative menswear designers taking a stance against a more traditional, tailored, unbending idea of masculinity and refusing point blank to align themselves with it? It is true that the majority of men continue to dress along traditional lines, whether because their workplace dictates it or out of a sense of cautiousness or conformity, and also, certainly, because high fashion is financially inaccessible to many, but the existence—on the catwalk and in magazines—of a parallel universe where men may dress as they please and break every rule of masculinity allows a heady rush of oxygen into an everyday reality shaped by the expectations that are placed on men—to be strong always, to provide, to be stoical—and where the sober suit and tie of the "properly dressed man" may at times feel as confining as the corsets and crinolines once imposed on women.
By softening and even erasing the edges of masculinity, creative men's fashion reminds us that there are myriad ways of dressing or undressing a male body. Ever the refuge of image rebels, from dandies to punks and glam-rockers, fashion, with its shimmering windows open onto alternative worlds, offers a welcome escape from current narratives of toxic masculinity. We can look away from ugliness and feast our eyes on beauty, frivolity and play. For, especially usefully in an era that is so preoccupied with nuances of gender performance and fluidity, fashion also reminds us repeatedly, in the lightest of tones, that all fashion is drag.
"What better in fact than a woman's body to re-motivate the masculine suit, taking it away from toxic, oppressive boardroom associations?"
Yes, even your common or garden conservative power suit. The Spring-Summer 2019 issue of magazine The Gentlewoman features a fashion story entitled "Power Line": a selection of stunningly elegant tailored masculine-style suits modelled by "handsome Swiss supermodel Veronika Kunz". What better in fact than a woman's body to re-motivate the masculine suit, taking it away from toxic, oppressive boardroom associations? Does it take an outsider, an "other", to evoke the sensual allure of traditional menswear? "There was a jacket and trousers of bone-coloured linen, and a waistcoat, slightly darker, with a silken back. These came wrapped together in a box lined with velvet; in a separate package I found three piqué shirts, each a shade lighter then the one before it, and each so fine and closely woven it shone like satin, or like the surface of a pearl… There was a necktie and a cravat of an amber-coloured, watered silk; they gleamed and rippled as I drew them from their tissue, and slithered from my fingers to the floor like snakes." Thus speaks the heroine of Sarah Waters's Tipping the Velvet (1998), a Victorian male impersonator. More recently, the video of Christine and the Queens's song "5 Dollars" shows the androgynous singer revelling in butch codes while getting dressed, picking each item from a well-stocked masculine wardrobe—though she does wear a fetish harness under her tailored shirt. In the words of designer Antonio Berardi, "Tailoring is power. A woman in a man's suit is the embodiment of authority, of control, of strength."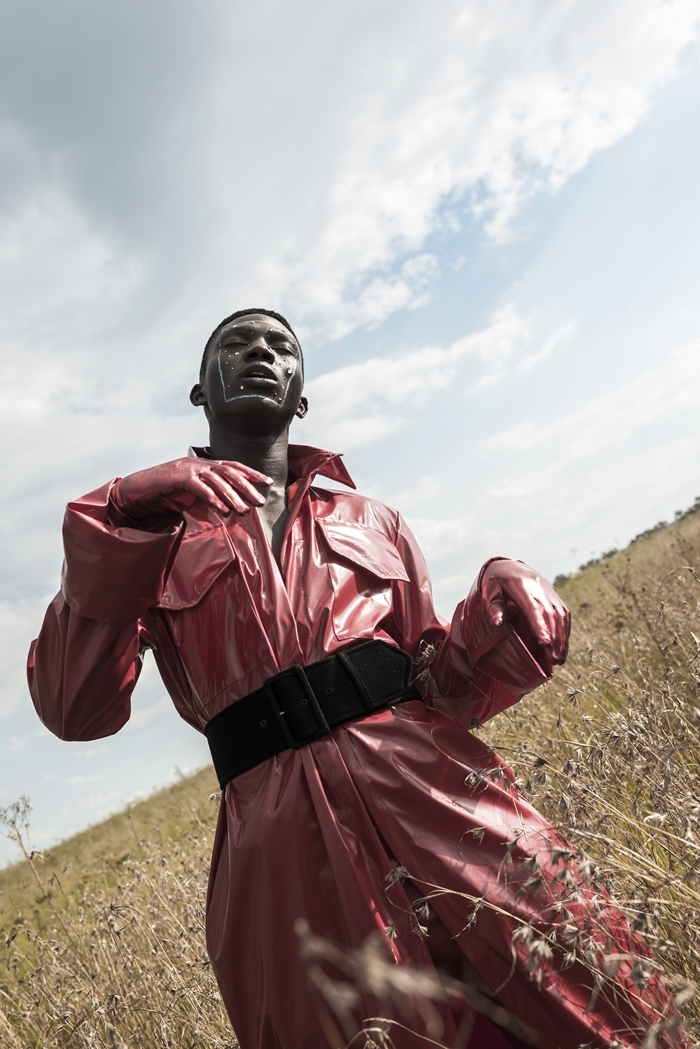 Fashion has long been political and associated with power: for many centuries the way men dressed was codified—with strict limits—in terms of their ranking in the social hierarchy. In the seventeenth century, those men who stepped out in exuberant outfits of velvet and lace finished off with hats trimmed with ostrich feathers and beribboned, red-heeled shoes were displaying attributes of power. The French Revolution brought about radical change and the beginnings of more egalitarian male dressing. Nowadays male fashion pursues other avenues of change. Of particular interest is the emerging group of young African menswear designers, among them Nao Sarati and Rich Mnisi, who are fore-runners of non-binary and gender-fluid identities on a continent where queerness remains an illegal and harshly punishable offence in numerous countries.
Nao Serati, Blossom AW:18
Is fashion in the process of defining the masculinity or masculinities of the future? Yes, probably. To see the actor Billy Porter walk the red carpet at the Oscars in a tuxedo ballgown, "a walking piece of political art", gives a measure of what has changed, but when might those Hollywood dreams become true for the mainstream? Charting menswear trends for Autumn-Winter 2019, British GQ flags up leopard print, neon and "mirts"—skirts for men—and though some Dusty Springfield-style miniskirts (from Charles Jeffrey) are deemed a bit "full on", Iceberg's streetwear-inspired patchwork kilts are considered "wearable", though in cautious tones. Influential designer Joe Caseley-Hayford (who died this year) said: "We want to challenge our customer, but we don't want to freak him out. So every season, I'm asking myself—can we do a skirt? Will he understand? We're almost there. But, you know, not quite yet." But soon?