What We Learned This Week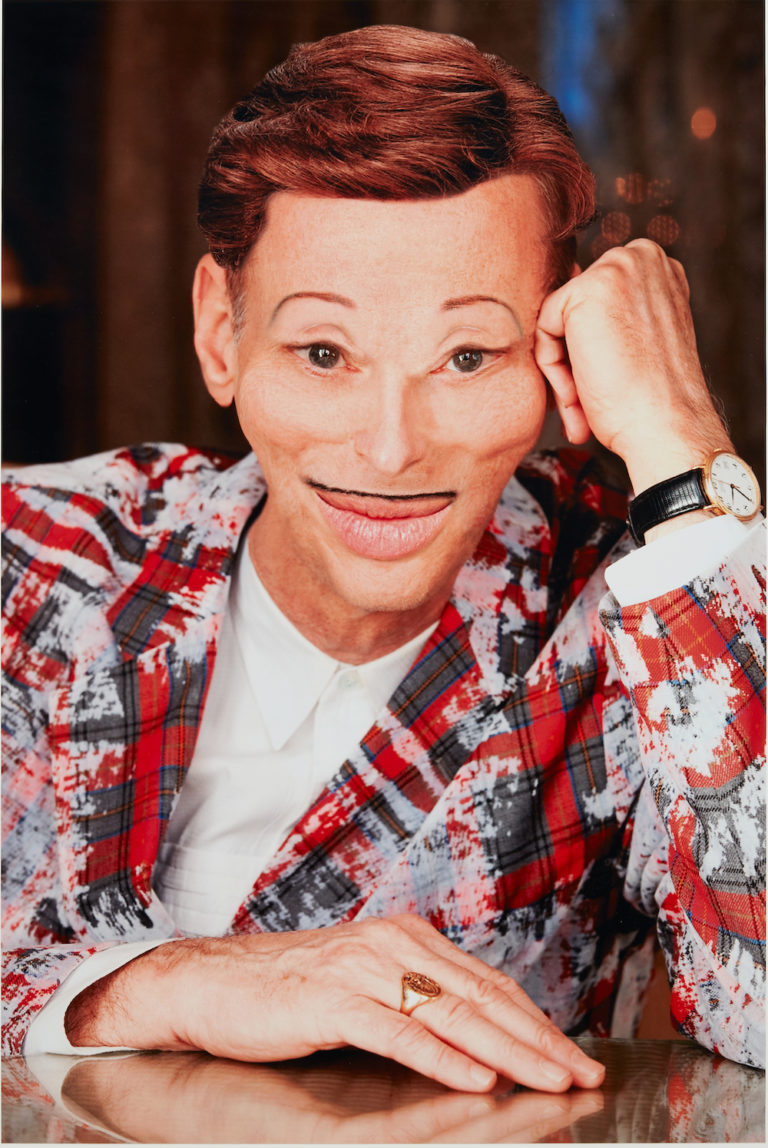 Director John Waters—often dubbed the "King of Bad Taste" or the "Pope of Trash"—and the man who brought the inimitable Divine into our consciousness, is showing his visual artwork in a retrospective, Indecent Exposure. The show is on view at the Baltimore Museum of Art until 6 January, and the exhibition features 160 works, including mock-ups of tabloid newspapers, vintage pornographic paperbacks, various artefacts and sculptures, such as those depicting Michael Jackson as a baby, Tina Turner as a puppet and Justin Bieber with an over-enthusiastic application of Botox. According to the Guardian, much of Waters's work is influenced by 1990s conceptualists Mike Kelley and Fischli & Weiss. "Waters' renegade humour deployed through his works reveals the ways that mass media and celebrity embody cultural attitudes, moral codes, and shared tragedy," says the gallery. "Other themes explored include artist's childhood and identity, a satirical consideration of the contemporary art world, and the transgressive power of images."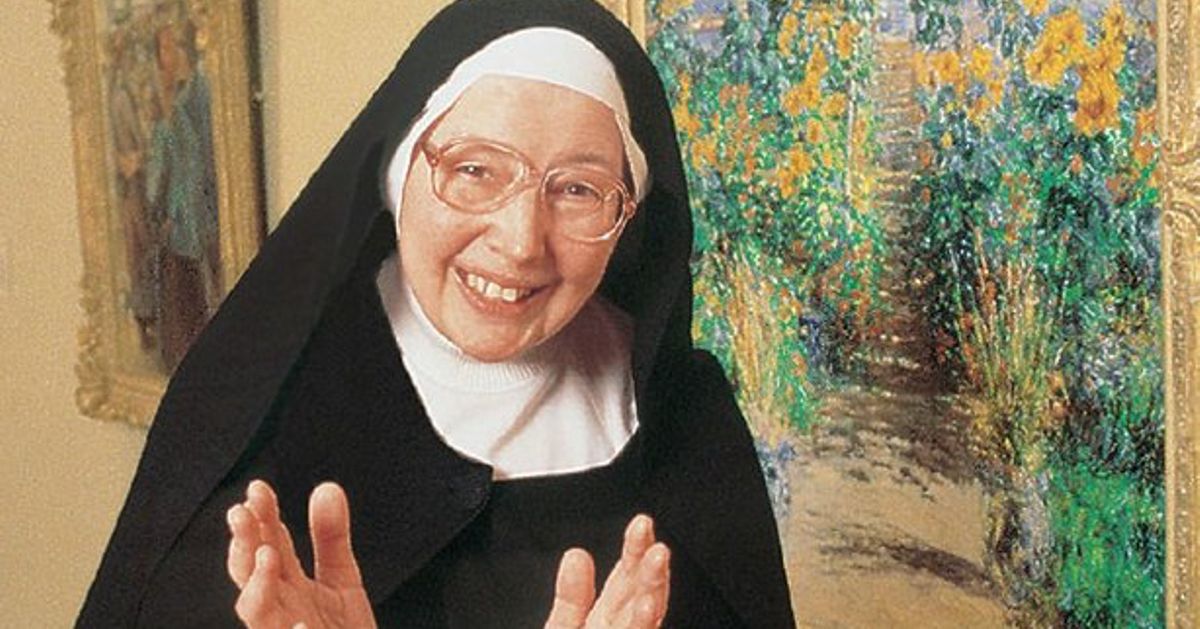 TV art historian and nun Sister Wendy Beckett has died aged eighty-eight, it was announced on 28 December. Sister Wendy began her TV career in 1991 when the BBC commissioned her to present a television documentary on the National Gallery in London; having formerly been based at a Carmelite monastery in Norfolk. Her on-screen style was unusual in that she spoke without a script or autocue, and BBC director of arts Jonty Claypole described her as having "a unique presentation style, a deep knowledge of and passion for the arts".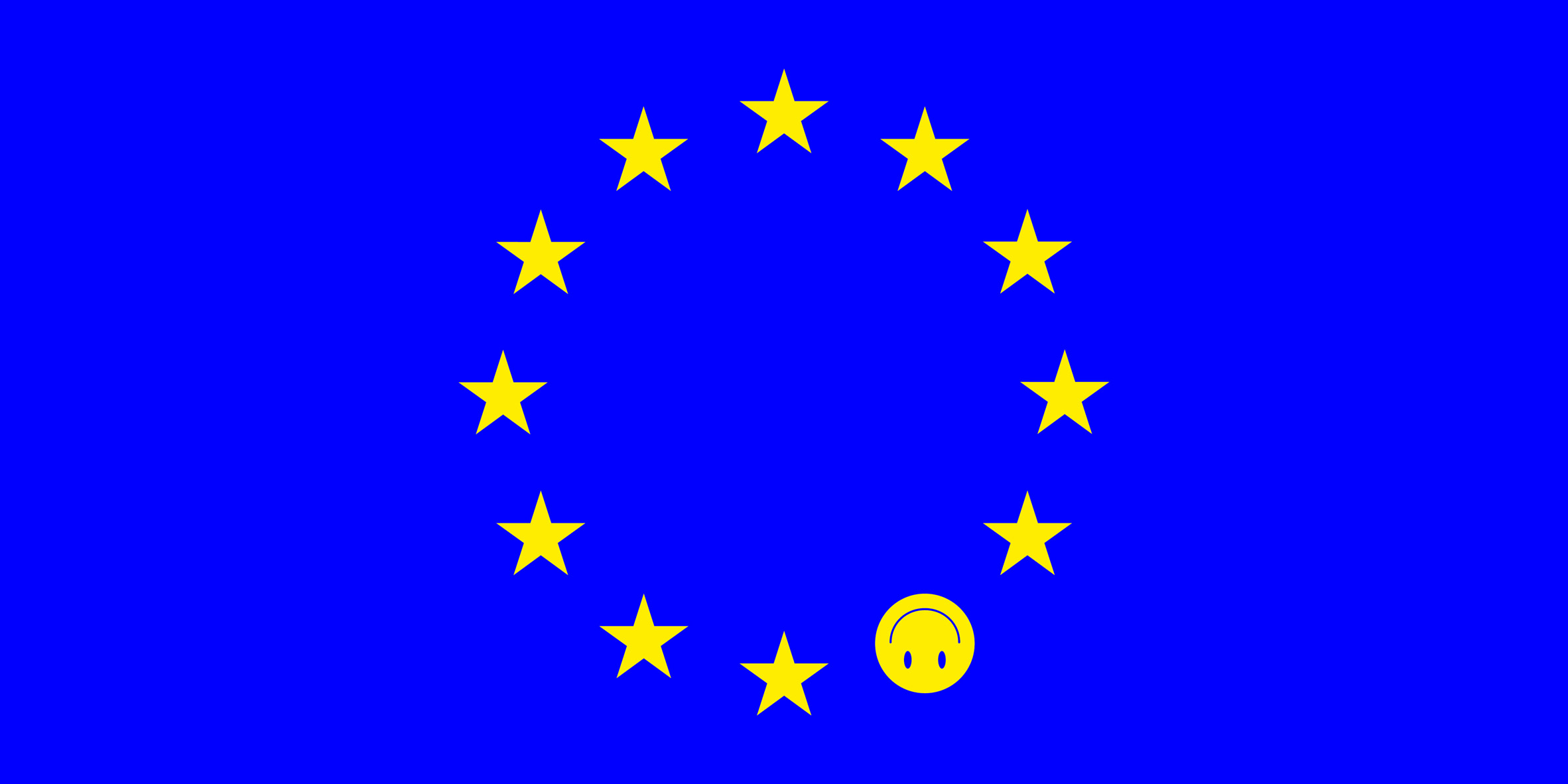 Artist and designer Yuri Suzuki has released an anti-Brexit acid house record, succinctly entitled Acid Brexit. The three-track record (which you can listen to here) saw Suzuki work with Luke Powell and his brother Jody Hudson-Powell. The trio recently became colleagues of sorts when Suzuki joined design consultancy Pentagram as a partner, where the brothers have also been partners since 2015. The record is pretty banging, and also sort of hilariously depressing (much of the opening track is based around the refrain "strong and stable leadership… my arse"). Suzuki was motivated to make the record as an immigrant to the UK "propelled by my frustration towards the anxiety and pressure placed on immigrants by government actions," he says. "This project is a tool for protest. The tracks are free to download, mash up, reuse, reissue—and everything else in between."
Tate will be acquiring four 1907 watercolours by women's rights campaigner Sylvia Pankhurst, which depict women working in mills and potteries. These are the first works by Pankhurst to enter the establishment's collection. Pankhurst, who originally trained at the Manchester Municipal School of Art and the Royal College of Art, used her paintings as a tool to highlight the fight for women's rights; and she went on to design badges, banners and flyers for the Women's Social and Political Union (WSPU), the group set up by her mother and sister in 1903. She gave up art in 1912 to dedicate herself fully to the suffrage campaign, and founded the East London Federation of Suffragettes to ensure that working-class women were represented in the fight for suffrage.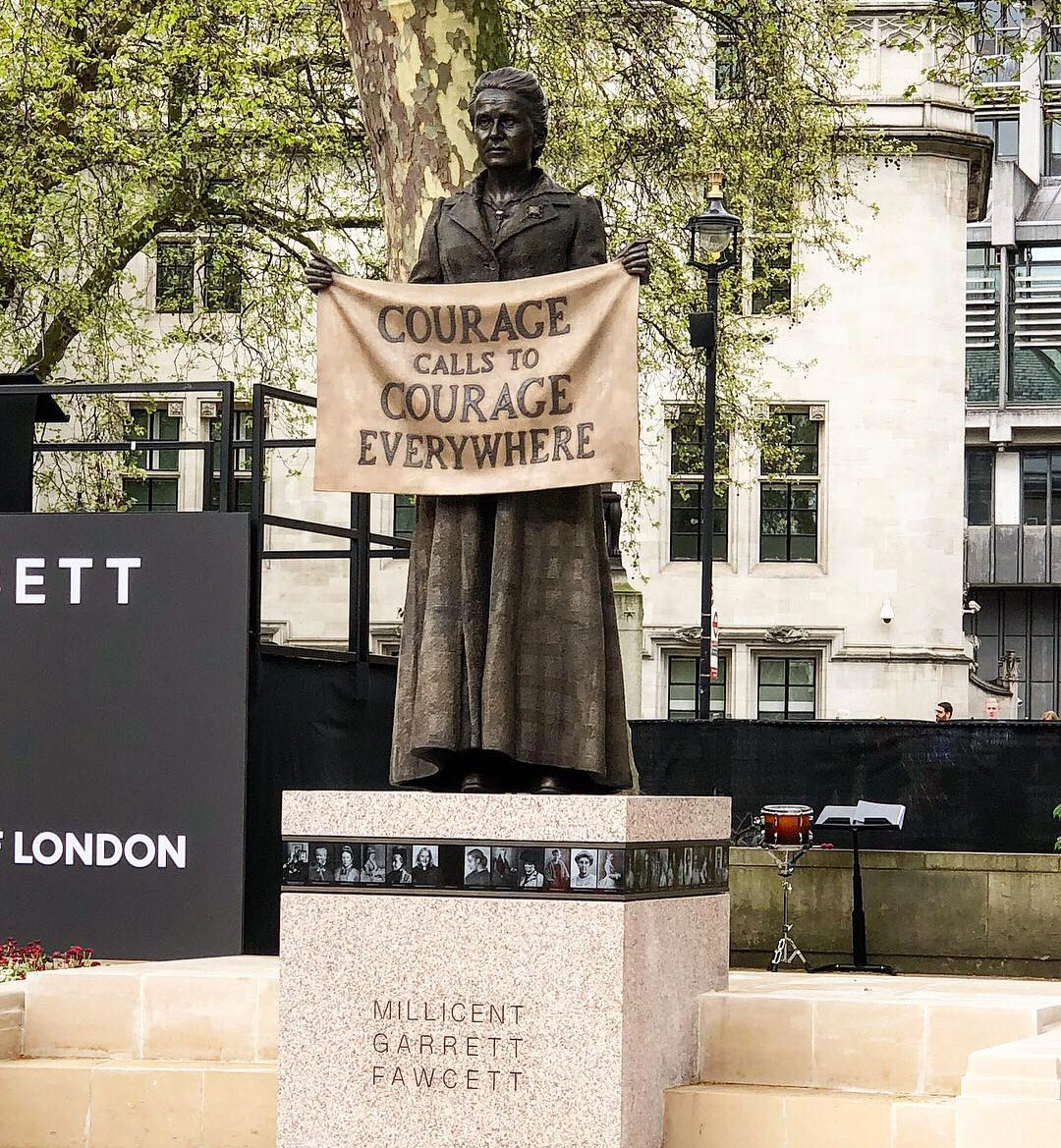 Artists Gillian Wearing, Tacita Dean and Yinka Shonibare were among those awarded a CBE (Commander of The British Empire) in the New Year's Honours list 2019. The list is compiled from names nominated by government officials, and those nominated by the public. Wearing and Dean had previously been awarded OBE titles (Order of the British Empire), while Shonibare has already been awarded an MBE. Among the others featured on the list's Services to the Arts strand were Sonya Boyce and Alison Wilding (OBE), and Andrea Nixon, former executive director of Tate Liverpool.
Quote of the Week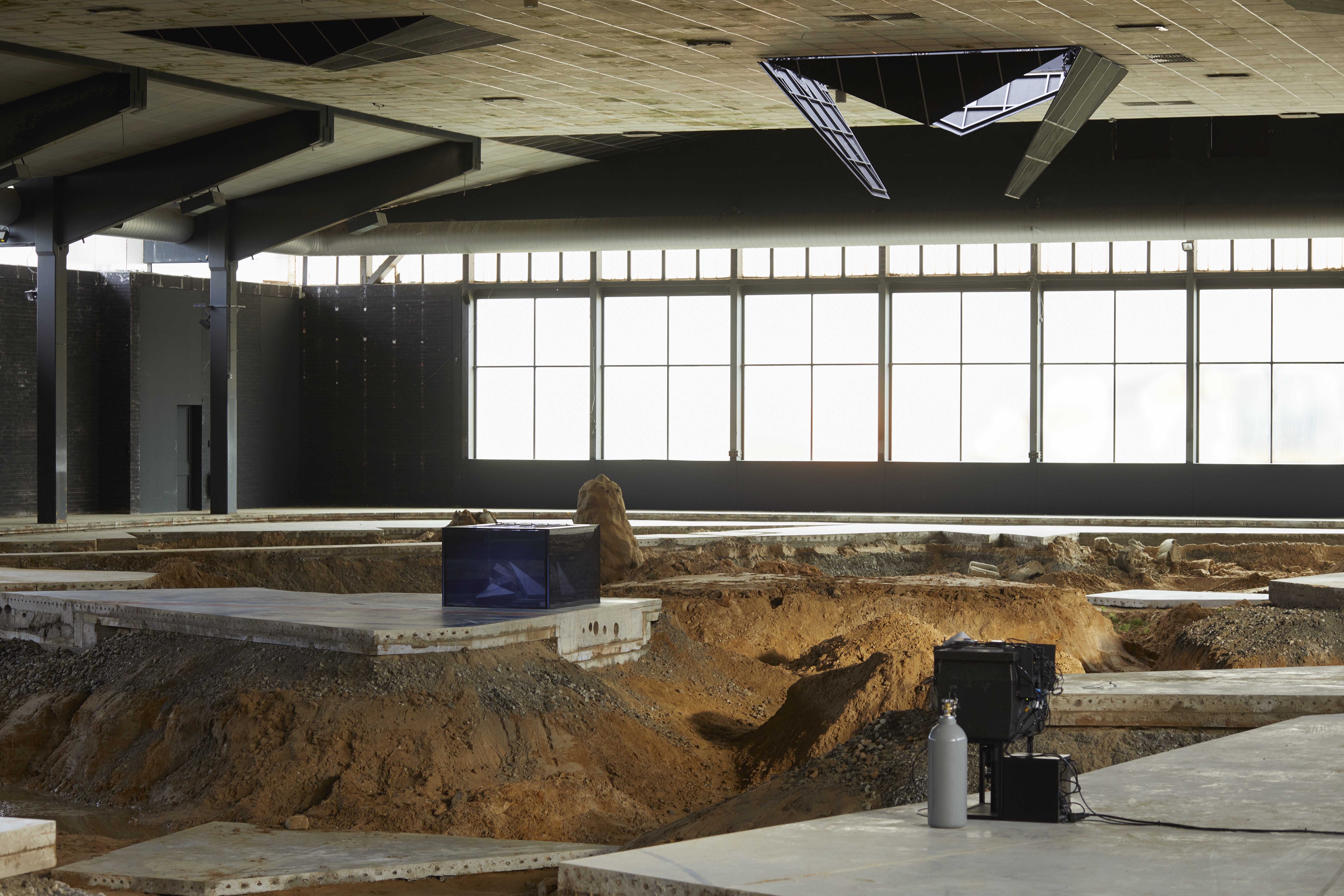 "Usually, in art, what is not a fixed, compact object is either classified as performance or installation. To install is to fix and performance is hysterical." 
—From our print archive, Pierre Huyghe speaks about his work which sits in a disused ice rink in Münster, complete with two peacocks, a working beehive and an incubator for cancer cells.
Exhibition of the Week
Aleksandra Mir presents the Pre-Presidential Library, 7 January to 7 February 2019, HENI Project Space, Hayward Gallery
Aleksandra Mir's Pre-Presidential Library will see tabloid covers relating to Donald Trump enlarged to almost two metres high. The thirty-two covers going on display were selected from eighty-seven the artist found in the news media archives of the New York Public Library, covering the period between 1986 and 2000. "The covers are dominated by stories about Trump's business dealings, political aspirations or personal life, while world news, such as the possibility of nuclear war with the Soviet Union, are often given a tiny fraction of this space," says the Hayward. A 1999 headline declares Trump's intention to run as Presidential candidate for the Democratic Party (!), which seems bonkers today. "The startling correlation between the past, present and future is not something I as an artist could ever create or predict. But as global events unfold, it is valuable to bring these blueprints to light," says Mir.
Instagram Account of the Week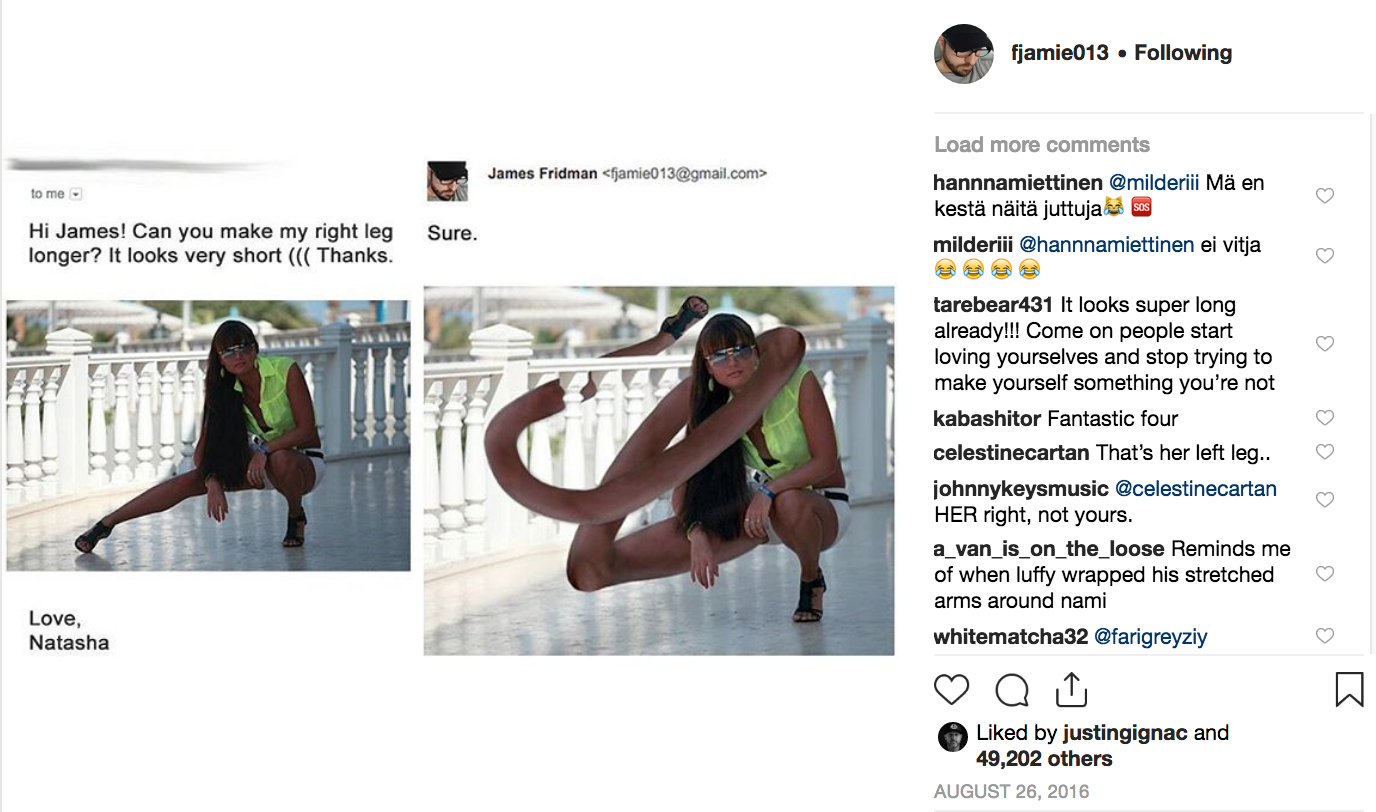 James Fridman is a comic genius; he's not bad with Photoshop either. Followers send images of themselves usually accompanied by a request to edit an element of their image and James manages to manipulate all requests into hilarious scenes. Quite honestly you may miss the birth of your first born child if you start looking through this feed. But don't worry, message James and he'll be able to edit you into a photo of the birth! Perhaps not in the way you'd hope though…