An art form that has lasted for centuries, puppetry holds a key place in the popular imagination. From emblems of vintage British TV such as Andy Pandy, Sooty and Sweep and the Flower Pot Men on through more recent favourites including Tilly, Tom and Tiny of Tots TV, Basil Brush and Nev the Bear, many of the best-known puppets have evolved into pop cultural icons. Characters such as Kermit the Frog have even become the regular subject of viral Twitter memes.
While these characters are often associated with childhood memories, the role of the puppet has never been limited to children's entertainment alone. Satirical parody of social rules and boundaries is characteristic of puppetry in ancient and modern performances alike. In the MTV show Crank Yankers (2002) puppets were used to reenact dirty prank calls, while Tony award-winning musical Avenue Q embraced themes of racism, homosexuality and internet pornography. A sharp counterpoint to high culture, puppetry typically uses humour to celebrate the dynamism and diversity of popular culture, offering both a reflection of and commentary on the society in which it performs.
"There is one important thing that puppets protect in history and still today: our right to critique our society," explains New York-based artist and performer Candan Seda Balaban. Following a move from designing masks and portrait marionettes to puppeteering and acting, Balaban notes the social importance of the puppet tradition: "I could say that they are the jesters of the performance arts."
Egyptian-born artist Wael Shawky has long used puppets in his work to explore religious conflict in the Middle Ages, tackling difficult questions of national, religious and artistic identity. Using both 200-year-old marionettes (which the artist repurposed from a basement in Italy) and custom-made ceramic figures, Shawky's puppet-led films provide a historical account of the Crusades that sets out to critique traditional narratives. The artist has stated that the puppets' strings are intended to evoke the idea of control, and are chosen for their endearing, naive quality. "You can see yourself, project yourself, on a marionette in a way that you can't with a professional actor," he suggests.
"There is one important thing that puppets protect: our right to critique our society"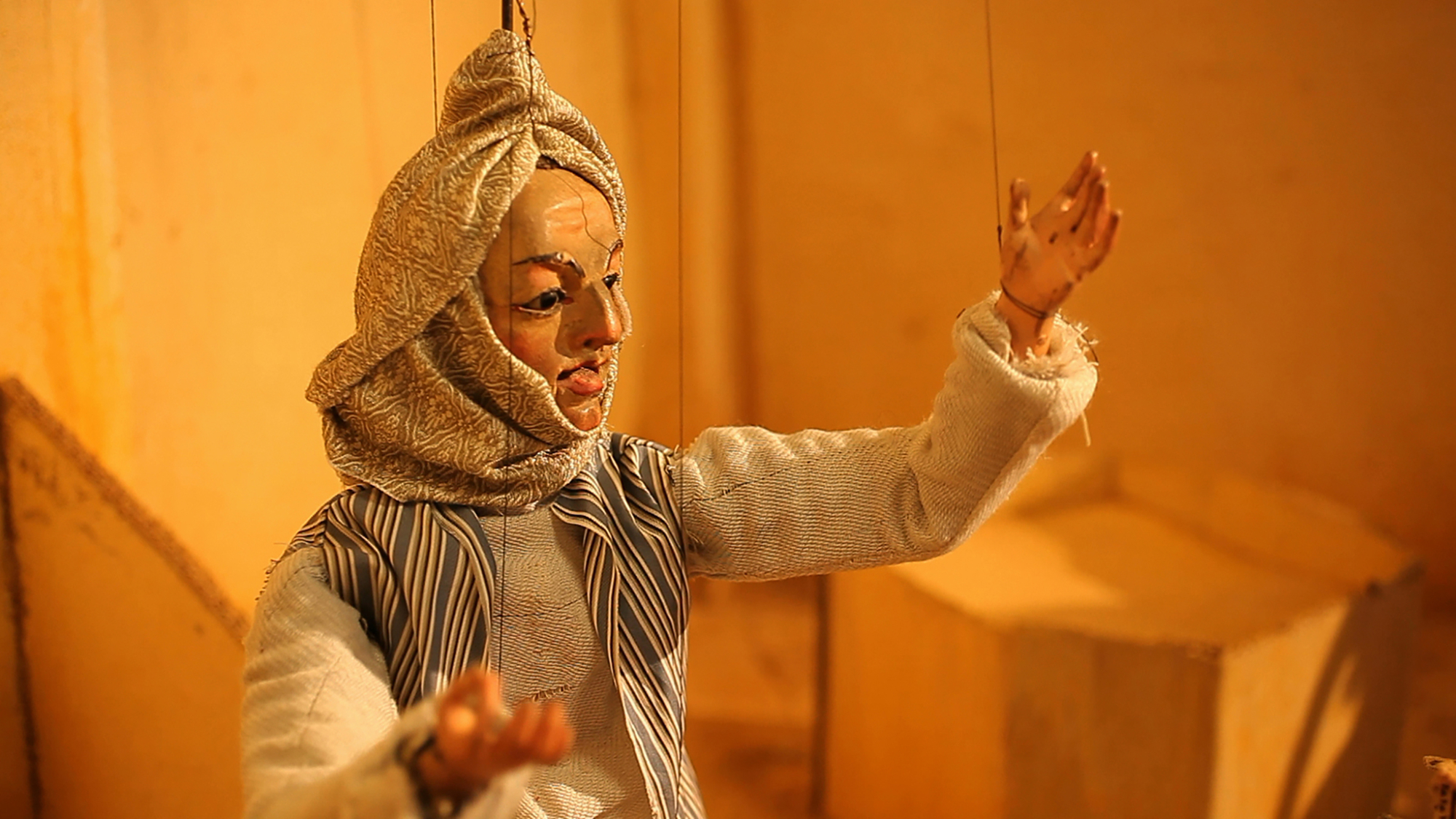 Puppets can be traced through a long lineage back to Ancient Greece and Egypt. During the Middle Ages they served as a means of illustrating stories from the Bible with added legends, tales of chivalry and historic sagas. Impish, wily and provocative, 16th and 17th-century itinerant theatre shows typically drew inspiration from local current affairs. Italy's Pulcinella, France's Polichinelle, Russia's Petrushka and England's Mr Punch all have their respective places in the puppet canon. With roots in the 16th century Italian commedia dell'arte, the first appearance of Mr Punch in Britain can be traced to 1622 in London's Covent Garden, as recorded by diarist Samuel Pepys.
Shadow puppets began as an ancient form of storytelling and entertainment across Asia, using flat cutout figures held between a source of light and a translucent screen. Bunraku-style puppets feature dolls up to five-foot in height, which are manipulated by three puppeteers in full view of the audience, influenced by the Japanese theatrical form developed in the seventeenth century.
View this post on Instagram
Of course, behind every puppet is a puppet master pulling the strings. A veteran of the puppet world, Philip Eason's work spans feature films and television across a 25-year period. Early in his career Eason was employed as a background puppeteer in Jim Henson's 1986 film Labyrinth. He then went on to work on seven series of satirical television show Spitting Image, as well as iconic films such as The Little Shop of Horrors, Muppet Treasure Island and Star Wars: The Phantom Menace. "I have always approached any puppet character in the same way I would approach any acting part," he says. "You really are having to act through your body to get the performance—the reality—out of the puppet character."
Eason reflects on his time working on Spitting Image, which was rebooted in 2020 after a more-than 15-year hiatus. "The puppets are basically life-size. We have one hand that goes into the head to operate the mouth for lip-sync and the head movements. The other hand goes in through the elbow of the puppet sleeve and then a rubber glove is put on the puppeteer to match the particular puppet," Eason explains. "We see what the camera sees—we work off TV monitors, which have to be positioned around the set so the puppeteer can see what they are doing. Some of the positions you have to get into so the viewer can't see the puppeteers could probably be a sketch in itself."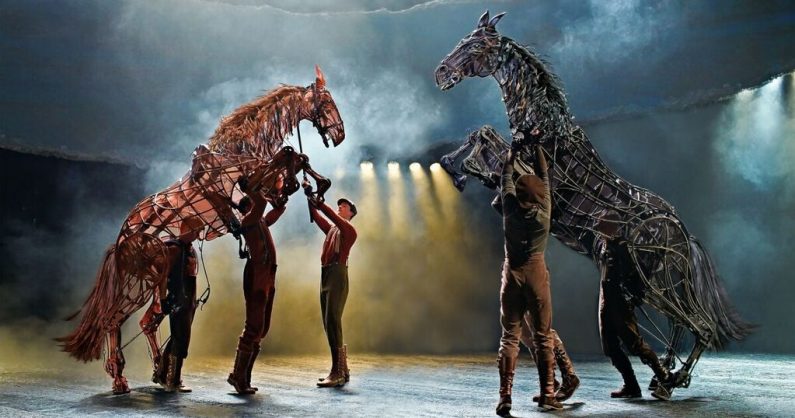 "Puppetry has stood the test of time because it is so adaptable and such an accessible art form"
The stage adaption of The Lion King (premiered in 1997), with its 232-strong puppet cast, also demonstrates how the craft continues to impress modern audiences. Incorporating hand puppets and bunraku puppets as well as rod, shadow and full-body puppets, it draws on Indonesian and Japanese influences to blur the boundaries between art, technology and performance. Another West End show, War Horse, goes further still and embraces the full theatricality of puppetry. With a framework made of cane, aluminium, wire and plastic, and a system of levers and pulleys that allows a range of motion to mimic a horse's movement, two puppeteers can be seen inside the 'body', with one in plain sight manipulating the head. No effort is made to disguise the puppeteers on stage.
From seafront booths to best-selling blockbusters, puppetry as entertainment is clearly a longstanding, still-evolving tradition. "Puppetry has stood the test of time perhaps because it is so adaptable and such an accessible art form," reflects artist and puppeteer Patrick Amber. "It can consist of ancient and traditional techniques or modern technology and trends or a fusion of them all. It can appeal to all ages, to audiences small or large; performed in theatres, on the streets or on the screen. Puppets can tell stories and connect to people's feelings and experiences in daily life." As he concludes, "People listen to puppets."