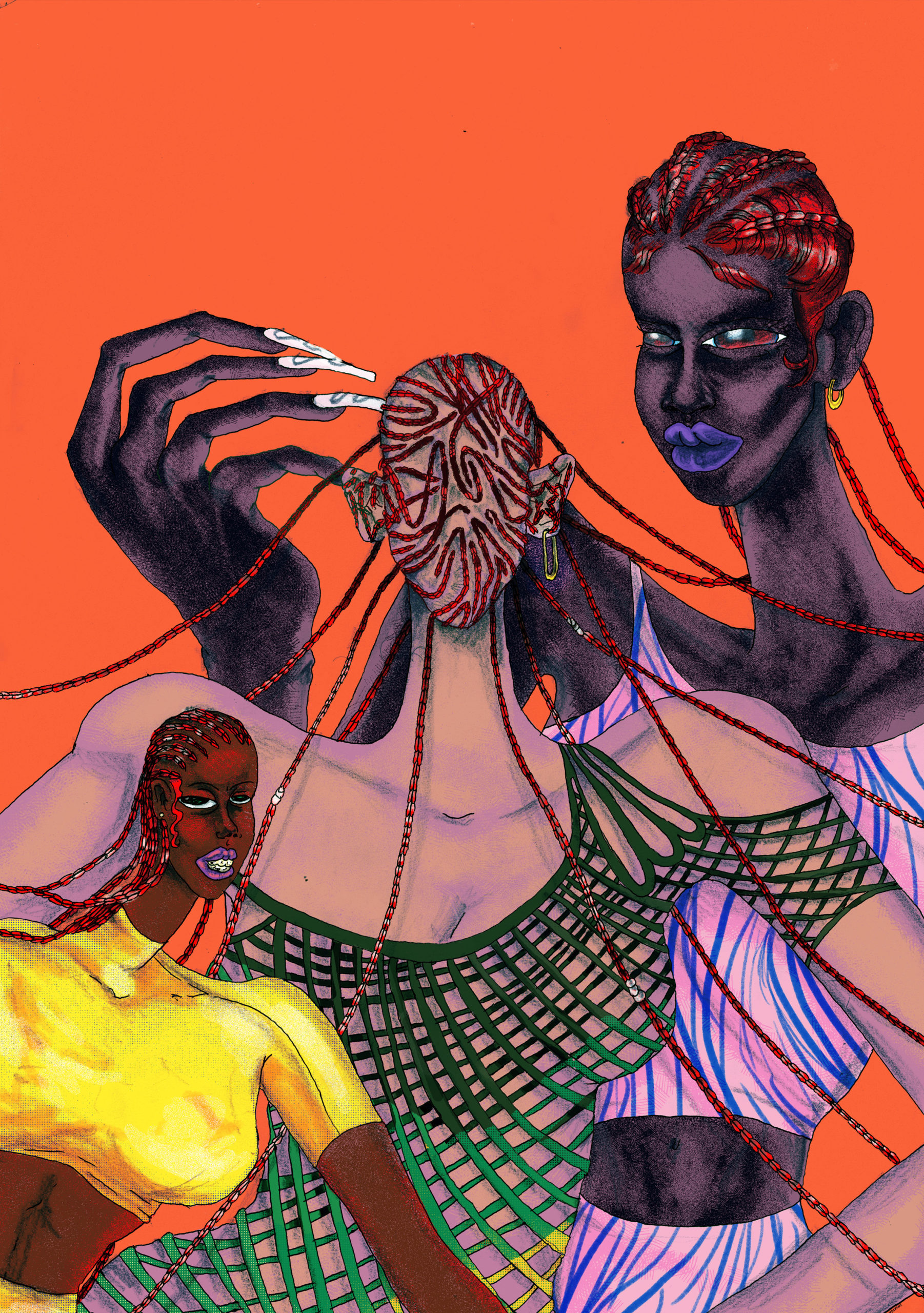 Noiamreiss is the pseudonym of a Birmingham-based artist whose work feels both traditional, in the lineage of comics characters and the more outlandish ends of illustration, and strikingly new. Having graduated from the illustration course at Camberwell College of Arts in 2017, his practice now focuses largely on Black identity through the prism of Afro hair; namely, braiding.
His work is predominantly 2D at the moment, though he says that studying illustration allowed him to "discover a lot of things about myself" and encouraged him to diversify in terms of media. "I never felt tied down to explore one medium of creating art. A lot of the time I was actually doing things that didn't involve me creating work on a computer," he says. One of his favourite projects, for instance, was influenced by a visit to Elephant & Castle Shopping Centre, where he created fictional characters and depicted a 'shopping list' for each one, with items that could all be found in the markets. "Using white trousers as a canvas, I then painted all the items and photographed my friend wearing them in a studio shoot," he explains.
While the capital proved to be a plentiful source of inspiration (and great falafels), Noiamreiss says "one of the main challenges was time management because I was trying to do the most. I had these big ideas but I was leaving them to the very last minute, close to the deadlines, which created an unnecessary amount of pressure and anxiety on myself. I've learned the hard way but I'm now more disciplined in my practice." I spoke with the artist about creativity flourishing in limitations, and how braiding became a central theme in his practice.
I read that you had been teaching yourself before you began the illustration course at Camberwell. What sort of things were you learning, and how have they informed your practice?
I was always making my own books and comics growing up, which were mainly inspired by the music, cartoons and video games I consumed. I was drawing on paper and creating posters and cards for my family before I got my first drawing tablet. I was using MS Paint, trying to do highlights and gradients like Photoshop effects. In some ways I admire that about my younger self; I worked with the resources that I had, and I still do. YouTube was another source of education for me as I learnt how to use more advanced drawing programmes. Reading 'how-to' books on drawing techniques also helped scaling proportions and adding different types of shading details. The work I make now feels otherworldly, it's definitely not the work I made at university. My current work carries a youthful, sharp ambiance which reflects the current headspace I'm in. 
"Nothing feels better than the next morning when I get my hair done and after I remove my durag it looks immaculate"
Left: The Braided One, 2020; Right: Sixteen Hours, 2020
How did you go about combining your personal interest in braiding, and your creative practice?
I'm interested in the recurring patterns and styles you can do with braiding and the history it carries. I didn't really see braiding being used as a creative theme during my studies: it's something I've experienced and witnessed at a young age, which I feel needs more representation within art. Braiding is diverse, it can be as intricate as you want. Nothing feels better than the morning after I get my hair done, and I remove my durag, and it looks immaculate.
Recently, I've been watching a lot of videos of hairstylists creating the most elaborate styles that are just stunning. It needs to be celebrated, so I wanted to make braiding one of the main themes within my work. There's something powerful about seeing a group of people's hair all braided up.
"Braiding's about trusting that person with a part of you… there is something spiritual in tending to our hair"
Left: Braidology, 2020; Right: Braidology Origins, 2019
Tell me more about the Braidology project…
The Braidology project is about these Afrofuturistic characters who are exploring their relationships and connections through their hair. The different hairstyles reflect the identities and personalities of the characters. I thought of the word 'Braidology' as I was thinking about how the forms (twists) looked like DNA, which then got me thinking of the word 'biology'. I wanted to combine the 'braid' and 'ology' together.
The first Braidology pieces were sparked when my sister braided my hair. I sat with her for many hours and it felt personal because my hair was being weaved and contoured into braids. It's about trusting that person with a part of you. I feel there is a bond that grows stronger from the closeness of it, there is something spiritual in tending to our hair. The first piece feels contained because I stuck to a minimal colour palette. I was mirroring the structure of braids by splitting the figures into rows. I wanted to give the impression that they were all in unity. 
For the 2020 version, I was listening to a lot of Drexciya's music at the time, which influenced me. I was feeling chaotic making that one and just went crazy with the use of colour. I felt very fearless making it. I wanted each row going upwards to gradually become more webbed within the braids. I feel like the characters in this one exist in the deepest part of the ocean.
To create the work I normally start with line drawings, and then using my lightbox add shading layers. I enjoy this part of the process because I am able to draw the textured patterns, expressions, and most importantly the braids. I scan the drawings into Photoshop and then begin to add the colour and detail to the piece. Each piece of work can vary but it takes longer to add elements of animation.
Noiamreiss, Paradise Architects, 2020
I noticed you have a Patreon page. Lots of visual artists seem to be looking to these sort of platforms recently, which is a new thing in terms of how artists approach their practice. How is it for you? 
Yeah, I'm definitely not the only one doing it. A lot of people I know are using Patreon and other forms of crowd-based funding to support their creative practice, especially in this pandemic, which has made things difficult for a lot of artists due to lack of funding. It's a useful platform to further engage with people who are interested in your process. I'm able to share a lot of the groundwork of the pieces I premiere on Instagram. In the future, I hope to do some tutorials on how I make my work.
I am grateful for the support I have on Patreon, but for it truly to become a source of income you need to have a lot of people to support it. I haven't been able to promote it as much in the last few months but I have some exciting projects to share on there in the next year before I put them out to the public. The majority of my work has been self-funded. I am now researching funding opportunities to support future projects.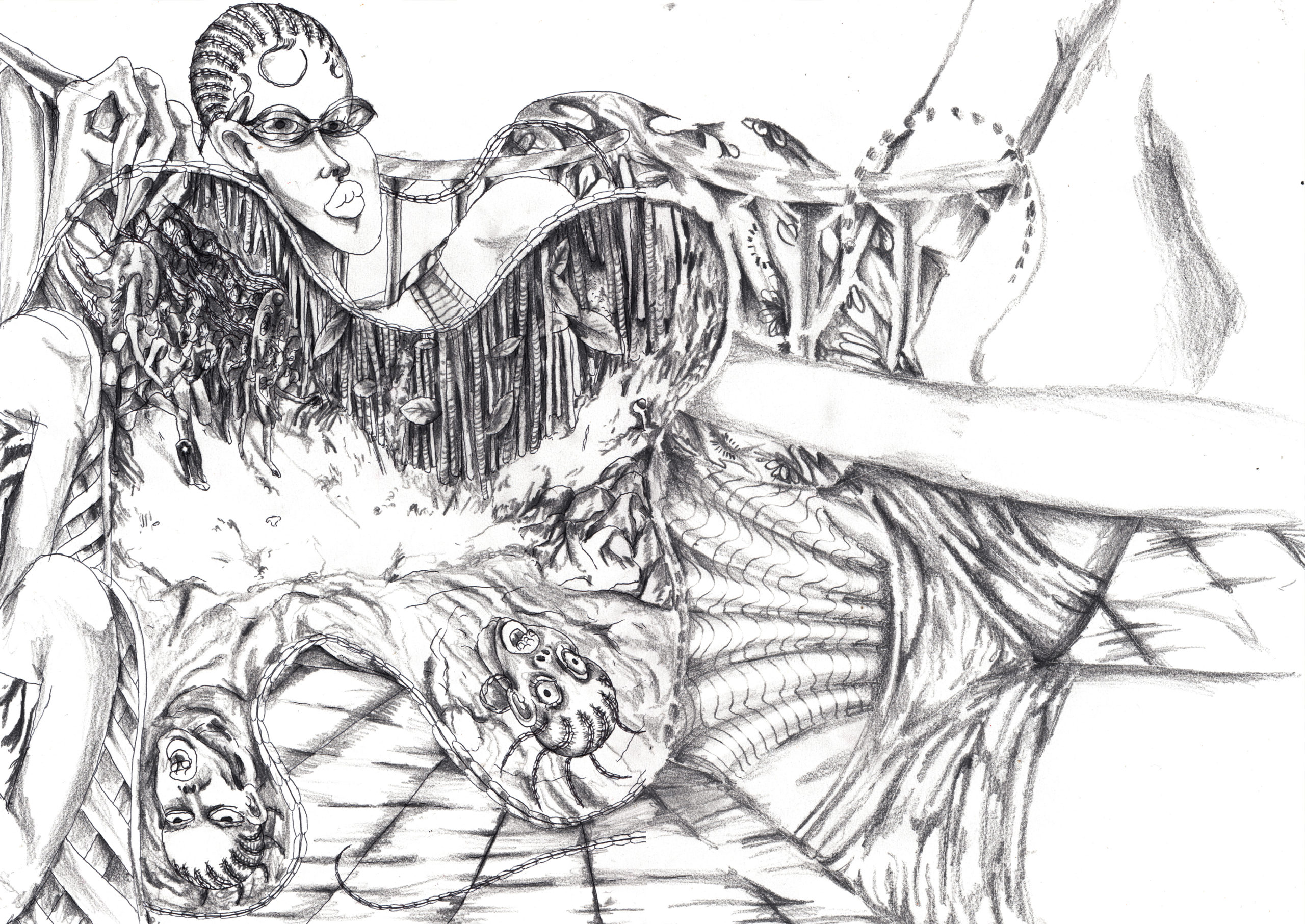 You recently worked with Jasmine Amanda on the Paradise Architects collection. Do you see yourself as an artist, illustrator, fashion designer…? How far do you see these distinctions as important?
Jasmine Amanda contacted me via email with this really interesting project. She creates these beautiful, hand-dyed garments, and wanted me to make an animated themed piece to compliment the release of the collection. Paradise Architects was about the African diaspora's relationship with water. We had a Zoom call and connected on the themes we wanted to explore in the piece. We wanted to encapsulate a bioluminescent environment using fluorescent colours and lighting. I love collaborating with artists who are able to open me up to new ideas and experiences.
I guess I see myself as both an artist and illustrator. I like to make work that illustrates a narrative. However, I do think each title carries different meanings depending on who you ask. I feel artists are treated as architects or builders; they build the house and after that, it's not their job to show you around it, you have to find your own way. An illustrator is like the interior designer that is doing the plan for the homeowner, trying to create something that will fit to what they need. I think my illustrator hat comes on when I collaborate with people who are looking for something specific I do in my work. My artist hat is on when I make pieces for me and it's not being tailored to a brief. I don't really think about the terms until I'm asked about them. They're not important to me. All I am thinking about is what I can create next.