The women who appear in Noemi Stysiak's paintings light a cigarette and inhale deeply, dressed in high-heeled boots, mini skirts or tightly flared trousers. They are assertively louche, shown snatching a break for themselves while on duty at their workplaces: minimum wage, minimum effort. Stysiak names them 'Lady Bosses' in a wry nod to the 'Girl Boss' culture of contemporary feminism.
Born in 1987 in the Polish People's Republic, she says that her paintings "combine my memories of small-town Poland in the 1990s with the experience of life as a low skilled migrant worker and reference socialist realist and capitalist worker propaganda." In her words, these women represent "Stakhanovite vs girl boss", with a "sprinkle of folklore and Slavic mythology". Part of the current cohort of Bloomberg New Contemporaries artists, Stysiak will take up a coveted postgraduate place on the Royal Drawing School's Drawing Year. (Louise Benson)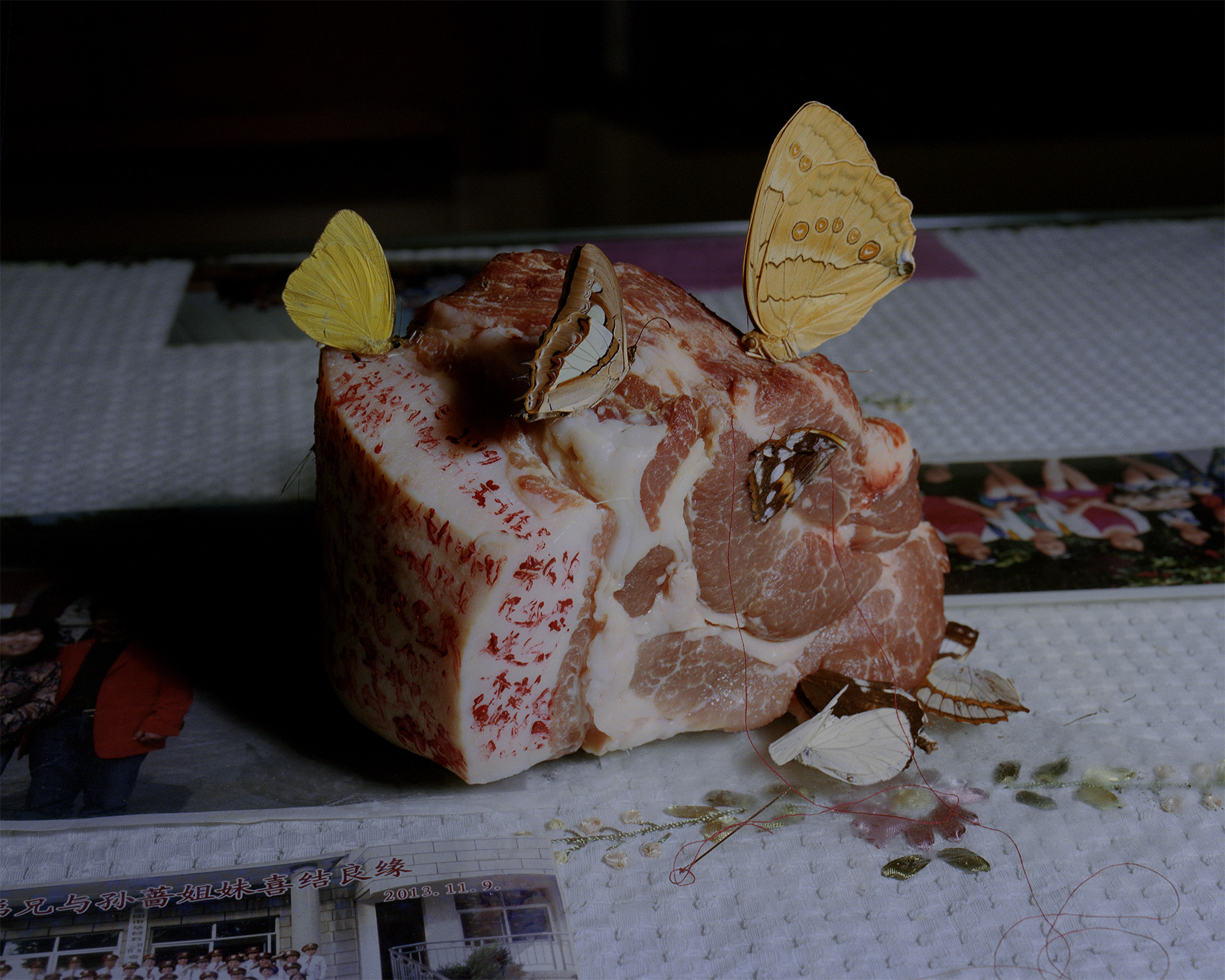 Bowei Yang (Royal College of Art)
Based between Beijing and London, RCA photography graduate Bowei Yang creates atmospheric portraits, object studies and conceptual scenes focusing on queer Chinese youths, then uses this category as a starting point for musings into trauma, national identity and belonging.
Two major projects constitute Yang's degree work: in Soft Thorn, he collages landscapes with staged moments and portraits, emphasising human touch and texture alongside shadowy interiors and overcast forests. In the three-part If Spring Could Feel Ache, Yang explores queer identity through allegory, which the artist sees as "a way to resist photography becoming an index towards reality."
Butterflies are a recurring motif: in one shot resting heavily on a topless figure's outstretched hand, in another circling a slab of raw beef, some stitched into its flesh with thread.  (Ravi Ghosh)
Inevitable I, 2021 (left); Inevitable II, 2021 (right)
Zoë Mills (Swansea College of Art)
Outlandish, exuberant studies of animals, hybrid figures and fantastical settings characterise Zoë Mills' paintings, but each delivers a serious warning about the impending threat of climate breakdown. Traditional human figures are often relegated in favour of cows, embodied plants or outsized pieces of litter bearing facial features, a comment on the inextricability of the wasteful from the waste itself. Mills works on large canvases, allowing several scenes to unfold simultaneously, deepening the mystical, almost nonsensical energy of the works.
Keywords like Greed give the paintings a didactic impact, while mass consumerism is also targeted in painted bottle labels and plastics. The overall effect is one of invitation: by gesturing viewers to participate in the works' playfulness, they might emerge with a more serious message.  (Ravi Ghosh)
Kirin Crooks (Slade School of Fine Art, UCL)
Memory is a funny thing—when we look back, the things we clutch onto might not have been quite as they appear in our mind's eye, and this is the tendency Slade graduate Kirin Crooks is interested in.
Focusing on our propensity for nostalgia and the way age and experience change our perception of the past, her scenes are based on domestic and family settings. Painted in loose, light strokes of acrylic and charcoal, or mono-printed, they have a heady perspective and glow with a warm light. (Charlotte Jansen)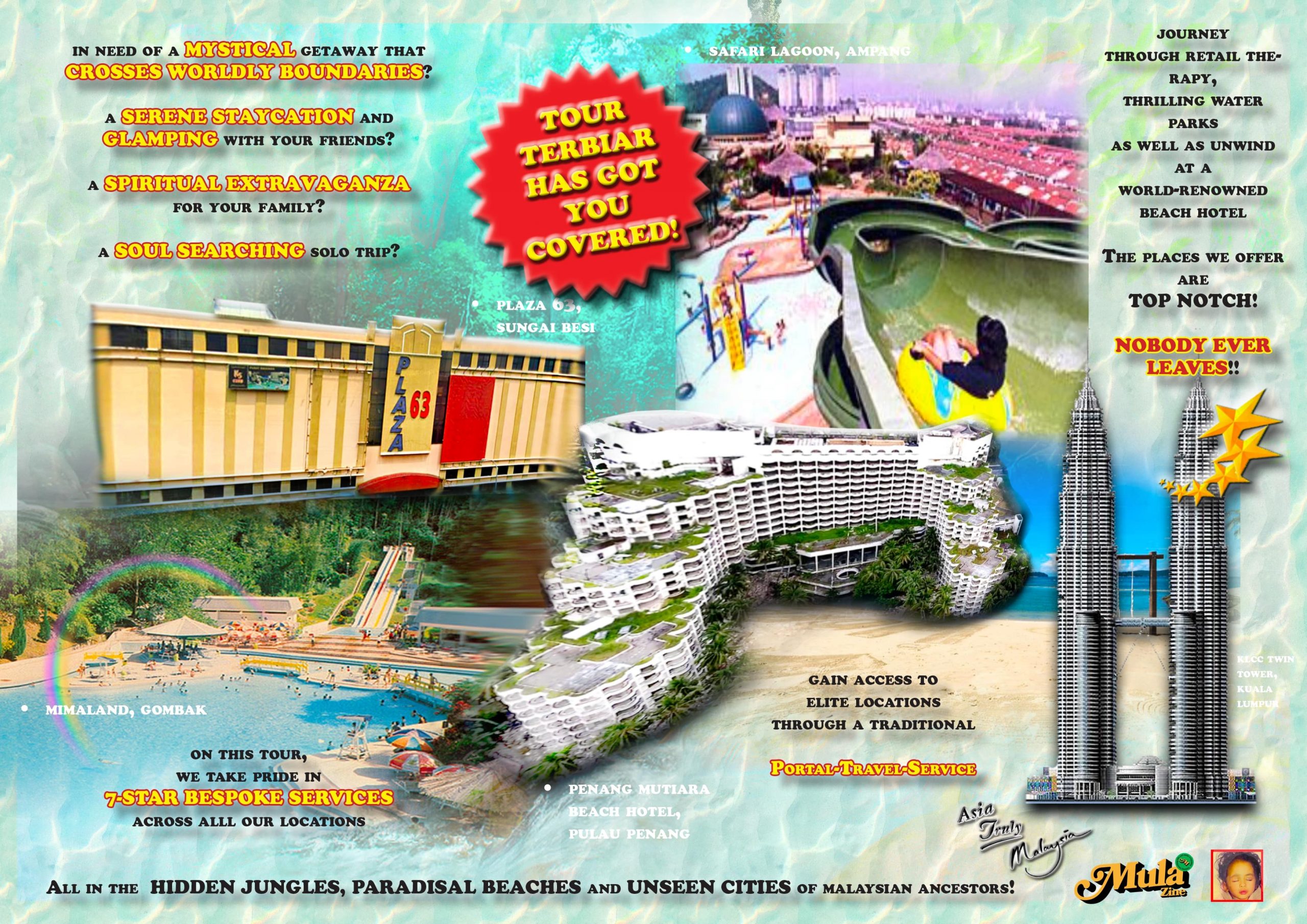 Nurin Yusof (Central Saint Martins, UAL)
Nurin Yusof defines herself as the original Nurin, "the hosting physical body of all Nurins, concerned with creating and giving space for my developing Nurins who are myself and everything in between." Identity is a slippery, loose concept in Yusof's conceptual practice, which culminates in Nurins' Travel Agency, an interactive host platform which continues to expand the Nurin universe across different digital spheres, multiplying and warping the self to transgress boundaries of knowledge, access and information.
This culminates in Terbiar Tour, where users are guided around different abandoned holiday and recreational destinations across Malaysia, made in collaboration with a local magazine. Somewhere between projection and performance, Yusof's practice continues to offer a transgressive escapism to those who encounter it. (Ravi Ghosh)
While studying illustration at Falmouth, Josie Blake has honed a madcap style that has its roots in childlike cartoon characters. She builds her own universe, where figures navigate the trials of everyday life, whether it be anxiety, depression, or finding inner confidence. Who wouldn't love an anthropomorphised brain yelling "no man, let me go, I need to overanalyse the situation!"
While her 2-D works combine a rainbow palette with grubby pencil lines (because life is never as tidy as it appears), her idiosyncratic ceramics recall the naïve and twisted aesthetics of Claymation shows such as Rex the Runt and Bump in the Night. (Holly Black)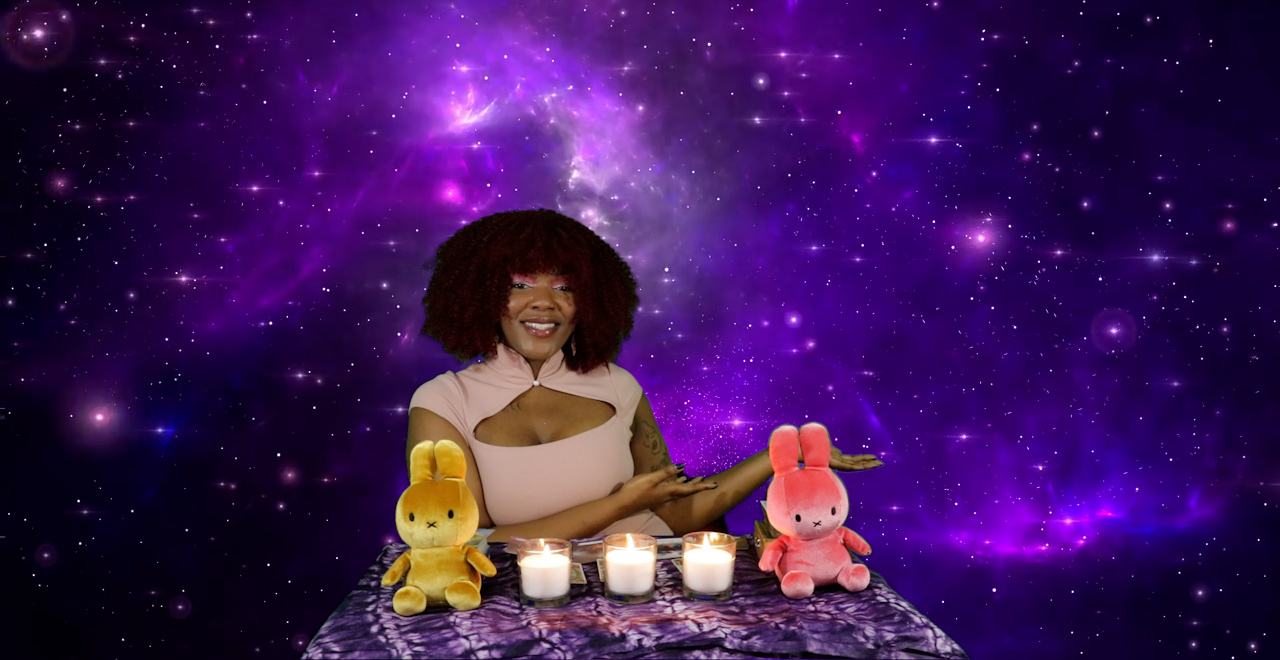 Gold Akanbi (John Moores University)
The 2021 BA Fine Art graduates at John Moores presented an 'edible' final exhibition, with all artworks stored inside interactive virtual fridges. Behind one door was the soothing sound of pouring rain and an image of Gold Maria Akanbi, who describes themself as a neurodiverse artist working across multiple disciplines including psychogeography, alternative healing and ecology.
Their practice is rooted in live and private performances that flood the senses and create an intergalactic experience for the viewer. From autumn, they will pursue an MFA at Oxford's Ruskin School of Art. (Charlotte Jansen)
Nana Wolke (Goldsmiths, University of London)
If you like crime novels, conspiracies and cataclysms, then Nana Wolke is the artist for you. The Goldsmiths MFA Fine Art graduate is a painter who likes to toy with tensions, whether it's the simulation of suggestive surfaces rendered flat with her brushes, the warmth of her red palette or the coldness of leather.
Wolke deals with the slipperiness of contemporary existence, the desultory and inconclusive nature of image culture, and makes you feel quite intoxicated. (Charlotte Jansen)
View this post on Instagram
Liam White (University of Huddersfield)
Decontextualising images found on the internet formed Liam White's fascinating final project at the University of Huddersfield, where he completed a BA degree in photography. White is interested in raising awareness of issues through photography and during his studies investigated the internet and appropriation of content, to explore the various ways internet identities are formed, for whom and why.
In his fascinating work Video is Monitored he focused on Omegle (a webcam chat platform) and the way responses to political events of the last year were documented by strangers with often violent and extreme perspectives. The  emotionally gruelling project is compiled of more than 750 screengrabs and 50 message accounts. (Charlotte Jansen)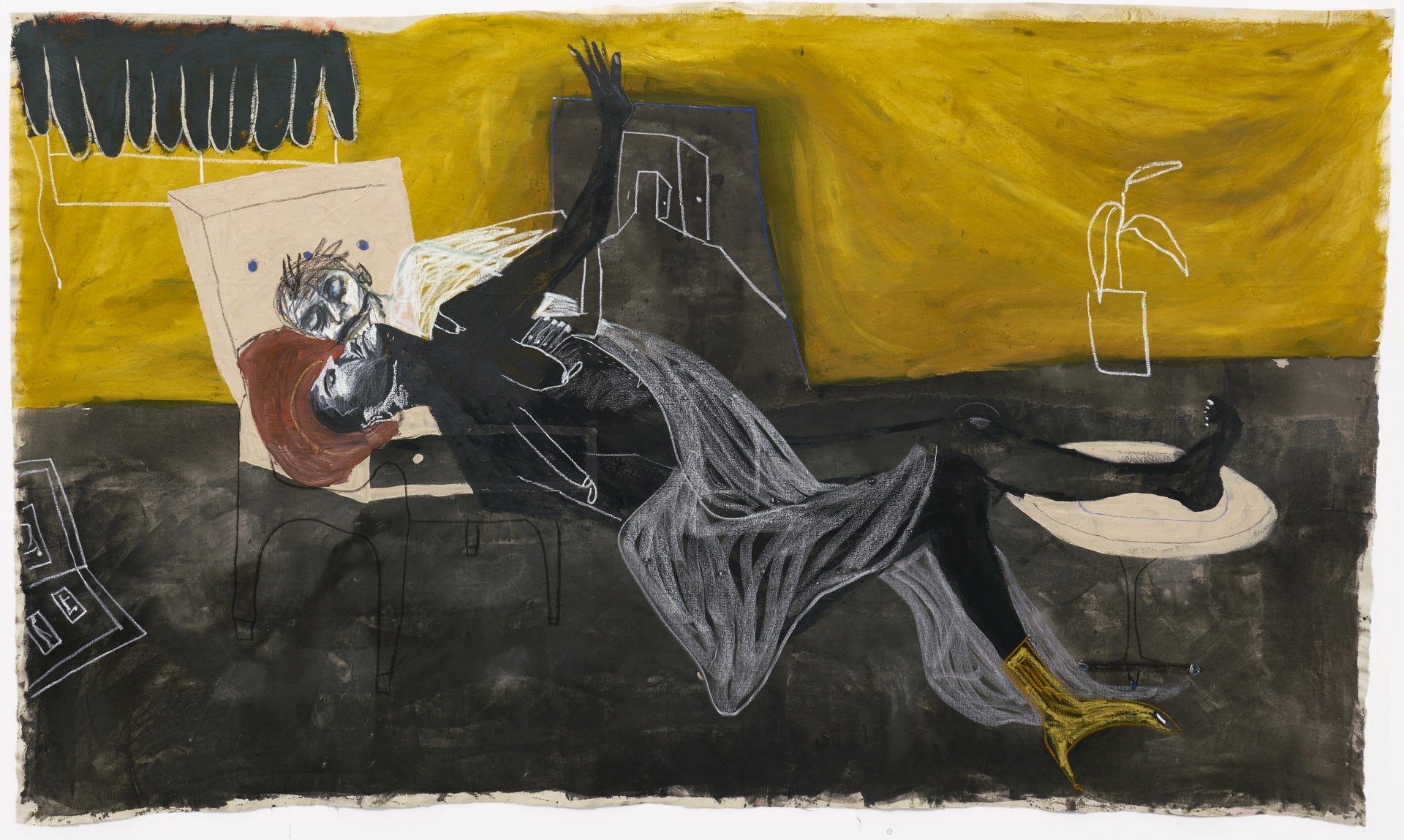 There is an undeniable darkness to Shadi Al-Atallah's paintings that goes beyond the inky tones of their canvases. The Saudi Arabian artist studied a BA in illustration at Camberwell before going on to the Royal College of Art's painting MA. Their works are life-sized self-portraits, which touch on mental health, racial identity and queerness, and often feature writhing human figures within shadowy spaces.
"To me, painting the body takes away its limitations," says Al-Atallah. "It allows for emotions to be embodied truly and freely." The figures are shown as untamed and expressive; the title of one work, Dys/Eu Phoria, highlights the multitudes of feelings that are contained within a single canvas. The artist is currently showing in A New Art World: a group exhibition at Guts Gallery in London. (Emily Steer)
Isis Boundy (University of Brighton)
Liquidity is the order of the day in Brighton photography graduate Isis Boundy's Viscid Dreams series, in which faces shine with moisture, hands are coated in gel and clothing is soaked to the skin. The series explores the imbalance of beauty standards in a creative industry still largely dominated by the male gaze.
Fruit makes a recurrent appearance in reference to its sexist associations with the female form, from 'peachy bum' to 'melon tits', 'pear-shaped' and even the loss of virginity colloquially known as 'popping the cherry'. Boundy uses the visual cues of advertising campaigns to draw attention to this imbalance, crafting a portrait of simultaneous beauty and disgust. (Louise Benson)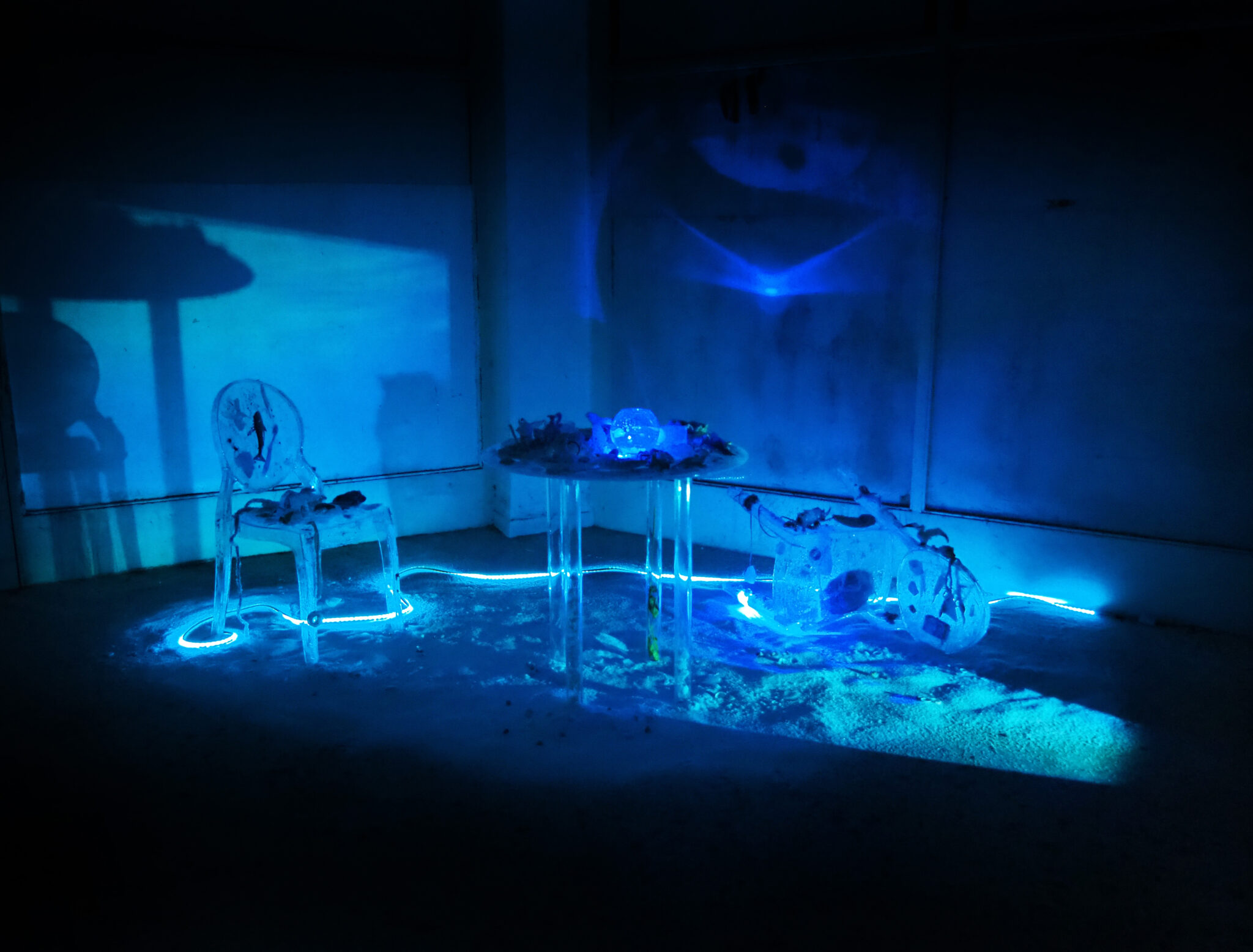 Having  previously studied architecture, Martha Panagiotopoulou has just graduated from Glasgow's fine art programme. The Greek artist embraces eco-feminist theory and brings together the internal and external worlds, exploring the fragility of both the psyche and the planet. Her work speaks to the current, dire situation of the environment, and hints at a more positive future, led by interspecies collaboration, matriarchal governing and radical love.
Her works often bring together manmade and natural forms, combining the plastic detritus of contemporary life with materials found in land and sea. Panagiotopoulou was awarded NEON's scholarship prize, and her work has been shortlisted for inclusion at the UN's Climate Change Conference. (Emily Steer)
The collision of human and nature has offered fertile ground for artists over the years, from Impressionism to Land Art. Photography graduate Iryna Baklan explores the contained green spaces that are commonly found within the built environment, from neat privet hedges to carefully mowed front lawns. Her interventions are subtle, from lace doilies placed amidst lily pads to a pair of cupcake holders whose red and white spotted pattern recall that of a poisonous toadstool.
Nothing is left behind following the staging of these images, representing a transitory moment of performance and play. Mundane objects are relocated and embedded in the landscape, before being once again turned to their ordinary places in the private space of the home. Absurd, experimental and beguiling, Baklan's series offers a fleeting defiance of the usual logic of things. (Louise Benson)
Delicate washes of raw pigment are layered on canvas to build a frank and intimate portrait of modern life under the watchful gaze of Faye Eleanor Woods, who graduates this year from Aberdeen's prestigious Gray's School of Art. Woods' subjects are young and carefree men and women who cavort and dance in various states of undress. They piss, drool, smoke and grimace, eyes glimmering all the while with ecstatic delight.
The Glasgow-based artist explains that she "imagines drinking straight from the tap of all emotion, drinking so much of it, she takes on too much and is sick and everything she spews out ends up in her work." This spirit of excess runs throughout the scenes that she depicts, while the watery metaphor extends to the looser washes paint used to create the daubed and dark red mouths, blushing cheeks, nipples and knees rubbed raw with desultory abandon. (Louise Benson)